217 Views
AutoGuide Tests: Jackery Explorer 1500 Portable Power Station
November 18th, 2022 1:29 PM
Share
After a four-season test, we think the Jackery is a great portable power station—with some stiff competition.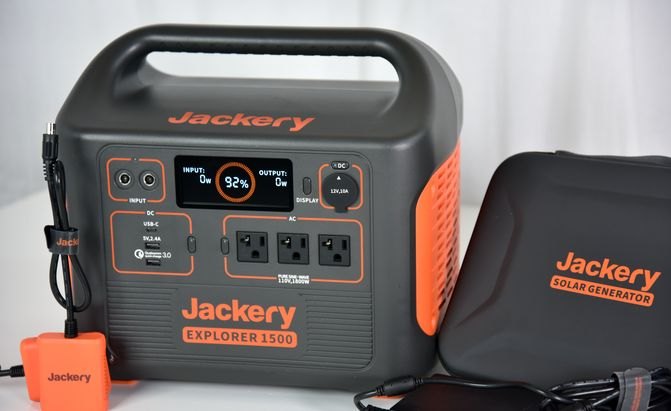 Jackey pioneered the modern lithium-ion portable battery power station back in 2015, launching an entire category of portable power that just didn't exist before then. Now they're everywhere, in sizes from convenient jump starters that double as high-powered phone chargers, up to 6.0kWh home backups that cost used car money.
In such a competitive field, deciding which portable power station to get comes down to features, usability, and reputation—there are a lot of unknown brands we'd have a hard time trusting. Jackery is one of the OG brands, and with a great warranty and customer service, the company has no trouble in the last category.
When you're looking for a portable power station, the most important thing to think about is what you're going to use it for. If you want to have one on hand to keep a phone and maybe a laptop charged, you want something small and convenient. If you're putting together a backup solar power array or want a generator alternative, you're looking at one of the big boys on wheels. And if you're thinking about tailgating, beach parties, extended blackouts, or charging multiple devices, then devices like this 1,500 watt-hour Jackery portable power station should be on your list.
The Jackery Explorer we tested stands out for ease of use and thoughtful design, as well as a track record for reliability. We found it light on features compared to competitors we tested, especially input options, and there are pros and cons of its older lithium-ion technology versus newer LiFePO4 batteries.
After testing five different portable power stations at the AutoGuide Garage in the last 10 months, we've got a good handle on what makes one easy to use (including literally the handle), what to look for, and what to avoid.
For our test results and conclusions on the Jackery portable power station, see the Table of Contents.
Table of contents
1. Jackery Portable Power Station Features
What's in the Box
The Jackery comes securely packed, with the base unit and a nice hard-sided, fitted accessories case. The zippered pouch holds a 12.5A, 300W power brick approximately the size and weight of a bar of gold, a car charger, and a pair of solar panel parallel adaptors.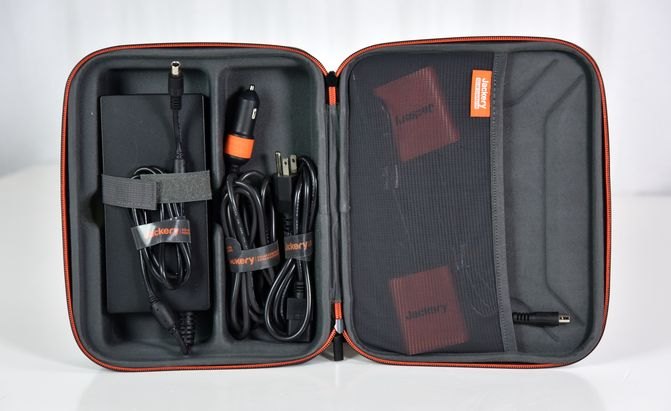 If you spent as much time looking for lost cables as we do, you'd love the case, too. Photo credit: David Traver Adolphus / AutoGuide.com
Size
It's in a compact chassis, essentially a 12 x 10 x 14-inch brick, with another couple of inches of handle on top. The case is made from heat- and shock-insulating polycarbonate and ABS plastic (the same thing Legos are made from). Those materials can crack in low temperatures, but Legos seem to be indistructable and we don't have any worry about it standing up to being knocked around. The Jackery is listed at 35 pounds, but weighed 33 pounds on our digital scale and falls into the upper end of what we'd call convenient. It's lighter than a comparable 1,500wH Bluetti EB150 (38 pounds) or Goal Zero 1500X (46 pounds). Most power stations in this range are fairly tall and narrow, which makes them easy to store, but also easy to knock over expensively. The squat profile and large, slip-resistant polyurethane feet mean you're not likely to tip over the Jackery.
Portability
Not everyone is going to be able to pick up 33 pounds easily with one hand, but it has the best handle of any large power station that we've tested. With 8.5 inches of grab area, there's lots of room for a two-handed carry; and nice little details like rounded-off screw holes that won't give you blisters. Goal Zero has a folding handle about the same width, and the Asian market version of the Jackery 1500 has a folding handle, but we think there's a lot to be said for having no moving parts to break.
2. Jackery 1500 Charging Ports and Specifications
Output and charging ports
This is the only larger power station with all the ports on the front, where it has three household grounded outlets, a two-way 12V car charger port, USB 3.0 quick charge, USB-A 5.0V, and a USB-C port. That's a perfectly adequate feature set, but it lags behind competitors in USB, some of which have twice as many ports. Realistically, though, this size power station isn't big enough to need a bunch of ports, and are you really going to charge more than three phones at once? We've never used it and wished for more.
The batteries are rated at 1,534 watt-hours, producing 1,800 watts/110 volts of pure sine AC power. Peak wattage, which you need to start up something like a circular saw, is 3,600 watts.
We went full Inception and plugged all our photography lights into the Jackery, and quick charged a phone, too. Photo credit: David Traver Adolphus / AutoGuide.com.
Amperage isn't listed for AC, but a quick calculation says it should be about 16 amps. It's 10 amps on the included 12-volt car accessory port. The three-prong plugs are grounded at 110 volts, one of the USB type A ports has 18-watt quick charging, and the USB-C port is full power. There's also a bright built-in LED emergency light which is rated at 5.0 watts but doesn't even register on the display. It should stay on for more than 10 days straight in an emergency.
Input
This is where we have an issue with the Jackery. Every other power station we've tested has some way of getting power from the wall or a solar panel without an adaptor, whether over USB-C or with a standard C13/C15 computer power cord. But the Jackey Explorer only charges through its 8mm ports or 12V car charger, so you'd better keep track of the accessories. It also doesn't have a common XT60 solar input, so you'll either need to stay in the 8mm ecosystem or get a 5.5 x 2.1mm adaptor. However, you can charge from two sources at the same time, and there's hardly a universal standard.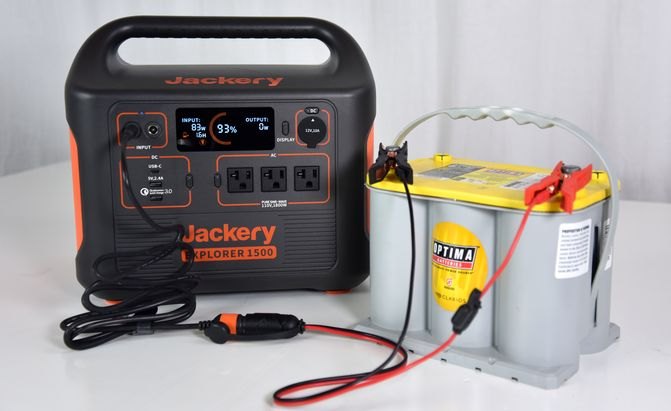 The included power brick charges it at about 260 watts, and there's a car charger included. Photo credit: David Traver Adolphus / AutoGuide.com
A lack of standardization is a problem across all portable power stations, at least outside of high-capacity units with lots of options, and the 8mm charge port is found in a lot of solar panels. But the Jackery is the only power station of any size we've ever tested with a one-way USB-C port.
Specifications
| | |
| --- | --- |
| BATTERY INFO | |
| | |
| Capacity: | |
| Cell Chemistry: | |
| Lifecycle: | 500 cycles to 80%+ capacity |
| | |
| PORTS | |
| | |
| AC Output: | 110VAC, 60Hz, 1800W (3600W Peak) |
| USB-A Output: | 5V, 2.4A |
| Quick Charge 3.0 Output: | 18W, 5-6.5V, 3A / 6.5-9V, 3A / 9-12V, 1.5A |
| USB-C Output: | PD60W, (5V, 9V, 12V, 15V, 20V up to 3A) |
| Car Output: | 12V,10A |
| DC Input: | 24V, 10.5A |
| | |
| RECHARGE TIMES | |
| | |
| AC Adapter: | 15.5 hours |
| 12V Car Adapter: | 9.5 hours |
| | |
| GENERAL | |
| | |
| Weight: | |
| Dimensions (LxWxD): | 14.0 x 10.4 x 12.7 in (35.6 x 26.4 x 32.3 cm) |
| Operating Usage Temperature: | |
| Certification: | CEC, DOE, FCC, QC3.0, CA Prop 65 |
| Warranty: | |
3. Jackery Power Station Batteries
Jackery says its lithium-ion power cells will retain 80% efficiency at 500 cycles, and while LiFePO4 batteries can be good for up to 5,000 cycles, in practical use, we're not sure it makes a difference. If you're making a solar generator or living off-grid, you'd want them for something bigger and better suited to that duty cycle. But 500 recharge cycles is like using it every day for 71 consecutive weeks. Real-life heavy use might be twice a week for camping, tailgating, or backyard parties, in which case you're looking at years of life before it gradually starts getting slightly weaker.
Lithium-Ion vs. LiFePO4 batteries
The Explorer 1500 uses conventional lithium-ion batteries. There are probably some spooky capacitors in there, so we didn't take it apart, but we'd assume it uses a version of the 3.7V cells used widely in things like cordless tool battery packs.
Lithium iron phosphate (LFP) batteries are a newer technology with several advantages. They don't burn, can charge extremely fast, and have up to 10 times the lifespan of lithium-ion. You can also discharge them fully or keep them charged at 100% with no ill effects.
However, LFP batteries cost more to manufacture and, crucially, have 60% of the energy density of lithium-ion. That means one gram of LFP battery holds less energy than lithium-ion, so a 1,500Wh LFP portable power station has 40% weight in batteries than lithium-ion. We weighed the Jackery at 33 pounds, so it would have to be 46 pounds with LFP batteries. In fact, we have a 1,000Wh LFP in for testing, and the Jackery holds 6.2Wh more per pound.
4, Solar Charging the Jackery 1500
We charged it with Anker 625 (left) and Goal Zero Boulder 50 (right) solar panels, both individually and together. The Anker uses an XT60 output, but it comes with needed a 8mm adaptor. The Goal Zero Boulder has an 8mm, but neither would charge when plugged in directly. You have to use an adaptor, even with with Jackery's own line of folding, rigid Solar Saga solar panels.
Fortunately, Jackery includes two, 2-into-1 solar panel parallel adaptors for the ability to connect up to four solar panels. We did our last test late in the season when the New England sun was weak, and still hit 120 watts (about 40 watts from the 50 watt rated Goal Zero, and 80 from the larger Anker). Interestingly, plugging both outputs into the same 2-into-1 consistently gave us about 10 watts less than using a separate adaptor for each panel. We have full reviews of both Anker and Goal Zero solar panels and power stations coming soon.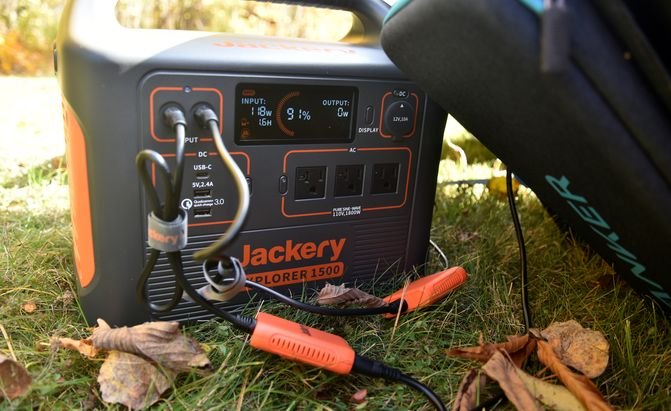 Solar is a great option to have, especially for emergencies. Photo credit: David Traver Adolphus / AutoGuide.com.
As with all solar panels, even a little but of shade or overcast drops wattage hugely, so plan either to move them throughout the day, or make sure to place them where they will receive constant sunlight. We saw our input drop by 50% as soon as the sun even started to move behind a tree.
5. Using the Jackery Explorer 1500
We planned out a range of tests on the Jackery 1500 Explorer, and it performed exactly as promised: You plug something into it, and it works. Our favorite feature is the extremely sharp and legible display, which we think is the best display of any portable power station. It was consistently accurate to within 5% of predicted discharge times and shows how much current is being drawn from which ports. Charging to full from 1% battery with the adaptor took 6.3 hours, exactly what the display showed us. A built-in cooling fan pulls air straight through during high discharge, like when we plugged in an 1800W space heater, or ran our photo lights.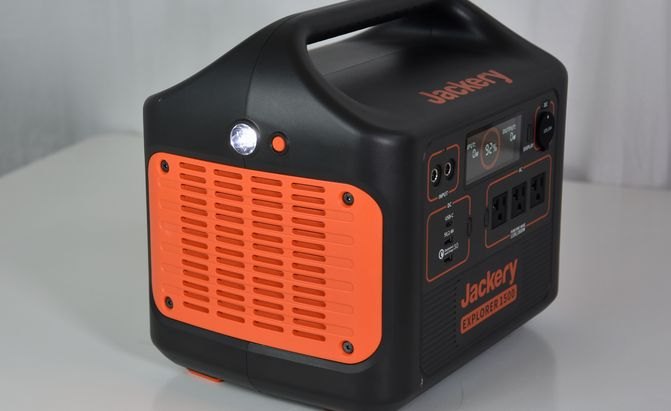 There's an emergency LED which either isn't on the same circuit as the display, or draws so little power it doesn't register. Photo credit: David Traver Adolphus / AutoGuide.com.
Actual emergency use
Which gets us to our unintentional test, when the lights went out during a major winter storm last spring. We knew from the number of trees and power lines down that it was going to be a while, and we started to panic: How were we going to keep our 11-year-old's tank of fish alive with no filter or heater? Then we remembered the Jackery.
We wrapped up the tank in blankets and plugged in a 135-watt heater. With that on as needed to keep the water at 75 degrees and plugging in the filter pump every few hours, we watched the charge level drop slowly throughout the next day and into the night. We charged a phone while we were at it.
When the lights came back 27 hours later, the first thing we did was to rush down and check on the tank. The Jackery read 1% remaining, and the fish were fine. We immediately plugged the power station in again, which was good because we needed it later in the day when another tree came down across the lines.
Keeping a tank of fish alive isn't high on most people's emergency preparations. But that's the whole point. Having that emergency battery for whatever comes up is invaluable, and in this case, it saved a boy's pets and made us like the Jackery far more than test numbers could ever show.
6. Jackery Power Station Conclusions and Recommendations
If you start looking for a portable power station or solar generator, you're going to start seeing a lot of them that are for some reason dark gray and orange. It took us less than five minutes to find nine different brands using Jacker's color scheme, and we're sure there are many others. When Hyundai made a car that looked like a Mercedes S-Class, it was because that was the standard. We have a whole shelf of terrific power stations from other brands at the AutoGuide Garage, and we don't see a lot of imitators of any of them.
The Jackery 1500 Explorer is definitely a generation behind in features, and the lack of recharging options is our biggest complaint. Just having USB-C in, like every other power station we've tested, would let you stick it on a wall almost anywhere, any time. But also unlike every other power station we've tested, it's got that great hard-sided zippered case for the charger, so it won't get lost among the sea of identical chargers that most of us seem to accumulate. That sounds small, but it's one of the many little details that make the Jackery easy to live with.
There's a saying in photography: The best camera is the one you have with you. We tested the Jackery Explorer 1500 for eight months, and even when we had multiple other power stations to choose from, we'd often grab the Jackery. It's a very polished and refined package with a top-notch display; a fixed top carry handle; and all the ports, both in and out, on the front. There are a lot of options for portable power stations, and there's a very good reason that so many of them try to look like this one: Jackery makes a very good power station.
| | |
| --- | --- |
| Pros | Great display, up to three-year warranty, well packaged and easy to use, good carry handle, all front ports, quality accessory storage case |
| Cons | Only 8mm charging, shorter lifespan and memory effect that newer batteries don't have, skimpy USB outputs |
| Bottom Line | The technology is older, but the execution is excellent and the best portable power station is the one you have on hand when you need it |
---
We are committed to finding, researching, and recommending the best products. We earn commissions from purchases you make using the retail links in our product reviews. Learn more about how this works.
AutoGuide may accept review samples for testing and evaluation. Suppliers of review products do not have any input into our conclusions and are not allowed to review our content before publication.
Published October 20th, 2022 5:26 PM
Popular Articles
Latest Comparisons
Car Buying Tools