82 Views
Kia Sorento - Review, Specs, Pricing, Features, Videos and More
February 9th, 2023 12:43 PM
Share
| | |
| --- | --- |
| Pros | Lots of powertrain choices, good looks inside and out, a more manageable size of three-row |
| Cons | Not much space way back there, X-Line lacks off-road ability, PHEV gets pricey |
| Bottom Line | A comfortable and capable crossover that offers good value for those who only sometimes need a third row. |
Table of contents
2023 GMC Acadia Vs 2023 Kia Sorento Comparison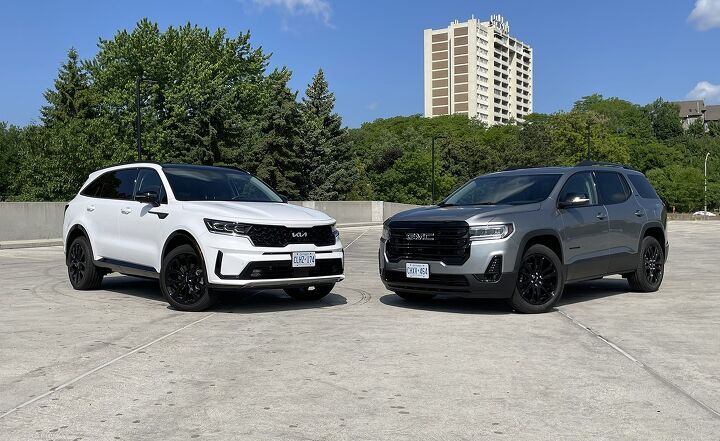 Size matters when it comes to three-row SUVs.
To stuff in three full rows of passengers, a utility vehicle is going to be on the large size. Most of the stalwarts in this segment measure around the 200-inch (5,080 mm) mark in total length. That's a sizeable a vehicle, and one that not everyone necessarily needs, or is comfortable driving. That's a why a slightly smaller class of three row SUVs exist, like the Kia Sorento and GMC Acadia.
Read the full comparison here.
---
2022 Kia Sorento PHEV Review: Plugging the Gap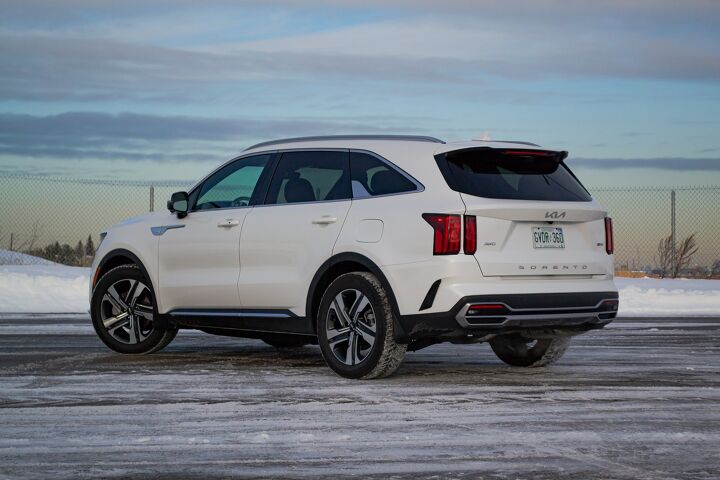 A plug-in powertrain makes a lot of sense for Kia's in-betweener.
Plug-in hybrids are a great compromise between the gas-powered past and the electric future. A stepping stone, if you will, much like the Sorento's spot in the Kia lineup, a slightly smaller three-row for those who don't want, need the larger Telluride. (Or don't want to pay more for a used model than a new one.)
The 2022 Kia Sorento PHEV is more than a vehicle of compromise, however. Instead, this accomplished mid-sizer is a four-wheeled example of the old "jack of all trades" adage, but skips over the other part. This is a well-designed, right-sized family crossover that might just be the best one in the Kia family.
---
Kia Sorento vs Toyota Highlander Hybrid Comparison: Suburban SUV Showdown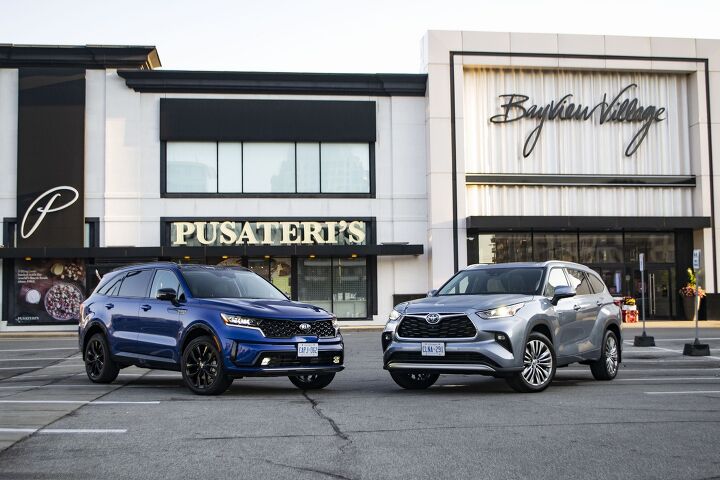 A new challenger has entered the ring.
Last time around, we pit the Kia Sorento against the much larger and quite popular Honda Pilot. In case you missed it, you can read how that match-up turned out here. While the result of its last match-up wasn't too surprising for as spacious and practical the Pilot is, it is also very old. Plus, it guzzles fuel like it won't get anymore. So it was time to get in a new challenger.
The one in question debuted as a 2020 model, is underpinned by a new platform and is a darling of the mid-size three-row crossover market. If you haven't guessed it yet, it's the 2021 Toyota Highlander. Yes, we agree the Sorento is a tad small to compare to the likes of the Highlander, but if the results of the last test are anything to go by, it can hold its own against bigger rivals. So, this match-up is far fairer than would appear.
---
2021 Kia Sorento Review: First Drive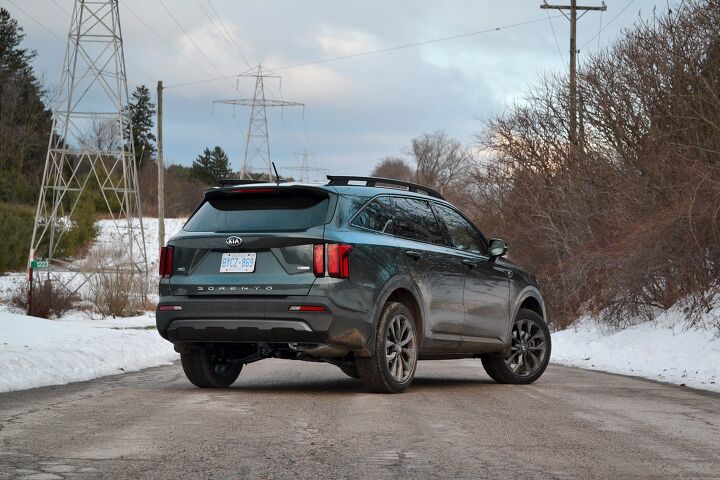 Kia is looking to satisfy every crossover buyer's needs with its lineup of "just-right" models, the latest of which is this, the 2021 Sorento.
Last year, it was the Seltos' time in the spotlight. That little high-rider split the difference between sub-compact and compact SUVs. The Sorento has been pulling off a similar feat a size up, offering three rows of seating in a footprint more compact than the Telluride. It was very much part of the "old Kia" lineup however, lacking the clever details and eye-catching styling of models like the Telluride, Seltos, and (especially) the new K5 sedan.
Not anymore. Kia has given its semi-mid-size crossover a makeover for 2021, with a more assertive look outside, a clever interior, and more modern conveniences. It packs in a whole lot of content for the money, and could be just the right choice for those looking for more space than the two-row crew can provide.
---
Kia Sorento vs Honda Pilot Comparison: Three-Row Throwdown
What size do you need: big, or really big?
That's the question we're posing here, bringing the Kia Sorento together with the venerable Honda Pilot. Both of these three-row crossovers offer more room for families and friends than the typical compact crossover, but stop short of the big-boned, body-on-frame SUVs out there.
But wait, you say, doesn't Kia have the Telluride, a closer match, size-wise, to the Pilot? Yes it does. The Telluride is our favorite mid-size crossover (alongside its Hyundai Palisade sibling), and frankly, we know how that story ends. Instead, we want to know if the other three-row Kia, which first impressed us so much last winter, can run with the rest of the pack. Or does the Sorento's tweener status find it in a crossover no man's land? Let's find out.
---
Detailed Specs
| | |
| --- | --- |
| Price | TBD |
| Engine | 2.5-liter 4-cylinder / 2.5-liter turbo 4-cylinder / 1.6-liter turbo 4-cylinder + hybrid / 1.6-liter turbo 4-cylinder + plug-in hybrid |
| Power | 191 hp / 281 hp / 227 hp / 261 hp |
| Torque | 181 lb-ft / 311 lb-ft / 258 lb-ft / 258 lb-ft |
| Drivetrain | FWD / AWD |
| Transmission | 8AT / 8DCT / 6AT |
| Fuel Economy (city/hwy) | TBD |
| Cargo Capacity (behind 2nd row) | TBD |
Our Final Verdict
| | |
| --- | --- |
| Overall | 4.0 |
| Performance | 8.0 |
| Features | 8.0 |
| Comfort | 8.0 |
| Quality and Styling | 8.0 |
| Value | 8.0 |
Published November 5th, 2020 3:21 PM
Popular Articles
Latest Comparisons
Car Buying Tools