33 Views
2020 BMW 228i Gran Coupe Review: A Worthy Port of Entry
January 6th, 2021 12:18 AM
Share
We're committed to finding, researching, and recommending the best products. We earn commissions from purchases you make using links in our articles. Learn more here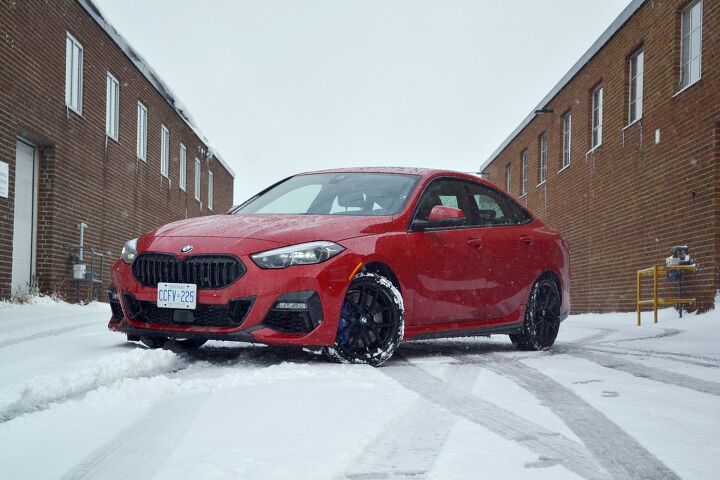 The great George Carlin had a classic, insightful bit about people and their stuff.
Life, according to the late New Yorker, is a long line of ever-expanding houses to put our stuff. Cars follow a similar path, each generation bigger than the last. The venerable BMW 3 Series, in current G20 form, has a longer wheelbase and is within six inches of the length of the first-generation, '70s-era 7 Series.
The 3 has grown so much that BMW has—like Audi and Mercedes-Benz before it—realized a smaller four-door can fit below it. And since "sedan" is a much-feared word in today's market, the Bavarian automaker has christened this the 228i Gran Coupe. Unlike the other 2 Series models in North America, this one uses a front-drive-based platform, similar to the one under the X1, X2, and various Minis. We know it isn't a coupe—it has a regular trunk, not a hatch—but is this new kind of car a BMW? In a lot of ways, at least in our modern understanding of the brand, it really is.
That familiar feeling inside
While the UKL platform underpinning this new 2 may be different, the interior looks and feels like the rest of the BMW car lineup. There's the familiar center stack canted slightly towards the driver. The over-thick wheel is present too, with the same digital instrument panel tucked behind. Ergonomically, it's sound, with all the necessary buttons clearly labelled and in the right places. Material quality is high, except for a few pieces of low-rent plastic around the transmission tunnel. Configurable ambient lighting is a nice touch.
SEE ALSO:
2020 BMW X5 M Competition Review: Check Out These Guns
The latest iteration of iDrive powers both screens, and in a world inundated with tech, it has a pleasantly low learning curve. The central screen is touch-capable, the IP is configurable, and there's the option twist and tap the rotary dial between the front seats. There's also a voice assistant option, which seems less prone to accidental activation than its Merc sibling.
FAST FACTS
| | |
| --- | --- |
| Engine: | 2.0L I4 Turbo |
| Output: | 228 hp, 258 lb-ft |
| Transmission: | 8AT, AWD |
| US fuel economy (MPG): | 23/33/27 |
| CAN fuel economy (L/100KM): | 10.2/7.2/8.8 |
| Starting Price (USD): | $38,495 (inc. dest.) |
| As-Tested Price (USD): | $50,500 (est, inc. dest.) |
| Starting Price (CAD): | $44,980 (inc. dest.) |
| As-Tested Price (CAD): | $55,875 (inc. dest.) |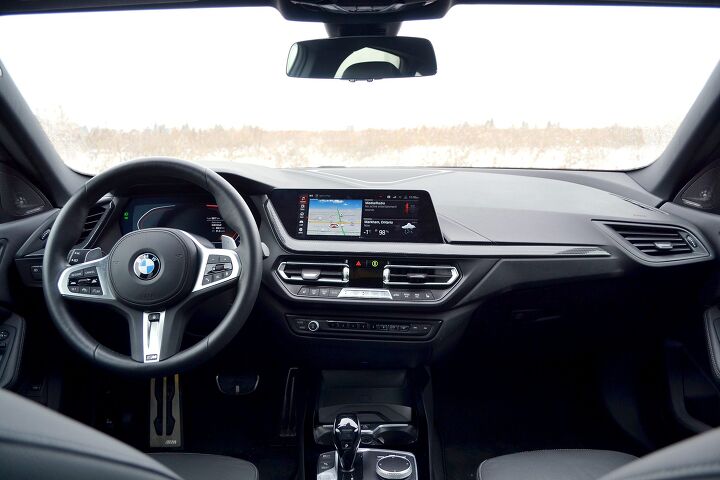 Wireless Apple CarPlay is standard, so it's good there's an (optional) wireless charging pad. Android Auto is still unsupported, but should arrive at some point this year.
While it's bright and roomy up front, rear-seat passengers are left with little room. Even with the front seat set for my 5'10" frame, I found it uncomfortable to slot in behind, and would need to permanently slouch for any rides. I guess that's where BMW justifies the "coupe" part of the name.
On paper, the trunk is huge for the class, measuring 15.1 cubic feet (424 liters). In practice, it's less useful: the opening is short and narrow, and the pulls for the seats eat into precious vertical space.
…but not quite outside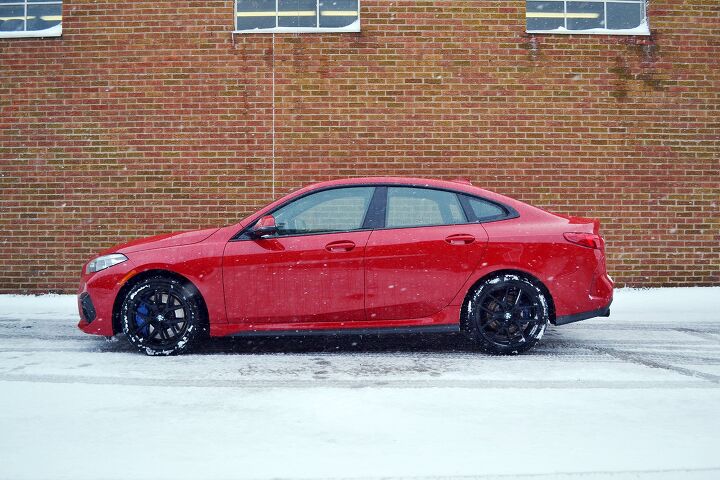 I don't think Carlin was a fan of the hamburger method of constructive criticism, but I'm going to employ it here. The 2GC has the kidney-grille-squinty-headlamp front-end that makes it instantly recognizable as part of the BMW clan. Phew, that wasn't too hard.
Oh yeah, the meat. The problem is that the classic details are grafted to a different shape, due to the UKL platform. In profile, the nose is tall and the tail stumpy. The front wheels are much closer to the base of the windshield than the rear-drive cars. Slim, wide taillights should highlight the width of the car, which is a good thing, but the BMW models they most closely represent are the lumbering coupe-over models. From behind, the 2GC looks like a shrunken X6, not a more compact 3 Series.
It's a bit like someone trying to cook your grandma's famous pasta dish, but they've only ever heard it described once before. Wait, dang it, that was supposed to be another fluffy bun.
How it drives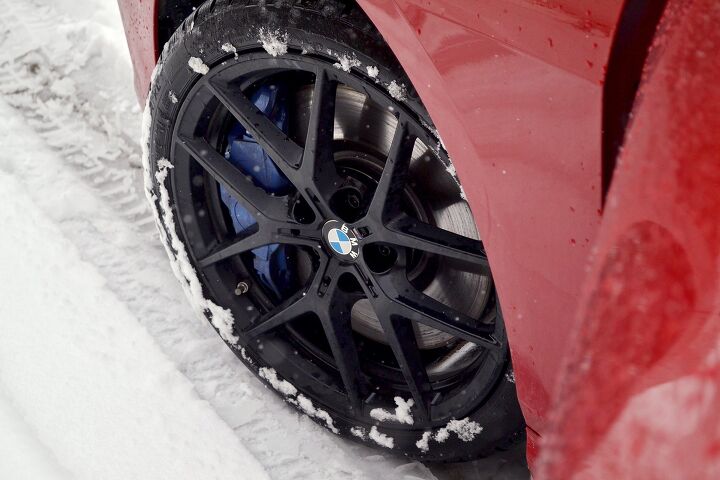 On the road, the Gran Coupe is a deceptively quick little number. This might be the "base" engine, but BMW has a habit of conservative ratings for its turbo units. Case in point: this turbo 2.0-liter is rated to 228 hp and 258 lb-ft, yet Car and Driver scooted it to 60 mph (96 km/h) in just 5.1 seconds. I can only rely on the trusty butt-dyno. During the week I had the 2GC, we were moving, and that involved countless back-and-forths between two parts of the city, getting on the highway only to get off the very next ramp. This little Melbourne Red not-a-coupe felt easily good for that sort of sprint figure. An eight-speed auto handles shifting duties as flawlessly here as in other modern Bimmers.
The 2GC isn't light, tipping the scales at 3,534 lb (1,603 kg). What's more, some 58.6 percent of that sits over the front axle. The steering does a good job masking the heft: it's precise, turning in quickly without ever feeling darty. It's an agile car, and only really gives up its front-based roots when pushed hard, gently understeering. It feels distinctly sportier than the other German entry-level sedans. No tail-out shenanigans, of course, but unless you go Cadillac CT4-V, that's not on the menu across the class.
SEE ALSO:
2020 Cadillac CT4-V Review: Softer, but Still Single-Minded
That enthusiastic slant does cost the 2GC some daily-commute comfiness, mind you. The adaptive M Sport suspension is firm, even in the Comfort setting. Bigger bumps and broken pavement transmit more of their nastiness into the cabin than expected. If possible, I'd recommend trying the 2 without the M Sport kit on your daily commute to determine if the added dynamic prowess is worth the ride quality compromise.
Modern BMWs are quite fuel-efficient, and the 2GC is more of the same there. The EPA rates it at 23 mpg city and 33 mpg highway; Canadian figures are 10.2 and 7.2. During the week my tester averaged an even 8.0 L/100 km, which works out to a little shy of 30 mpg. The official numbers are right in line with the CLA 250 4Matic, and better than either the A3 or CT4—though bizarrely, worse than the larger, more powerful 330i.
What it costs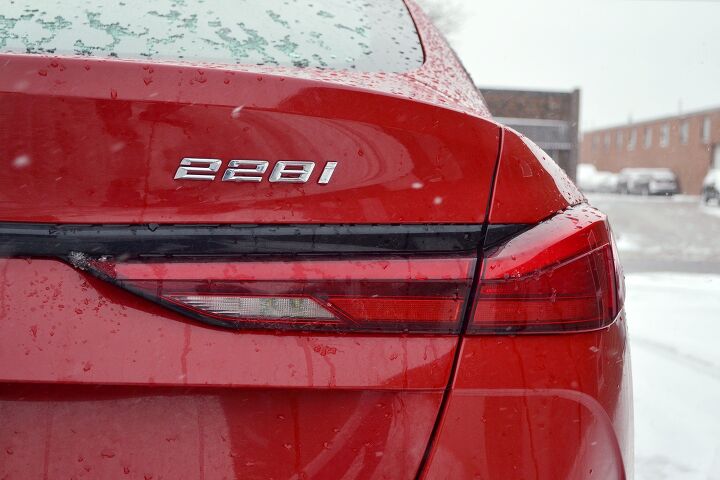 The 2020 BMW 228i Gran Coupe started at $38,495 ($44,980 CAD) in xDrive form. That's smack in the middle between the more expensive CLA and the cheaper (soon to be replaced) A3. Naturally this one came with a cornucopia of options, driving the list price up to around $50,000 ($55,875 CAD). A lot? Absolutely, but you're looking at similar moola for either of those competitors. The tougher question is whether you'd consider the larger 3 Series for only a few thousand more to start. Or, at this high end of modifications, go all-in on prioritizing performance and opt for the left-field Caddy CT4-V.
Verdict: 2020 BMW 228i Gran Coupe Review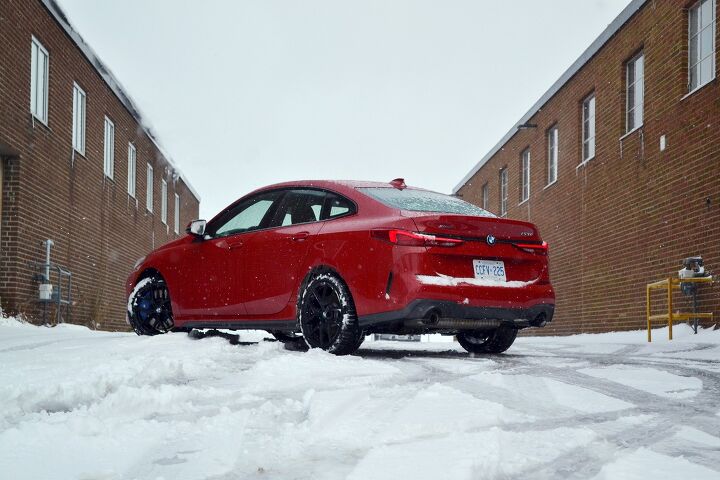 Traditionalists will probably avoid the 2 Gran Coupe. The front-drive-based platform is a step too far for some. I don't doubt they're the vocal minority in this case: for most potential buyers, this represents a (slightly) more affordable entry point into the brand. For better or worse, it also offers a driving experience closer to what they may have experienced from mainstream brands, with an added injection of sportiness. The 2 Gran Coupe is a competent handler and deceptively quick, and while it won't win any beauty contests, it should bring younger, new-to-brand clients into dealerships.
At the end of the day, that's the goal: get folks hooked on the BMW way of life, so that the next model they buy has the blue-and-white badge too. On that front, it succeeds. You could say it's the first step on a path to mehr Zeug.
Become an AutoGuide insider. Get the latest from the automotive world first by subscribing to our newsletter here.
LOVE IT
Powerful drivetrain
Lots of tech
A more affordable BMW entry point
LEAVE IT
...but not too affordable
Ungainly proportions
What is this, a back seat for ants?

Kyle Patrick
Kyle began his automotive obsession before he even started school, courtesy of a remote control Porsche and various LEGO sets. He later studied advertising and graphic design at Humber College, which led him to writing about cars (both real and digital). He is now a proud member of the Automobile Journalists Association of Canada (AJAC), where he was the Journalist of the Year runner-up for 2021.
More by Kyle Patrick
Published January 5th, 2021 4:35 PM
Popular Articles
Latest Comparisons
Car Buying Tools