48 Views
2021 BMW M440i XDrive Review: Baby Grand (Tourer)
January 26th, 2021 5:38 PM
Share
We're committed to finding, researching, and recommending the best products. We earn commissions from purchases you make using links in our articles. Learn more here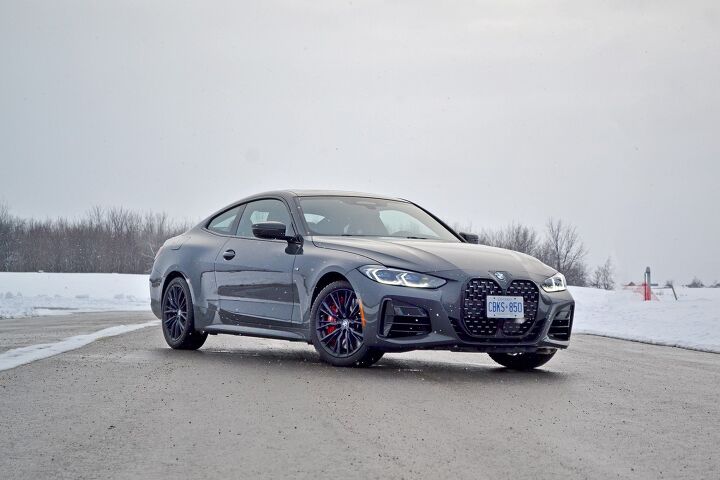 BMW wants you to know it still cares about enthusiasts. Just look at the manual-equipped, rear-drive M3 and M4.
But what about this, the 2021 BMW M440i? With previous generations (before the model-line split) the non-M 3 Series models offered a taste of what the ultimate models offered. Sure, engine outputs were lower, and exterior styling was subtler, but that same inherent sport-coupe balance was baked in.
Things are different now. This is the most powerful model before stepping up to the M4, and the M440i is quick enough that an E92 or E46 M3 wouldn't know which way it went on a good road. But there's a not-so-subtle change in character here. Instead of a cut-price M4, BMW has turned the M440i into a baby grand tourer, an insulating (and insulated) two-door capable of covering vast distances with little effort.
Let's talk about that grille
Look, I can't not talk about it. No matter what BMW put under the hood or inside the cabin, everyone has an opinion on the 4's schnoz—most of them negative. I count myself within that camp, not because of the grille's size, but on how poorly it integrates with the rest of the 4 Series design. There's a panoply of lines all vying for attention on the coupe's face, yet none succeed. That giant waffle iron looks grafted on, though at least it blends in more here thanks to the Dravit Grey exterior. And credit where credit is due: the active shutters housed within do bring some direct cooling perks.
SEE ALSO:
2020 BMW X3 PHEV Review: Plug-In the One to Have
The rest of the 4's shape is better. It's grown, gaining 5.3 inches (134 mm) from that controversial nose to tail. That affords the two-door shape some added elegance in profile, with it now bearing more than a passing resemblance to the bigger 8 Series. From certain angles, the visual heft of the rear shoulders almost overwhelms the 18-inch wheels, though. Normally they'd be 19s, but this car is fitted with smaller winter tires.
More familiar inside
FAST FACTS
| | |
| --- | --- |
| Engine: | 3.0L I6 Turbo w/ mild hybrid |
| Output: | 382 hp, 369 lb-ft |
| Transmission: | 8AT, AWD |
| US fuel economy (MPG): | 22/31/25 |
| CAN fuel economy (L/100KM): | 10.5/7.7/9.2 |
| Starting Price (USD): | $59,495 (inc. dest.) |
| As-Tested Price (USD): | $72,320 (est, inc. dest.) |
| Starting Price (CAD): | $66,930 (inc. dest.) |
| As-Tested Price (CAD): | $80,975 (inc. dest.) |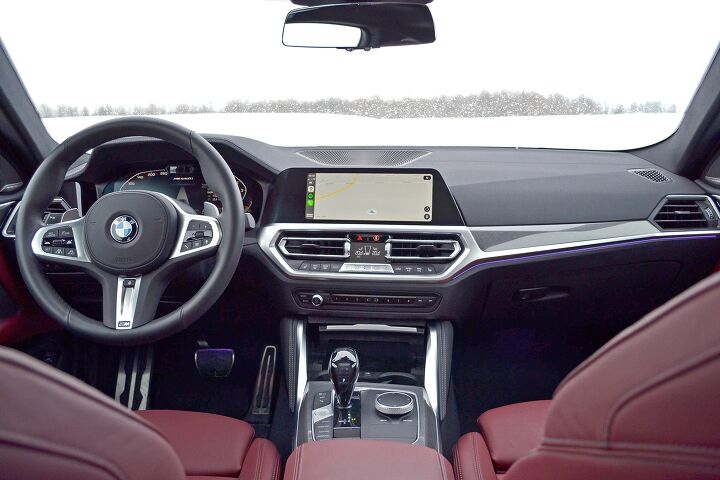 At least the interior of the M440i is less jarring. In fact, if you've been in the latest 3 Series you'll be right at home here, as it's the same setup. It's an odd choice given the effort to separate the two models visually, but on the flip side, it's a well-laid-out, high-quality interior. The central stack is simple, with physical buttons for climate and audio, plus a 10.3-inch touchscreen, all canted towards the driver. You can't help but feel pampered the first time you close the door and the little motorized arm hands you your seatbelt, too.
The dark red leather seating spices up the mix of black plastic and aluminum, as does the available ambient lighting. That the front seats are plenty comfortable, with just the right amount of bolstering, is no surprise. It's the second row that will do the trick: it's far from palatial, but actual adults can fit back there without needing to imitate Cary Elwes' character from Saw. Headroom is still tight, but perfectly acceptable at 35.2 inches (894 mm).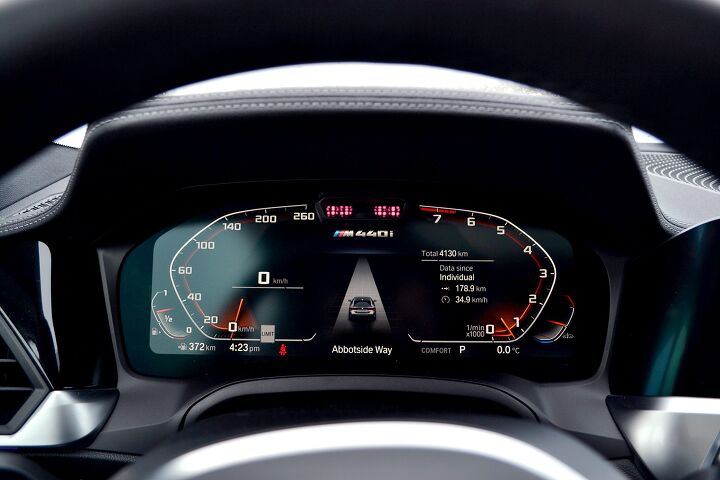 iDrive is as pleasant as ever to use, with crisp graphics and snappy responses whether prodding the screen or using the central dial. There are a lot of sub-menus, but once you've figured them out it's a cinch to find what you need. The digital instrument panel is similarly customizable. BMW's adaptive cruise control deserves special mention: it uses its various sensors to provide a detailed visualization right in front of the driver, showing how centered the 4 is in its lane, and the nearby cars. It'll even differentiate between big trucks and regular passenger vehicles.
SEE ALSO:
2021 Lexus RC 350 AWD Review: First Drive
Other goodness on my tester, most of which is optional: the head-up display, BMW Drive Recorder (which will automatically record 20 seconds before and after any accident), and laser headlights—they're a lifesaver on inky country roads. Props for including rear-seat USB ports, too.
I was less enamored with the overly-thick steering wheel (a brand standard now, but that doesn't make it right), nor the useless media controls on its right spoke. And wave the gesture controls goodbye: as someone who speaks with their hands, I'd often skip or pause music and yet have no idea what to do to then reverse the move.
Quick and (maybe too) composed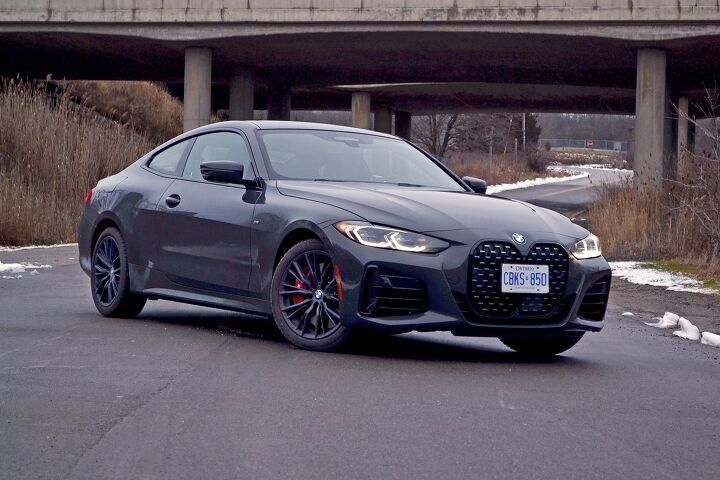 BMW has long been a master of the inline-six engine layout. The one behind the M440i's super-squirrel nose is a belter, throwing down 382 hp and 369 lb-ft when combined with the mild-hybrid system. It sounds pretty good too, with a cleaner war cry than the muddled, slighty dieselly note of the outgoing M4. An eight-speed auto is the only transmission option, offering seamless shifts in softer modes and wickedly quick ones in Sport+. Like the rest of the brand's turbocharged powerplants, the 3.0-liter feels more muscular than its on-paper stats. The Bavarians quote a 4.3-second run to 60 mph (96 km/h), and the 4 feels like it could do that in snow. Just sayin'…
SEE ALSO:
2021 Toyota GR Supra A91 Edition Review: More Power, More Fun, More Blue
With the increased dimensions and standard xDrive, the M440i is a chunker at 3,977 lb (1804 kg). Despite the shared engine, a more spacious, all-wheel drive Toyota Supra this is not. It starts well enough: turn-in is sharp, the sense of heft only really arriving through longer corners. The balance is pleasantly neutral—a good thing when the roads are threatening to ice over—but even when the mercury perks up above freezing, the M440i never truly feels like it wants to cut loose. The adaptive suspension firms up nicely in Sport+ mode, yet it never devolves into teeth-clattering punishment, still soaking up bumps big and small. It's a little too insular, truth be told—and the light steering wheel doesn't help.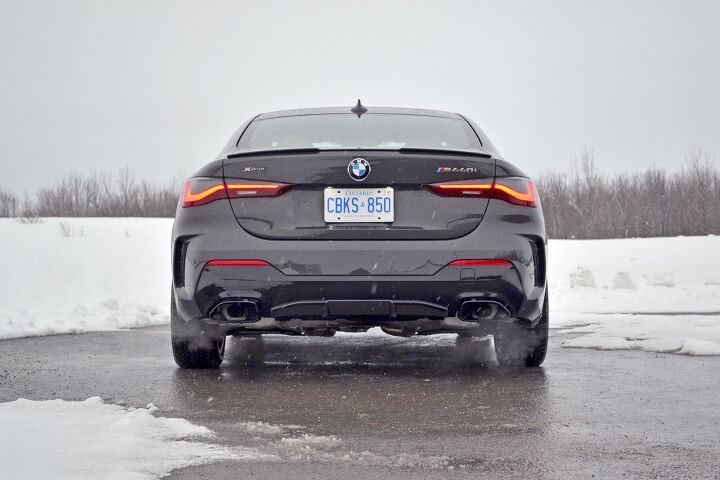 Dial down the aggression and the M440i starts to improve. That insulation makes it a fabulously comfortable mini-GT, hoovering up vast stretches of tarmac with conviction. Remember how frustrating it would be having to untangle video game controller cords? The 4 does that to your local twisty road, but makes it look easy. The abundance of grip allows for the Great Untangling with ruthless efficiency.
Lending credence to its grand touring ambitions is the BMW's excellent fuel economy. Even driven fairly aggressively, it scored a solid 26 mpg (9.0 L/100 km) through the week-and-a-bit. BMW says it'll hit 31 mpg (7.7 L/100 km) on the highway, and I consistently saw better than that.
Verdict: 2021 BMW M440i xDrive Review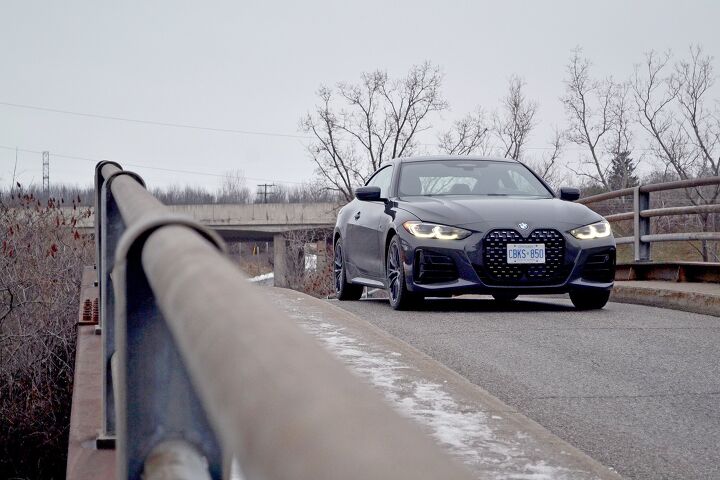 Fast, accomplished, and plush, the M440i is a veritable baby 8 Series, for better or worse. It's an easy car to get along with, with high accessibility for both its performance and its tech. It's even reasonably roomy for a rakish coupe.
That ease of performance can have the 4 Series feeling a little one-dimensional, however. Despite those … daring … looks, from behind the wheel the M440i is more buttoned-down cruiser than agile sports car. If that's your cup of tea, then grab a big ol' mug.
Become an AutoGuide insider. Get the latest from the automotive world first by subscribing to our newsletter here.
LOVE IT
So quick, so composed
Spacious interior
Lots of great tech, sips fuel
LEAVE IT
A little too insulating
Hefty
Super-squirrel face

Kyle Patrick
Kyle began his automotive obsession before he even started school, courtesy of a remote control Porsche and various LEGO sets. He later studied advertising and graphic design at Humber College, which led him to writing about cars (both real and digital). He is now a proud member of the Automobile Journalists Association of Canada (AJAC), where he was the Journalist of the Year runner-up for 2021.
More by Kyle Patrick
Published January 20th, 2021 11:27 AM
Popular Articles
Latest Comparisons
Car Buying Tools