4 Views
2019 Buick Envision Review and First Drive
February 4th, 2021 3:42 PM
Share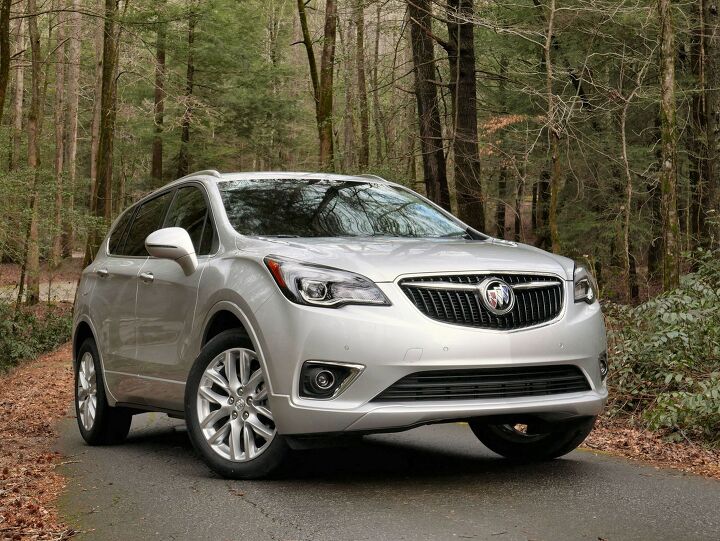 If there's ever been an indication that Buick is a brand on the move, the 2019 Envision is it.
Introduced a mere two years ago, the latest SUV in the luxury marque's stable has already been given a refresh in a bid to keep up not just with the breakneck pace of the sport-utility segment, but also Buick's own full-speed-ahead strategy to further cement its growth among premium-seeking buyers.
Why puff up the Buick Envision now after a mere 24 months of sales? Because as young as it might have seemed to North American shoppers, the Envision was actually the oldest member of the Buick family, with models like the Enclave and the Regal having been completely redesigned within the last year.
The Same, But Different
It's worth mentioning, however, that there haven't been any radical changes made to the 2019 Buick Envision's already-successful formula. Indeed, with the Envision moving more than 40,000 units last year — already half the number of the automaker's established star, the subcompact Encore crossover — Buick clearly got a lot right when it imported the larger five-passenger vehicle from its Chinese operations as a 2017 model.
ALSO SEE: 2018 Buick Regal TourX Review
Easiest to spot are the cosmetic updates to the front and rear of the Envision, including a new grille treatment and rear fascia. HID headlights are now standard on entry-level models, with upper trims gaining LED units. Inside, you won't have the same luck, as Buick has kept things almost entirely status quo in terms of appearance. Exceptions include a button that lets you disable the vehicle automatic engine start/stop system, and another that allows for drivers to move back and forth between adaptive and regular cruise control. Rounding out the list of feature updates are an air ionizing system to improve cabin freshness, a new set of wheels, and an upgraded seat heating system.
FAST FACTS
| | |
| --- | --- |
| Engine: |  2.5L 4-cylinder / 2.0L 4-cylinder turbo |
| Output: | 252 hp, 295 lb-ft of torque / 197 hp, 188 lb-ft of torque |
| Transmission: | 6 or 9-speed automatic |
| Fuel Economy: | TBD |
| US Price: | Starts at $32,900 |
| CAN Price: | TBD |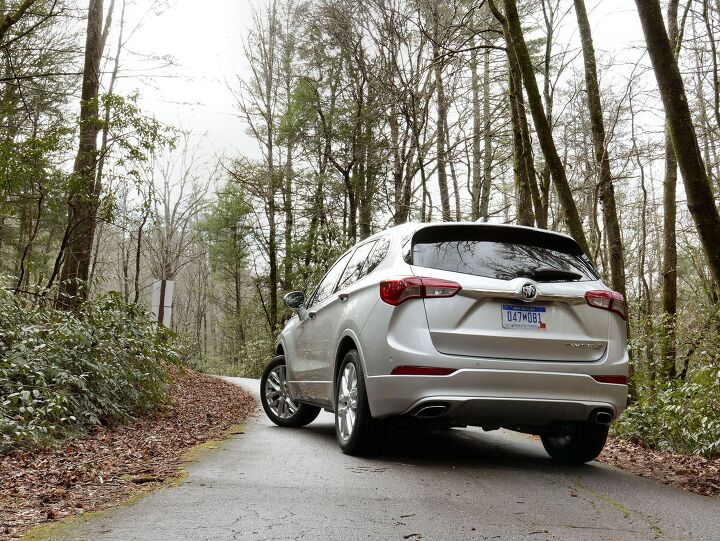 It's Torque Time
Less apparent, but arguably more impactful has been the decision to give the turbocharged version of the 2019 Buick Envision a new nine-speed automatic transmission. Also in the cards are 35 additional lb-ft of torque, bringing the 2.0-liter four-cylinder's total output to 252 horsepower and 295 lb-ft (and slicing a half second from its sprint to 60-mph).
When I last drove the Envision, I could find no fault with the grunt on offer from its range-topping turbo four, and plying the Appalachian roads north of Atlanta, Georgia, in its latest iteration left me with a similar impression. Even long, uphill slogs to the tops of 5,000-foot summits with names like Blood Mountain were not an issue for the Envision, which also offers standard all-wheel drive when ordered in turbo trim.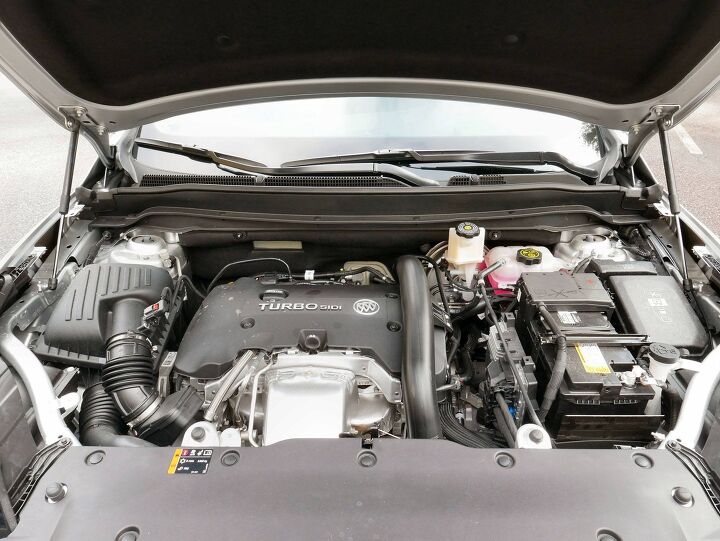 A little less impressive was the nine-speed's gear hunting on twistier sections of road, as the transmission was unwilling to respond swiftly to the demands of my right foot when emerging from a sharp corner. This occurred whether the traction control system was on or off, and at speeds far from the edge of the Envision's performance envelope. A specific gripe, for sure, and one that few owners will encounter on their daily commute, but one I didn't have with the older six-speed automatic (that is still available with the base 2.5-liter motor).
About that entry-level mill: I've yet to encounter a Buick Envision outfitted with one (there were none at this launch event), and while I'm sure its 197 horses and 188 lb-ft are adequate when tooling around town with an empty cabin, those seeking a true premium product will do well to step up to the turbo.
More for Less
One final change that potential Envision owners will be likely to embrace regardless of which model they are interested in is the across-the-board price drop on all trim levels. Base versions of the Buick now start at an MSRP of $32,900 in the U.S., which represents a $2,000 haircut compared to last year, while the next-step-up Preferred trim slices $2,400 off the top. Even the priciest Envision — the Premium II — is $1,400 less than it was previously. Canadian pricing has not yet been announced.
ALSO SEE: 2018 Buick Enclave Review
This added value comes at no cost in terms of features or equipment, either, as the Buick Envision remains available with items such as navigation, Apply CarPlay, Android Auto, standard 4G LTE WiFi, a surround-view camera system, and safety gear such as lane keeping assistance, automatic forward braking, and blind spot monitoring.
There's plenty of room in the second-row seat for adults to endure a longer road trip, and with the back row folded forward, the Buick provides a class-competitive 57.3 cubic feet of total cargo space. There's a panoramic sunroof available with the Envision as well, but it takes a chunk of rear headroom with it — so much so that my own 5'7″ noggin had only a smidgen of airspace between it and the ceiling when seated.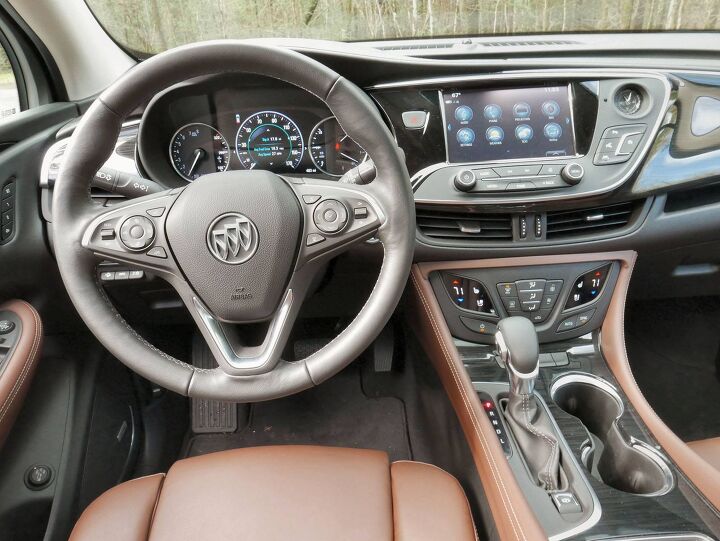 The Verdict: 2019 Buick Envision Review
Tweaked and tucked, the 2019 Buick Envision is still very much the same value proposition it was when it dusted Chinese dust off its fine, fancy boots as a 2016 model. Both addition (power, features, style) and subtraction (price) are the math that have helped move the Envision forward with the rest of the premium SUV pack without changing its personality or pushing it in front of a different set of customers. In the midst of a new product onslaught, it's telling that even the "oldest" badge on Buick's lot still has a lot to offer buyers who would otherwise be tempted by the SUVs sitting in Lexus, Acura, or Lincoln showrooms.
Discuss this article on our Buick Envision Forum
LOVE IT
Comfortable to drive
Good power from turbo
Affordable pricing
LEAVE IT
9 speed occasionally uncertain
New styling less evocative
Somewhat plain switchgear
Published March 2nd, 2018 10:13 AM
Popular Articles
Latest Comparisons
Car Buying Tools