37 Views
2020 Buick Encore GX Review: Pint-Size Premium SUV Sure is Pricey
February 1st, 2021 6:05 PM
Share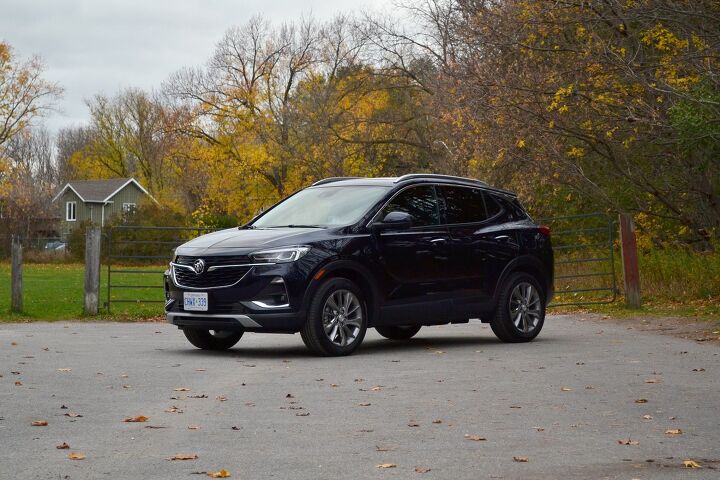 Let's get the name thing out of the way right now.
According to Buick, the GX in Encore GX stands for "Grand Crossover". It's an odd choice for the second-smallest model in the lineup; the GX slots in between the original Encore and the Envision. It's not a trim level for the former, even if it reads as such. Got it? Good.
New for this year, the Encore GX's mission in life is to tackle the slightly larger side of the sub-compact SUV market. The niche is quickly becoming an entire segment unto itself: just this year we've seen the Mazda CX-30 and Kia Seltos debut. The Encore GX is meant to add a little light-luxury feel to the class, and ideally, bring down Buick's average buyer age. While it's a likeable enough little package, blending mature looks with a healthy bounty of tech, the GX stumbles in a few key areas, keeping it from class greatness.
SEE ALSO:
2021 Kia Seltos Turbo vs 2020 Mazda CX-30 Comparison
Baby Grand
Okay, the GX might not be a trim level of the original Encore, but given their proximity in size, they must be on a similar platform right? Not so. The Encore GX gets its own platform, and with it, a 1.6-inch (40-mm) longer wheelbase, at 102.2 inches (2,596 mm). Width is up nearly the same amount, while the 171.4-inch (4,354 mm) total length represents a 3.0 inch (77 mm) increase.
These don't seem like major changes, but the detail work Buick has wrought has freed up more interior space. Every measurement is improved over little brother, with exception to rear-seat headroom which, at 38.1 inches (968 mm), is just 0.7 inches (18 mm) less.
FAST FACTS
| | |
| --- | --- |
| Engine: | 1.3L I3 Turbo |
| Output: | 155 hp, 174 lb-ft |
| Transmission: | 9AT, AWD |
| US fuel economy (MPG): | 26/29/28 |
| CAN fuel economy (L/100KM): | 9.0/8.0/8.6 |
| Starting Price (USD): | $25,095 (inc. dest.) |
| As-Tested Price (USD): | $36,570 (inc. dest.) |
| Starting Price (CAD): | $27,898 (inc. dest.) |
| As-Tested Price (CAD): | $39,478 (inc. dest.) |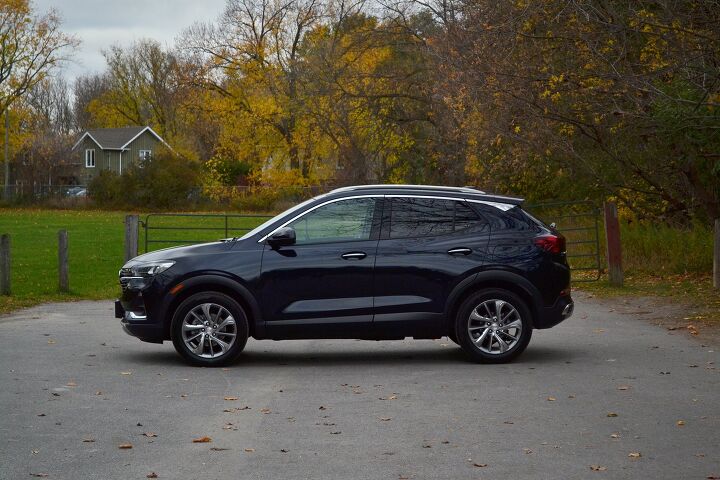 Trunk space is also up 25 percent. Wave your foot at the Buick emblem beamed onto the ground under the rear bumper and the hatch pops open, offering up 23.5 cubic feet (665 liters) of storage. Drop the rear seats and you're looking at 50.2 cubes (1,422 liters). Ample, but still some way shy not only of its platform-mate, the 2021 Chevrolet Trailblazer, but also the Kia Seltos.
SEE ALSO:
2021 Chevrolet Trailblazer Review: Not Straying from the Path
You won't mistake the Encore GX for its Bow Tie cousin on the road though. The Encore GX is a handsome little thing, making good use of Buick's current design language and avoiding the stunted look of the original Encore. The chrome mustache up front is about the only detail that feels fussy. 18-inch wheels are standard on all trims. Our loaded Essence AWD tester doesn't feature the Sport Touring package, which adds flashes of red to the exterior but doesn't change any of the mechanicals.
Three-cylinder choir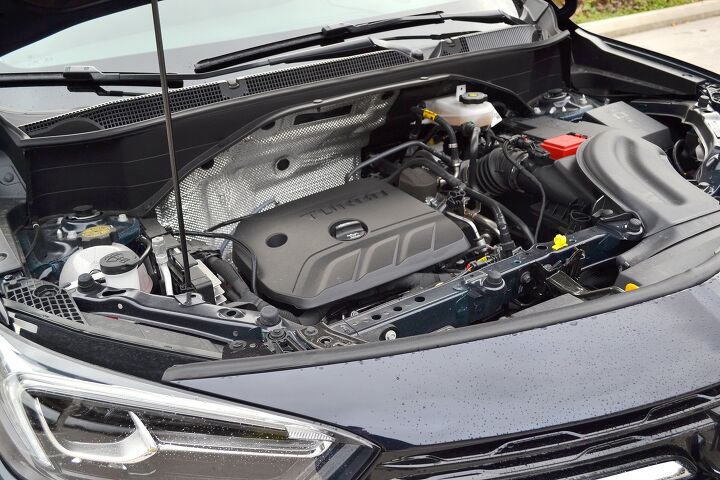 No matter which trim you pick, a three-cylinder engine will greet you under the Encore GX hood. Base front-drive models get a 1.2-liter, but we'd recommend steering towards the slightly larger 1.3-liter unit. On test here, it puts out a healthy 155 hp and 178 lb-ft of torque. On paper that puts it down on the turbo Seltos and 2.5-liter versions of both the CX-30 and Subaru Crosstrek, but appreciably above the base-engined options. The 1.3-liter also achieves the best fuel efficiency of the GX lineup in front-drive form, pulling off 30 mpg city, 32 mpg highway, and an average of yep, you guessed it, 31 mpg.
The larger engine can also be paired with all-wheel drive as tested here. In fact, it's only available with AWD in Canada. Fuel economy dips to 26/29/28 respectively (Canadian figures are 9.0/8.0/8.6 L/100 km). Wholly class-competitive figures there: we averaged a little over 26 mpg (under 9.0 L/100 km) during our week with the GX, and it spent most of its time in the city.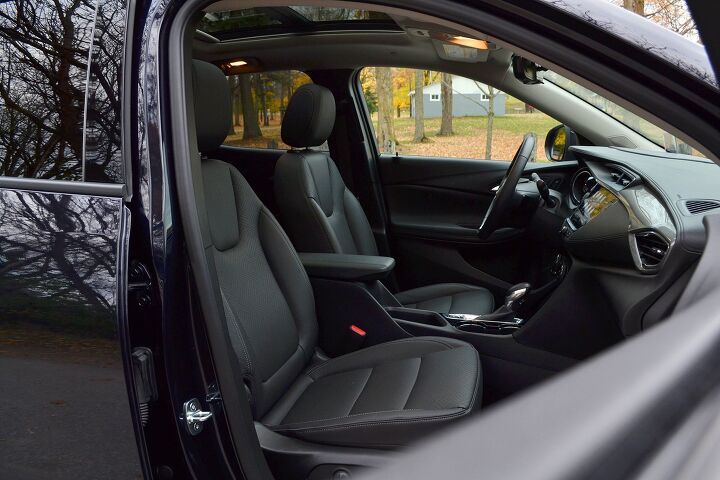 It's a strong engine, and the nine-speed auto—the 1.2-liter pairs to a CVT—makes the most of its torquey powerband. Shifts are smooth, and it quickly shuffles its way into the taller ratios once it's on the highway. Foot to the floor, it will drop a few gears and surf the triple's torque for effective overtakes—thank the GX's lighter curb weight than the OG Encore, too. Handling is as you'd expect: it soaks up city bumps without issue, and the steering wheel is one-finger light with little feedback. The brakes initially feel a little grabby at the top of the pedal, but are easy to modulate beyond that.
It's not power nor fuel efficiency that give the Encore its first bad mark. No, it's the refinement of the three-cylinder. The occasional coarseness was more acceptable in the Trailblazer, as that's a mainstream model. Buick is positioning the Encore GX as a light-luxury option, and buyers in that market may want a more subdued engine.
Spacious interior hosts lots of gadgets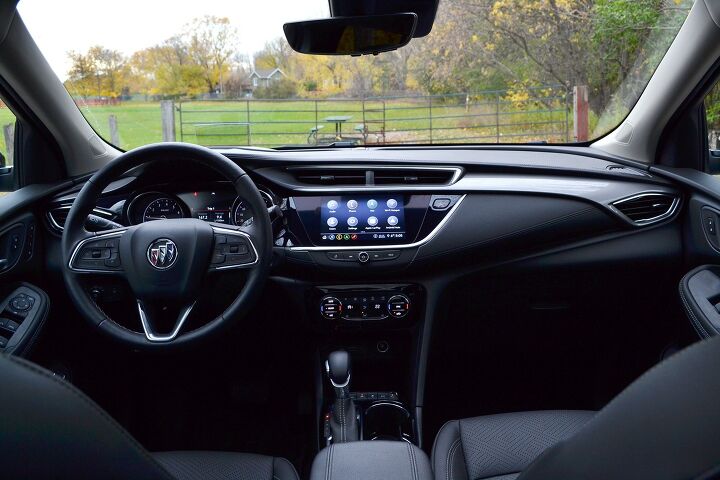 The Trailblazer connections continue inside. Buick has given the Encore GX a unique upper dashboard design, but the door cards, center console, and infotainment setup are all familiar. Again, it's not a bad thing— we liked the Trailblazer in our review—but it doesn't feel as special as other small, premium crossovers. The Ebony interior is a little gloomy too; we'd much prefer the Whisper Beige look. A large panoramic sunroof lets the light in, a welcome addition as we drive under the changing colors of the trees. The front row is roomy, and the back was plenty accommodating for my partner and I—folks over 6'0″ may find it less so, especially in terms of headroom.
While the infotainment may look familiar, GM's setup is easy to use and snappy in its responses. Apple CarPlay and Android Auto are both included, though bizarrely, not wireless like the Trailblazer I drove before this. I'm told it's a matter of production times. Wireless charging is here, though. The Encore GX also supports Sirius XM with 360L, which combines satellite and streaming. Physical buttons still exist for common climate and audio controls, and they're easy to find.
Adaptive cruise control remains optional, even on this top trim. It's part of an Advanced Technology Package ($1,790 / $1,995 CAD). Checking that option also includes a 360-degree camera—not common in the segment—rear park assist, and a head-up display. The latter is one of the flip-up glass deals, but it works, sitting high enough to not blend with the hood. That surround-view camera has some expected warping, but it's high resolution, making it easy to pick up any errant twigs or rocks that could come into contact with the GX's flanks.
One area the GX thoroughly trounces regular Encore is its standard safety suite. Forward collision alert, front pedestrian braking, lane keep assist, and Teen Driver mode are all included on all Encore GX models. Our tester also adds rear cross-traffic alert, rear park assist, blind-spot monitoring, rain-sensing wipers and automatic parking assist.
Verdict: 2020 Buick Encore GX Review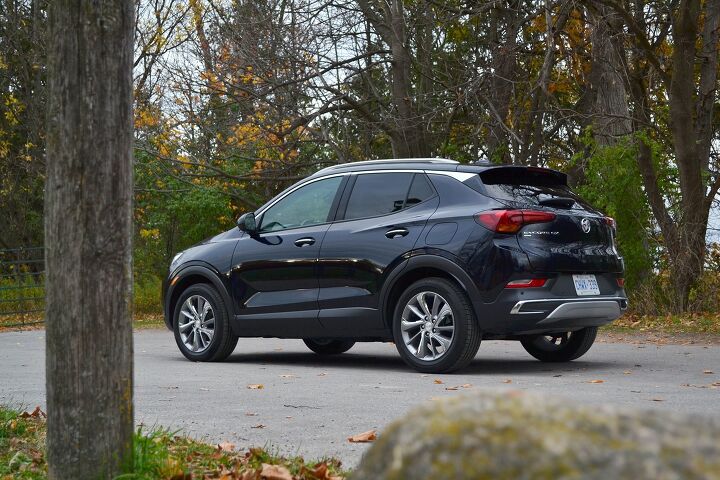 It's impossible to overlook the price of our tester. At $36,570, or $39,478 in Canada (both including destination), it's firmly into actual compact SUV territory—and well-equipped models at that. For less than $2,000 more ($3,000 CAD) you could find yourself in the hybrid versions of either the Toyota RAV4 or Ford Escape we compared earlier this year. That's a lot more car for your dollars, and the price difference would disappear after a few years simply from all the gas you'd save.
SEE ALSO:
2020 Ford Escape Hybrid vs 2020 Toyota RAV4 Hybrid
The Encore GX's main issue is that it feels too similar to the Trailblazer. Those mainstream roots keep it from competing against genuinely premium models like the Audi Q3, BMW X1, and new Mercedes GLA. On the flip side, it's way too pricey to be able to stand up to something like the CX-30, which does a better job of feeling premium.
This Grand Crossover fills a gap in Buick showrooms, but unless you're angling for one of the more affordable lower trims, there are better options elsewhere.
Become an AutoGuide insider. Get the latest from the automotive world first by subscribing to our newsletter here.
LOVE IT
Right-sized exterior
Roomy interior
Lots of safety and convenience tech
LEAVE IT
Way too expensive in top trim
Three-cylinder doesn't feel lux enough
Occasionally choppy ride
Published November 25th, 2020 1:59 PM
Popular Articles
Latest Comparisons
Car Buying Tools