33 Views
February 1st, 2021 8:35 PM
Share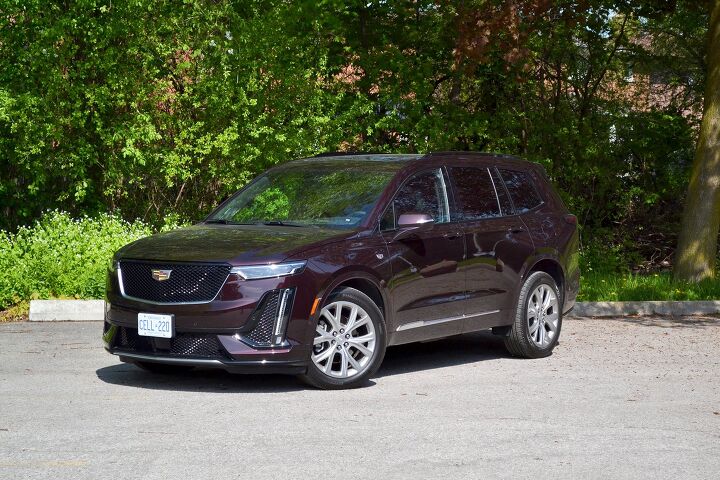 The Cadillac XT6 fills a large gap in the brand's lineup.
The American luxury marque was missing a modern, mid-size three-row crossover. It introduced the XT6 for the 2020 model year, which wades into a crowded and competitive market. Instead of targeting the dynamism of the German establishment, the XT6 is more of a cruiser, aiming for long-distance comfort for you and up to six other people.
Tailored looks
The XT6 is the penultimate step up the Cadillac crossover ladder. It's a three-row model like the Escalade, but smaller and sitting on a unibody platform. That's evident in its profile, where its proportions are more wagon-like than Caddy's halo model. That's not a strike against it, at least in my eyes. The XT6 is handsome, and wears the brand's latest design language well—especially in the Garnet Metallic of my tester. The 20-inch alloy wheels fill the arches nicely, and I dig the low chin of the front bumper. Sure, it doesn't look very off-road ready, but let's be honest: how many XT6 owners are really going to be going overlanding in their new ride?
Pop the hefty driver-side door, amble inside, and the first thing you'll notice is the smell. There's something about the XT6's leather that feels more American than anything in its class, like walking into a cowboy boot shop. Semi-aniline leather drapes the seats, and my tester comes with heated and cooled front thrones. Suede also shows up on the dash and A-pillars, adding a bit of visual and tactile delight. I'm not sure of the copper-tinted carbon fiber dash filet: it's very techy looking, but perhaps too much in this smooth operator. Build quality is excellent, with nearly everything feeling and looking solid. The exception is the cluster of buttons near the center console storage, including the driver mode one. They all feel cheap to the poke.
FAST FACTS
| | |
| --- | --- |
| Engine: | 3.6L V6 |
| Output: | 310 hp, 271 lb-ft |
| Transmission: | 9AT |
| US Fuel Economy (mpg, city/highway/combined): | 17/24/20 |
| CAN Fuel Economy (L/100 km, city/highway/combined): | 13.5/9.7/11.8 |
| Starting Price (USD): | $53,690 (inc. dest) |
| As-Tested Price (USD): | $71,240 ( inc. dest.) |
| Starting Price (CAD): | $63,198 (inc. dest.) |
| As-Tested Price (CAD): | $81,823 (inc. dest.) |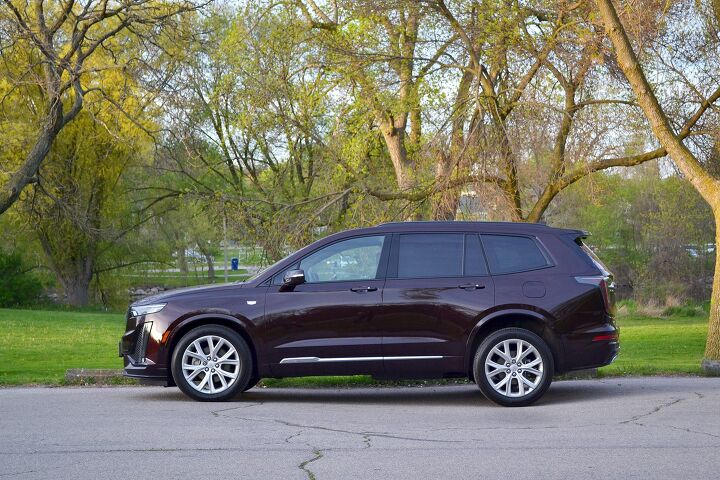 I especially like the slot for phones just ahead of the center storage. It keeps ugly exposed charging cables to a minimum, and doubles as a wireless charger if your phone allows. Plus, it keeps devices out of view. That wouldn't be possible with the tiny little cubby forward of the gear selector. This part confounded both my partner and I: it's too small and too flat to store much of anything without it falling out on the move. It'd be a lot more useful without the chunky leather surround.
The second row is similarly spacious, with dedicated climate controls. Even the third row is perfectly livable for my 5'10" self. It's a minor game of Twister to get back there however, thanks to the shape of the door cutout. Headroom is ample, and my knees just avoid making contact with the second row.
Improved tech majors on user friendliness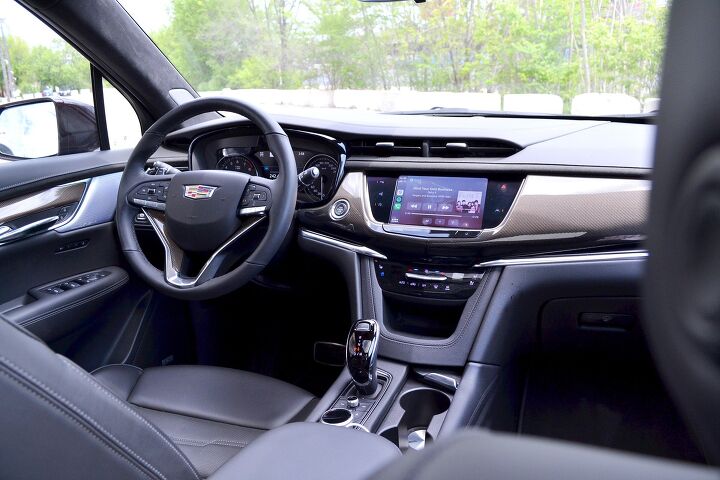 Cadillac uses the latest version of its CUE infotainment system in the XT6. It's one of the better examples of native systems out there, with a responsive touchscreen and plenty of customization. Apple CarPlay and Android Auto are standard. Usually I default to the former for navigation duties, but the XT6's own system was easy and intuitive enough that I stuck with it, especially thanks to predictive routing.
SEE ALSO:
Lexus UX vs Cadillac XT4 Comparison
The infotainment system allows for saved user profiles via OnStar subscription. The screen itself is 8.0 inches, and angled slightly upwards. It looks odd at first, but makes a lot of sense on the move since the high seating position gives you a clearer view. For those that would rather not smudge the screen up with finger prints, there's a rotary dial on the center console.
Emergency braking, forward collision alert, lane keep assist, blind spot monitoring, and rear cross-traffic alert are standard on all XT6 models.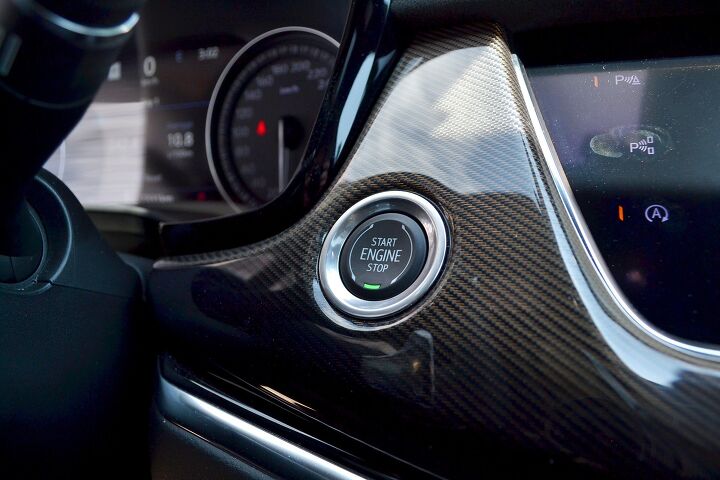 There's plenty of driver assist tech on offer too. Emergency braking works at all speeds, including reverse, which makes slotting this big boy into my underground parking far less scary. So does the XT6's parking assist, which will guide the vehicle into stall or parallel spots. GM's standard warning system, which vibrates the seats instead of sounding the in-cabin alarms, is a bit of a mixed bag. I appreciate that only the driver gets the warning instead of the whole clan, but it always makes me think I've accidentally sat on my phone. I do very much like that it will buzz just one side to warn of any dangers port or starboard, though.
SEE ALSO:
2018 Cadillac Escalade Review
Other niceties include a head-up display, digital rearview mirror, and a surround-view camera, which can even record footage while the car is parked. The rearview mirror makes it easy to "look through" any items or people in the way-back, though out on the road I found my eyes needed a second to readjust to its brightness. Cadillac's night-vision tech is also available, which alerts you to potential hazards outside of the already-excellent premium headlights' range.
Sport trim, but not a sporty drive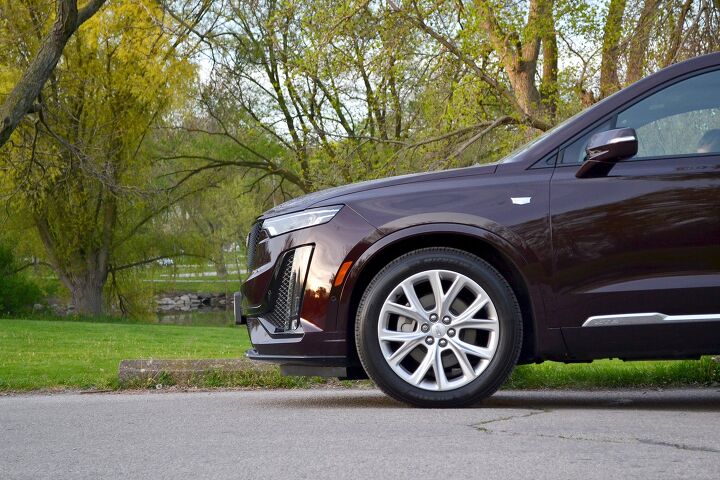 Sport-trimmed XT6 models gain two specific mechanical perks over the Premium Luxury trim: Cadillac's adaptive dampers, and a twin-clutch AWD system capable of sending 100 percent of the torque to either axle. Not only that, the system can split the available torque at the rear axle between either side, up to 100 percent to one wheel. These improvements might suggest the Sport trim on test here is a sort of diet V-series. It's not.
Now admittedly, I didn't find myself hot lapping a race track during my week with the trucklet. But even out on the road, in Sport mode, the XT6 is more of a cruiser than anything else. It swallows all but the worst potholes and expansion joints with little impact on occupant's backsides or their ears. The steering is quick and linear—Sport models get a faster ratio than the Premium Luxury trim—but feel-free.
SEE ALSO:
2020 Lincoln Aviator Review
Under the skin, the XT6 Sport shares its basic platform with the Buick Enclave and Chevrolet Traverse. That includes its powertrain, GM's trusty 3.6-liter V6 paired to a nine-speed automatic. It's a good engine, the LFY, feeling every one of its 310 hp even in this hefty crossover. It requires a fair amount of revs to unleash all 271 lb-ft of torque, but the lack of turbos makes it easy to mete out precise amounts of power via the long-travel throttle pedal. The auto 'box is a perfect pairing here, slurring ratios seamlessly at city speeds. Floor it around an on-ramp and the transmission responds in kind, kicking down quickly and letting the six-pot quietly sing out front.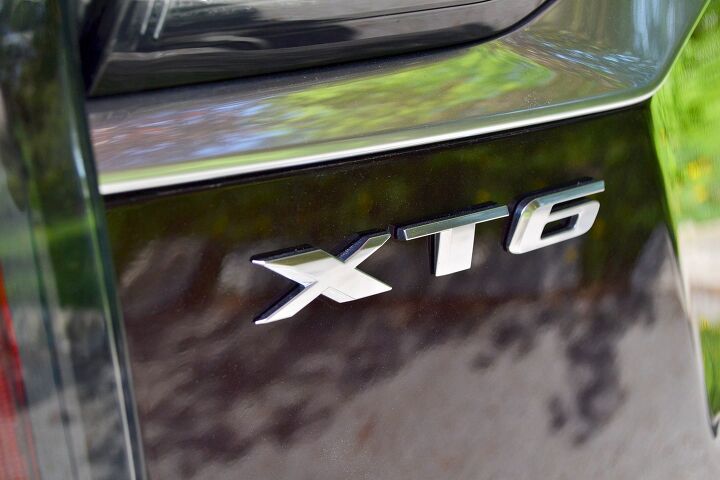 Switch over to the Sport drive mode and the XT6 will hold onto gears even longer. It will also lock into all-wheel drive mode; the default mode disconnects power to the rear unless needed, to save fuel. Speaking of, the EPA average for the XT6 is an even 20 mpg (17 city, 24 highway). That's thirstier than the equivalent BMW X5 and Mercedes-Benz GLE, but the XT6 happily slurps regular fuel instead of premium. I saw an average of 21 mpg (11.0 L/100 km) over my week, and that included gas-heavy endeavors like shooting photos.
Try as I might, I could not get used to the brake pedal. It's spongy, requiring quite a lot of travel before any significant stoppage happens. The pedal saps confidence, especially when driving at night on a busy highway. Luckily, Cadillac's adaptive cruise control is quite good there, and can handle stop-and-go responsibilities. I'd like to see Super Cruise even more, though.
The Verdict: 2020 Cadillac XT6 Review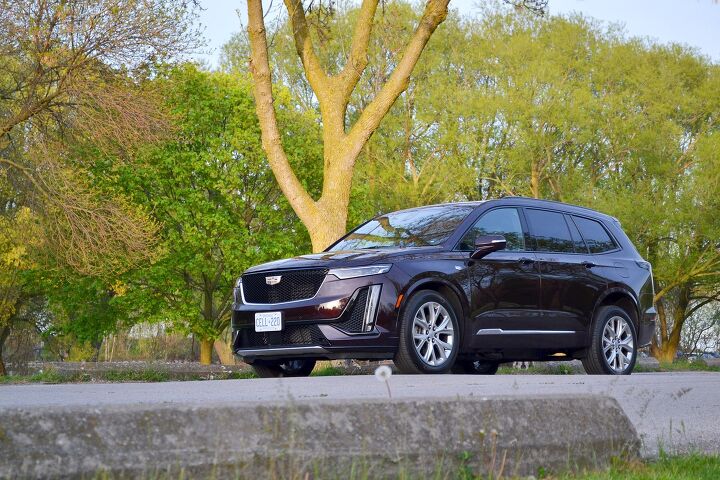 Cadillac badly needed the XT6. It turned out the model on an existing platform, and largely succeeded. It's handsome, comfortable, luxurious, and comes loaded with tech. The XT6 is, put simply, a very good car.
It is up against some great ones, however. In this spendy, optioned-up Sport trim ($71,240, or $81,823 for Canada), it sits in the X5 and GLE's hunting grounds. It can't match the dynamics or the towing capacities of either, but on the other hand, it offers a smoother ride and more third-row space. Resist the options list and the Acura MDX hovers into view, with the same set of pros and cons.
But the stiffest competition comes from the mainstream. Not just from the XT6's platform mates, but the Korean duo of the Hyundai Palisade and Kia Telluride. Neither can match some of the cutting-edge tech in the XT6, but they so vastly undercut it that I'd be remiss for not mentioning them.
Nonetheless, the XT6 gets Cadillac a seat at the three-row luxury crossover table. If you've not considered the brand before now, and jive with the XT6's focus on space and comfort, it warrants consideration.
LOVE IT
Smooth ride
Handsome exterior
Spacious third row
LEAVE IT
Gets pricey fast
Not dynamically sporty
Just one engine option
Published May 26th, 2020 1:08 PM
Popular Articles
Latest Comparisons
Car Buying Tools