89 Views
2022 Cadillac XT4 Sport AWD Review – A True Small Caddy
August 30th, 2022 2:04 PM
Share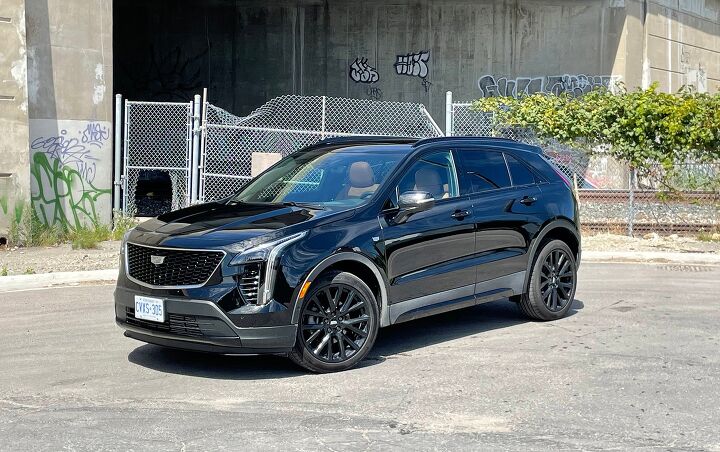 FAST FACTS
| | |
| --- | --- |
| Engine: | 2.0 L Turbo |
| Output: | 235 hp, 258 lb-ft |
| Transmission: | 9AT, AWD |
| US fuel economy (MPG): | 23/29 |
| CAN fuel economy (L/100KM): | 10.9/8.2 |
| Starting Price (USD): | $37,490 (inc. dest.) |
| As-Tested Price (USD): | $53,925 (inc. dest.) |
| Starting Price (CAD): | $40,398 (inc. dest.) |
| As-Tested Price (CAD): | $59,508 (inc. dest.) |
Ten hours over two days is a long time to spend in a car.
Maybe using the term long time is a stretch. After all, I've done plenty of singular 14+ hour driving days in the past. But two days and 10 hours, over one of the most uninspiring stretches of highway in North American, can feel like an eternity.
Get a Quote on a New Cadillac XT4
As the miles roll by in a long, straight, endless horizon, it gives one a lot of time analyze and reflect. So, after roughly 560 miles of driving, I'm quite confident I got a feel for the what the 2022 Cadillac XT4 Sport is all about.
A Real Cadillac
But maybe it's best to start with what the XT4 is not; a warmed-over badge engineered offering. Cadillac, like many premium and luxury manufacturers, has been guilty in the past for offering what merely felt like slightly fancier versions of the brand's mainstream corporate siblings. Not so with the XT4.
Cadillac has succeeded in separating the small SUV from its kinfolk, like the Buick Envision, and especially the more distantly related GMC Terrain and Chevrolet Equinox. For starters, the exterior looks completely different and wears very distinct Cadillac sheet metal. At 181 inches in length, the XT4 resides on the smaller side of compact SUVs, but still features good exterior proportions. It doesn't suffer from any styling awkwardness that plagues other small SUVs. Many commented to me on how pleasing the overall look is.
2022 Cadillac XT4 Sport – Proper Power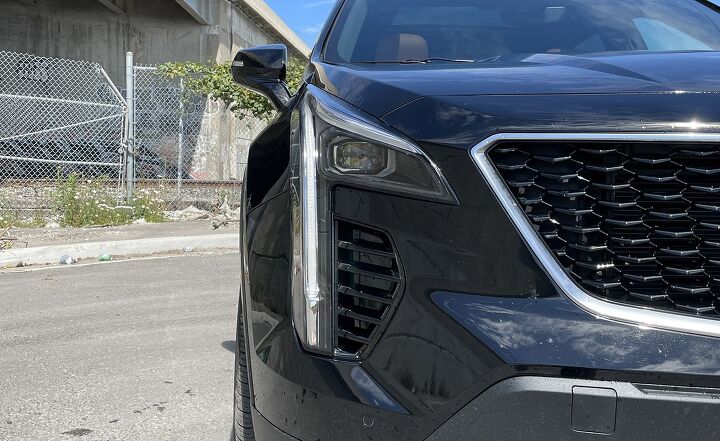 As is the norm for small luxury SUVs, the XT4 features a 2.0-liter turbocharged four-cylinder engine. Power is rated at 235 hp and 258 lb-ft of torque. That puts it slightly above the outputs listed for the Audi Q3 and BMW X1. And while discussing one-upmanship, the Cadillac has one extra gear attached to its automatic transmission, with 9 nine total compared to the 8 found in the BMW and Audi.
SEE ALSO:
Lexus UX vs Cadillac XT4 Comparison
The Cadillac's powertrain feels more responsive than the numbers suggest. It's a significant upgrade over GM's 1.5-liter turbo found in the corporation's lesser compact SUVs. Never once did the XT4 leave me wanting more from the engine. The response is immediate around the city. The transmission is smooth, quick, and effortless. Rarely during my 560 miles of driving did I feel an abrupt gear change.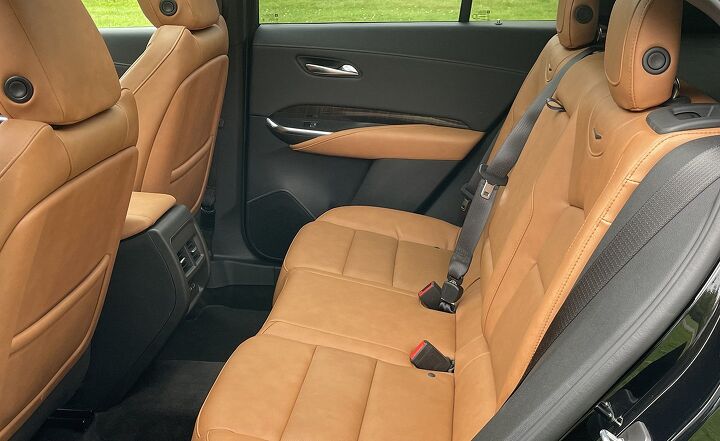 During my time with the vehicle, it averaged 26.7 MPG (8.8 L/100 km) with a split of about 80% highway and 20% city. With official fuel economy ratings of 23 mpg (10.9 L/100 km) city and 29 mpg (8.2 L/100 km) highway, that seems about right.
More Cruiser than Carver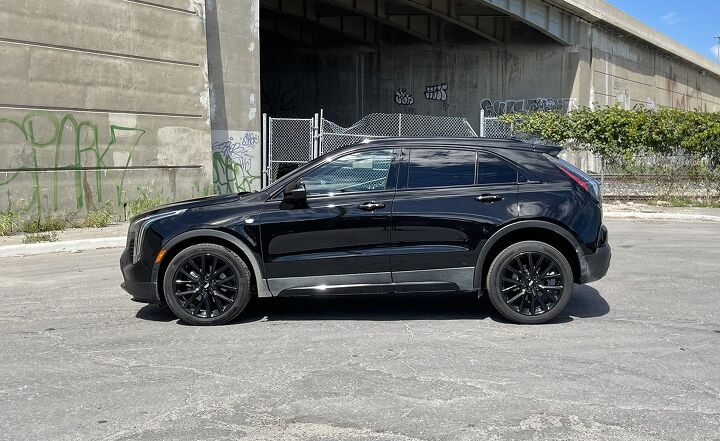 The XT4 rides a bit stiff, especially for something not overly sporty (even if Sport is in its name). The Caddy's small footprint may have something to do with this, and the optional active sport suspension with active dampers may improve both responsiveness as well as comfort. Still, the vehicle handles predictably and confidently on various road surfaces, speeds, and weather conditions.
I like that the all-wheel drive system can be completely disabled through the various drive modes. During most of my drive, it was sunny, summer highway cruising so there was no need to ever have AWD engage. But when I drove into a midwestern summer storm, visibility became near zero with sideways rain and strong winds. Having on demand all-wheel drive, while not necessary, was still a nice safety net to have.
Although my vehicle was heavily equipped with nearly every possible option, I do wish it had the Driver Assist Package with the Adaptive Cruise. Anything to help with hours upon hours of boring, mundane freeway driving.
2022 Cadillac XT4 Sport – Fatigue Free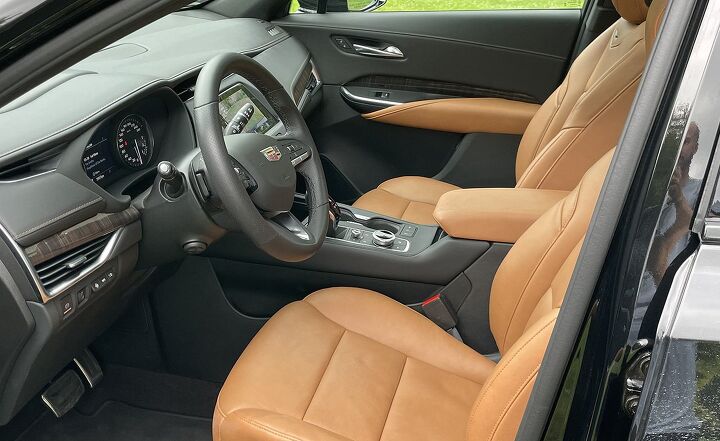 Anyone that has slogged countless hours on the open road knows how exhausting it can be. Thankfully, the XT4's front seats offer good comfort, even after five hours behind the wheel. The overall seating position feels higher than the typical compact SUV, even if it's not. The 39.4-inches of front headroom is more than enough for my six-foot frame.
I do find the sight-lines leave something to be desired as the small rear window limits visibility, while the thick B pilar provides a sizeable over-the-shoulder blindspot.
For a small SUV, there's a surprising amount of rear seat space. Back seat riders enjoy 39.5 inches of legroom, which allows most adults to fit in the outboard seats without issue. The compromise is a smallish cargo hold which has a maximum storage limit of 22.5 cubic feet. That's a bit less than the Audi Q3 and quite a bit down on the BMW X1. Still, the XT4's cargo area is a nice square shape with additional underfloor storage.
Information Abundance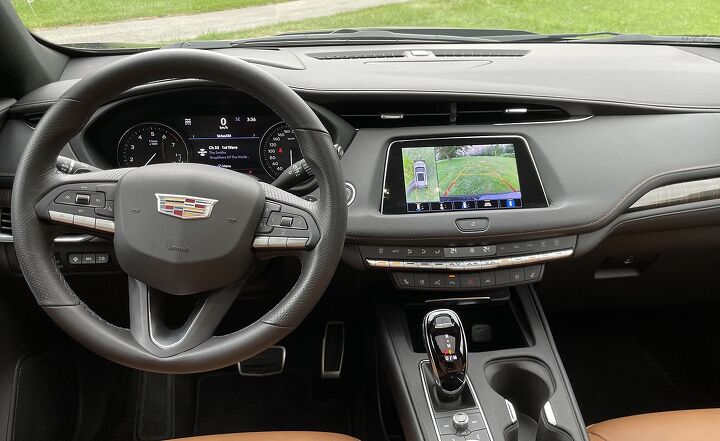 The XT4 Sport as equipped features an 8-inch infotainment touchscreen as well as the 8-inch customizable digital gauge cluster upgrade. Cadillac's latest version of CUE infotainment software is very easy to use and straight forward. The brand has all the right controls laid out in an intuitive way, and screen progression is logical. It's also possible to customize a wide variety of information onto both of the driver-focused screens.
SEE ALSO:
Cadillac XT4 vs GMC Terrain Denali: Which Crossover is Right for You?
But if this isn't enough information on demand, there's also the head up display which is clear and well laid out. And unlike some Head Up setups, it remains visible even when wearing polarized sunglasses.
Price can Escalate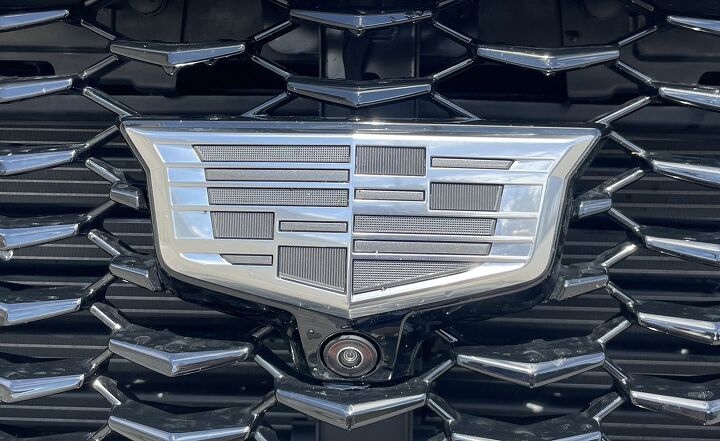 The entry point to the 2022 Cadillac XT4 is the Luxury FWD trim that retails for $37,490 after destination charges. To add all-wheel drive, pricing jumps a bit to $39,990 which puts the XT4 right on top of the entry level, all-wheel drive only BMW X1 and Audi Q3 in terms of starting price.
SEE ALSO:
The Hardest Thing to Design/Engineer on the New Cadillac XT4
I had the top trim 2022 Cadillac XT4 Sport AWD which starts at a listed price of $44,490. But after a wide assortment of options were added to my tester, pricing rang in at $53,925 – some $15,000 more than an entry XT4 Luxury. This is all par for the course when dealing with small luxury SUVs, but the jump in final MSRP may produce sticker shock to some.
2022 Cadillac XT4 Sport: The Verdict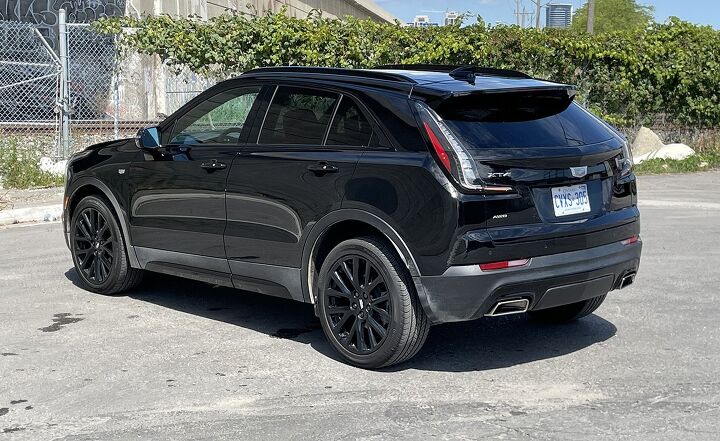 With the exploding popularity of small SUVs right now, every brand needs to have a competitive offering available to win over consumers. With the XT4, Cadillac has succeeded. It's a premium small utility vehicle that straddles the line between subcompact and compact SUVs. It's a pleasing place for the whole family to be, especially in top trim spec. Just be ready to pay for the price of admission.
---
FAQs
Is Cadillac XT4 a luxury car?
The simple answer is yes. It has the technology, power, style, and feel to compete with other small luxury SUVs.
What is the difference between XT4 luxury and sport?
The Sport is the top trim and adds more style and features compared to the entry level Luxury. 
Do I have to use premium gas in my Cadillac XT4?
Not specifically as premium gas is not required for the 2022 Cadillac XT4 Sport. But Cadillac does highly recommend using it. 
Become an AutoGuide insider. Get the latest from the automotive world first by subscribing to our newsletter here.
LOVE IT
Engine and Transmission
Premium Feel Throughout
Rear Seat Space
LEAVE IT
Can Get Pricey
Sight Lines
Small Cargo Area
Published August 30th, 2022 2:04 PM
Popular Articles
Latest Comparisons
Car Buying Tools