59 Views
2020 Fiat 500X Sport Review: Can Cute Be Enough?
February 1st, 2021 8:31 PM
Share
If you take one thing away from this review, please let it be this: the Fiat 500X is proof that looks can go a long way, even in the car world.
Objectively, this isn't the best sub-compact SUV out there. It's pricey, it's not as fast as its numbers would suggest, and it's getting on in age. In those ways, it's not much different to its platform-mate the Jeep Renegade, which I drove last month. But even more so than its American-badged sibling, the 500X has a style all its own. It was a bright pop of color the week I spent with it, and it drew positive comments from folks of all ages. My partner's 60-year-old dad, a high school teacher, called it "cute". Her friend, a nutritionist half that age, said it looked fun and gave it a thumbs up.
In a world where nearly every car on the road is scowling, the Fiat 500X is a wide-eyed puppy of a ride. Just like a puppy though, this little car could use some time at training school to match the manners and tricks of the rest of the pack.
Sport trim pumps up the look
My tester was the new-for-2020 500X Sport. Fear not: the Sport doesn't massively alter those adorable looks. It picks up unique front and rear bumpers, standard 18-inch aluminum wheels (with larger 19s as options), and body-colored side moldings. Speaking of which, the Sport's "Rovente Red" is, as far as I'm concerned, the only acceptable option. It's the exact hue a small Italian city car should be. The only real drawback with the red is it's harder to make out the body-color insert within the taillights, a personal favorite detail from last year's facelift.
SEE ALSO:
2020 Hyundai Venue Review
Pop open the door and the Sport shows off a range of trim-specific interior updates as well. The faux-suede steering wheel is a good place to start, offering up a soft touch for the driver. The cowl over the gauge cluster gets wrapped in the stuff too.
The Sport sprouts two tiny shifter paddles behind its chunky steering wheel spokes. "Paddle" almost seems too generous; they're basically buttons.
FAST FACTS
| | |
| --- | --- |
| Engine: | 1.3L I4 Turbo |
| Output: | 177 hp, 210 lb-ft |
| Transmission: | 9AT, AWD |
| US fuel economy (MPG): | 24/30/26 |
| CAN fuel economy (L/100KM): | 10.0/7.9/9.1 |
| Starting Price (USD): | $26,095 (inc. dest.) |
| As-Tested Price (USD): | $32,465 (inc. dest.) |
| Starting Price (CAD): | $34,140 (inc. dest.) |
| As-Tested Price (CAD): | $40,170 (inc. dest.) |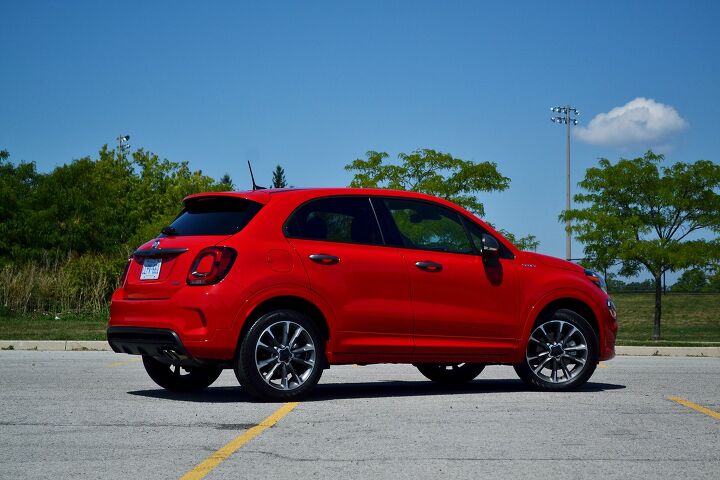 Unfortunately, the rest of the interior just can't measure up. The big slab of silver plastic floating in the middle isn't fooling anybody, shining away in direct sunlight. The door panels are also pretty Fisher-Price, though the oddly squishy armrests are a surprising touch.
The 500X is aiming for cheap and cheerful, but from the inside, it mostly just feels cheap. Which is extra unfortunate when you realize it's not—more on that later.
No, this is how rough riders roll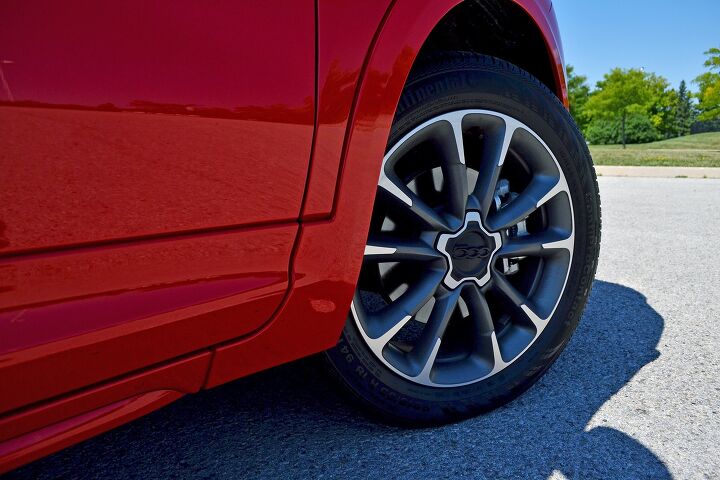 It's important to note that this is a Sport model, and not a fire-breathing Abarth. You might get a different impression at first: the 1.3-liter turbocharged four-cylinder up front boasts an impressive specific output after all, producing 177 hp and a stout 210 lb-ft of torque. But those numbers only tell part of the story.
For starters, while this might be a new engine, it certainly doesn't sound like it. The little four-pot is clattery at idle, before transitioning to a dull buzz in the mid-range. You'll spend a lot of time there too, since the nine-speed automatic—the only transmission option—is often shuffling between gears. It's like that one guy at the office who knows how to juggle, and makes sure to remind you of it at every possible opportunity. Find a new skill, Jerry!
SEE ALSO:
2020 Jeep Renegade Trailhawk Review: Son of Wrangler
As in the Renegade, it can be hard to pull away from a stop smoothly in the 500X. The engine needs a little longer to wake up after start/stop than expected, which results in the occasional jerky start. The throttle mapping is also quite soft, so you find yourself dipping into it more and more to get the power you need, and then it all arrives in a short, almost diesel-like burst.
Around the city, the 500X rode better than its American relative. Those big 18-inch wheels, paired with a relatively short wheelbase, do highlight the imperfections in the road though. I shudder to think what the optional 19s would do.
The flip-side to the taut ride is that the 500X handles with surprising verve. It turns in crisply, with ample grip and minimal roll. Standard AWD provides an added sense of security too, and is unique in the class. Maybe there's some Abarth hidden in there after all?
Small size hides ample space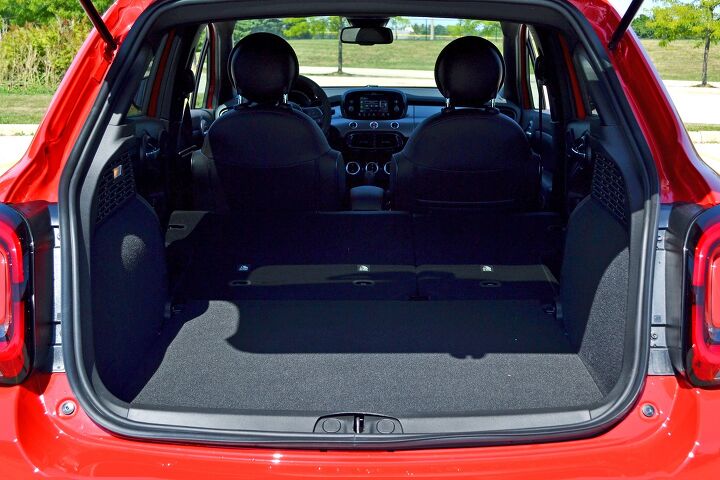 You'd be forgiven for seeing the "500" badge and assuming this was a tight fit. It almost certainly would be for five adults—the three in the back would have to be very comfortable with each other—but for four it's totally comfortable. That bubbly shape affords passengers with plenty of headroom front and back. Legroom is enough—34.8 inches—that I didn't feel cramped in the back, though I'm just 5'10" and run a 30″ inseam. For comparison, the Hyundai Kona offers a hair less rear legroom and the same amount up front (41.4 inches). The Korean car's also a little over three inches shorter nose-to-tail: see, the 500X is deceptively big.
The hatch area is helpfully low and flat, making it easy to load bags in. The 60/40-split second-row folds nearly flat, expanding the 14.1 cubic feet (399 liters) to 39.8 cubes (1,127 liters). It's important to note that the stylish sloping rear glass does eat into total haulage space though.
One thing that remains small is the 7.0-inch Uconnect infotainment system. It wouldn't be too bad if the display had a higher resolution, and if it didn't maintain a thick black border when using CarPlay. That effectively results in an even smaller screen, like playing a classic arcade game on one of those novelty scale-model cabinets.
Sticker shock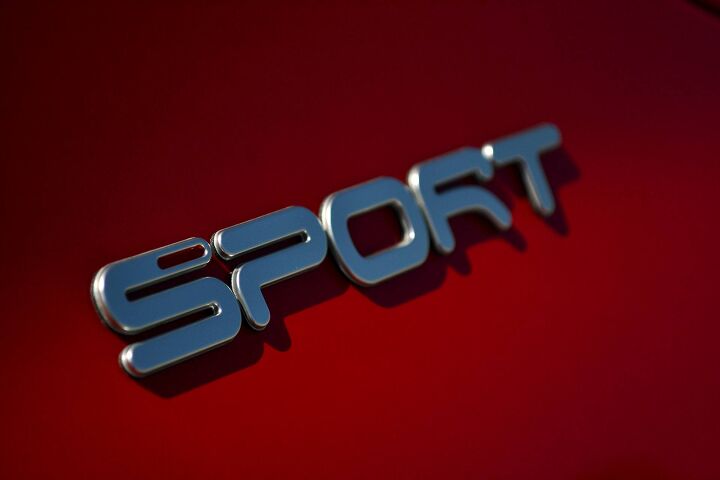 This is where things go south for the little Fiat.
The 500X already starts at a pretty hefty price tag: the lowest Pop trim kicks off the lineup at $26,095, including destination. That's already knocking on the door of the mid-level trims for the all-wheel drive versions of the Kona, the new Kia Seltos, and the Mazda CX-30. Those little guys are already better-equipped than the Fiat, and the gap widens with the Sport, which starts at $28,390. The Advanced Driver Assistance Group ($1,395 USD, $1,795 CAD) is crucial for those wanting modern levels of safety and driver assists, including rain-sensing windshield wipers, lane departure and lane-keep assist, adaptive cruise control, full automated emergency braking, and blind-spot monitoring with rear cross-traffic alert. Nearly all of those features are standard on the competition.
SEE ALSO:
2017 Fiat 124 Spider Abarth Review
Other features we'd expect to be standard for this sort of outlay: heated seats and windshield wiper de-icer ($295 / $495), or power-adjustable driver's seat and dual-zone climate control, part of the $795 ($695 CAD) Comfort Group.
At the pumps, the 500X performs merely adequately. Its 26 mpg average isn't far off the Korean duo (both Kona and Seltos manage 27 mpg combined), and matches the larger, more powerful CX-30. On the highway, the Mazda squeaks ahead, 31 to 30 mpg.
The 500X could get a passing grade if it paired its higher sticker price with a cornucopia of standard equipment. As is, it's distinctly poor value.
Verdict: 2020 Fiat 500X Sport Review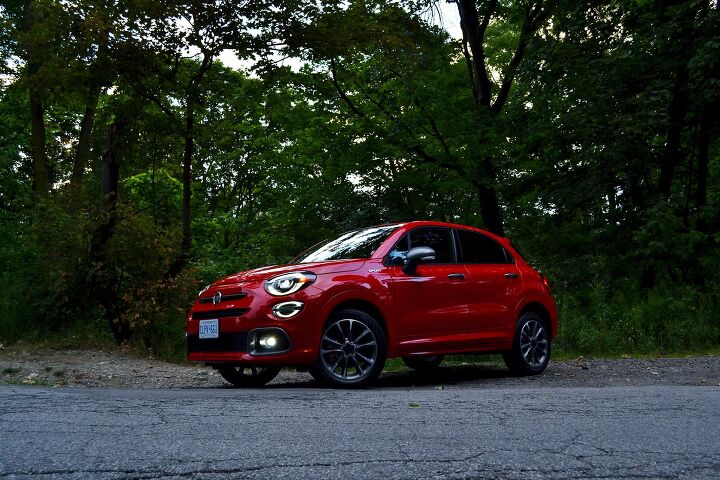 All this leaves the Fiat 500X in a tough spot. It's hugely likeable thanks to that infectious, upbeat character and a handling balance that's just as fun. The engine and transmission do their best to spoil that enjoyment though, sapping power, fuel economy, and ultimately, fun. The interior doesn't help, for as comfortable as it can be in either row, it looks and feels better suited to a car $10,000 cheaper.
I called the 500X a puppy at the beginning of this, but as it wraps its fifth model year, it's fast approaching old dog status. If Fiat can flip the old saying and teach the 500X some new tricks for the next generation—better transmission tuning, increased standard equipment—it could be the best in show.
…
Become an AutoGuide insider. Get the latest from the automotive world first by subscribing to our newsletter here.
LOVE IT
Crowd-pleasing good looks
Sharp handling for a crossover
More space than you'd expect
LEAVE IT
Over $30k for a sub-compact SUV
Rough engine/transmission pairing
Lack of standard safety features
Published September 8th, 2020 4:14 PM
Popular Articles
Latest Comparisons
Car Buying Tools