97 Views
2018 Genesis G70 Review and First Drive
February 6th, 2021 2:53 PM
Share
We're committed to finding, researching, and recommending the best products. We earn commissions from purchases you make using links in our articles. Learn more here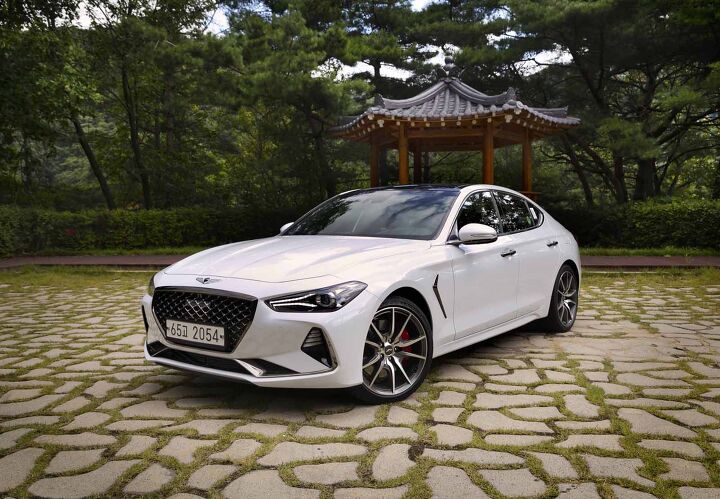 The South Korean city of Seoul is a modern metropolis with densely packed apartment towers, great food, and terrible traffic.
Cocooned within the expansive backseat of a chauffeur-driven Genesis G90 for a two-hour, bumper-to-bumper grind from Incheon Airport to my hotel, I had plenty of time to take in the big car's finely appointed interior.
Korean drivers, it seems, are generally patient and respectful of one another despite the maddening congestion, and after a particularly determined lane-change move, my driver powered his window down, offered a friendly wave of thanks, and filled the cabin with the cacophony of traffic noise. Seconds later, the window was back up and the sheer serenity of the G90 struck me.
Genesis is Korea's first true luxury automotive brand, and despite its relative infancy, the G90 is absolute proof that it has already got this luxury thing figured out. But what about making a nimble, fun-to-drive, sport sedan — the sort that could hang with a Mercedes C-Class or Audi A4? Can Genesis succeed in this arena too?
The all-new 2018 Genesis G70 compact luxury sedan is a machine designed to do just that. And there's a long-held belief that amidst this popular gang of dapper athletic cars, BMW's 3 Series is the dynamic benchmark.
FAST FACTS
| | |
| --- | --- |
| Engine: | 3.3L turbo V6/2.0L turbo 4-cyl |
| Output: | 365 hp, 376 lb-ft/249 hp, 260 lb-ft |
| Transmission: | 6-speed manual or 8-speed auto |
| US Fuel Economy (MPG): | 27 combined (V6 AWD) |
| CAN Fuel Economy (L/100 km): | 8.6 combined (V6 AWD) |
| US/CAN Pricing: | Not yet available |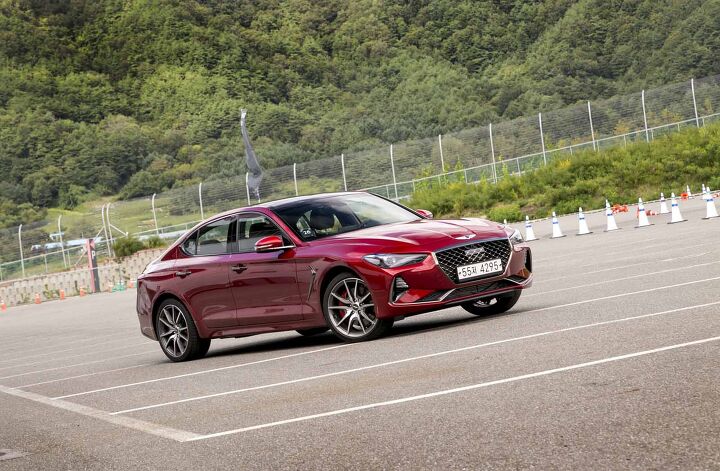 Leading up to our first drive of the G70, some people were sensationalizing the role of this newest Genesis, proclaiming that this could be a real BMW slayer. Given that the executive vice-president for Hyundai and Genesis' performance machines is none other than former BMW M division boss, Albert Biermann, it's a fair prediction.
Following our time behind the wheel, both on the road and track, I can tell you the Genesis G70 is not the proverbial 3 Series killer, and that's OK.
Instead, Biermann freely admits that aspects of all the top competitors – including the BMW 3 Series and Mercedes C-Class – were carefully dissected with the intent of creating what is perhaps the most well-rounded machine in the segment. The G70 is intended to be the car that balances performance and luxury better than the rest.
World Class Interior and Powertrain
Like its mid-size G80 and full-size G90 luxury siblings, the G70's interior is beautifully finished with available Nappa leather stitched in a quilted pattern. Real aluminum trim, a suede-like headliner, and quality plastics make the G70's cabin a great place to be.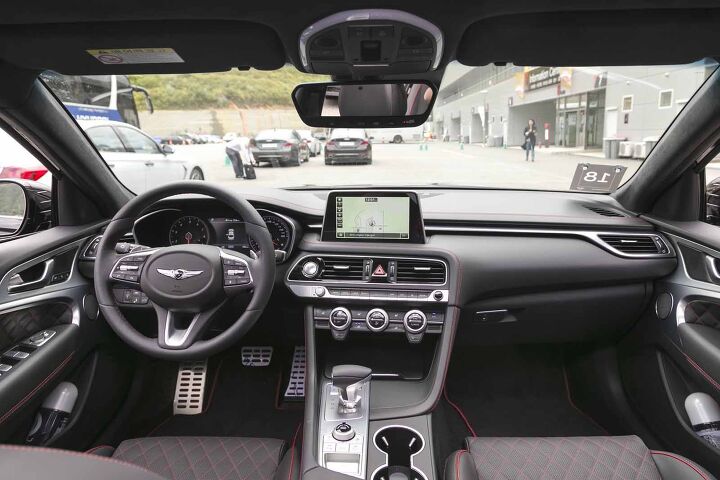 The controls are arranged around the driver, creating a more intimate and pilot-centric space than in the larger Genesis models. I found the driving position perfect, and the seats are among the most comfortable I have experienced, yet offer great lateral support during aggressive cornering.
Rear seat space seems on par for the class in terms of width and legroom, though headroom is a bit tighter than in some of the G70's competitors.
In North America, the G70 will be offered with two different drivetrains: a 2.0-liter turbocharged, inline four-cylinder engine providing 249 horsepower (251 with the Sport package) and 260 pound-feet of torque, or a 3.3-liter turbocharged V6 delivering 365 hp and 376 lb-ft of torque.
ALSO SEE: 2018 Genesis G80 Sport Review
Stateside, both the V6 and four-cylinder models will be available with rear-wheel drive or all-wheel drive, whereas Canadian buyers will have all-wheel drive standard for both engines, and a rear-wheel-drive Sport trim available with the 2.0-liter engine only.
As a pleasant surprise and further proof that Genesis is trying to make this car engaging, a six-speed manual option will be available on a specific performance-oriented 2.0-liter trim. All other G70s will be fitted with an eight-speed automatic.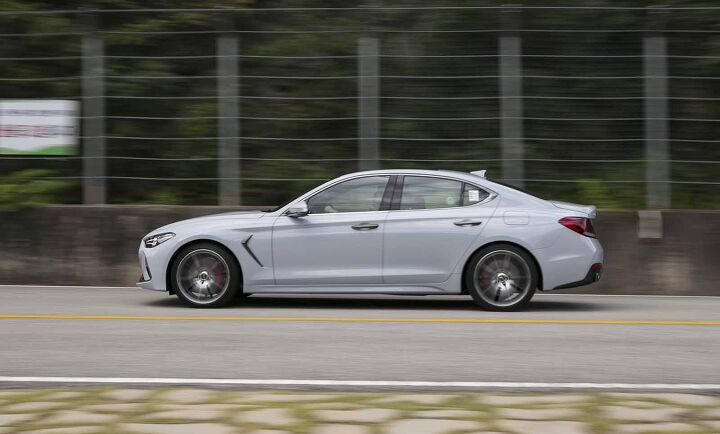 For our drive through Seoul and northeast winding up into the lush green mountains toward Inje Speedium race circuit, our convoy of sport sedans encountered a wide variety of driving experiences and a lot of positive reactions from the Korean motoring public.
It seems the locals like the G70's tidy dimensions and sporty appearance. The rear three-quarter view is the best angle with a squat look, hunkered down over the wide fenders, reminiscent of a BMW 3 or 5 Series. The profile is a bit derivative in terms of styling with its trendy fender vents and a profile that could've been pillaged from any number of the G70's competitors. Overall, it's a properly handsome machine that looks even better in person than it does in photos. That said, I still wish Genesis designers could find a way to better hide the front sensor panel so it's not such an obvious blemish within the large front grille.
Even early on a Saturday morning, the traffic traveling east out of the metropolis was repressive as active Koreans headed for the hills to hike, bike, or camp. The G70's adaptive cruise control system and lane departure assistance proved welcome features and worked well to help reduce the burden on the driver. The infotainment system, which comes with Apple CarPlay and Android Auto, is controlled by a large, bright touchscreen. The system operated smoothly and without lag, and the Lexicon sound system is rich and full.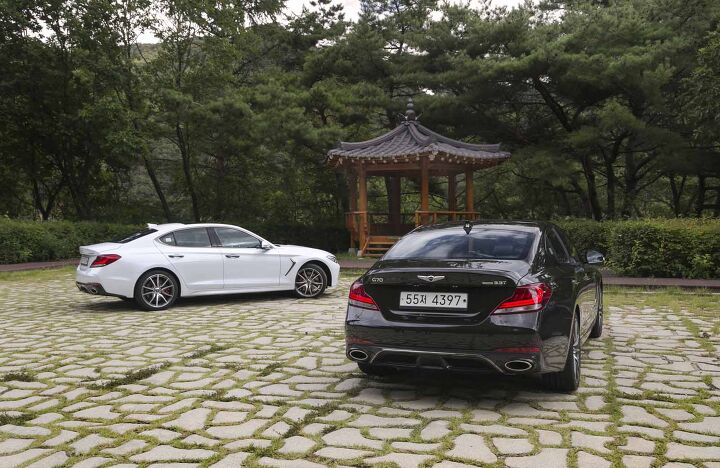 Impressive Performance
The manufacturer claims the 3.3T will go from zero to 62 mph (100 km/h) in 4.7 seconds, and each time my driving partner and I exited a tollbooth, we'd put that figure to the test. I wouldn't be surprised if Genesis is being conservative with its claim. Launch control is offered on the G70, though we never had an opportunity to test it.
Eventually, our route left the masses on the freeway behind, and the roads twisted and turned up into the mountains toward Inje Speedium race circuit. Where at first in the urban traffic I found the throttle a little abrupt from a standstill and the brakes somewhat grabby, both familiarity with the car and higher speeds smoothed things out. The G70 is definitely comfortable ripping along aggressively and responds with excellent on-road manners.
The staggered Michelin Pilot Sport tires (225/40/19 up front, 255/35/19 rear) on our Sport trim car, coupled with the H-Trac all-wheel-drive system tuned to direct the majority of power to the rear in Sport Mode, means grip – even on some loose surfaces – is exceptional. Genesis has also fitted a mechanical limited-slip differential on the G70 to help get power to the ground in cornering.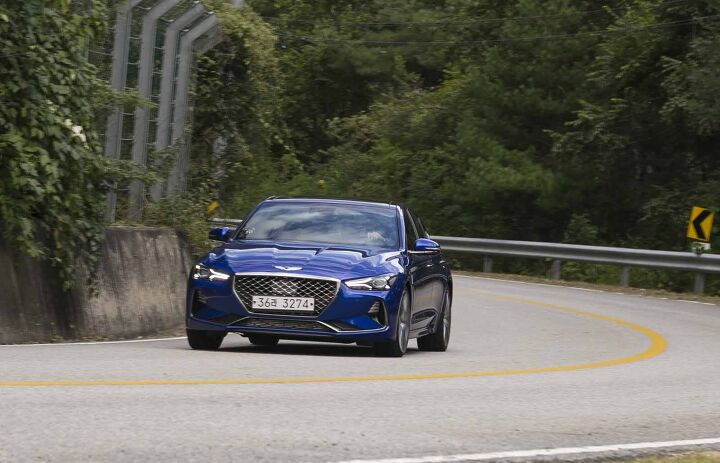 As good as many of the Korean performance cars have become in recent years, they've generally fallen short of matching the handling prowess of their European competitors. The G70, however, shows that Genesis is fully capable of tuning a suspension that perfectly balances ride comfort appropriate for a luxury car, with the handling chops to dance on twisty back roads.
And at the track.
They Let Us Go on a Track?
Following a warm-up gymkhana competition, we were turned loose to lap the beautiful Inje track. The G70's poise and stability, even at considerable speed and driven by a group of journalists with varying on-track ability, never faltered. The Brembo brakes also delivered great results with a strong bite and good, linear braking power.
The cars on hand were tuned to Korean market specification, which we're told, offer a softer suspension setup than we are likely to receive in other markets. Even still, the G70 is a long way off becoming harsh, even with the Sport driving mode in play. In fact, the difference between Sport and Comfort modes are better heard than felt, with Active Sound Design digitally pumping in a louder (and deeper) driving soundtrack to the cabin, than in Comfort or Eco modes. That said, compared to the more aggressive intake and exhaust noises delivered by the European competition, the G70 falls flat with its engine noise.
ALSO SEE: 2018 BMW 540i vs Genesis G80 Sport Comparison
Steering feel from the electrically assisted system is light and lacking some of the feedback we used to associate with sporty cars. Still, it's a complaint I've leveled against the 3 Series, C-Class and A4 these days, too. Genesis engineers had one pre-production rear-wheel-drive 3.3T Genesis, set up with stickier tires and a more dynamic suspension setting for us to sample as well. This car was absolutely alive on the track, delivering more immediacy in the steering and livelier handling, showcasing the tremendous job the suspension engineers have done with the G70.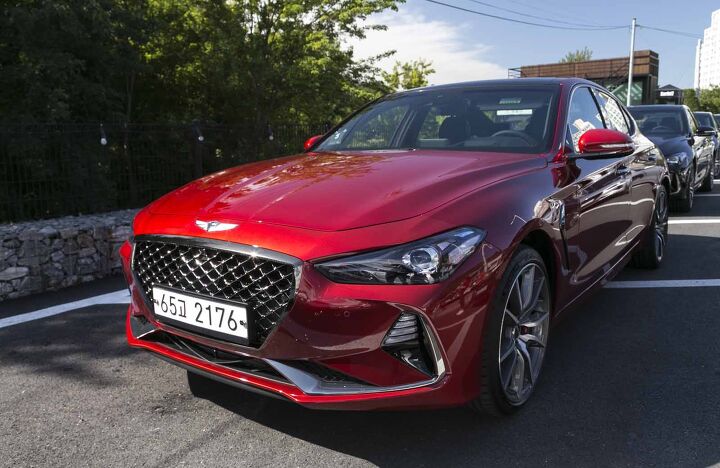 If there's one further complaint to raise against the G70 from a performance standpoint, it's that the eight-speed transmission feels tuned much more for grand touring or environment-saving duties than full-on performance driving. In Sport mode, I'd like to see quicker shifts and a more aggressive tune enabling greater driver control when the paddles are used. As it is now, the G70 is too eager to upshift, and often reluctant to downshift. Fortunately, the prodigious torque helps offset that problem in driveability.
The Verdict: 2018 Genesis G70 Review
Albert Biermann spoke of Korea being the land of the morning calm – a situation he relishes when he can escape the city early on a Sunday morning and enjoy the serpentine mountain roads. The G70 is an excellent machine for just such a scenario, ensuring a perfect blend of luxurious comfort and amenities in the city, but a wholly capable and vigorous driving experience out on the open road.
Genesis has already proven it can make a world-class luxury car. Now it has shown us it can make an exceptional sport sedan too.
The 2018 Genesis G70 is expected to hit North American dealerships in the second quarter of 2018. Pricing will be announced closer to its release.
LOVE IT
Luxurious interior
Capable driving dynamics
Pricing sure to be competitive
LEAVE IT
Transmission not sporty enough
Lacks steering feel
Jeff Wilson
If there's anything better than a good road trip through the desert, Jeff probably hasn't heard of it. He's got a propensity for buying less-than-perfect sports cars like a well-worn Boxster, an M Roadster and an MR2, but has applied a lifetime of passion to more than a dozen years of automotive and motorcycle reviews. He's even collected several awards in the process including recognition for Best Automotive Review and Best Published Photography from the Automobile Journalists of Canada in 2023.
More by Jeff Wilson
Published September 18th, 2017 9:13 AM
Popular Articles
Latest Comparisons
Car Buying Tools