33 Views
2020 GMC Sierra 2500 Crew Cab AT4 Review
April 26th, 2022 10:20 AM
Share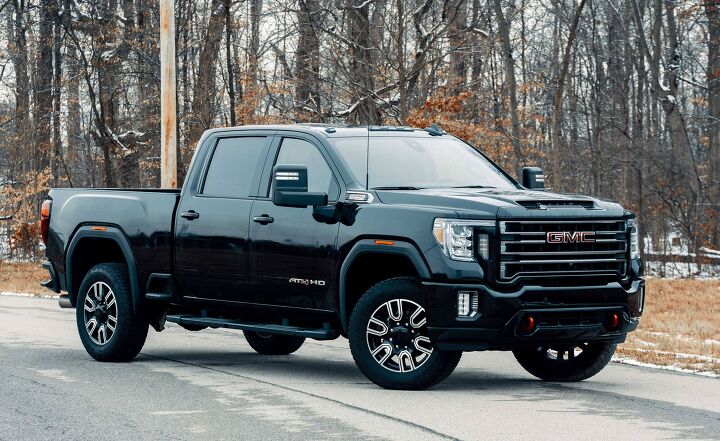 AutoGuide readers, I need your help. I need you to comment on this review, and make your voices heard to the good folks who run this website. AutoGuide needs to invest in a trailer – preferably with something on it.
You see, I'm tired of driving vehicles like this 2020 GMC Sierra 2500 AT4 without a proper load behind it. While I could easily make the trite remarks that I'm "hauling air" or "using it unladen like a cowboy Cadillac," a truck like this deserves to be used. I'd be looking forward to hauling a loaner boat (or loaner vintage race car) when I have something this capable with which to tow.
Of course, with 910 lb-ft of grunt from this 6.6-liter Duramax diesel V8, I could simply wrap a rope around my house and drag it down the block a bit.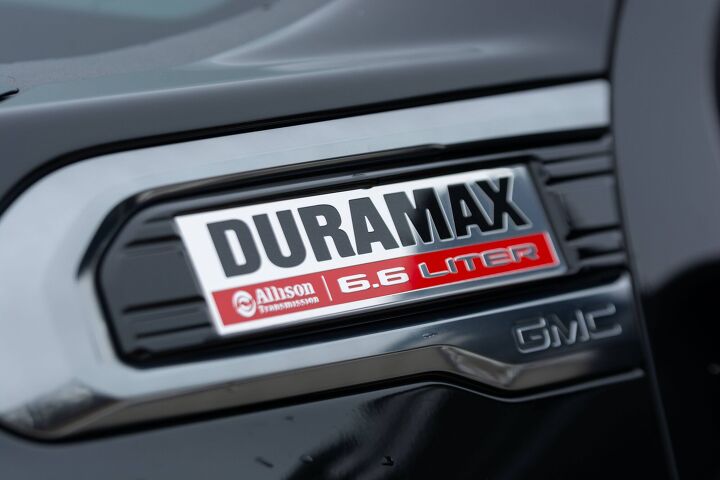 Ok, that's a slight exaggeration. But this three-quarter ton, four-wheel drive pickup is rated to drag 18,500 pounds via either the rear hitch ball or a fifth wheel. With a listed curb weight of 7721 pounds, towing a max load could place you against the DOT requirements for a commercial drivers' license, so be careful, safe, and legal when loading the trailer.
Get a Quote on a New GMC Sierra
Even without a massive load behind, this is an imposing truck. The AT4 trim seen here eschews the brightwork applied to the similarly-pricey Denali line – here, most exterior bits are blacked out with just a touch of polish to the grille. It's as understated as a vehicle of this size can be, though the red tow hooks contrast a bit. Mind you, the scoops and slats dominating the front make clear the massive amount of air needed to feed the oil-burning beast within.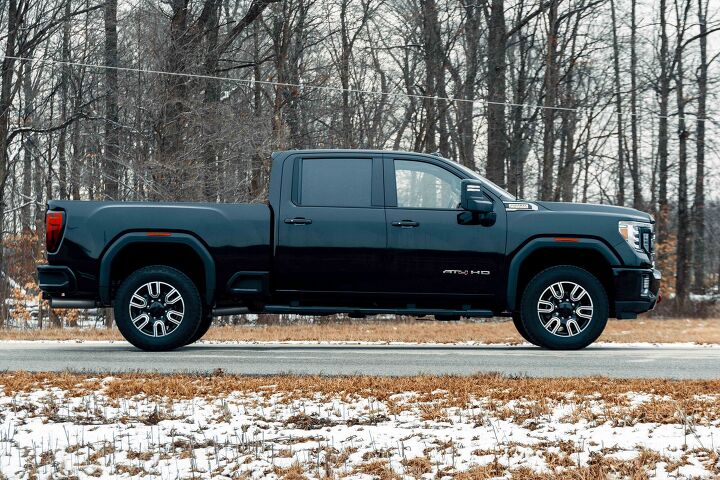 Beyond the front, the rest of the truck is relatively low-key. That these optional twenty-inch alloy wheels (part of the $4,215 AT4 Premium Package) look reasonably sized is a testament to the scale of this truck. With a machined finish offset against black paint, they look perfect – though I'm certain there will be many who cast them aside for wheels fitted with beadlocks to better fit the off-road looks of the AT4 package.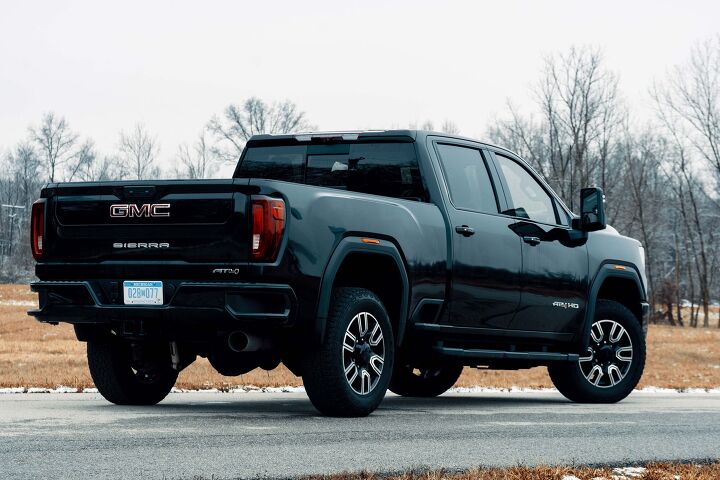 Out back, the controversial MultiPro tailgate breaks up what would otherwise be a slab of sheetmetal. Steps formed into the bumper are supplemented by this folding section, making it easier to reach into the bed to grab tools – or in my case, the wayward pail of cat litter. As others have noted, the center section of the gate will foul a hitch ball, so caution is required when lowering. However, it makes for a great compact table should beverages be served after work or before the big game.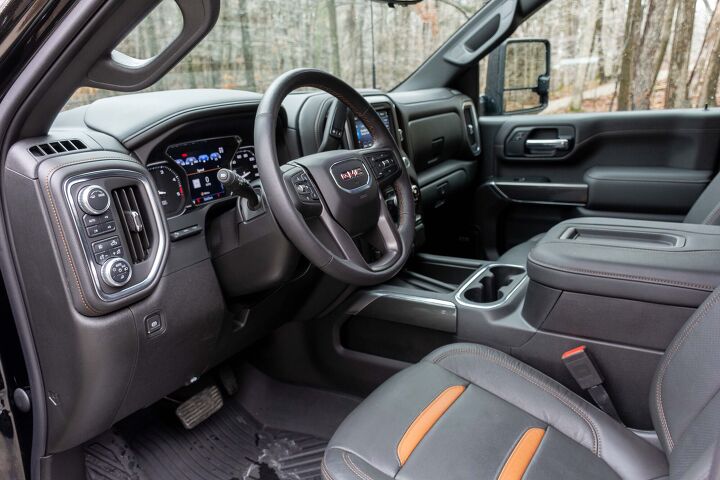 The interior is a bit of a letdown. While the seats are quite comfortable and look good when trimmed like this AT4 model – the two-tone charcoal and tan leather with contrasting stitching is a nice touch – the materials on the console and dashboard are not appropriate considering the price of the truck. The plastics look and feel cheap. I especially dislike the carbon-look trim pieces on the center console where the inboard knees of both driver and front passenger will rest: the spear of brightwork will undoubtedly get hot in the summer, searing knees of those wearing shorts. I'd appreciate something a bit softer where my legs will likely rest.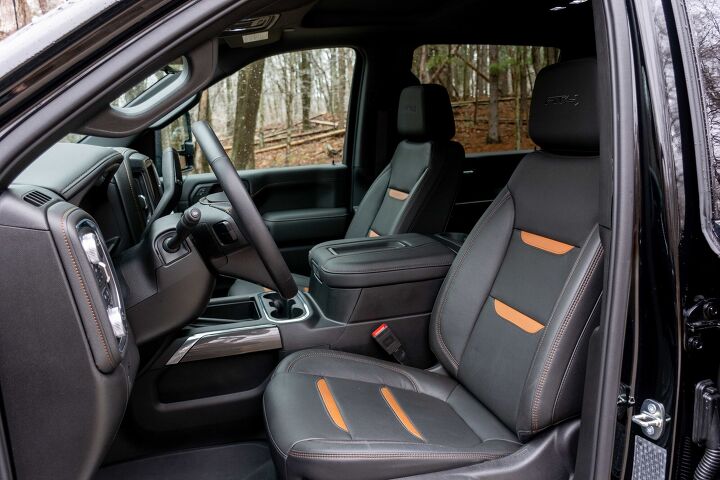 While it feels a little downscale, the interior works well. Cubbyholes are everywhere, ready to keep everything you need close at hand. Wireless charging for capable smartphones is part of that AT4 Premium Package – so much easier to live with than fussing with USB cables. The 8.0-inch touchscreen, while looking a bit small in the broad dashboard, works quite well, with clear readouts and quick, intuitive responses to inputs. The premium package includes Apple CarPlay and Android Auto, as well – I'd argue that both of these should be standard, or at least available in a less-expensive package.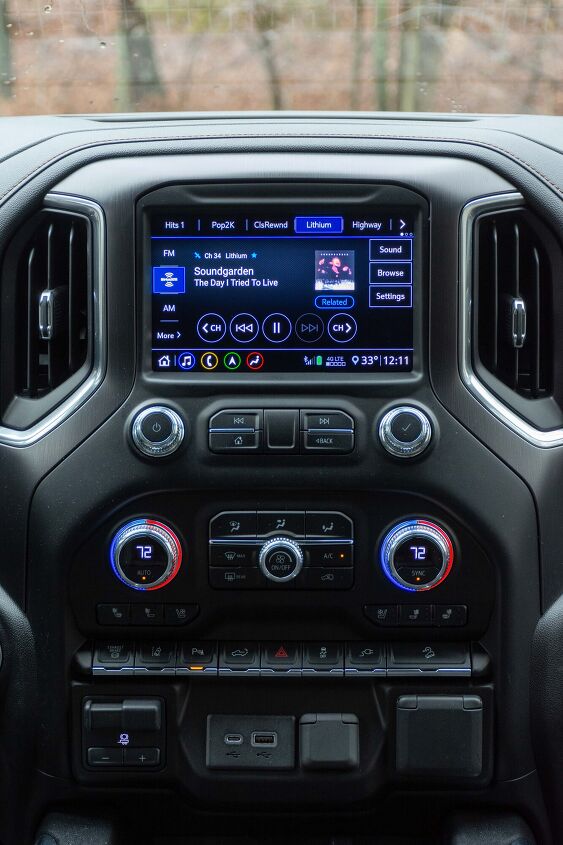 I suppose that's my biggest complaint about the Sierra HD: to get some features that really should be standard, you need to spend some money. The $2,125 Technology package is one egregious example. This package gives you a rear camera mirror (wonderful for hitching a trailer solo), the bed view camera, and most importantly the "HD Surround Vision" camera, which gives a top-down view of the entire truck for parking. Something this huge is rather unwieldy to ease between the white lines at the supermarket – the camera saved the doorskins of countless crossovers as I ventured for essentials.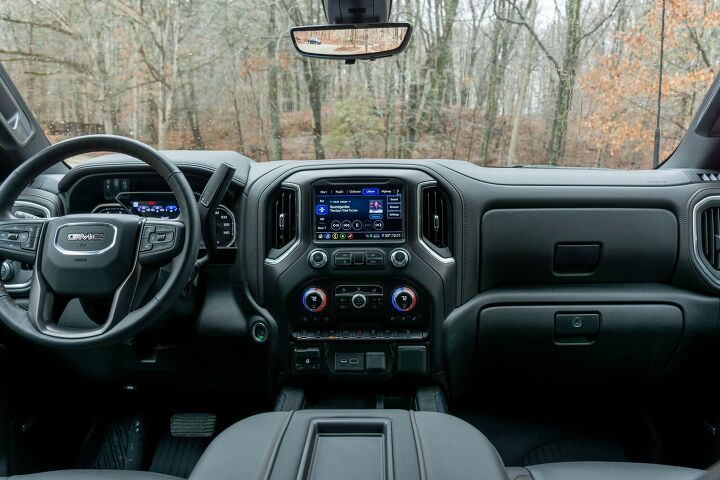 Rear seat room is positively cavernous. The seatback, unlike those in smaller crew-cab trucks, has a reasonable rake to it, making long drives quite comfortable even for full-sized people. Should the job (or the ocean) be a couple of states away, the crew (or family) will arrive in plenty of comfort.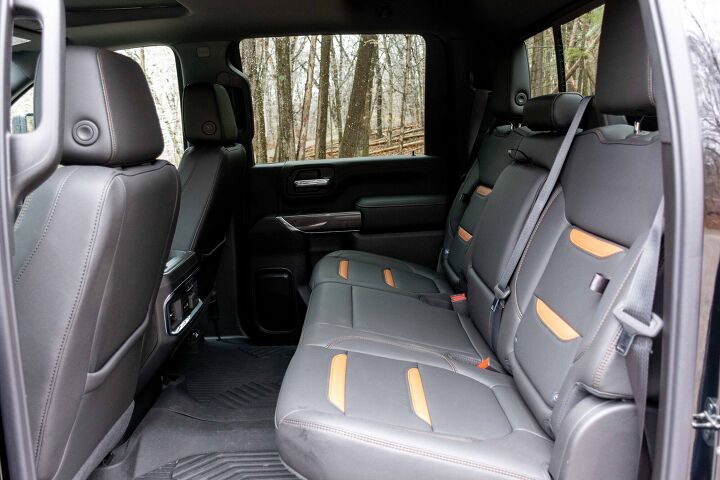 Indeed, driving the Sierra 2500 AT4 requires an attitude adjustment if stepping from anything smaller. It's long, tall, and wide – something to be conscious of when wheeling through suburban neighborhoods lined with parked cars and pedestrians. Visibility is quite good for such a big truck, to be fair, but you need to be aware of your limitations. I had to visit a relative in the hospital while driving the Sierra AT4, and for the first time in my driving life I hit the height warning barrier as I tried to pull into the garage. I had to back out and find a surface lot.
Beyond parking, the Sierra HD AT4 drives beautifully. While the ride is certainly firm, it's controlled with no harshness making it through to the cabin. Road noise is minimal, and engine noise is generally hushed except when putting the boot to the big diesel V8 – even then, it's a reasonably muted roar. Those big 20-inch alloy wheels might normally mean a tiny sidewall and harsh impacts – here, the tires are 275/65-20 with meaty, slightly knobby sidewalls that soak up potholes.
Since I haven't (yet) been gifted with a loaded trailer, I really don't have a need for a heavy-duty pickup truck. The GMC Sierra 2500 AT4 is not for me for that reason alone. If you need the capability to drag everything with you while maintaining plenty of comfort for four or five people, however, it's hard to go wrong here.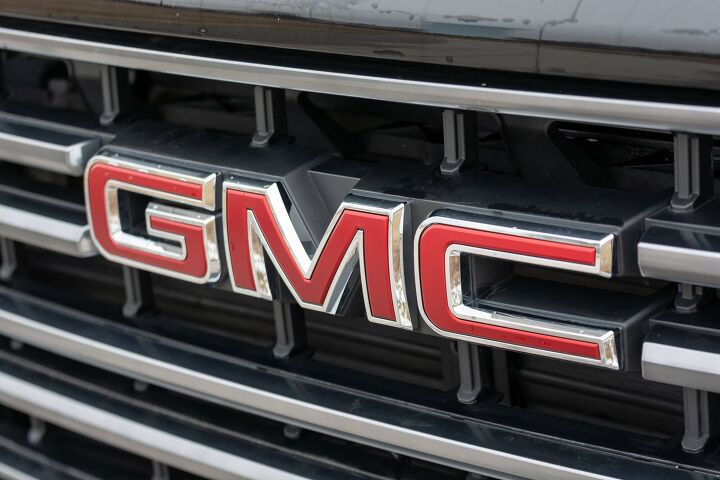 [Images: © 2020 Chris Tonn]
LOVE IT
Torque for days
So much room
Attractive styling
LEAVE IT
Interior bland
Super expensive
Some safety essentials optional
Published April 20th, 2020 2:54 PM
Popular Articles
Latest Comparisons
Car Buying Tools