1 View
2016 Infiniti QX60 Review
February 25th, 2021 1:27 PM
Share
We're committed to finding, researching, and recommending the best products. We earn commissions from purchases you make using links in our articles. Learn more here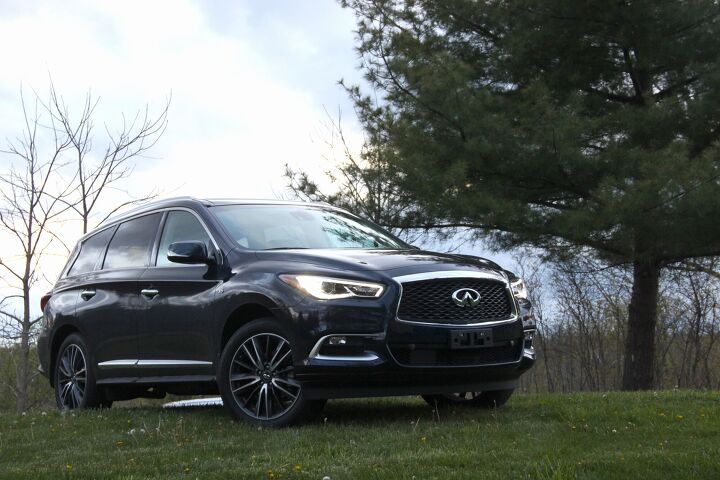 Sharp handling isn't expected from a crossover. Nobody buys a family hauler thinking that it will return an engaging drive experience down their favourite twisty back road.
And yet the engineers at Infiniti responsible for the redesign of the QX60 focused on making this crossover not only more engaging, but also more predictable and confident.
Three main changes were made to make sure drivers would not only be rewarded but also feel in control behind the wheel. New shocks and springs were added, new all-season tires were chosen to increase grip, and the QX60's power steering was adjusted to enhance feedback.
FAST FACTS
| | |
| --- | --- |
| Engine: | 3.5-liter V6 |
| Power: | 264 horsepower and 248 lb-ft of torque |
| Transmission: | CVT |
| EPA Fuel Economy (MPG): | 19 city, 26 highway, 22 combined (AWD) |
| CAN Fuel Economy (L/100 km): | 12.2 city, 8.9 hwy |
| Pricing (US): | Starts at $44,400, $53,000 as-tested |
| Pricing (CAN): | Starts at $47,400 |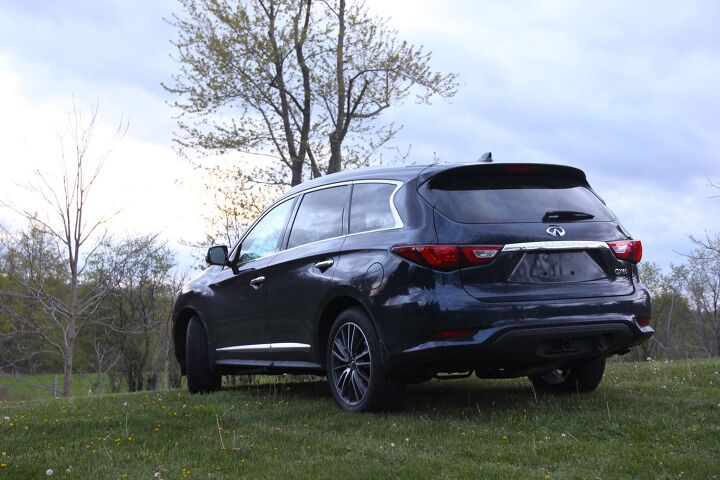 The result? Well, as much as Infiniti tried, this is still a big lug of a crossover, weighing in at 4,379 pounds. It will never be a corner carver, but the revisions are actually noticeable. The QX60 has a new planted feeling that, as the company had hoped, does lend itself to a confident drive. The body roll is still noticeable in corners, but the tighter steering rack does allow the driver to have stricter control of the QX60, while feedback though to your hands is decent.
Luxury or Sport?
Balance is key for a luxury SUV such as this, and the QX60 delivers. Engineers didn't give up ride comfort in search of this new sporty feeling, and that is what luxury is all about. Some of this new-found stability can be chalked up to Infiniti's Active Trace Control, a system that smooths out the engine's power delivery and applies the brakes in a specific pattern while cornering.
New acoustic glass has also been added this year to keep out road noise, though, unfortunately, it's not enough to keep out all the tire noise, with the Infiniti still proving to be a little louder than the current crop of German luxury crossovers.
Driving the QX60 is a 3.5-liter V6 that makes 264 horsepower and 248 lb-ft of torque with the latter coming on at 4,400 rpm. All that power is sent through a CVT, which Infiniti has tuned to mimic a regular automatic, doing such a good job that many regular consumers may not even notice.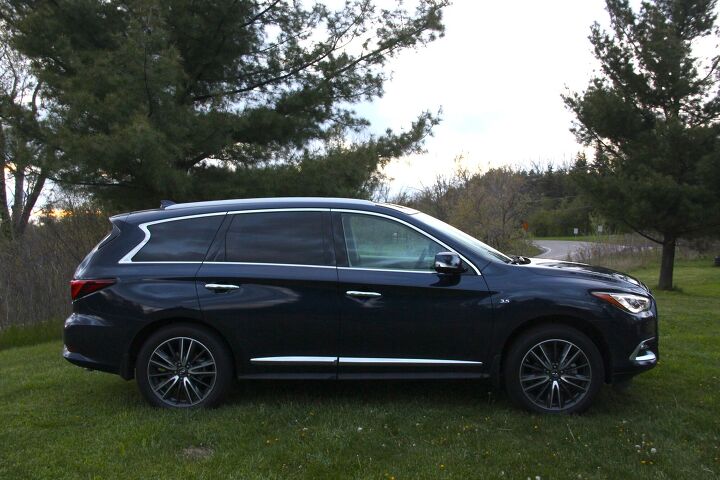 Power is strong off the line, with all the engine's torque coming on quickly, a rare trait for a CVT. Occasionally, when climbing large hills or towing trailers (QX60's max tow rating is 5,000 pounds), the CVT can become a bit wheezy, sitting high in the rev range, but for normal everyday driving, it is unobtrusive.
Safety technology isn't in short supply, with blind spot monitoring, lane departure prevention, adaptive cruise control, pre-crash seatbelts and more fitted to the QX60. Front-collision warning is new in the QX60 for 2016, while the forward emergency braking system adds a pedestrian detection system that can apply the brakes to avoid or mitigate a collision if one is detected. The QX60 will also steer you back into your lane if you try to change lanes on the highway with a car in your blind spot.
Fuel economy is rated at 26 mpg highway, 19 mpg city and 22 mpg combined for the all-wheel drive model we tested, with our week returning an average of 21 mpg.
A Smart Ride
Practicality isn't in short supply either, with the QX60's second row offering 41.7 inches of legroom, while the third row of seats still manages to offer 30.8 inches. That is more in both back rows than the Acura MDX or even the Audi Q7.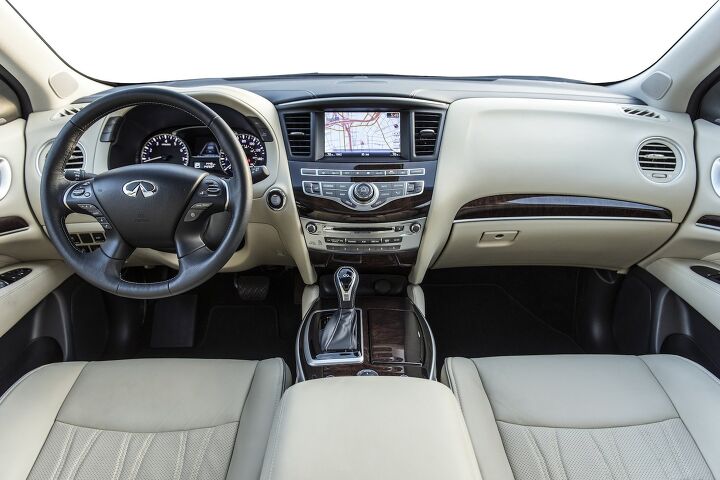 And comfort for the whole family is provided inside a nicely appointed cabin, though the ergonomics can be a bit weird for the driver. Nicely flowing lines reminiscent of a slowly rolling wave is a common theme both inside and out in the QX60, which results in a bulging center stack that is visually appealing, but places some of the controls at a strange angle to where the driver is sitting.
But weirdness aside, this is an attractive cabin with some very comfortable front seats. The wood inserts are gorgeous and the wavy design not only offers a pleasing aesthetic, but an expressive design in a segment filled with safe, straightforward interiors. If that is too much poetic waxing for you, here's the simple version: the inside of this QX60 is very attractive.
Pricing
The base Infiniti QX60 sells for $44,400 in the U.S., but outfit it with the deluxe technology package and driver assistance package like our tester had, and the price climbs to around $53,000, putting it right on par with the Acura MDX, which also starts at about $44K ranging up to the mid- to high-$50,000 mark for a well equipped model.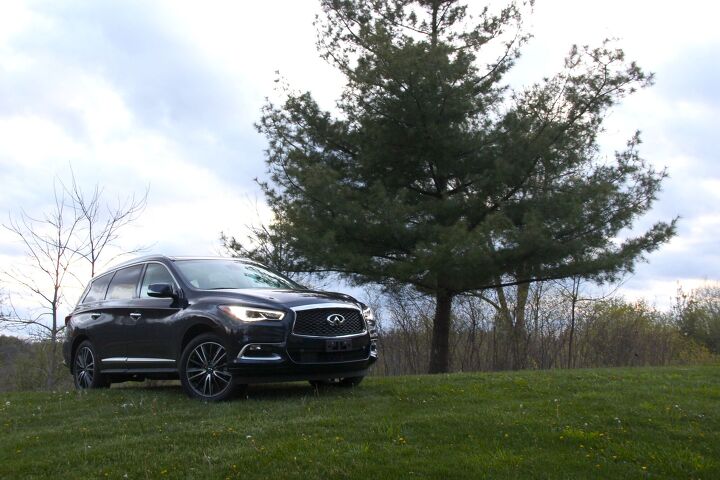 Where the value becomes apparent is when you compare to the $51,100 that you will have to spend on a base-level Mercedes GLE, while even the smaller GLC with all-wheel drive starts at about $40,000.
The Verdict: 2016 Infiniti QX60 Review
Infiniti did what it set out to do for 2016. The QX60 has a new confident driving demeanour that makes it feel more like a German-tuned machine; though it's available for less than German crossover prices.
If you want something a little different from the safe designs of other luxury crossovers, the QX60 offers expression in spades along with compelling practicality.
LOVE IT
Graceful styling
Passenger space
Improved handling
LEAVE IT
Interior design trumps function
Tire noise
Stephen Elmer
Stephen covers all of the day-to-day events of the industry as the News Editor at AutoGuide, along with being the AG truck expert. His truck knowledge comes from working long days on the woodlot with pickups and driving straight trucks professionally. When not at his desk, Steve can be found playing his bass or riding his snowmobile or Sea-Doo. Find Stephen on <A title="@Selmer07 on Twitter" href="http://www.twitter.com/selmer07">Twitter</A> and <A title="Stephen on Google+" href="http://plus.google.com/117833131531784822251?rel=author">Google+</A>
More by Stephen Elmer
Published August 5th, 2016 4:19 PM
Popular Articles
Latest Comparisons
Car Buying Tools