19 Views
2020 Lincoln Corsair Review
July 2nd, 2020 12:55 PM
Share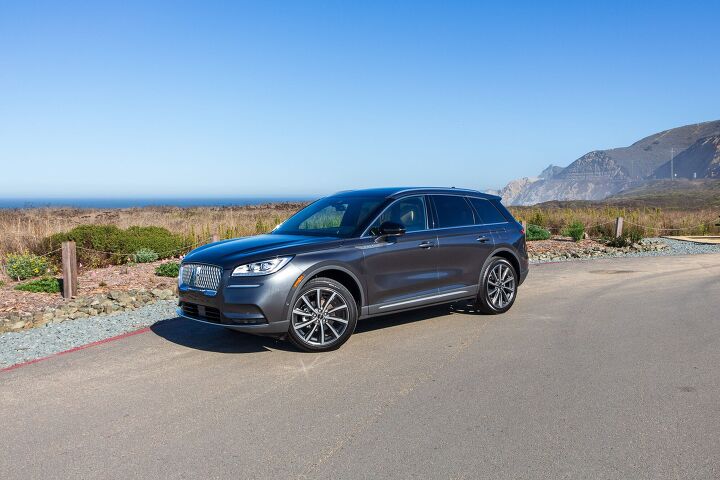 Lincoln hasn't exactly had a smooth go of it in the last couple of decades.
Instead, the brand has seemed often lost and wandering, trying to figure out just where it fit into the market. That's not just oddballs like the five-speed LS that confusingly shared a name with a Lexus and actually shared underpinnings with a Jag (don't talk about the stick option), we're talking about a brand that somehow failed to sell a luxury pickup. In the USA. Twice!
There must be some marketing people at FoMoCo screaming about how they were right now that you can get a six-figure F-Series. Finally, though, it seems like they're on a roll. Starting with the Continental concept, hitting stride with the Navigator concept, and then widening to include more and more crossovers. While the crosstown rivals at Cadillac keeps launching sedans.
Even better, the new crop of Lincolns now all have names. They're even good ones, which is to the brand's credit since it doesn't have as many names in the back catalogue as you might expect.
A Compact Lincoln
FAST FACTS
| | |
| --- | --- |
| Engine: | 2.0L, 2.3L turbocharged inline four |
| Output: | 250 horsepower, 280 pound-feet of torque (for 2.0L. 2.3L 295 hp, 310 lb-ft) |
| Transmission: | Eight-speed automatic |
| U.S. Fuel Economy (MPG): | (2.0 AWD) 21 city, 29 highway, 24 combined (2.3 AWD 21/28/24) |
| CAN Fuel Economy (L/100 km): | (2.0 AWD) 11.1 city, 8.1 highway, 9.8 combined (2.3 AWD 11.1/8.2/9.8) |
| U.S. Estimated Price: | Base $36,940 including $995 for delivery. As Tested $58,965 |
| CAN Estimated Price: | Base $44,700 |
The latest is this one. The Corsair. It's probably not a make or break model for the automaker, but this is an important one. The small luxury crossover is a growing segment and a key place to bring new buyers into the brand. Young buyers (Lincoln says largely women) who will then hopefully stay with the brand as their careers (and desire for larger vehicles) grow. It's also a good place to show how serious Ford is about Lincoln. This is, after all, largely a reskinned Escape which leaves two courses to follow. Slap some leather on the Escape or make this a serious contender in its class. With that in mind, they'd probably prefer you not remember they've used the Corsair badge before. On an Edsel.
And a Handsome One Too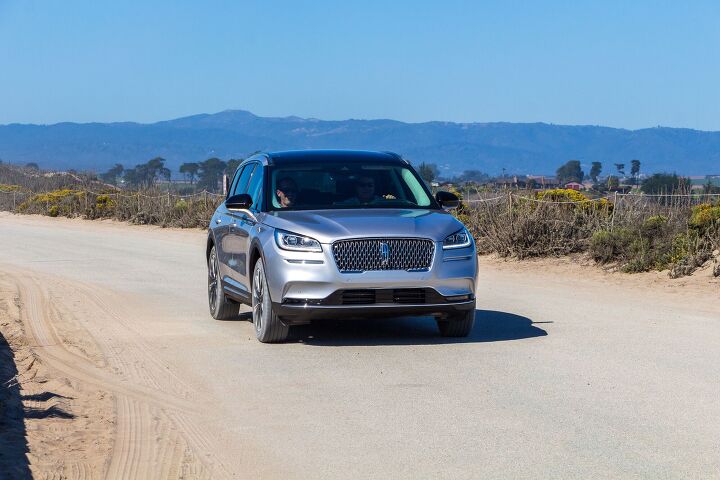 It's quite a reskinning. The Corsair looks nothing like its corporate sibling but instead looks just like the rest of the brand family. It's smaller than the Nautilus, but it has just as much presence.
Lincoln calls the design "sculpture in motion." We call it a delightfully complex series of shapes that shows more detail the more you look at it – except for the line where the tailgate meets the rear bumper. The panels there meet in a way that looks more panel gap than sculpture. Still, the design is a hit overall, and it's a nice change from the gaping angry faces that are now nearly the rule in crossover design.
Definitely Not Just a Fancy Ford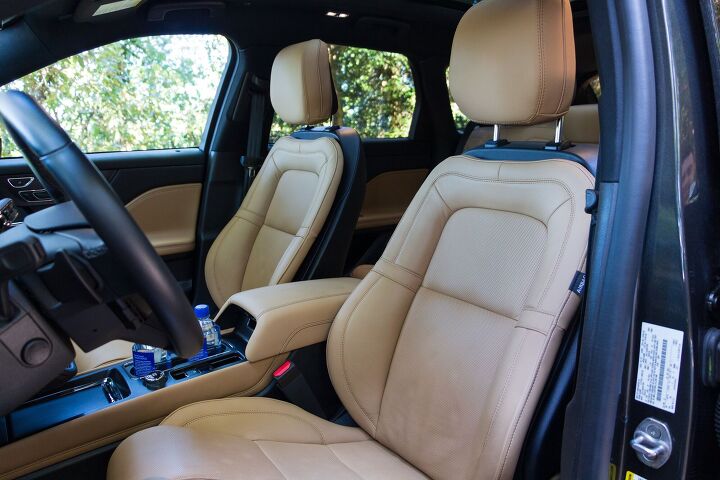 Open the door (using the fancy phone as key if that's up your alley) and your ears might catch the first sign that this isn't just a tarted-up Ford. Hear that chime? It's not the standard noise that's marked every Ford for a decade. Lincoln went to the Detroit Symphony Orchestra and recorded six new chimes for various vehicle alerts. They still sound more digital than symphonic, but they're a nice touch. A good way to set a mood.
Lincoln has put the basic seat controls on the door of the Corsair. Like Mercedes does. While it might be more of a boon for journalists jumping in and out of cars than for most drivers, this is a great feature. If you're switching drivers frequently you might not even need the buttons more than a few times: Lincoln lets the driver store seat (and mirror) settings in the phone key through the Lincoln Way app.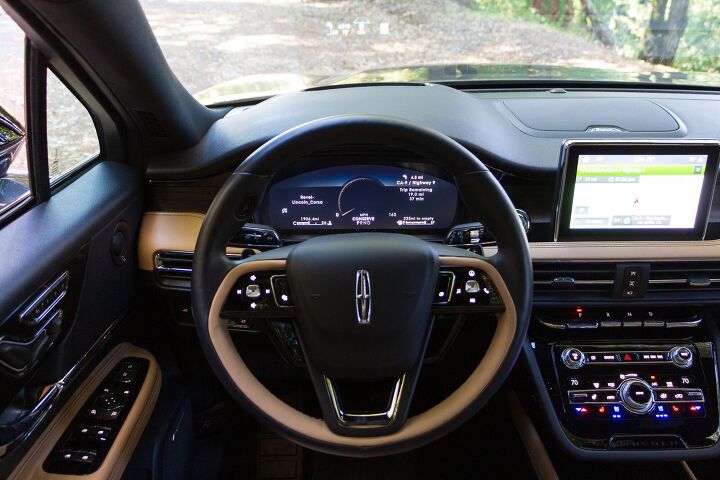 Slide behind the wheel and you'll notice that it doesn't seem to have many buttons. Two control knobs, and that's about it.
Where's the cruise control? Tap the single cruise button near the horn control and a series of buttons light up further down the center of the wheel. These are your extra controls. It's slick, and it feels special. At the 10 o'clock spot, right by your left thumb, there's the push to talk (to your car) button. It enables voice commands and is very well positioned.
Powerful Powerplants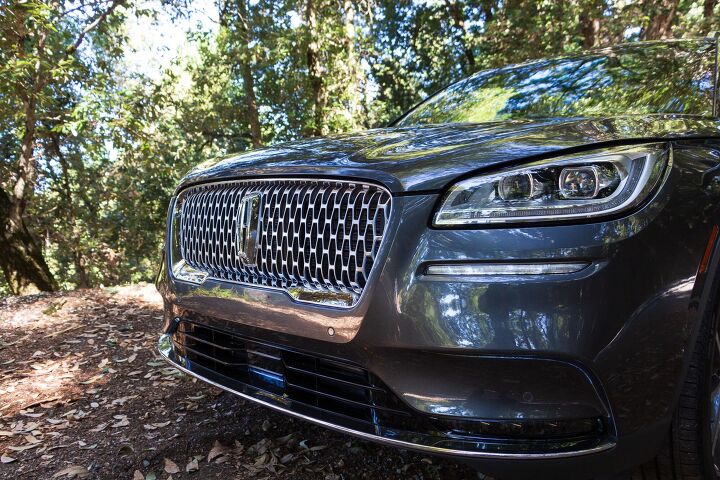 Push the start button and one of two four-cylinder engines starts up. The base is a 2.0L that delivers 250 hp and 280 lb-ft of torque. That's a very healthy number for the segment, but Lincoln can do you one better.
The top choice is a 2.3L that makes 295 hp and 310 lb-ft of torque, and that's enough to make this a seriously quick little crossover. If you're surprised that the Corsair doesn't have a hybrid option at launch, especially with the Aviator's 600 lb-ft electrified option and considering the Escape gets one, you're not alone. Lincoln officials were keeping mum about it, but you can expect something with electrification sooner rather than later.
Both fours get an eight-speed auto, with Lincoln offering front or all-wheel drive on the 2.0 (AWD only in Canada) and AWD only on the 2.3.
As Quiet as a Lincoln Should Be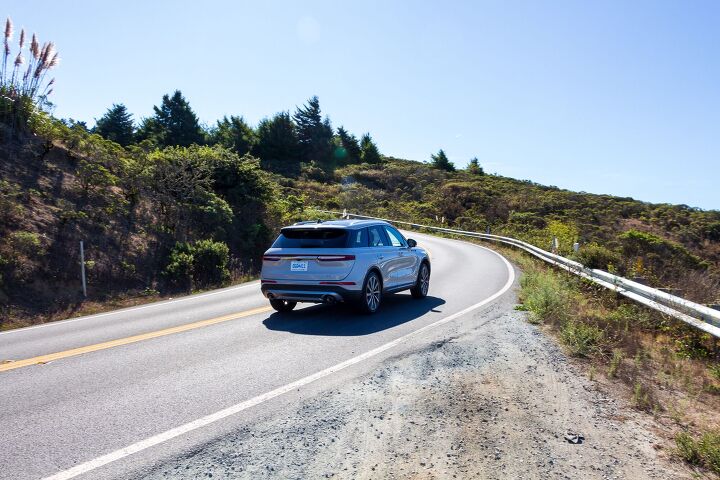 Lincoln says it's looking at sanctuary instead of sporting with this one using what it calls Quiet Flight DNA. You'll hear the words "whisper-quiet" thrown around a lot – if you listen closely. To back that up, there are loads of sound isolating touches. Active noise control for a start, and a dual-wall dashboard that uses a composite material for the walls and an air gap in between.
Does it make the Corsair quiet? In a word, yes. I was able to do my weekly radio appearance while on the highway (from the passenger seat) and while San Francisco cell-service is surprisingly bad, the conversation was like I was at home. The engines are there when you're hard on the throttle, but this is very quiet for this segment.
Exciting to Drive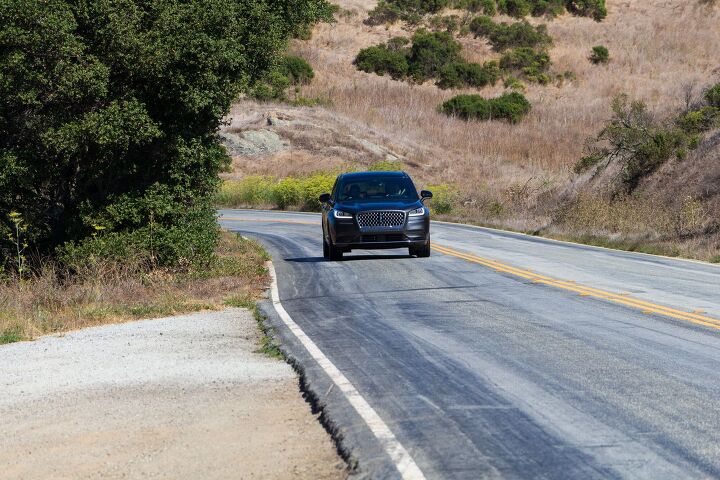 The brand planners are serious about this aversion to sport. They've even labelled what would normally be Sport mode as Excite. It sharpens the usual settings, including the dampers in the adaptive suspension, should you choose that option. And you should.
This is one of few vehicles where the difference between comfort and sport, sorry Excite, are easily noticed. It's almost classic domestic luxury soft in the right mode, but firm enough to be extremely playful – dare we say fun? – in the twisty canyons of California. This Corsair can hustle, and it doesn't mind doing it.
Mash the accelerator and both engines will get you down the road quicker than your grandfather's Lincoln ever could. Plenty of shove and a smooth-shifting eight-speed auto keep things moving along well. The 2.3L's extra power is nice, but frankly, even in the canyons, the smaller engine was more than enough. The only real dynamic misstep was a grabby brake pedal that made smooth brake applications difficult. Especially in Excite mode. The engineers on hand seemed to take note of the multiple reports of this, so with modern electronics it's possible a fix could be made quickly and easily.
Comfort Abounds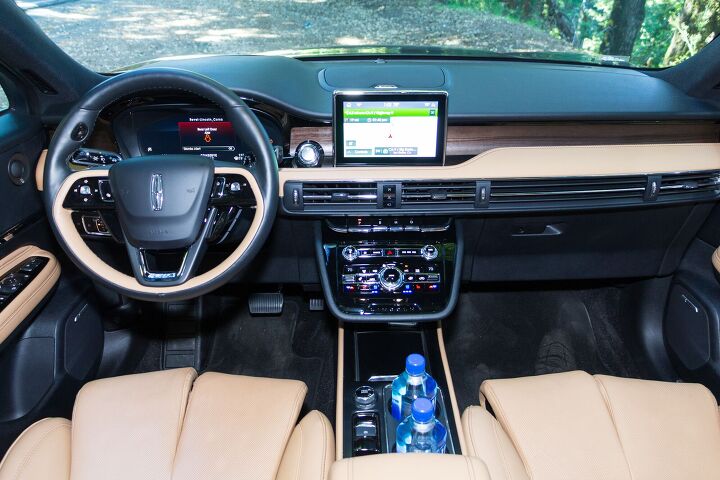 Lincoln offers two different seat options on the Corsair, both offering a bit of the classic pillow-top seat look that was so popular in the 1970s. But with a modern twist. The base seat's cushion will be too short for drivers long of thigh, a complaint from me on nearly every Ford. But get the 24-way adjustable Perfect Position Seats and make your back (and backside) at home. In addition to massage, and about a thousand different bolster settings, the seat thigh support can be adjusted separately for your left and right leg. They really are all-day comfortable.
The leather and wood on the dash looks and feels premium. In fact, just about everything you see feels better than you expect from an entry Lincoln. If you're wondering where the corners were cut, just look down a bit further. Anything below the dash trim line, like the lower door panels or the part of the center stack where the driver's right knee hits, is hard plastic. It's likely not an issue for most – after all you need to keep prices in line somehow – but if you find yourself making contact with those bits regularly it's a bit of a turn-off.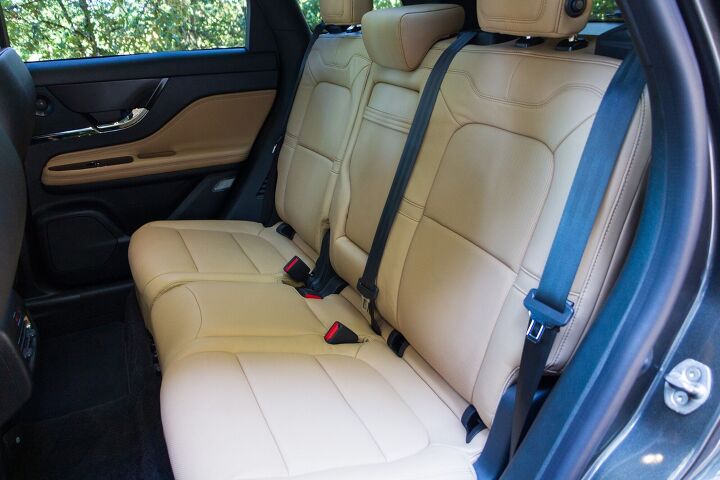 In back, expect plenty of room for passengers and that includes headroom despite the massive glass roof. The rear seat can slide six inches to let you adust for passenger space versus cargo room. Or to bring an infant seat closer for easy access and move a toddler rearward for no more seat kicking. While the rear seats don't offer the multitude of adjustments, they do recline and are comfortable for adults. At least for this one.
If you're one of the most of us who still loves actual controls, the Corsair has real buttons for just about every climate control option. With a volume and a tuning knob. Right above those, though, is the push-button gear selector. While you'll probably get used to it if you own one, I repeatedly reached for the menu dial instead of one of the piano keys. And nearly got out to it rolling away after hitting the wrong key.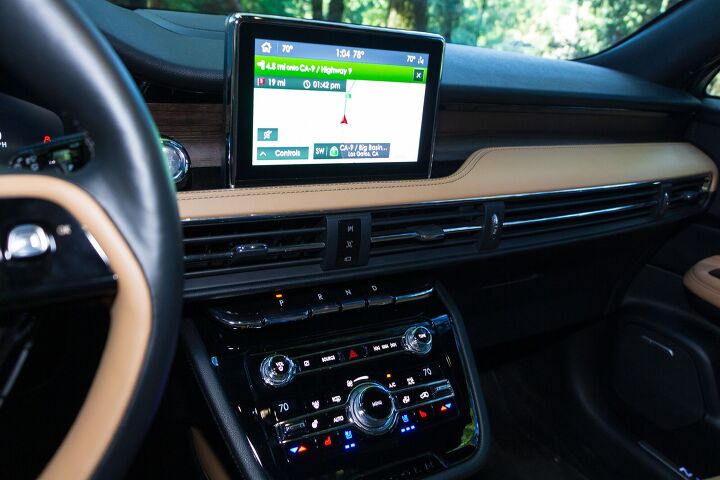 Above that is an 8.0-inch screen running Ford's excellent Sync 3 infotainment system with Apple CarPlay and Android Auto. It's smooth and eye-pleasing in operation. The dashboard is a 12.3-inch panel that gives you a very different experience in each drive mode. Pick Excite and there's a tach and speedo. Pick Conserve and there's a fuel economy meter. Normal, as configured for us, showed only a speedometer display. More impressively it showed only the speed at which you were travelling. Like Saab's Night Panel display, but digital and more elegant. Pick the Deep Conditions mode, and Matthew McConaughey would appear and reveal some inner truths to give you something to ponder. We may have made that last part up.
Lincoln is offering up several interior color choices, including grey, black, and beige, but the best one of them all is Beyond Blue. A deep blue leather with a white gloss panel on the dash and white fabric from the door sills up. It's a $500 option, but it stands out in a world of black and grey crossover interiors. The other option you'll likely want is the 14-speaker Revel audio system which delivers truly impressive audio in this quiet cabin.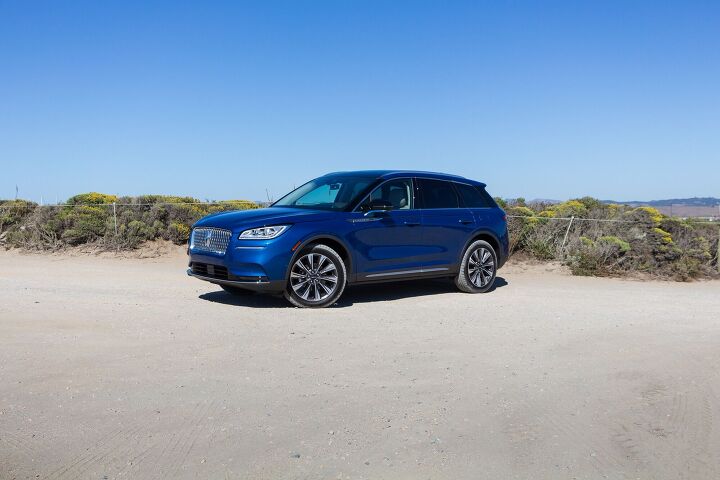 This isn't the first vehicle to let you use your phone as a key, but it's certainly in rare company. Using the Lincoln Way App, you can authorize your phone, or several phones, to operate the vehicle. The feature uses Bluetooth and 11 sensors in the car, meaning it'll work in your underground parking garage. Get within 130 feet, and you can unlock your Corsair. 10 feet and it lights up to say hello. From three feet, it'll open when you touch the handle, and of course, it'll start from inside. If you need a valet to move your vehicle, it allows a temporary passcode to be used.
Keeping on the tech side, this comes with Co-Pilot360 standard. That means auto brights, pre-collision assist with pedestrian detection, brake support, and forward collision warnings, lane-keeping alert and assist, and blind spot warnings with cross traffic alert. Add the Plus version and get adaptive cruise with traffic jam assist, lane centering, speed sign recognition, front sensing, reverse brake assist, evasive steer assist (this one helps you go around obstacles) and parallel and perpendicular park assist.
The Verdict: 2020 Lincoln Corsair Review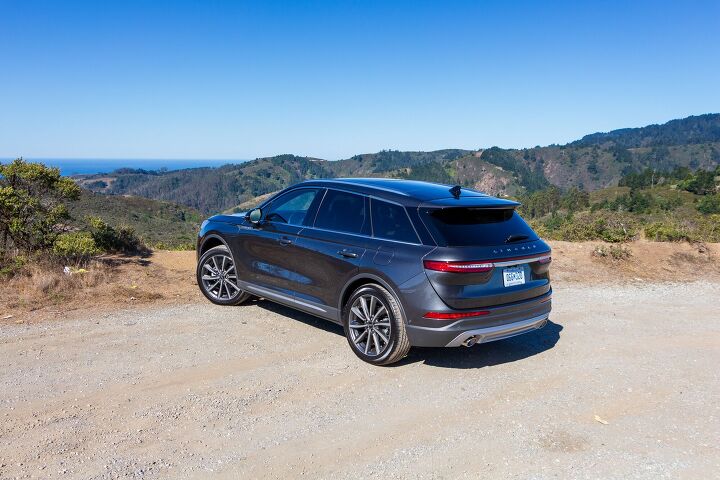 Starting from $36,940 with destination, this is a lot of luxury for the dollar. Though our loaded-up near-on $60k testers might be pushing the boundaries of this segment. Then again, nobody ticks all the boxes and on something in this segment, it's probably the lease price that matters more than the sticker. Lincoln has done the brand proud with this one. It's a luxurious small family hauler that offers up impressive amounts of quiet and doesn't embarass itself in the twisty bits. No Edsel here, instead this one's the pirate ready to plunder the entry-luxury segment.
LOVE IT
Symphony Chimes
Perfect Fit Seats
Adaptive Dampers
Phone as Key
LEAVE IT
Hatch close line
Grabby brakes
Hard plastics low down
Published October 1st, 2019 8:25 AM
Popular Articles
Latest Comparisons
Car Buying Tools