144 Views
2021 Lincoln Navigator Review: Wedding Chariot of Choice
April 26th, 2022 3:15 PM
Share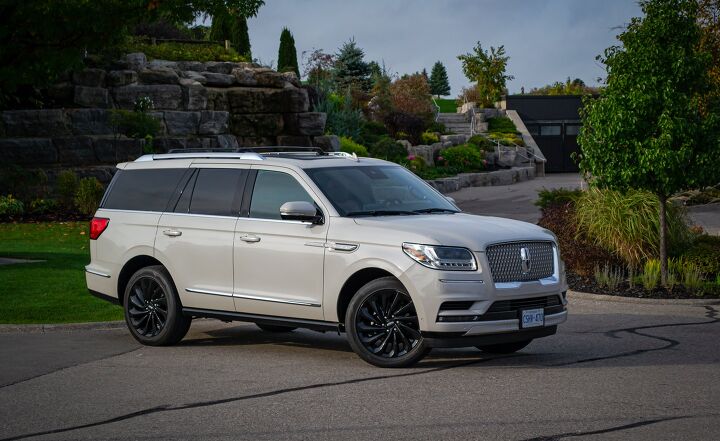 FAST FACTS
| | |
| --- | --- |
| Engine: | 3.5L V6 Turbo |
| Output: | 450 hp, 510 lb-ft |
| Transmission: | 10AT, 4WD |
| US fuel economy (MPG): | 16/20/17 |
| CAN fuel economy (L/100KM): | 15.0/11.5/13.5 |
| Starting Price (USD): | $78,000 (inc. dest.) |
| As-Tested Price (USD): | $96,300 (inc. dest.) |
| Starting Price (CAD): | $99,295 (inc. dest.) |
| As-Tested Price (CAD): | $109,150 (inc. dest.) |
It's my cousin Tony's most important day.
He's a fun guy—genuinely, not in the Kawhi Leonard awkward-laugh way—with a lot of friends. There are seven groomsmen, and an equal amount of bridesmaids. As one of the former, my plan is to minimize as many stress points as possible leading up to the wedding. There's the small logistical question of getting all the guys to the venue the day of, a roughly hour-long drive from the important couple's house, where we'll be getting ready.
Get a Quote on a New Lincoln Navigator
Roll forward, 2021 Lincoln Navigator. The big body-on-frame SUV has been the go-to model for stretch limos for ages. We wouldn't be using one of those, but instead the same sort of one you'll find at your neighborhood Lincoln dealer. A weekend with the Navigator proved why it's been popular for so long, an effortlessly smooth full-size luxury SUV that can stand toe-to-toe with the best the industry can offer.
What's new?
The current Navigator has been with us for a few years now (and a facelift is on the way for 2022). Built on the same platform as the Ford Expedition, it's a proper truck-like SUV, all bluff front-end and imposing size. That's even in standard-wheelbase form; you'll have to take an L if you want an even longer Navigator.
This Reserve model features the optional monochromatic exterior upgrades, keeping it to a strict (and oh-so appropriate) black-and-white motif. With the blacked-out pillars and 22-inch wheels, the Navigator strikes a fine balance between cool and classy. It's not as edgy as the Cadillac Escalade, nor as challenging as the Jeep Grand Wagoneer. The Navigator is almost elegant—or at least as elegant as a vehicle this size, with a light-up grille badge, can be.
SEE ALSO:
2021 Cadillac Escalade Review: Ghost Protocol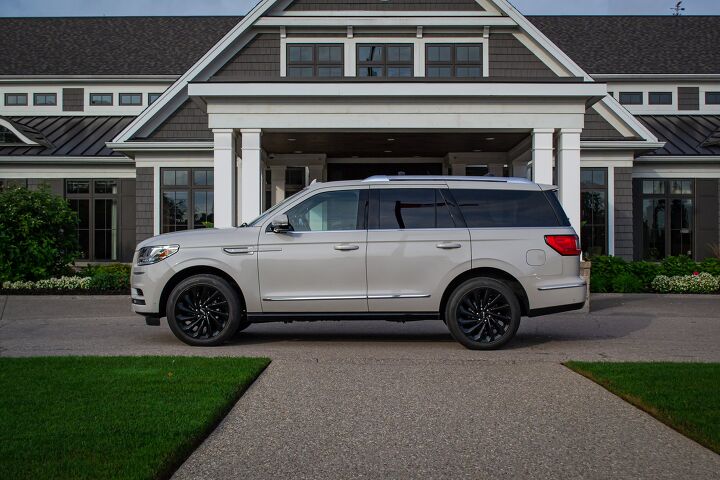 2021 Lincoln Navigator interior and comfort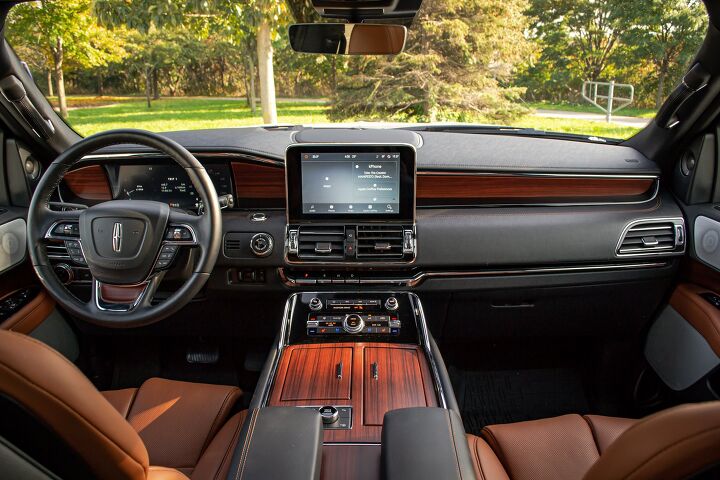 The exterior might take its tonal inspiration from a Chaplin film, but the interior does no such thing. It's a warm and inviting space, full of real wood and rich caramel-colored leather. The fit and finish are both top-tier, with everything coming together seamlessly. There's an appropriate level of chrome trim—this is an American luxury car, after all—but the Navigator isn't OTT about it.
The center console comes up just shy of connecting to the dashboard; it looks odd, but serves as a reminder to the sizeable storage space underneath. Knurled metal dials offer pleasant tactile feedback, though they swim in a sea of piano black, so good luck keeping this section clear of fingerprints. I do appreciate having physical buttons for the seat temperature controls, though—no menu fiddling, here. On the flip side, I couldn't get used to the button-based shifter, arranged horizontally. It makes Drive the furthest reach, which seems wrong.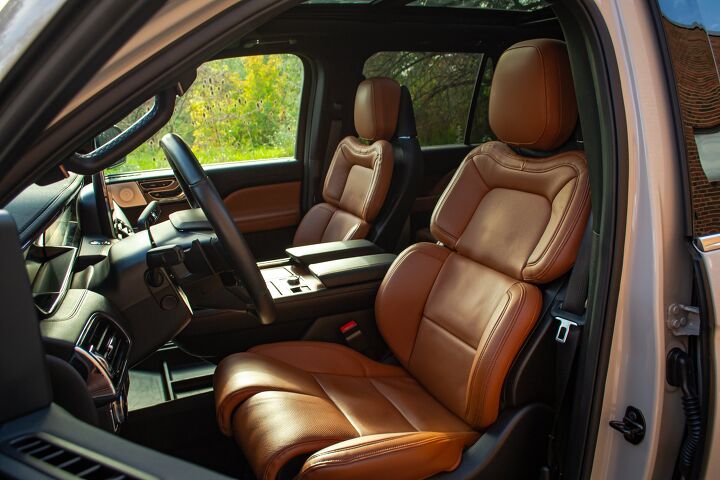 Ticking the Luxury Package option adds an additional six ways of adjustment for the front seats, bringing them to a mind-bogglingly 30-way total. The power thigh extender is split, for goodness sake. It takes a while to set them up exactly to your preferences, but the results are incredibly comfortable thrones for the driver and front passenger. If Tony is in any way nervous as we head towards the ceremony, he sure doesn't look it.
Second-row passengers hardly come up short, either. It's a similarly spacious place to hang out, with lots of natural light thanks to the ginormous moonroof. There's a big ol' (optional) leather-wrapped center console back here, which means no folding away the second row for ultimate storage. It also eats into third-row access, though there's still an adult-friendly port when the seats fold up at the touch of a button. There's enough way-back space for three groomsmen, one of whom handles the audio duties. It's a strict diet of late '90s and early aughts hip-hop and R&B in this (rolling) house, today.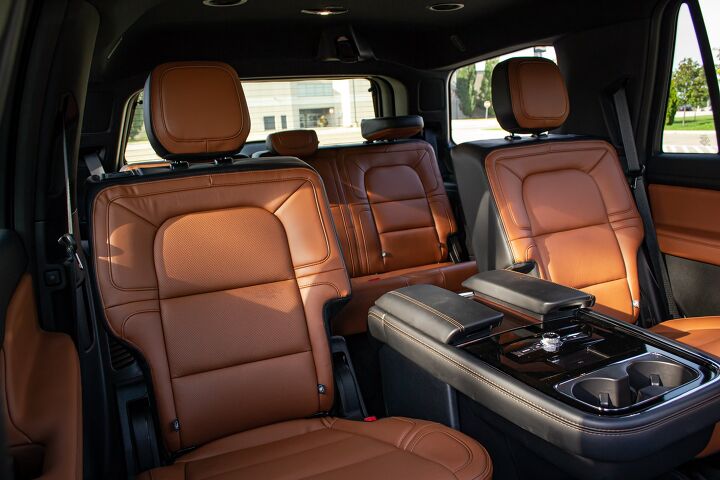 (Those doing the math may note there aren't enough seats to house the full groom's party in here. You're right: one of the guys drove his own vehicle to the venue, per his family's own logistical needs. No overloading here!)
2021 Lincoln Navigator technology and features
The 20-speaker Revel Ultima system pumps out the jams, filling the cavernous interior with rich tones. The thick glass and what must be a whole person's weight of sound deadening keeps the din of the outside world at bay. The overcast morning has transitioned to a light drizzle, which is not the sort of thing we want for a semi-outdoor wedding.
Time for the massaging seats, then. The function isn't as aggressive as some other brands', even though the embedded motors are comparatively noisy. Best to stick to the tunes, as fellow motorists must think this is the biggest (and best-dressed, if I do say so myself) version of Carpool Karaoke.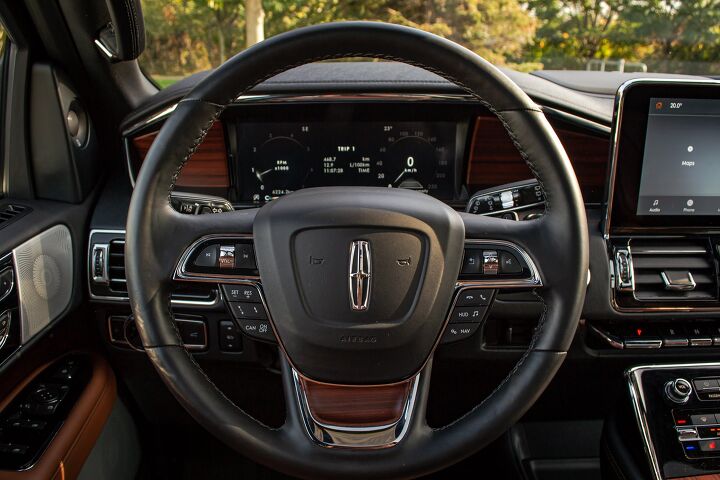 Ford's Sync software serves as the backbone of the 10.0-inch infotainment system. There's a fresh coat of digital paint for Lincoln duty, but it's still easy to use without being distracting. The thick bezel detracts from the luxury feel, however. Apple CarPlay and Android Auto are both included, though still wired, unlike much of the competition. At least there are plenty of charge ports in all rows, with both USB-A and USB-C up front.
Nestled behind the steering wheel is a 12.0-inch digital gauge cluster. I'm a big fan of the ultra-minimal look, the unused portions of the dials grayed out, and only the important chosen information in the center.
SEE ALSO:
2022 Jeep Grand Wagoneer First Drive Review: The Six-Figure Jeep Has Landed
Ford's Co-Pilot 360 suite of driver assists is standard on all Navis, including automated emergency braking, blind-spot monitoring, rear cross-traffic alert, and lane departure warning. The mid-spec Reserve a much-needed 360-degree camera system and full-range adaptive cruise control. The latter works naturally, though it can't match the convenience of the Escalade's Super Cruise. Look to the 2022 model, which will feature Ford's own hands-free system, dubbed ActiveGlide for Lincoln duty.
Shout out to Ford's clever SecuriCode system, too. The Navigator held the entire squad's stuff for the day, and if any of us needed to pop out to grab anything, there was no need to hunt for the keys. Handy.
2021 Lincoln Navigator driving impressions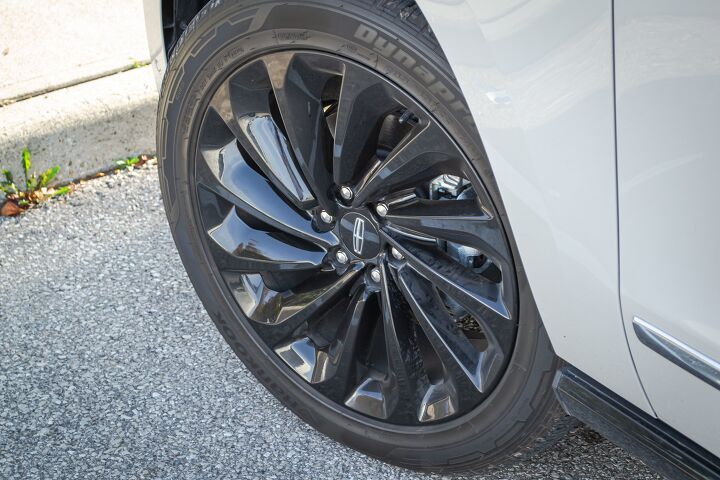 This is a big, beefy, body-on-frame SUV, and handles as such. The steering is super-light and feel-free, because expending effort is just so gauche, darling. Unlike something like an Escalade or X7, the Navigator never lets you forget that there's still another 12 feet of vehicle behind you. Ride quality is usually pretty smooth, but when empty, the Navigator shudders over sharp bumps. The upsized 22-inch wheels don't help ride quality matters, either. That said, when loaded up with the whole squad, the ride settles down, absorbing bumps well and feeling less brittle.
There are no complaints about the motive power of that EcoBoost engine. 450 hp and 510 lb-ft is plenty to shift the Navigator, even all-up. The 10-speed auto is responsive, kicking down gears quickly when needed, and smoothly blending them together elsewhere. There are six drive modes, including a Sport option on one of the least-sporty vehicles out there. It's as natural as seeing the Queen decked out in Lululemon.
Drive the Navigator as intended—like, say, there's an entire party on board en route to a very important event—and it's smooth sailing. It's even reasonably fuel efficient. The EPA quotes 16 mpg city and 20 mpg highway, for a 17 mpg average. Canadian figures are 15.0/11.5/13.5 L/100 km, respectively. Those figures are slightly better than the American V8 competition, though the Escalade diesel still tops the charts.
SEE ALSO:
2020 Mercedes-Benz GLS 580 Review: Wafting Wunderkind
2021 Lincoln Navigator pricing and competition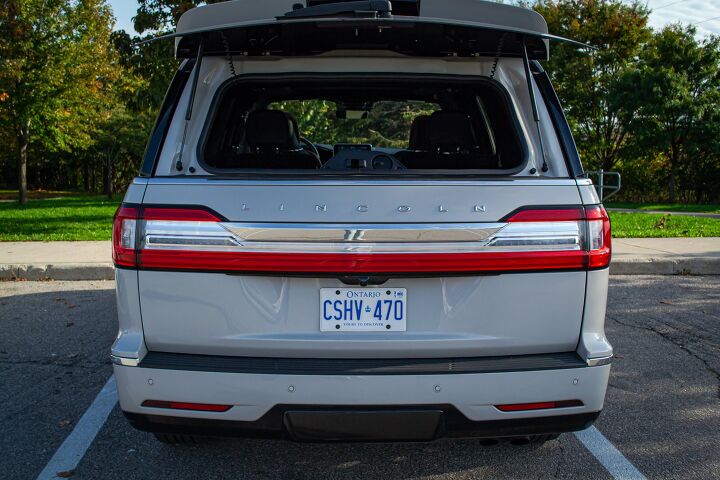 I wouldn't call anything that starts at $78,000 ($99,295 CAD), including destination, a deal, but the Navigator does significantly undercut its hometown rivals, the Cadillac Escalade and Jeep Grand Wagoneer. Its interior won't wow quite as much as either of those behemoths, specifically its tech suite. But the Navigator's infotainment is straightforward, which counts for a lot in this segment. The EcoBoost V6 is a torquey performer too, and the chunky 8,700-pound tow rating will appeal to those who need to use this truck for, well, truck things.
Similarly, options like the Mercedes GLS-Class and BMW X7 exist if you want a little more driving verve in your three-row SUV. And don't mind paying thousands more to match the Navigator's spec.
Verdict: 2021 Lincoln Navigator Review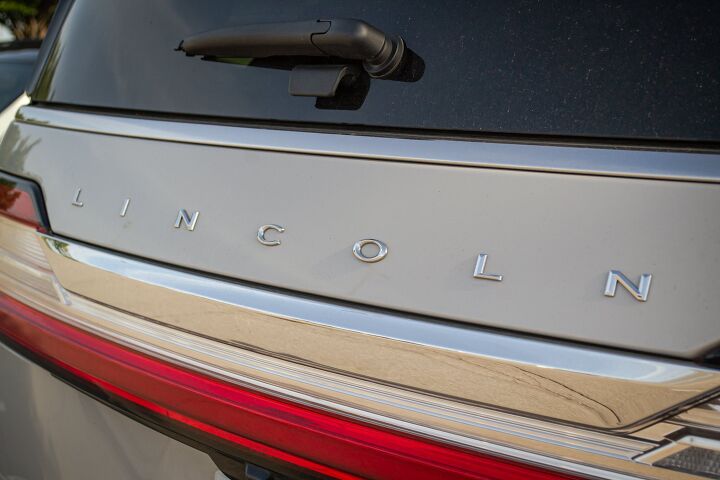 The wedding was beautiful. The rain stopped just before we pulled up, and I kid you not, the sun peeked out mere moments after the couple said "I do." I've never seen two people radiate so much love. Watching my little cousin—one of my first friends, really—take this next step was a joy, and it was an honor to be a part of it all.
And the 2021 Lincoln Navigator played a small part in making it all happen. Now I understand why Lincoln's flagship is so common at weddings. It removes friction, a Teflon-coated chariot to shuttle people around in a cocoon of leather and luxury. And when the time comes to transition back to regular life, it still tows and stows with the best of 'em.
---
FAQs
How much is a 2021 Lincoln Navigator?
Base models start at $78,000, including $1,295 in destination. In Canada, the mid-level Reserve is where the lineup starts and ends, at $99,295 CAD including freight.
Is the 2021 Lincoln Navigator worth the money?
With its piles of standard equipment, yes.
How much is a fully loaded 2021 Lincoln Navigator?
Check every box, and you'll find a Black Label L stickers for $113,595 ($115,045 CAD for a Reserve L in Canada).
Become an AutoGuide insider. Get the latest from the automotive world first by subscribing to our newsletter here.
LOVE IT
Classy cabin
So much people space
Excellent audio and intuitive infotainment
LEAVE IT
Occasionally rough ride
Noisy massage seats
Can't match impressive tech suites of newer competitors
Published December 10th, 2021 10:22 AM
Popular Articles
Latest Comparisons
Car Buying Tools