26 Views
2019 Maserati Levante GTS Review
February 2nd, 2021 8:36 AM
Share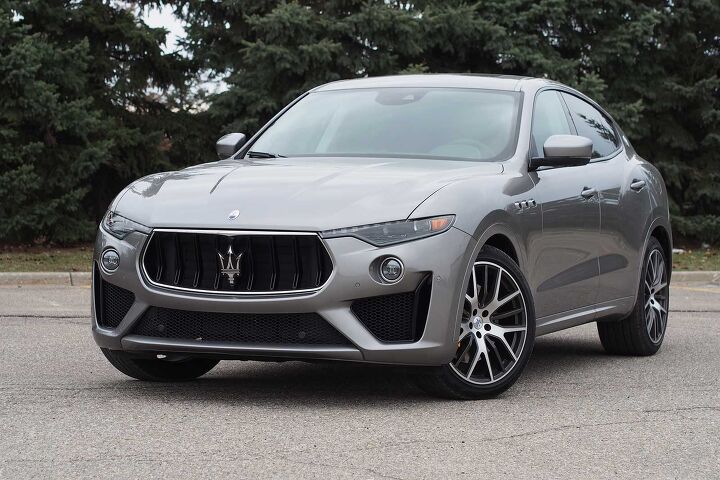 The automotive world has gone completely insane.
These days it seems crossovers are only thing motorists want to buy and vehicle manufacturers build. Traditional cars? Pfff, they're so 20th century!
When illustrious brands like Porsche, Bentley and even Rolls-Royce offer utility vehicles you know the well has been poisoned or some malevolent force is running roughshod through the industry. Not even the Italians, long a bastion of automotive purity have been immune to demonic possession by the all-consuming SUV craze, with Lamborghini and even Maserati proffering utility models.
Proudly brandishing the trident logo is a shapely crossover called Levante. At first glance a Maserati utility vehicle seems absurd; in practice, it's not as ludicrous as it sounds. Particularly in sporty, high-end GTS trim, this SUV offers supercar speed, unimpeachable prestige and an air of sophistication more than begetting its premium price.
GTS: One Step from the Top
In America at least, the Levante is available in four flavors. Each model features standard all-wheel drive.
SEE ALSO: 2018 Lincoln Navigator Black Label Review – VIDEO
The base version of this SUV is motivated by a 3.0-liter turbocharged V6 that delivers a respectable 345 horsepower. Moving up from there, a sportier Levante S AWD variant turns up the wick to 424 ponies and offers a higher top speed. Next comes the eminently sporty GTS, which is one step shy of the top Levante offering. It features a turbocharged V8 delivering 550 horses. Capping this range is the ultra-sporty Trofeo model, which brandishes 590 equines and has a top speed of 187 miles an hour.
FAST FACTS
| | |
| --- | --- |
| Engine: | 3.8-liter twin-turbocharged V8 |
| Output: | 550 horsepower, 538 pound-feet of torque |
| Transmission: | Eight-speed automatic |
| U.S. Fuel Economy (MPG): | 14 city, 18 highway, 15 combined |
| CAN Fuel Economy (L/100 km): | 17.9 city, 12.9 highway, 15.3 combined |
| U.S. As-Tested Price: | $138,285, including $1,495 in delivery fees |
| CAN Estimated Price: | $153,000 |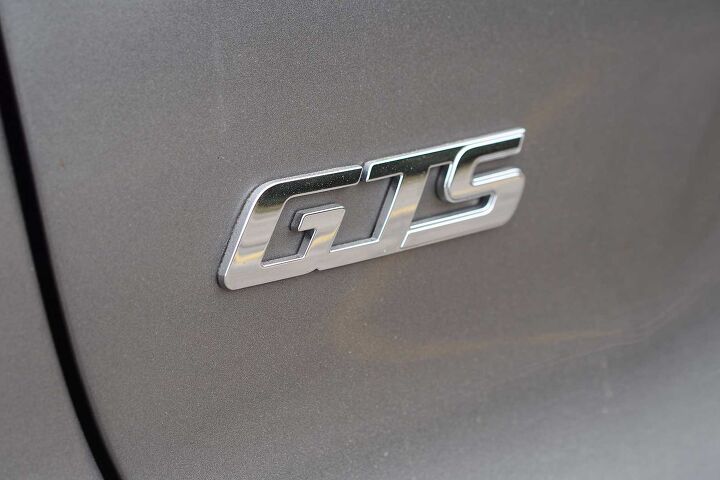 A Ferrari Heart
Making a strong argument for this vehicle's existence is a howling V8 engine that shrieks with authority the second you initiate combustion. Displacing a relatively small 3.8 liters, it's boosted by a turbocharger hanging off each cylinder head. Output measures the abovementioned 550 ponies with a mountain of torque, 538 pound-feet to be precise, which is available between 2,500 and 5,000 rpm. In action, this powerplant is pure magic, an unrestrained bit of automotive sorcery conjured up with the help of the engineering wizards at Ferrari. It's even manufactured in Maranello, Italy, in case its pedigree needed further burnishing.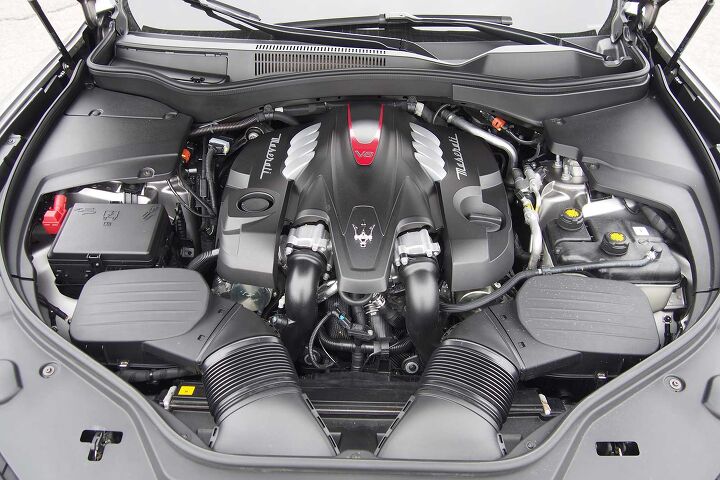 That fire-breathing V8 is matched to a responsive, if ubiquitous ZF-sourced eight-speed automatic transmission. In addition to all-wheel drive, the GTS also boasts of a standard mechanical limited-slip differential, one that routes 100 percent torque to the rear wheels in normal driving situations, though it can quickly switch to a 50-50 split in as little as 150 milliseconds.
This copious driveline hardware results in some impressive performance. The Levante GTS can rocket itself from a standstill to mile-a-minute velocity in a scant 4 seconds. Top speed is 181 miles an hour.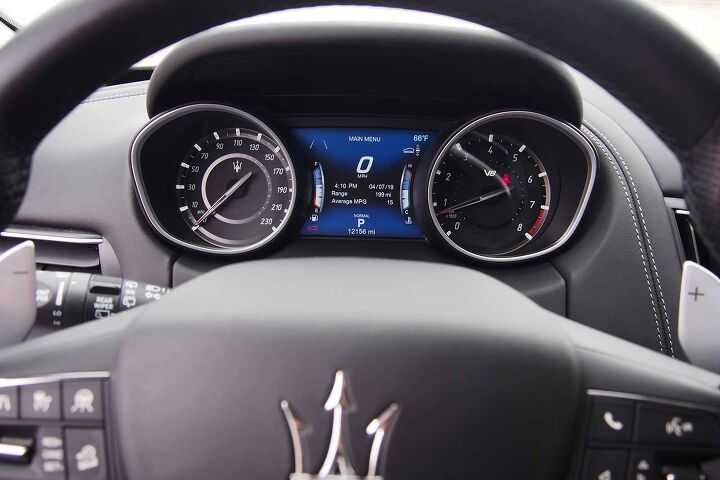 Modern Features in a Maserati?
Keeping pace with rival automakers, this exotic Italian SUV can be fitted with much of the latest technology today's drivers have come to expect in a modern vehicle. Things like adaptive LED matrix headlamps and parking sensors, both front and rear, are available.
Customers can get amenities like pedestrian emergency braking, lane centering, adaptive cruise control and blind-spot monitoring. Lane-keeping assist, a surround-view camera and traffic-sign recognition are all on the menu as well.
SEE ALSO: 2019 Nissan Titan Review
Upping the luxury factor, you can also splash out for things like adjustable pedals, power rear sunshades, four-zone automatic climate control and a hands-free tailgate with kick sensor for easy opening, even with a load of baggage in tow.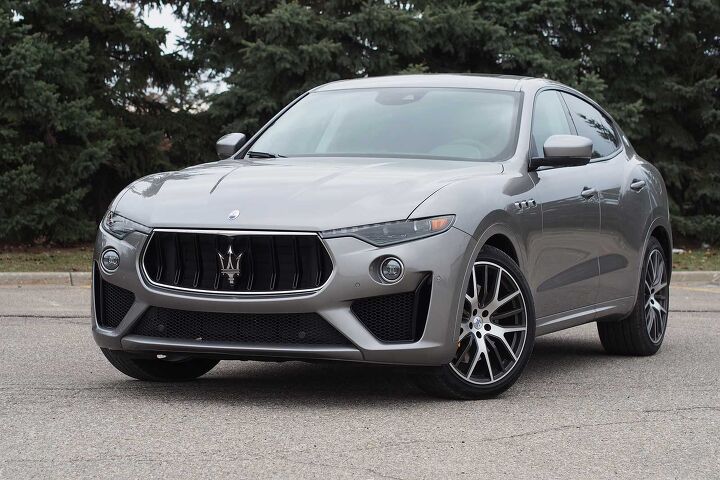 Providing a stable ride is an adjustable pneumatic suspension system. It offers six different settings and up to 3 inches (75 millimeters) of height variation between its lowest and highest settings. This keeps the roughly 4,784-pound GTS on an even keel most of the time.
Interior Inclinations
The Levante is wrapped in tastefully aggressive bodywork that's sure to turn heads, but its interior is not as easy to endorse. Yes, the overall layout is quite elegant, and yes, the cabin smells of the richest leather your olfactory senses have even experienced, and yes, its front bucket seats are firm yet all-day comfortable, but there are still a few idiosyncrasies to cope with.
For starters, there are loads of familiar FCA switchgear. The headlight knob, for instance, looks like it could have been plucked out of a Dodge Durango. Ditto for the power-window controls, which are suspected holdovers from the DaimlerChrysler days. Even the push-button ignition switch, which, curiously, is mounted left of the steering wheel, looks like it was borrowed from any other random FCA vehicle. Shouldn't a Maserati offer more, something different?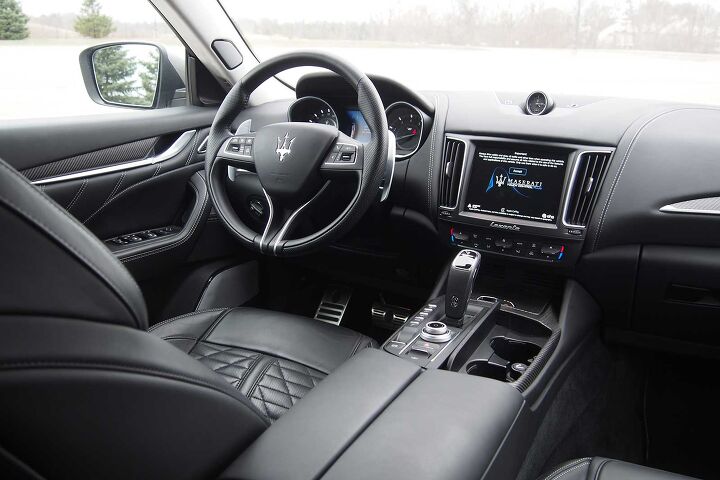 This vehicle's electronics are similarly frustrating. For better or worse, electronic shifters are in vogue these days and the Levante GTS is fitted with one. Too bad it looks like a Nokia candy-bar phone from the early 2000s, that it's needlessly complicated and really doesn't save any space on the center console. What's the point? A push-button gear selector or even a rotary knob on the dashboard would have been preferred.
Another unexpected aspect of the Levante's interior is its infotainment system. Called Maserati Touch Control Plus (MTC+), it's essentially a reskinned version of FCA's ubiquitous Uconnect and system. It even features a familiar 8.4-inch capacitive touchscreen and support for both Apple CarPlay as well as Android Auto.
SEE ALSO: 2020 Jeep Gladiator Review – VIDEO
This infotainment familiarity is conflicting. Fast, intuitive and reliable, Uconnect is one of the best offerings in the business today, and it remains so in this application, which also adds a small control dial on the center console for navigating the system's various menus without getting fingerprints all over the screen. But on the other hand, it feels like Maserati should have something different than what you get in a Pacifica minivan.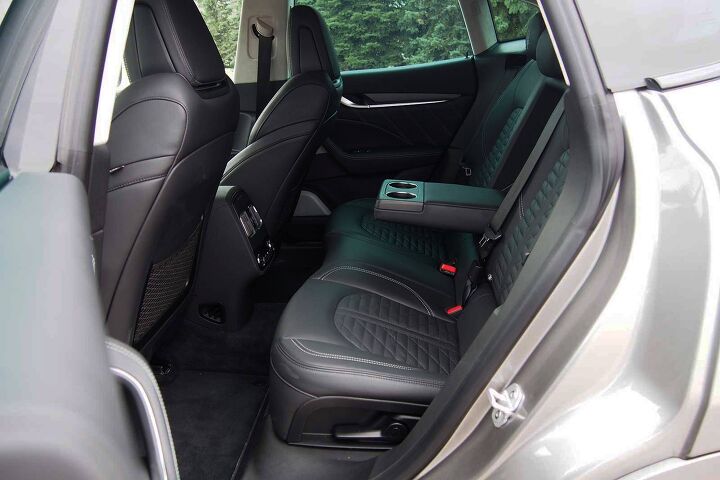 One outstanding element of the Levante's cabin is its optional exposed-weave carbon-fiber trim. Simply put, this $2,890 extra is ASTONISHINGLY NICE. When most automakers employ carbon fiber as a decorative element it usually looks fake, like some glossy piece of plastic with a crosshatch pattern printed on top. But the GTS's trim is three-dimensional, has a texture to it and depth. It's incredibly cool and worth the upcharge.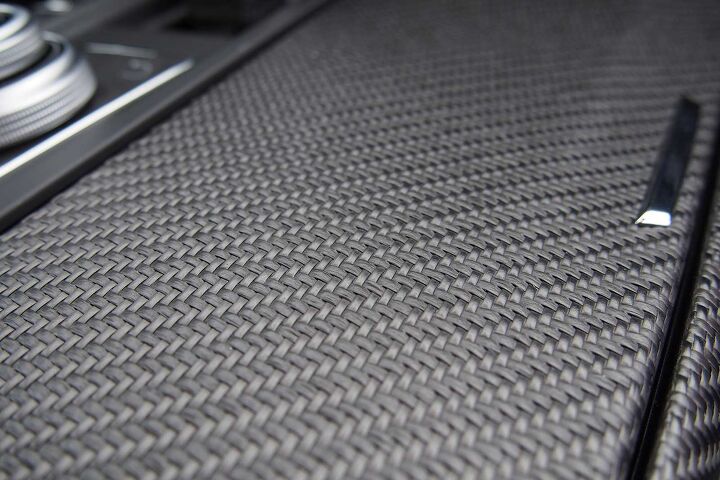 The Drive
As one might expect of a vehicle with 550 horsepower, the Levante GTS is fast. It's a roadgoing rocket with room for the whole family.
This vehicle's drivetrain is astoundingly good, so intoxicating in fact, it makes up for some of its other shortcomings. Smooth running, responsive at all speeds, in every gear and absolutely sonorous, belting out some of the prettiest internal-combustion music this side of a racing car, the GTS's powertrain is a masterpiece of mechanical engineering.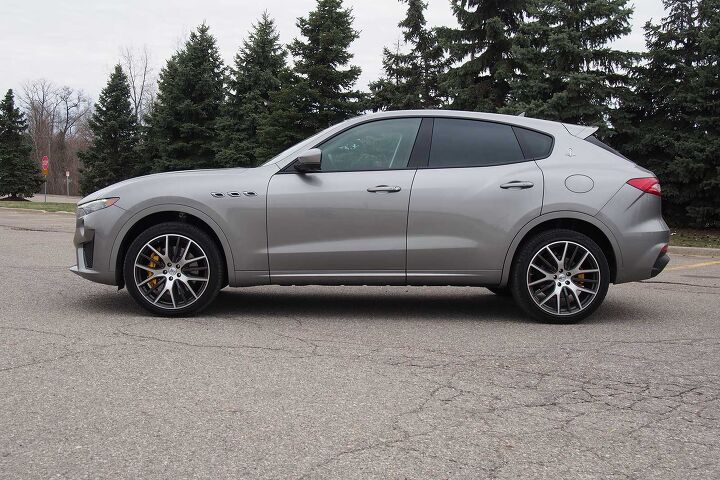 Performance is effortless. This version of the Levante can reach 60 miles an hour in as little as 4 seconds, meaning the driver is NEVER wanting for more giddy-up. The eight-ratio transmission is a willing partner, smooth, responsive and quick to change gears.
SEE ALSO: 2019 Cadillac XT4 Review – VIDEO
The Levante's steering and braking are among the best in its rarified class as well, providing plenty of involvement. On the subject of driver aids, while helpful they tend to feel a little less refined than in other vehicles. The lane-keeping assist is a bit jerkier than it should be and the adaptive cruise control brakes harder than you'd normally want instead of gradually decelerating like other systems on the market today. Do these minor complaints affect the functionality of these technologies? No, not at all. The lane-keeping assist and adaptive cruise both work well, just not quite as smoothly as they should.
The Verdict: 2019 Maserati Levante GTS Review
Beautiful to behold, engaging to drive and intoxicating to hear, the Levante GTS is an exotic utility vehicle clearly blessed with Italian DNA. No, it's not a perfect SUV, but it still manages to pull at the heartstrings while being refreshingly different than what German luxury automakers are churning out these days.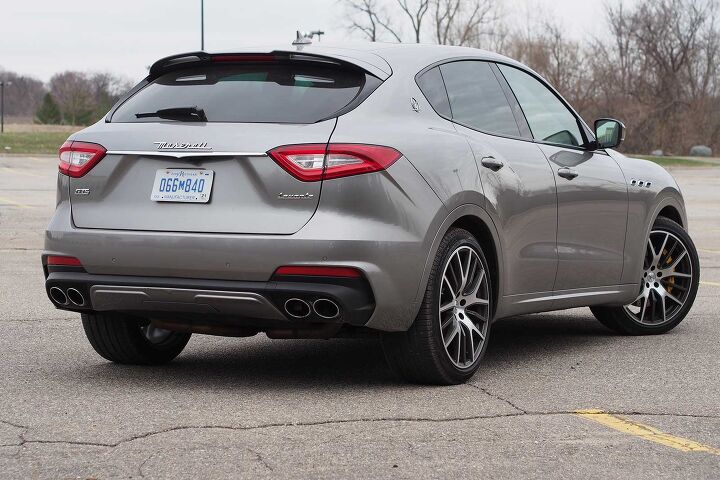 Base price of an entry-level Maserati Levante is around $81,000. Higher-end GTS versions kick off at about $125,000. The example tested here, which was gussied up with various driver-assistance features, four-zone climate control, fancy carbon-fiber trim, staggered 22-inch wheels and a few other amenities checked out for a decidedly not-cheap $138,285, including $1,495 in delivery fees.
Discuss this review on our Luxury-Lifestyle Forum
LOVE IT
Intoxicating powertrain
Driving dynamics
Beautiful design
Brand prestige
Rich leather
LEAVE IT
Unrefined driver aids
FCA switchgear
Wonky shifter

Craig Cole
Born and raised in metro Detroit, Craig was steeped in mechanics from childhood. He feels as much at home with a wrench or welding gun in his hand as he does behind the wheel or in front of a camera. Putting his Bachelor's Degree in Journalism to good use, he's always pumping out videos, reviews, and features for AutoGuide.com. When the workday is over, he can be found out driving his fully restored 1936 Ford V8 sedan. Craig has covered the automotive industry full time for more than 10 years and is a member of the Automotive Press Association (APA) and Midwest Automotive Media Association (MAMA).
More by Craig Cole
Published September 6th, 2019 10:06 AM
Popular Articles
Latest Comparisons
Car Buying Tools