19 Views
2010 Mazda Mazdaspeed3: First Drive
November 12th, 2014 3:53 PM
Share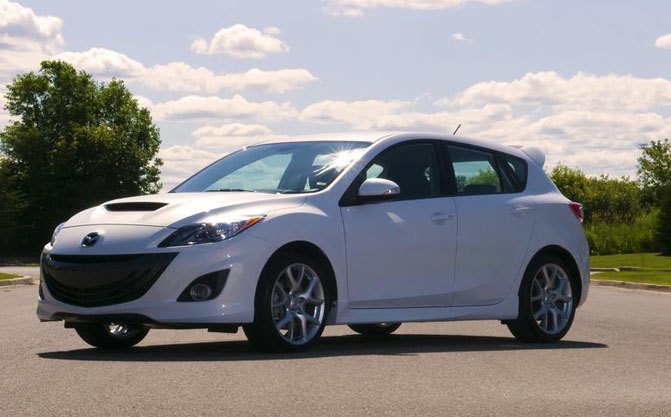 I'm at Mosport International Raceway and, despite some heavy rain earlier in the day, I am thoroughly enjoying myself as I put the new 2010 Mazdaspeed3 through its paces on the tricky Driver Development Track.
FAST FACTS
1. A 2.3-liter turbocharged and intercooled
4-cylinder puts 263-hp and 280 ft-lbs of torque through a six-speed manual.
2. Key features include a mechanical limited slip front differential and traction/stability control programs that can be turned off.
3. The Speed3 is priced from $23,945.
To say the morning lapping session was a bit wet is an understatement. Conditions got more favorable during my afternoon test drive in the surrounding countryside and it's no longer raining upon returning to the track, but it is eerily quiet. There aren't any other journalists around and the calm after the storm isn't being interrupted by the buzz of Mazdas ripping around the now bone-dry circuit.
I'm thinking… "Where have they all gone? Is this for real?" It's settled then. A few puddles here and there won't stop me from seeing what this flagship pocket rocket can do. Time for some hot laps!
A FUNCTIONAL 5-DOOR WITH 263-HORSEPOWER
Not long after I discover just how good this car is. You can chuck-it into corners or glide through them like a warm knife through butter. The fun factor is high and acceleration, braking, steering and handling all score well above average for a car like this.
Its five-door design is functional for people with active lifestyles and the interior is comfy and ergonomic. For most people that's good enough, which is too bad, really, because most people will never drive this car on a racetrack.
It really is wonderful out here! There's a reason for it too. The Mazdaspeed3 is, in fact, a souped-up version of the 2010 Mazda3 Sport GT.
It comes with a six-speed manual transmission and a 2.3-liter turbocharged four-banger that makes 263 horsepower and 280 ft-lbs of torque at just 3000 rpm. That's good for a 0-60 mph of about 6.0 seconds, give or take a few tenths as hooking up the tires on a front-driver can always be a challenge.
As for fuel-economy, it's rated at 18/25 mpg (city/highway), which isn't bad for so much performance, but it's not exactly good either. By comparison, the 2.5-liter model is rated at 21/29 mpg, while the base 2.0-liter gets 25/33 mpg
LIMITED SLIP, PLUS A NÜRBURGRING-TUNED SUSPENSION KEEP IT ALL UNDER CONTROL
There's enough grunt here to make most front-wheel drive vehicles very skittish in the wet, but the mechanical limited slip differential ensures that it is responsive and controllable during the worst of it.
The half-leather seats are good and supportive enough for road or track outings. Dynamic stability and traction controls can be switched off for a more visceral driving experience and the sporty suspension was tuned at, yep, the Nürburgring, so you know it's great right out the box!
Engineers have eliminated most of the torque steer the last-gen MS3 (2007). It's not completely gone, but you only really need to worry about it when you're heavy into the throttle and the electronic nannies are on break. In the wet, with no assists, the front end will push itself off-line if you don't feather it though.
It feels well balanced and, on dry asphalt with no assists, there's less slip and definitely more grip. Steering is direct and precise and the LSD is undoubtedly doing its thing. Very well, I should add.
This Mazdaspeed gets 18×7.5-inch wheels that are modeled off the RX-8's. They are up a half-inch from the 18×7.0-inch rollers from the previous Speed3. As a result, the tires also gain a size, going from 215s to 225s and… you guessed it… grip is definitely improved.
Mazdaspeed parts on this vehicle include thicker stabilizer bars, unique body pieces (front grille, spoiler, rockers, bumpers and even the front quarter panels) as well as floor mats, pedals, steering wheel and other interior details. Oh, and don't forget the impressive brakes that can really haul this car down from some pretty impressive speeds.
OUTSIDE AND IN
Mazda's new edgy style for its lineup of 3 cars has certainly been controversial, but I have to say the look suits the Mazdaspeed3 the best – especially with the added bodywork and big air scoop on the hood.
As for the interior, it's mostly typical Mazda3 trim, which means it's quite high quality – especially for this class of vehicle. Considering the MS3's performance and target audience, however, it would be nice to see some more race-inspired goodies.
THE VERDICT
Whether you're a racetrack junkie or a street enthusiast, Mazdaspeed is the destination for driving enthusiasts that want to experience Mazda at the highest, most exhilarating level. The new Mazdaspeed3 might be somewhat of a lone ranger in 2010, with no other Mazdaspeed products in the automakers lineup this year, but it's got the goods to be useful on a regular basis, plus it's ability to get down and dirty on the racetrack is a serious bonus.
Now if you're not the drive-it-during-the-week, zoom-zoom-it-on-the-weekend type, you could also consider a regular Mazda3. Just not the ugly four-door please.
The Mazdaspeed3 is a grocery-getter that doubles as weekend warrior, all for just $23,945. What great value!
Whoa there Tonto!
Mazdaspeed is more than just the name the Japanese automaker gives to its best-performing vehicles. The 2010 Mazdaspeed3 might be the only vehicle in the lineup currently badged as such, but there have been others, including the 2003 Protege, 2004/05 MX-5 Miata – mmm, yes! – the 2006/07 Mazdaspeed6 sedan – a fantastic car! – as well as the aforementioned 2007 model.
RELATED READING
LOVE IT
By no means underpowered
Functional 5-door body style
Lots of extra Mazdaspeed parts to have
LEAVE IT
Interior a bit dull
Needs high-test at the pump
Warranty periods could be longer
Published December 1st, 2009 9:53 AM
Popular Articles
Latest Comparisons
Car Buying Tools