7 Views
April 25th, 2016 5:59 PM
Share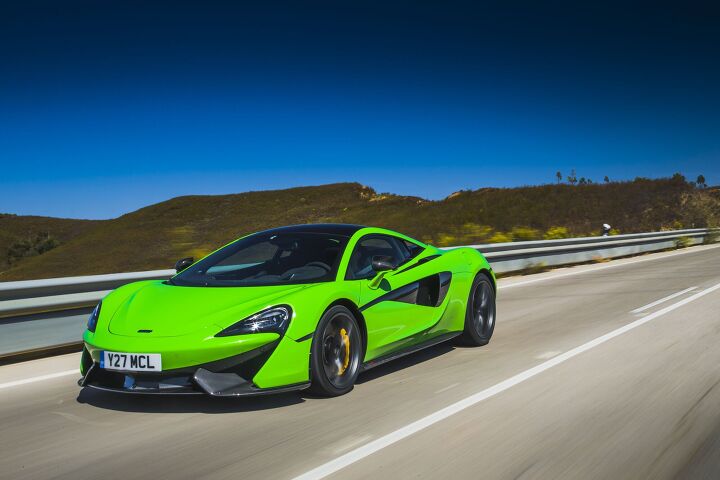 "Super" is a relative term.
Is Batman not a superhero because he doesn't have superpowers? An oil tanker not a supertanker if it carries slightly less than two million barrels of crude? What about a supercar – what separates that elite class of exotic automobiles from "mere" sports cars? That may be a difficult question to answer, but it's one that is begged by the emergence of the new 2016 McLaren 570S.
A Supercar By Any Other Name
The first model set for North American shores in McLaren's new Sports Series is also the first that the automaker itself would not, strictly speaking, call a "supercar." The 650S – now part of what the company calls its Super Series – is a veritable supercar, taking on the likes of the Ferrari 488 GTB and Lamborghini Huracán. The P1 (Ultimate Series) that keeps pace with the Porsche 918 Spyder and LaFerrari most definitely deserves to be called a supercar … a hypercar even. The 12C and F1 were undoubtedly supercars as well. But not the 570S, we're told.
ALSO SEE: 2015 McLaren 650S Spider Review
Not that you could tell from looking at it – or down the spec sheet, for that matter. Because the Little Mac looks the part: It's got dramatic styling in eye-popping colors. It's got dihedral doors (ones that open like this, not like this, for Silicon Valley fans). It even comes standard with carbon ceramic brakes. And far from just skin deep, it's all built on genuine supercar building blocks.
FAST FACTS
| | |
| --- | --- |
| Engine: | Twin-turbo 3.8L V8 |
| Power: | 562 hp, 443 lb-ft of torque |
| Transmission: | 7-spd SSG |
| 0-60 mph: | 3.1 seconds |
| Top speed: | 204 mph |
| Fuel Economy: | 22 mpg combined |
| Price: | Starts at $184,900 |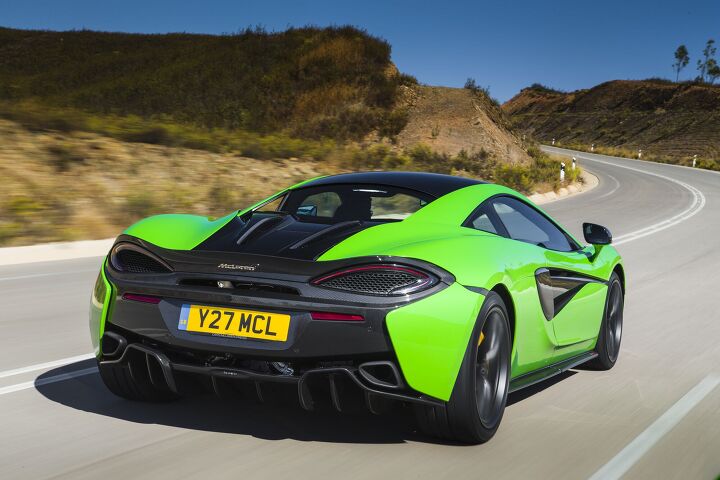 Built on Supercar Bones
McLaren pioneered the use of the carbon monocoque chassis in both Formula One and for road-going automobiles, and applied that expertise when it started McLaren Automotive in 2009. It developed a 3.8-liter twin-turbo V8 with Ricardo, and sourced a seven-speed dual-clutch transmission from Graziano. Everything it has made in the years since has been based on those hard points – and that includes the new Sports Series.
So what makes the 570S anything less than a supercar, in its creator's own estimation? Its intended competition, that's what. The Sport Series doesn't go up against the Italian exotics so much as it does high-end sports cars like the Audi R8 and Porsche 911 Turbo. (The numbers may suggest it shares much in common with the Ferrari California as well, but the McLaren is a very different and much lighter beast.) The R8 and 911 Turbo (even the Mercedes-AMG GT, for that matter) are at the very top of the line for their respective automakers, and can surely hustle like few others, but are not quite the unbridled supercars that challenge our understanding of performance. These are the "almost" supercars, and that's the territory in which McLaren aims to play with the new Sports Series.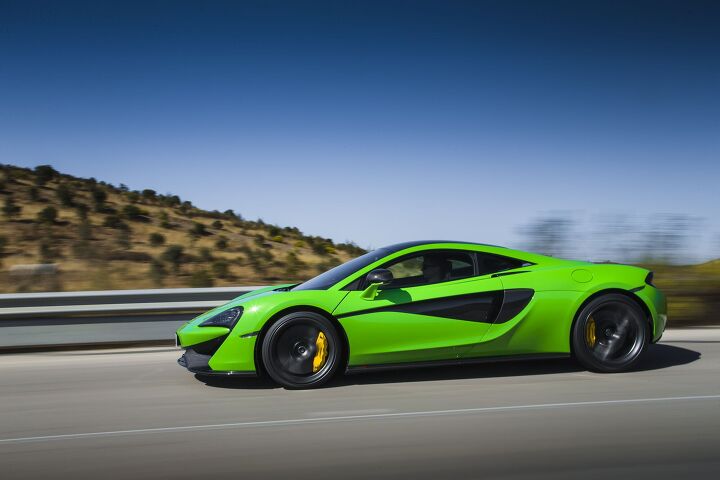 To drop down a class, the engineers in Woking naturally had to cut some things out. So the 570S doesn't have the magnetorheological antiroll bar, adaptive rear wing, or hybrid boost that some of its stablemates do. And the engine produces – ahem – "only" 562 horsepower. What you end up with, though, is a model that lists in the United States for $184,900, compared to $265,500 for the 650S and a whopping $1.15 million for the P1. Though just one sixth the price of the latter hybrid hypercar, $185,000 is still be a huge chunk of change for most of us. But for a select few, it could make the difference between buying a McLaren and, well … not buying a McLaren.
It Sounds and Looks Like a Supercar
And those customers can rest assured that the 570S feels every bit like a McLaren should – which is to say, it feels like a supercar. If that much isn't immediately evident from just looking at the thing, first of all, you may need to have your eyesight checked. Hopefully your hearing works just fine, though, because the engine sounds superb. And that's anything but a given. McLaren admits that when it launched the MP4-12C in 2011, it paid little attention to the exhaust note. It worked to correct that in subsequent models, but got finally got it right for the 570S, in which the turbos do little to muffle the sound and only add another layer to the mechanical symphony.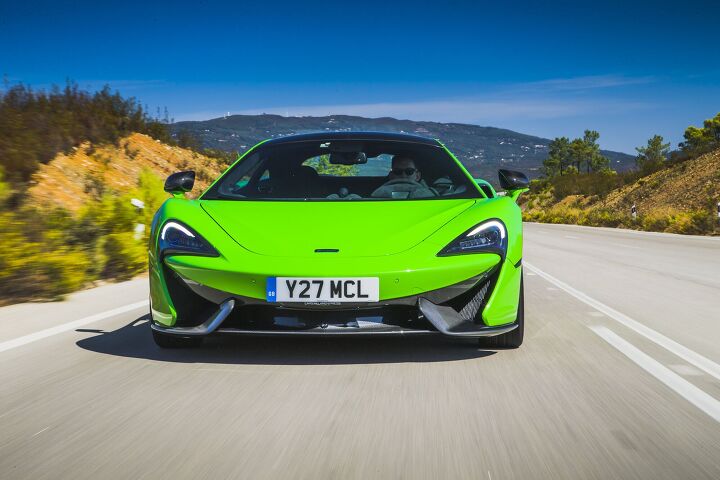 It Has 'Supercar' Performance
Intoxicating as it is, though, there's far more to the 570S than its aural performance. Off the line, it'll hit 60 mph in 3.1 seconds, cover the quarter-mile in 10.9, and top out at 204 miles per hour. Those are proper supercar numbers, but they aren't achieved by brute force alone: tipping the scales at under 3,000 pounds, it's a good 300 pounds lighter than the Audi R8 that Woking cites as this model's nearest rival. That only makes sense when you consider that the R8 packs two more cylinders, an extra liter and a half of engine displacement, and two more driven wheels. Justifications aside, McLaren's latest is a featherweight, and feels exceptionally light on its feet under any conditions.
ALSO SEE: McLaren P1 Looks Exquisite in Gulf Oil Livery
Fortunately, we had the chance to put that much to the test, driving the 570S down sweeping highways, along twisting mountain roads, and around a most challenging racetrack. But as hard as we dared push it, the baby McLaren never felt out of its depth. That's no mean feat considering what the Autodromo Internacional do Algarve (to say nothing of the surrounding roads) had to throw at it. The circuit otherwise known as Portimao consists of three miles of blind corners, double apexes, sharp elevation changes, tight hairpins, and a long straight punctuated at its end by a nasty crosswind. We pushed it harder and harder with each lap, dialing out the electronics incrementally along the way before our instructor showed us what it could really do. Though it's the least track-focused McLaren to date, the 570S just did everything that was asked of it, never feeling out of control, or out of breath.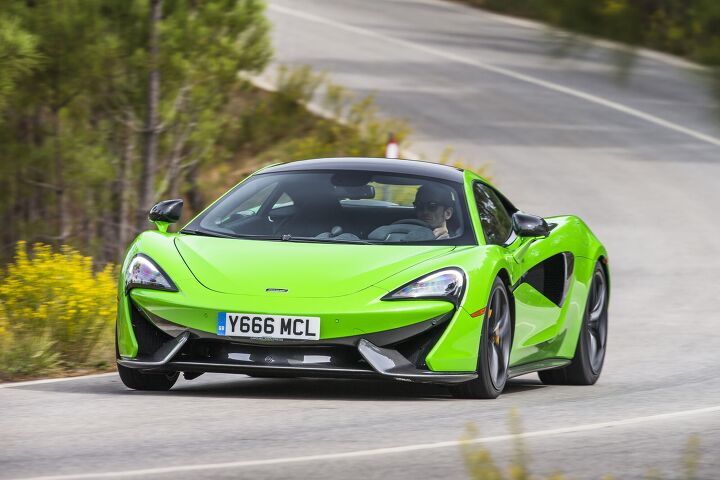 Those 562 horses and their accompanying 443 pound-feet of torque always had punch in reserve. The quick-shifting gearbox ensured the right ratio was never more than a split-second away. The carbon-ceramic rotors scrubbed away speed with authority, the suspension kept everything firmly (but compliantly) under control, and the steering inspired confidence. The sum total is a high-performance automobile – whether you call it a supercar or not – that compliments and doesn't punish.
The 570S wears the same wheel diameter as its stablemates, but its tires are significantly narrower. That may leave some wishing for a larger contact patch, but Woking clearly went for a more approachable package here, and the rolling stock seldom if ever struggled for traction. The styling will equally be a matter of taste. It's far more extroverted than its German rivals, but that only adds to its supercar appeal. We also detected some wind noise in our first pre-production prototype, but were assured it's been cleared up ahead of production, and the whistle did not manifest itself in the otherwise identical example we drove on the way back from the track.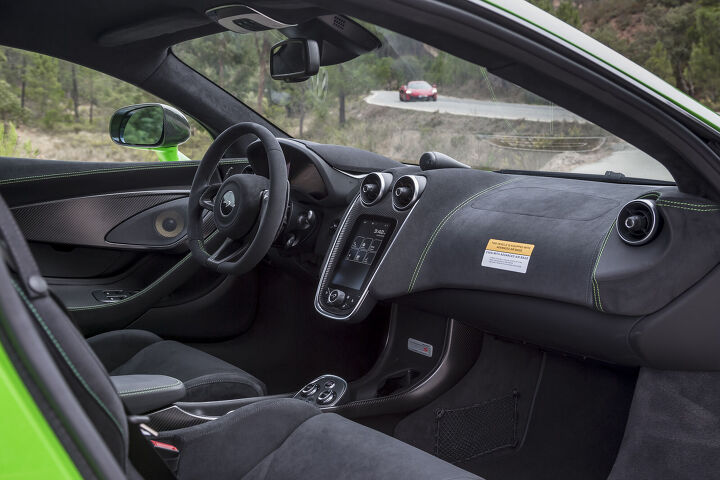 The Verdict: 2016 McLaren 570S Review
The bottom line here is that, if we didn't see the sticker price while walking around it and slinking into its cockpit, we wouldn't consider the 570S anything less than a full-fledged supercar. And regardless of how much power it packs or how fast it goes, it's that unquantifiable feeling of the extraordinary that, in our book, separates ordinary sports cars from bona fide supercars. Whatever that comes down to, the new Sports Series has it in spades.
Discuss this story on our Luxury Lifestyle Forum
LOVE IT
Looks, drives and sounds like a supercar
Costs less than a supercar
LEAVE IT
Might benefit from wider tires
Still can't afford one
Published October 20th, 2015 6:59 PM
Popular Articles
Latest Comparisons
Car Buying Tools