295 Views
2022 Mercedes-Benz EQS Range Test Review: 417 Miles in Comfort
September 8th, 2022 7:23 PM
Share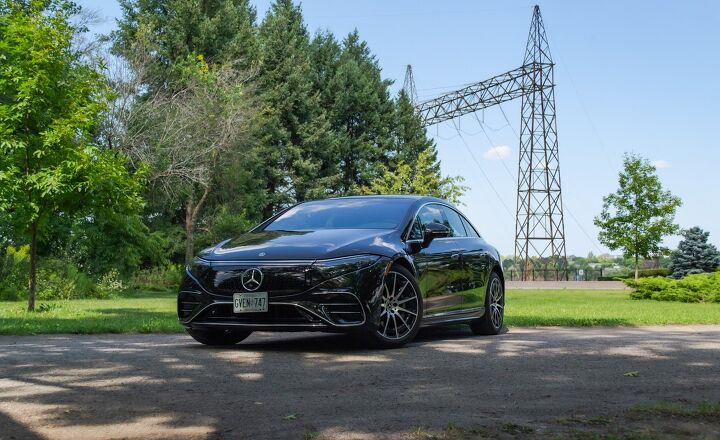 This was not going to be a 2022 Mercedes-Benz EQS hypermiling exercise.
No, if I was going to test the limits of the EQS's range, I was going to do it just like a normal owner might. No turning off the climate control to eke out extra mileage. No annoying fellow motorists by going 15 under on the highway. There was a plan.
This simple impetus resulted in my driving some 400 miles in 24 hours. The EQS didn't just beat its quoted range (340 miles / 547 km), it demolished it, pulling off 22-percent more distance between charges. Spending that long in Merc's EV flagship gave me plenty of time to get to know the car; what works, what doesn't, and if it really deserves the S in its badge. Here's what I learned, broken down into 100-kilometer (62-mile) chunks.
Get a Quote on a New 2022 Mercedes-Benz EQS
100 Kilometers: Getting Settled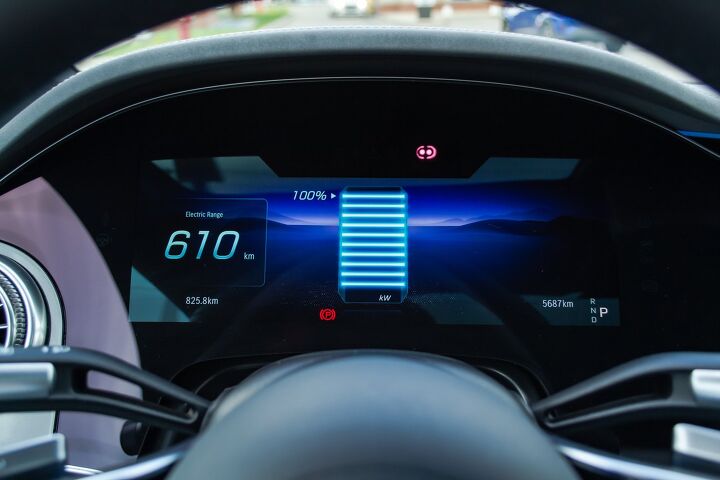 This isn't my first experience with the 2022 Mercedes-Benz EQS. A month earlier, I spent a short weekend with another, just before it left the press fleet. It was what we deemed "full Miami spec," a blue model with a gorgeous white-and-blue leather interior that would never survive a full Canadian winter. Small differences existed on the options list, but it was also an EQS 580 4MATIC sedan like this black example.
Needless to say, then, it doesn't take long to get comfortable behind the EQS' giant steering wheel. Luxury sedans and electric propulsion are an ideal match, pairing a propensity for wafting with near-silent operation. What sticks out both times is the natural feeling of the EQS' go-pedal. Lots of travel means little of that low-speed jumpiness that can plague high-powered EVs. It also makes it easy to mete out power, maximizing efficiency. I see a test-best 4.47 miles/kWh (13.9 kWh/100 km), and at the first checkpoint, I'm crossing the Burlington Skyway, en route to an important power source.
Remaining Range: 352.3 mi (567 km)
Current Efficiency: 4.06 mi/kWh (15.3 kWh/100 km)
SEE ALSO:
2021 Mercedes-Benz S580 Review: Flagship Sets the Bar
200 Kilometers: Where Does Power Come From?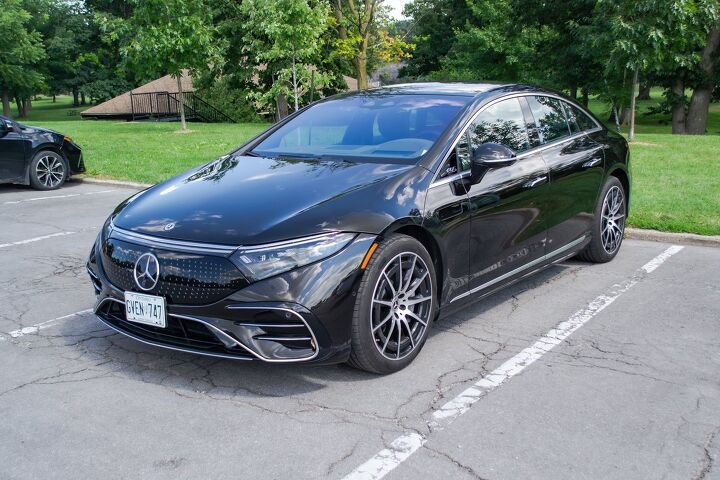 It is way too hard to get a photo of Niagara Falls and the 2022 Mercedes-Benz EQS. I haven't been in years, so it's heartwarming to see plenty of families out enjoying the sights on this late-summer weekday. The EQS' low-key looks don't garner many second glances: a pair of early-20s guys notice it, but that's about it. Mercedes says the one-box shape is in the pursuit of aerodynamic efficiency, but it just ends up looking a little … basic. Not like a car costing $140,000 ($165,000-ish in Canada), anyway.
The Sir Adam Beck Hydroelectric Generating Stations aren't much easier to snap. The smaller of the two buildings houses 10 generators, and first produced power for the province of Ontario exactly 100 years ago, in 1922. The second building came online in the '50s. Together they produce over 2.4 million kilowatts of energy. Suddenly the EQS' 107.8-kWh battery pack doesn't seem so big, does it?
Remaining Range: 312.5 mi (503 km)
Current Efficiency: 4.03 mi/kWh (15.4 kWh/100 km)
300 Kilometers: Back on the Road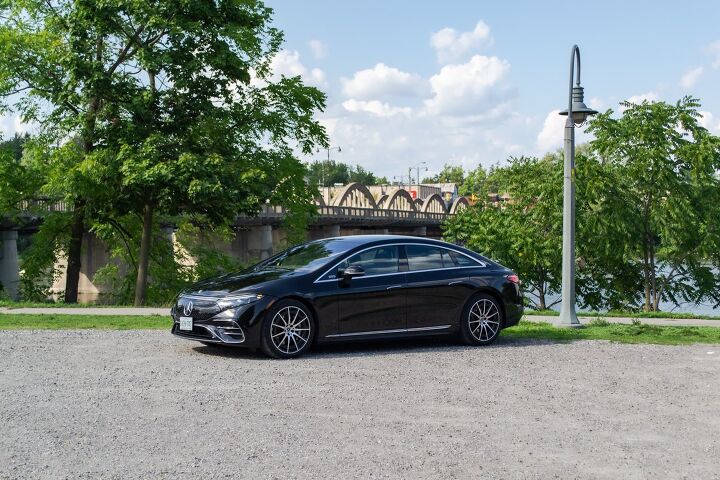 I high-tail it out of the touristy part of Niagara Falls. A short stop a few miles up from the generator plants gives me a chance to walk along the river—and check out the back seat of the EQS. This one has the executive second row accommodations, with heated and ventilated power seats, and even a tablet mounted in the center armrest. The 126.4-inch (3,211 millimeter) wheelbase affords the EQS properly palatial levels of rear legroom. The arching roofline can put a premium on headspace for those over six-foot, however.
This leg of the trip eats into range and efficiency, all because of Hamilton. The Steel City straddles the Niagara Escarpment, and climbing "the Mountain" finds me digging deeper into the right pedal. Its highest point is over 820 feet (250 m) above Lake Ontario, which makes for some truly great landscape photos. Not that I have time: I'm heading towards Caledonia, where the Grand River bisects the small town on its way to eventually feeding into Lake Erie to the south. I stop by the river-side to grab a bite and some much-needed caffeine. It's rush hour and I'm heading home to Toronto.
Remaining Range: 247.3 mi (398 km)
Current Efficiency: 3.91 mi/kWh (15.9 kWh/100 km)
SEE ALSO:
2022 BMW iX xDrive50 Review: Flagship For a New Era
400 Kilometers: Almost Home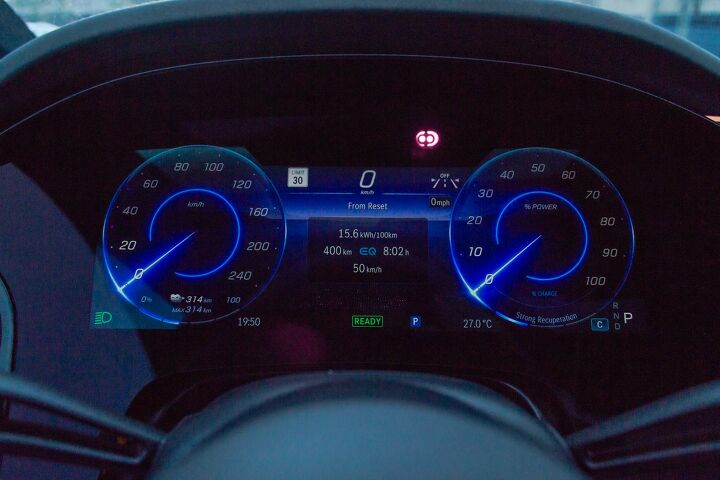 If you're going to be doing long highway trips, there are far worse rides than the 2022 Mercedes-Benz EQS. With strong brake regen on, the smart cruise control, and that well-insulated interior, it's a tranquil space amidst a sea of stress. The Burmester sound system provides crisp, clean audio, and the wireless CarPlay integration is seamless. Yes, I still charge my phone. The ACC speed limit is adaptive, so it automatically adjusts its max whenever the posted limit changes, like the stretch of the QEW that now sees 110 km/h (68 mph).
While the ride is generally well-composed, even on the optional 21-inch wheels, the EQS' first dynamic weakness appears in the unavoidable stop-and-go traffic. The adaptive cruise control is too aggressive, quickly piling on speed if a car ahead vacates the lane, only to then brake as it gets too close to the next car. It also doesn't "see" cars merging until they're almost fully in the lane, resulting in a few times where I feel more comfortable taking control. It's a shame, because under breezier traffic conditions, the EQS performs well. Normally I'll avoid ACC for mileage testing, but see little difference between it and full manual control here.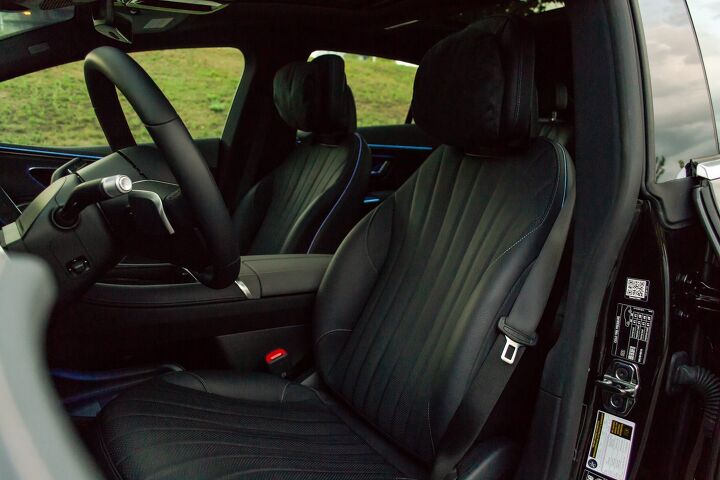 Sticking to the most aggressive regenerative braking means not having to deal with the EQS' other weak point: the brake pedal. Gloopy and lifeless, the left pedal does not breed confidence that this 5,800-pound (2,630-kilogram) sedan can stop as quick as sometimes needed. It always does, but there's zero feedback.
This leg is where the estimated range peaks. I see 715 km (444 mi), but the highway mileage to come will continually chip away at that.
Remaining Range: 195 mi (314 km)
Current Efficiency: 3.98 mi/kWh (15.6 kWh/100 km)
500 Kilometers: Loop of the City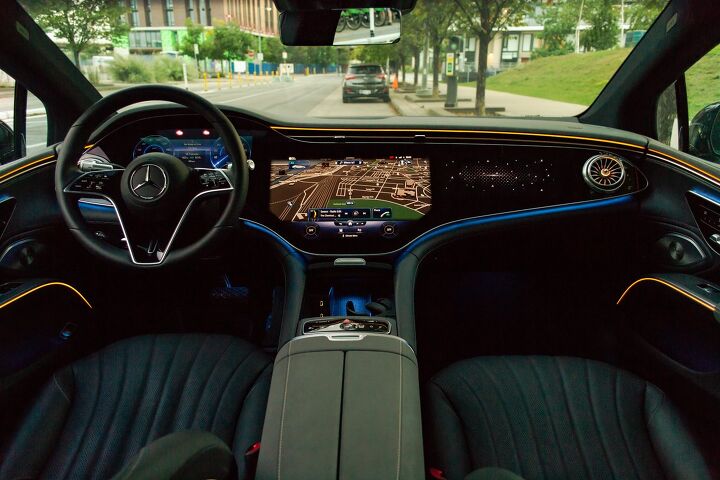 After dinner, it's back into the EQS for a quick errand run. My wife's along for the ride, and we take in a loop of the GTA via the major highways. She's a fan of modern Merc interiors, specifically for their comfy massaging seats and rolling lounge ambient lighting. The EQS arguably makes its strongest arguments at night, with the lights gently cycling through the colors. Is it all very distracting? Somehow, no, not really. Is it necessary? Also no. But the ambient lighting is a consistent wow moment for passengers.
I haven't even discussed Hyperscreen yet. The pillar-to-pillar glass is certainly impressive. Comprising three separate screens—two 12.3-inch items flank the central, 17.7-inch touchscreen—Hyperscreen is crisp and clear, with only the harshest mid-day sun causing glare. Merc's latest wheel-mounted touch-sensitive control pads take a little bit to get used to, but it soon becomes incredibly intuitive to flick them to access the instrument panel (left) or the main screen (right). As is the case on the Porsche Taycan, the passenger-side screen just comes off as unnecessary: reaching over to access the central screen isn't too much of a hardship.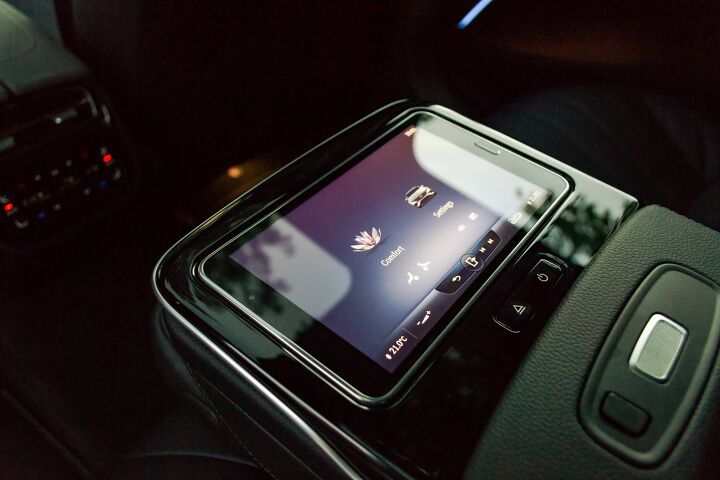 Does it feel like an S-Class? Mostly, yes. The headrest pillows are super-soft, every inch of the interior is high-quality material, and the tech is cutting-edge. A hatchback isn't considered luxurious in North America, but the EQS' cargo hold is so much more practical than a typical sedan's.
Remaining Range: 119.3 mi (192 km)
Current Efficiency: 3.93 mi/kWh (15.8 kWh/100 km)
SEE ALSO:
Porsche Taycan vs Tesla Model S Comparison
600 Kilometers: Early Morning Exploring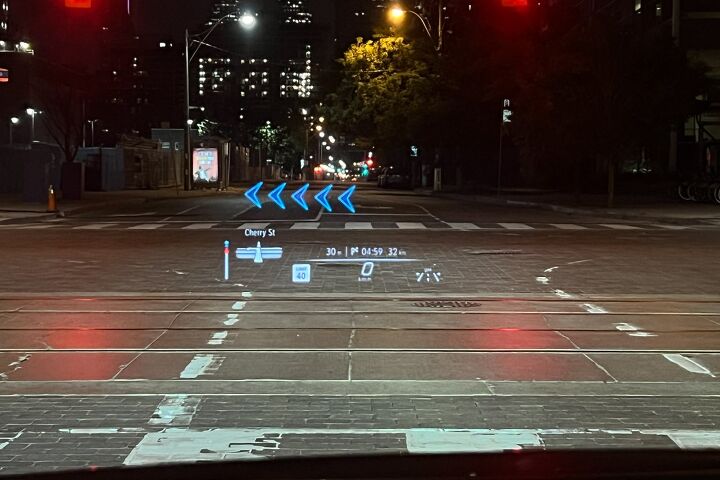 Normally, the 2022 Mercedes-Benz EQS would make for a pretty great 4AM drive to the airport. But it's still showing 180 km (111.8 miles) of range remaining, so I point it the opposite direction. The city is still asleep, and the EQS will make sure it stays that way. This isn't a rip-snorting AMG V8.
It's time to use the native navigation to experience the augmented reality feature. Punch in a destination and the head-up display (HUD) will overlay arrows at intersections. They'll stay parallel with the target street too, growing in size as you approach. Very cool. Another trick: with ACC active, the HUD will show visual confirmation that the car senses a car in the lane ahead, with a small glowing line under the car's rear bumper. It always aligns too, thanks to the eye-tracking cameras in the instrument panel.
The plan for the penultimate leg is to head up to Greenwood, where much of the exterior settings for Schitt's Creek were filmed. I chicken out slightly early in Whitchurch-Stouffville, more for time concerns than those of range. As I'll find out soon, there was more than enough left in the tank, er, battery. I cross 600 km (372.8 mi) somewhere along the Don Valley Parkway.
Remaining Range: 55.3 mi (89 km)
Current Efficiency: 3.96 mi/kWh (15.7 kWh/100 km)
671 Kilometers: Pushing My Luck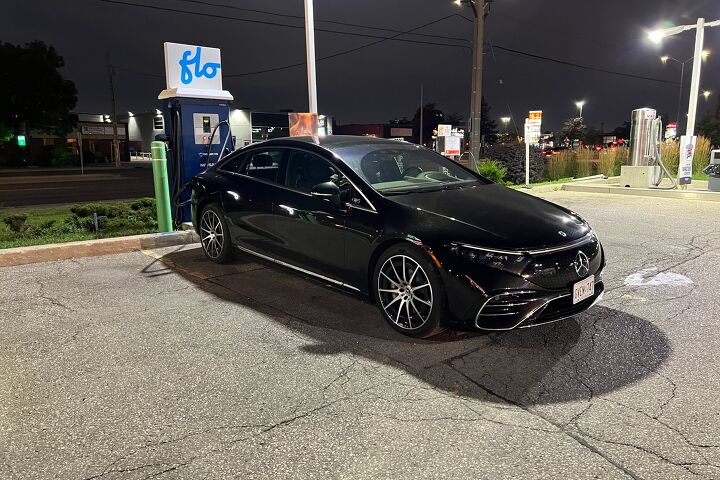 I'm at the drop-off spot by 650 km (403.9 mi), but there's still juice in the EQS' big battery. Now it becomes a race against time: I have a flight to catch, but I'm not about to floor the go-pedal and blow the whole thing. Time to do loops of the area, a largely industrial spot with a few traffic lights.
It's tedious work, but the efficiency rating stays steady. By 5:53 I'm calling time, plugging into a nearby Flo station with just 5 km (3 mi) left. The available power now hovers around 40-percent, and it's been dropping fast the last two loops. I'm not doing a full charge, and this setup is capped at 50 kW, but I'm happy to report the EQS is quickly gobbling up electrons just shy of that rate. The sun is just about to rise as I unplug, and Mother Nature's sense of timing is impeccable: not a minute after I drop the EQS off, the rain starts.
Final tally? You saw the title. A little over 671 km equates to 417 miles. That's more than the EPA rating of any car not called Lucid Air. That the 2022 Mercedes-Benz EQS did it without any special treatment is a testament to the engineering underneath.
Remaining Range: 3.1 mi (5 km)
Final Efficiency: 3.96 mi/kWh (15.7 kWh/100 km)
Become an AutoGuide insider. Get the latest from the automotive world first by subscribing to our newsletter here.
Published September 6th, 2022 7:00 PM
Popular Articles
Latest Comparisons
Car Buying Tools