73 Views
2018 MINI Countryman JCW Review
February 4th, 2021 3:42 PM
Share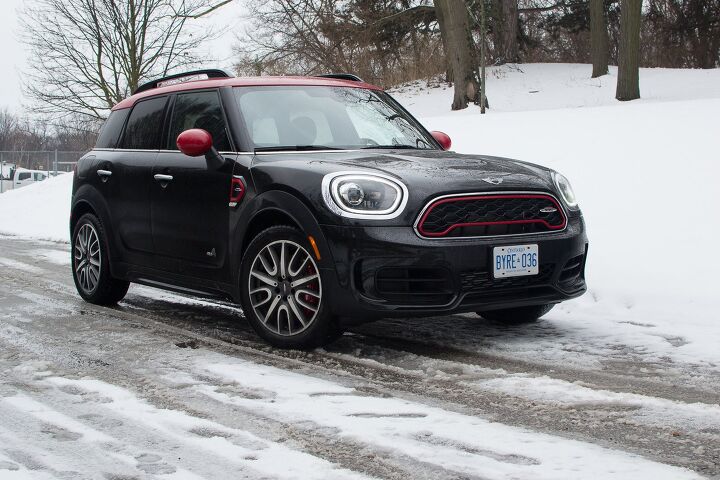 You know that friend you had growing up with the "cool" parents?
They probably took you and your grade school crew to rent 14A-rated movies when you were just a little bit too young or lied to your parents when they asked how late you guys stayed up the night before. The MINI Cooper Countryman JCW is a lot like them — endearingly juvenile and trying its hardest to fit a mold that mostly just calls for practicality and dependability.
The second-generation Countryman, introduced for the 2017 model year, is the largest MINI to date. It's 1.1 inches wider and 3 inches longer than outgoing Countryman, making for ample rear passenger space and as much as 49 cubic feet of luggage space if you fold the rear seats down. It rides on BMW's UKL platform, also found in the BMW X1, which is dressed up with stiffened suspension and powerful Brembo brakes for this JCW model. MINI's All4 all-wheel-drive system and adaptive steering are also present (both standard for Countryman) and are joined by an electronic locking differential, optional adaptive dampers, and a brake-based torque vectoring system called Performance Control.
FAST FACTS
| | |
| --- | --- |
| Engine: | 2.0L turbocharged 4-cylinder |
| Output: | 228 hp, 258 lb-ft of torque |
| Transmission: | 8-Speed automatic |
| US Fuel Economy (MPG): | 20 city, 29 hwy, 24 combined |
| CAN Fuel Economy (L/100 km): | 10.6 city, 7.8 hwy, 9.3 combined |
| US Starting Price: | $37,800 |
| CAN Price: | $38,890/$48,730 as tested |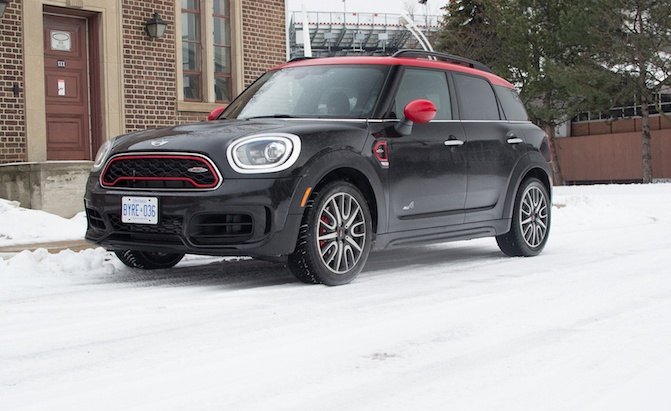 Powering the Countryman JCW is a 2.0-liter turbocharged four-cylinder engine that makes 228 horsepower and a meaty 258 pound-feet of torque. Our test car was also equipped with the quick-shifting eight-speed automatic transmission — a close-ratio unit with paddle shifters.
ALSO SEE: Who Makes MINI Cooper and Where Are MINI Coopers Made?
Immaturity Refined
The Countryman JCW isn't wildly quick on paper (MINI claims 0-60 mph takes 6.5 seconds), but the 2.0-liter turbo engine is wonderfully smooth, and it sounds great when paired with the JCW exhaust. The exhaust system also uses baffles to adjust its volume when switching between Sport, Mid or Green mode, so if the slightly juvenile crackles and pops get old, you can just turn them off. Switching between the modes adjusts the adaptive dampers as well (a $500 option), making them quite stiff in Sport and rather nondescript and pliant in Mid and Green. The eight-speed auto shifts fast and the paddles are swift to respond to inputs. The All4 system doesn't seem too necessary, but we'd be lying if we said it wasn't fun in snowy conditions.
SEE ALSO: MINI Developing Another Crossover set to Arrive in 2021

The whole powertrain package is what you'd expect from BMW Group — highly refined and probably the best part of the car. The snappiness of the turbo engine is surprising, especially at highway speeds, and the responsiveness of the paddles had us leaving it in manual just about everywhere we went.
The Countryman not the lightest offering at over 3,600 lbs, but you'd have to heartless not to appreciate the burly 2.0-liter, speedy transmission, and crackling exhaust. At a time when some manufacturers think a "sport crossover" is dictated by black wheels or a different fascia, it's nice to see MINI actually packing some sporty equipment into the Countryman.
Are You Not Entertained?
If the fun-to-drive powertrain doesn't have you giggling, some of the Countryman JCW's quirks might be able to put a smile on your face. Switching the vehicle into Sport will display a little graphic of a go-kart on the optional 8.8-inch touchscreen, for example, and the various ambient cabin lights change color and flash as you adjust the car between modes and change other settings. Our car also had Union Jack patterns nicely stitched into the rear of the front headrests, which is a cute addition, but also rather pricey, coming as part of the $2,250 MINI Yours Lounge Leather package.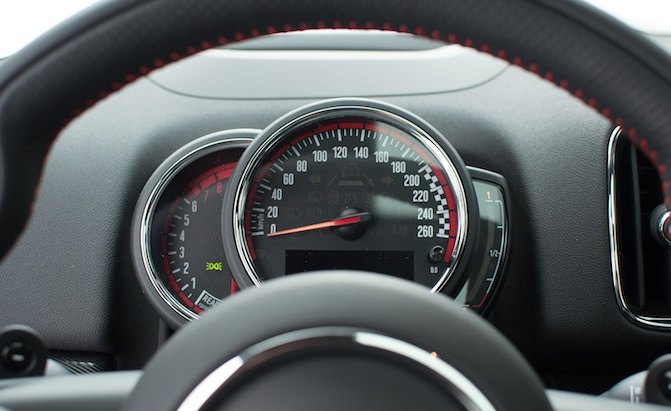 Occupants of the interior will find it to be put together well and mostly void of hard plastics or cheap-feeling materials. Visibility out of the squarish windows could be better, however, and the downward slope of the center console is a bit awkward, too. The angled console is where the rotary dial for the infotainment system is located, which is a fairly intuitive unit but is a bit weird to access. It's fairly low down and also angled downward with the console. Ingress and egress is a bit of a challenge compared to other more conventional crossovers, with slim and upright door openings in both the front and back.
Money on the Mind
So far, we've learned the Countryman JCW is relatively practical, highly refined, and comes with some truly sporty content that sets it apart from some of its competition. But this is a MINI review, so you knew we had to mention the cost. The Countryman JCW is a priced like a luxury product, and when well-equipped like our tester, is comparable in overall quality to a BMW X1, Audi Q3, or Lexus NX. Some faces will still sour when seeing the $37,800 base MSRP for this JCW model, though, and buyers will be subject to further sticker shock when seeing the options list.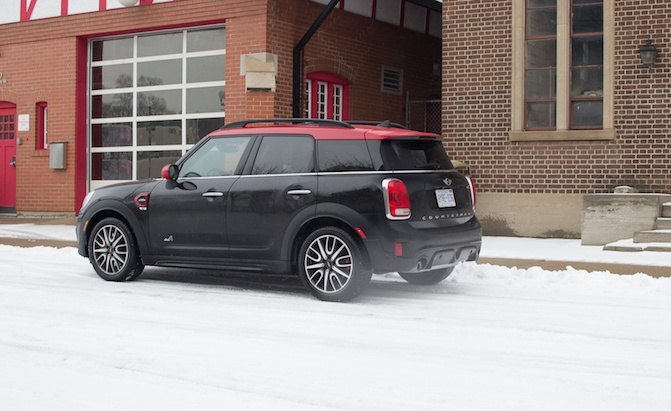 Our near-$50,000 test car is a good example of how things can quickly get out of hand in regards to options. It had a lot of content that most probably won't need, such as the $2,250 leather package we mentioned previously, satellite navigation, 19-inch wheels, and metallic paint. There was also a $750 head-up display that was hard to read and mostly pointless, so we'd advise staying away from that.
The Verdict: 2018 Mini Countryman JCW Review
The Countryman JCW manages to actually be a fun-to-drive crossover with a responsive and torquey turbo engine, fast paddle shifted transmission, and rally car-impersonating exhaust system. The steering and handling are all you can ask for from such a meaty modern-day crossover, and while not entirely necessary, the ALL4 all-wheel-drive system performs well and will be appreciated by customers in colder climates.
The crossover is one of the few of its type that's truly fun and sporty, and it's an endearing sight in parking lots littered with grey BMW X1s and silver Audi Q3s. You could always opt for the more grown-up luxury CUV with the badge that will impress the most amount of people, but is that what your friend's cool parents would have done? Something tells us they'd rather be in the boxy, shouty little AWD rally hatch that is Countryman JCW.
Just be careful with that options list.
Discuss this article on our MINI Forum
LOVE IT
Snappy, refined powertrain
Good attention to detail
Fun to drive
LEAVE IT
Awkward dash design
Visibility isn't great
Pricey options
Published March 14th, 2018 9:40 AM
Popular Articles
Latest Comparisons
Car Buying Tools