48 Views
2016 Mitsubishi Outlander Review
June 10th, 2015 10:18 AM
Share
We're committed to finding, researching, and recommending the best products. We earn commissions from purchases you make using links in our articles. Learn more here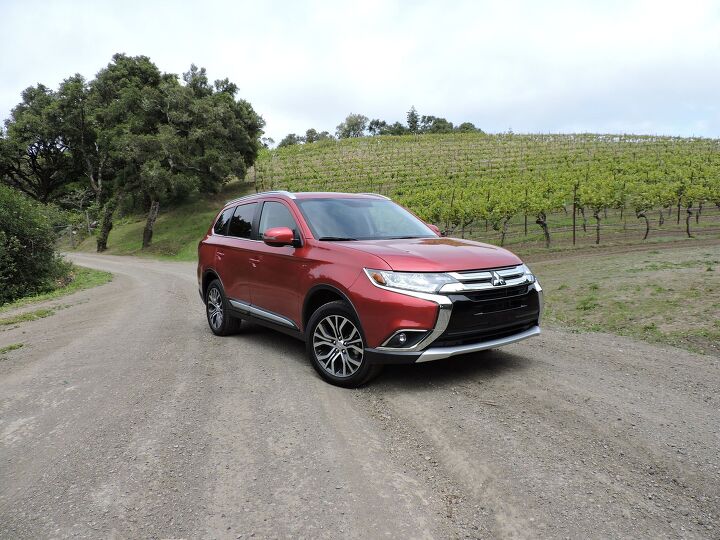 Despite what many have said, Mitsubishi isn't about to leave North America any time soon.
Things still aren't great for the Japanese auto manufacturer, but they are getting better. As Mitsubishi puts it, the company has come out of the dark days and is focused on the road ahead. Over the next year or two, every vehicle in Mitsubishi's portfolio will get a significant overhaul. As well, new products like the Mirage sedan and Outlander Plug-in Hybrid will be introduced.
To start the brand rejuvenation, Mitsubishi has given the Outlander a thorough refresh for 2016 and touts it's the best product the brand has brought to market in a long time. After listening to feedback from dealers, customers and the media, more than 100 changes have been made to the compact crossover this year. It's not all-new by any stretch of the imagination, but changes have been made in the right areas.
FAST FACTS
| | |
| --- | --- |
| Engine: | 2.4 L four-cylinder, 166 HP, 162 lb-ft. 3.0 L V6, 224 HP, 215 lb-ft. |
| Transmission: | CVT, six-speed automatic |
| US Pricing: | 2016 Outlander ES 2WD starts at $23,845, Outlander GT S-AWC costs $31,845 |
| CDN Pricing: | 2016 Outlander ES FWD starts at $27,448, Outlander GT S-AWC Navi costs $39,948 |
| EPA Fuel Economy: | 25 MPG city, 31 MPG (FWD four-cylinder) |
| CDN Fuel Economy: | 9.5 L/100 km city, 7.5 L.100 km highway (FWD four-cylinder) |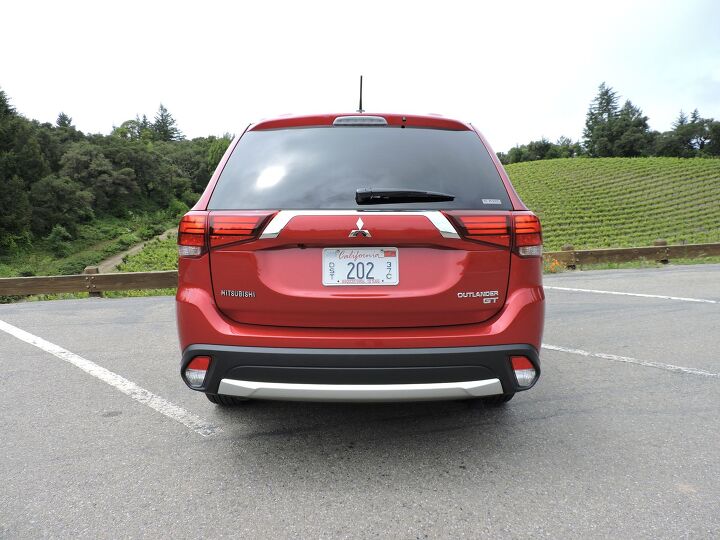 New Look, Still Different
The body of the Outlander remains more or less the same, but grows in length by 1.5-inches overall. This is mostly due to restyled front and rear fascias. Gone are the clear taillights, replaced by more attractive red LED units. Up front there's now a chrome party as plenty of surfaces are slathered with a reflective plastic coating. It combines with a piano black grille treatment that gives the Outlander a much more aggressive look.
This is Mitsubishi's new design language and although I'm not crazy about it, I do like it more than the current look. All Outlanders now come standard with 18-inch alloy wheels – even the base ES model. Top of the line GT V6 Outlanders receive LED headlights in lieu of the previous models conventional HIDs.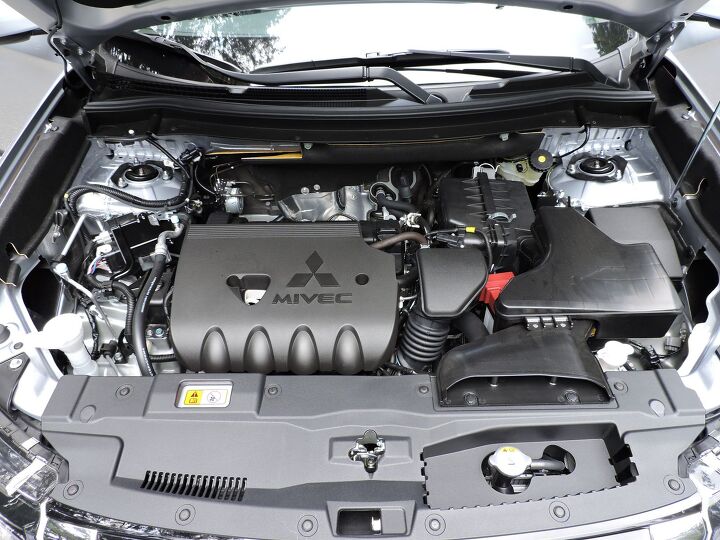 Minimal Mechanical Changes
Mechanically, little has changed for the 2016 Outlander. Still available with front- or all-drive, almost every model of the Outlander comes powered by a carryover 2.4-liter four-cylinder engine that makes 166 HP and 162 lb-ft of torque. It's attached to a new continuously variable transmission (CVT) this year that replaces last year's automatic. With the new CVT, Mitsubishi claims four-cylinder Outlanders accelerate one-second faster from 0 to 60 MPH since the new transmission gets the power to the ground more efficiently.
SEE ALSO: 2014 Mitsubishi Outlander PHEV Review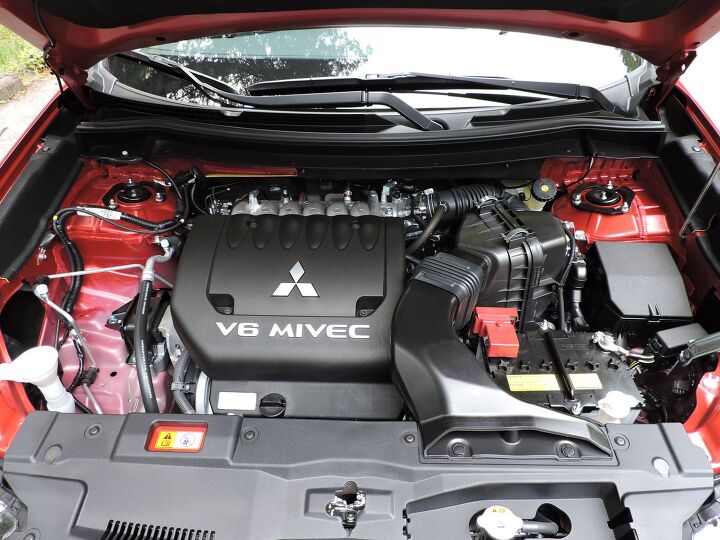 The 2016 Outlander four-cylinder does indeed feel quicker under initial acceleration, but I'm not sold on the new CVT. Once up to speed, it doesn't feel any faster than the 2015 model. Plus I experienced some hesitations and jerkiness under hard acceleration at times when traveling up hill.
For those who want a bit more power, there is still a V6 option for the Outlander. But unless you need to exploit the crossover's 3,500 lb. towing rating or really love LED headlights, I'd skip it. Equipped with a 3.0-liter V6, the engine produces a less than stellar 224 HP and 215 lb-ft. of torque. Paired to a six-speed automatic, the all-wheel drive only, heavier, V6 Outlander doesn't feel much faster than four-cylinder models in real world driving conditions and it returns worse fuel economy.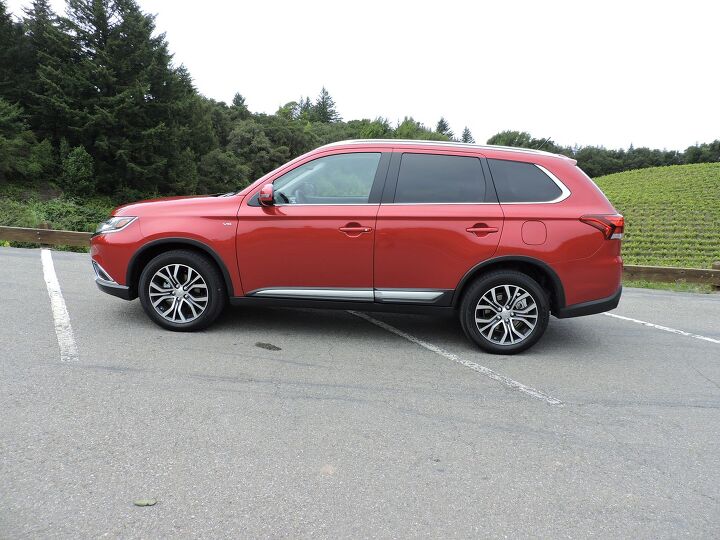 Still a Comfort King
I've always felt the 2013-2015 Outlander was one of the softest riding compact crossovers, which is great for ride comfort, but not so great for response or predictability. To strike a better balance between comfort and handling, Mitsubishi added rigidity to the front cross member and re-tuned the front suspension for 2016.
Although the steering hasn't changed, the Outlander feels much more reassuring and predictable to drive due to the front end upgrades. But other than the marginal improvement in steering, the vehicle drives a lot like the 2015 model. It still swallows up road imperfections in a way other compact crossovers, like the Toyota RAV4, cannot.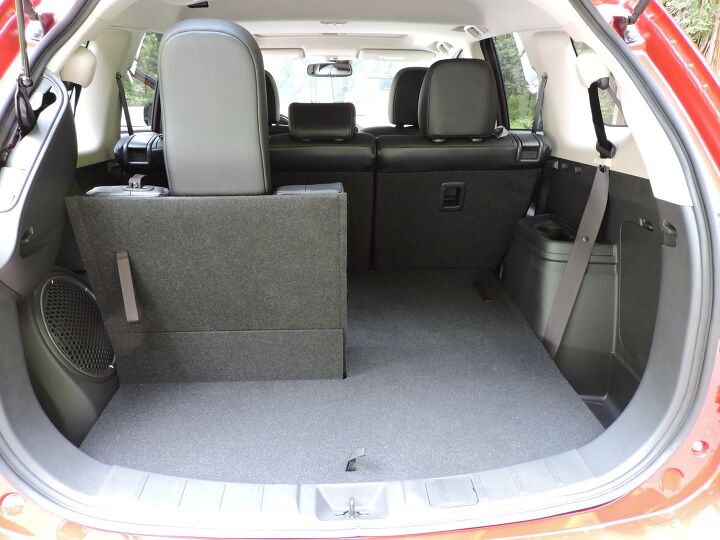 More Usable Interior
All versions of the Outlander come in seven passenger configurations only. This makes it the only compact crossover that features three row seating standard and one of the few to offer it at all. The biggest change inside comes from the second row of seats that now feature an auto flip-fold seat cushion, compete with folding headrests. No longer do the headrests in the second row of seats need to be removed when folding the second row of seats.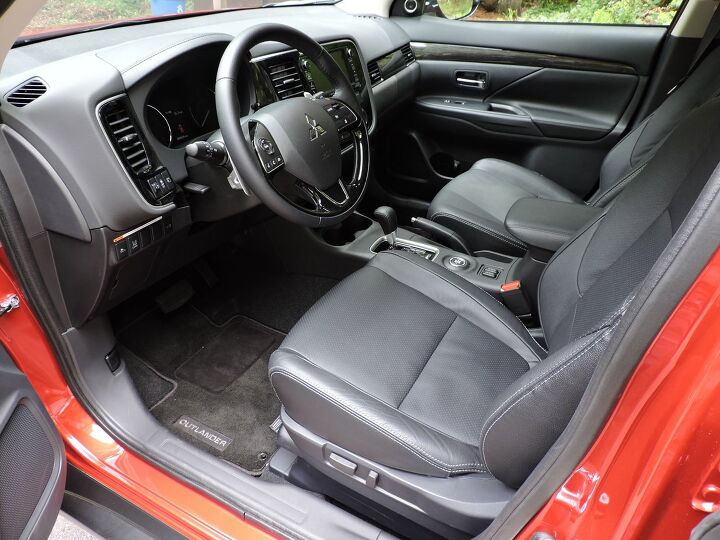 Dimensions inside remain unchanged, offering the same 37.3-inches of second row legroom and 28.2-inches of third row legroom. Although the second row offers good comfort for adult passengers, even Mitsubishi refers to the third row as an emergency seat. It's designed to remain folded at most times, only being used here and there on rare occasions.
When the third row seat is in use, there is still 10.3 cubic feet of storage space behind it that can grow to 63.3 cubic feet with both rows of seats folded down. To help get items in and out of the cargo area easier, the Outlander's hatch now opens at a higher angle than before.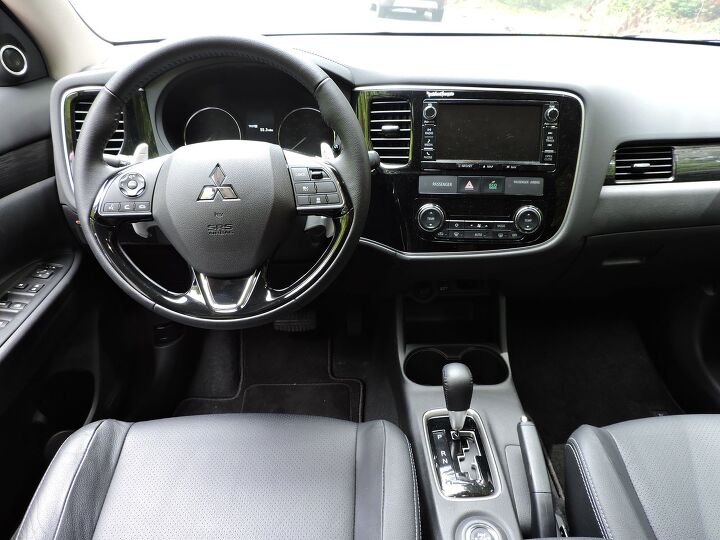 Minor Upgrades Inside
Other changes have been made inside, but it takes a second look to really notice them. The infotainment system on higher end models gets a rework for 2016 and features more hard buttons including the return of the tuning knob. A new navigation system is also included in this package with more modern graphics and greater usability.
Color touchscreens now come on all models but the base ES. The dashboard trim has been replaced with gloss black finish as the fake wood garnish is gone. One complaint I have with the inside of the Outlander has to do with the plastic trim on the doors that can scratch quite easily.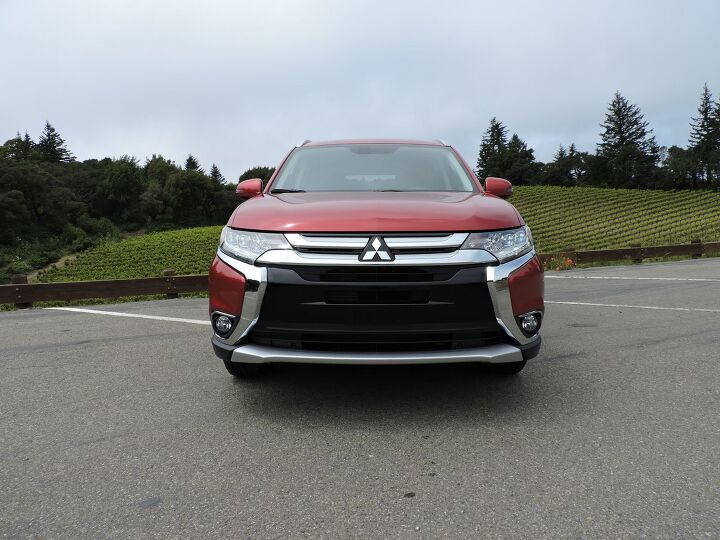 Now Quieter
Mitsubishi's biggest goal for the 2016 Outlander was to make it quieter inside the crossover's cabin. To achieve this, the doors, floor, engine and transmission all have extra dampening. The glass is thicker and even the exhaust note has been retuned for quieter operation. After a day behind the wheel, it's obvious how much quieter the 2016 Outlander is than the 2015 model. As an added bonus, the doors close with a more quality sounding thud.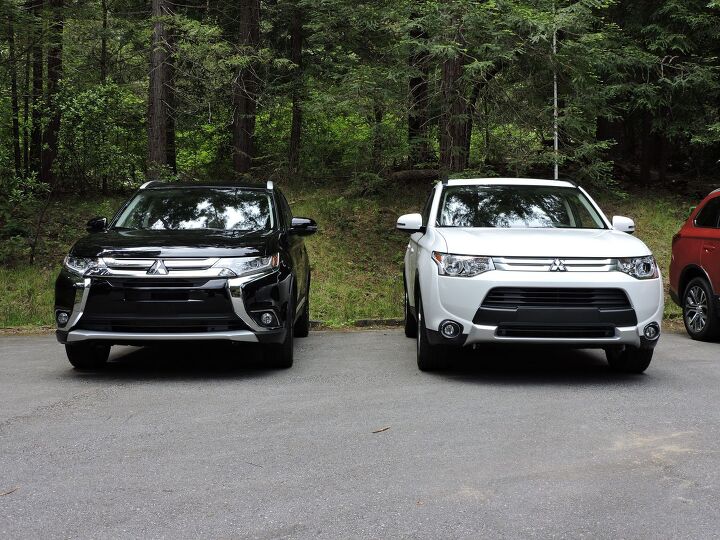 SEE ALSO: 2015 Mitsubishi Outlander Consumer Review
All of this extra sound insulation does add up and the Outlander now weighs between 3,318 lbs. and 3,593 lbs. The new CVT offsets this weight gain though and a front-wheel drive four-cylinder Outlander is still officially rated at 25 MPG city and 31 MPG highway.
Even if that isn't exactly class leading efficiency, the Outlander does represent solid value in other ways. Starting at $23,845 after destination charges, the Outlander ES 2WD is actually cheaper than the 2015 model. And of course, all Outlanders come with Mitsubishi's excellent 5 year comprehensive, 10 year powertrain warranties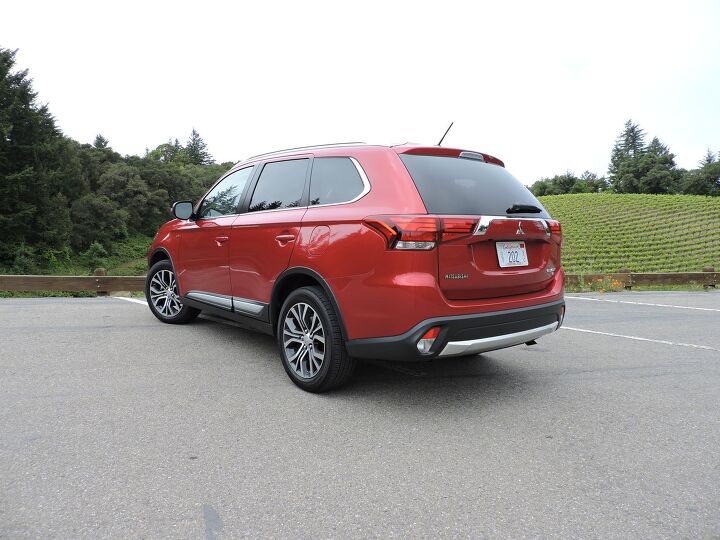 The Verdict: 2016 Mitsubishi Outlander Review
With the 2016 refresh, Mitsubishi focused on the weaker points of the Outlander. Although it hasn't turned the Outlander into a class leader, it's no longer relegated to the back of the pack either. Comfortable, affordable and packed with technology, the Outlander may mark the beginning of the long road back for Mitsubishi.
Discuss this story on our Mitsubishi Outlander forum
LOVE IT
Ride comfort
Three row seat standard
Warranty
LEAVE IT
Transmission refinement
Engine could use more power
Third row space

Mike Schlee
A 20+ year industry veteran, Mike rejoins the AutoGuide team as the Managing Editor. He started his career at a young age working at dealerships, car rentals, and used car advertisers. He then found his true passion, automotive writing. After contributing to multiple websites for several years, he spent the next six years working at the head office of an automotive OEM, before returning back to the field he loves. He is a member of the Automobile Journalists Association of Canada (AJAC), and Midwest Automotive Media Association (MAMA). He's the recipient of a feature writing of the year award and multiple video of the year awards.
More by Mike Schlee
Published June 5th, 2015 10:35 AM
Popular Articles
Latest Comparisons
Car Buying Tools