38 Views
2022 Mitsubishi Outlander Review: First Drive
April 26th, 2022 9:27 AM
Share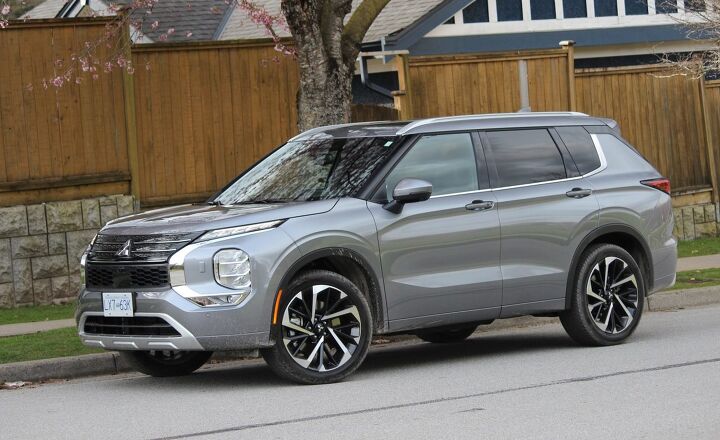 FAST FACTS
| | |
| --- | --- |
| Engine: | 2.5L I4 |
| Output: | 181 hp, 181 lb-ft |
| Transmission: | CVT, AWD |
| US fuel economy (MPG): | 24/30/26 |
| CAN fuel economy (L/100KM): | TBD |
| Starting Price (USD): | $26,990 (inc. dest.) |
| As-Tested Price (USD): | $34,940 (inc. dest.) |
| Starting Price (CAD): | $33,898 (inc. dest.) |
| As-Tested Price (CAD): | $42,108 (inc. dest.) |
For 2022, the Mitsubishi Outlander is getting some more Renault-Nissan-Mitsubishi Alliance love as it now shares some of its underpinnings, its engine and its transmission with the recently redesigned Nissan Rogue.
You wouldn't know it from looking at it, though, as this new Outlander looks quite different form the outgoing model, and totally different from the Rogue, even though both vehicles have adopted the current trend in SUVs and CUVs of placing the DRLs at the leading edge of the hood—where you'd expect the headlights to be—and dropping the actual headlights in line with the middle of the grille below.
Get a Quote on a New Mitsubishi Outlander
The big difference for the Outlander is that it continues to use Mitsubishi's "Dynamic Shield" front end. The company say it's a "refined" version of that idea, but I have trouble agreeing with that. I would use another word…not "ostentatious" necessarily, but "risky" for sure. The way there are effectively two grilles coming together to form one; the aforementioned headlight/DRL placements; the surprisingly aggressive skidplate below all that—there's a lot going on here that I'm not sure works entirely. I'm sure there will be some that like how unique it is, but I think I'm in a different camp that sees a combination of a few too many shapes.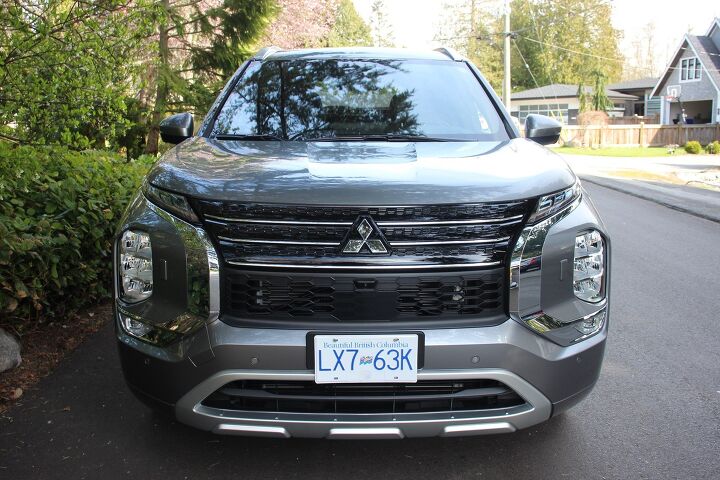 The rest of what's going on here style-wise, though, actually really grew on me the more I took it in first through my own eyes, then that of my camera lens. I like the two-tone 20-inch wheels that are styled just enough to be pleasing on the eyes and not jarring—in fact, the view in profile of the Outlander in general is a good one, as the way the roofline and beltline come together in an oh-so-slight taper at the rear of the Outlander looks nice and chunky, and just a little bit styled with splashes of chrome and a perfectly-sized rear spoiler.
SEE ALSO:
2021 Nissan Rogue Review: First Drive
The rear deck is also quite good. The taillights are low-profile and European-looking, the underbody diffuser is better implemented here than it is up front and I guess the only thing I'd ask for is some "Outlander" scripting spanning the width of the rear fascia, similar to what the Outlander's Nissan cousin has.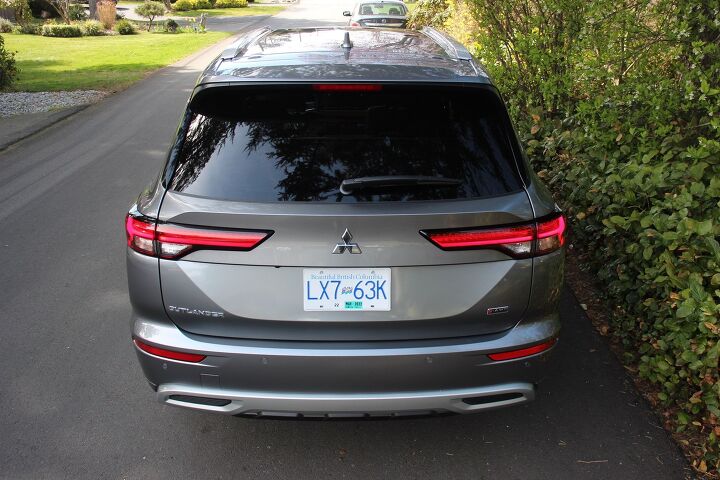 Overall, the lines and detailing combine to provide a strong stance—especially when seen from the front three-quarter view, even with that front fascia looking as it does—that even has a hint of luxury about it.
Inside the cockpit of my top-spec tester (GT S-AWC in Canada, SEL 2.5 S-AWC in the US, where it starts at $34,940, including destination) there's more than just a "hint" of luxury; there's some actual luxury and this interior is a colossal leap up from that of the outgoing model.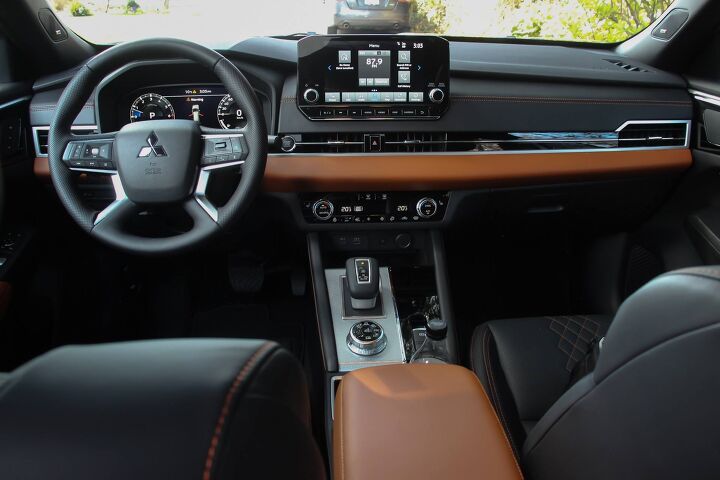 It starts with the quilted leather-appointed seats, which are part of the $2,700 Touring package and wouldn't look out of place in a car from a luxury manufacturer. They aren't of the Zero Gravity variety found in the Rogue, but Mitsubishi says it was sure to perfect its own seats, and it's done so as they offer great cushioning and support.
The two-tone interior on my tester is also a feast for the eyes, and there's nice detailing as well in the form of a 12-inch LCD gauge cluster, 10.8-inch heads-up display and 9.0-inch infotainment display. The overhead, hi-def backup cam you get, meanwhile, is fantastic and a joy to use.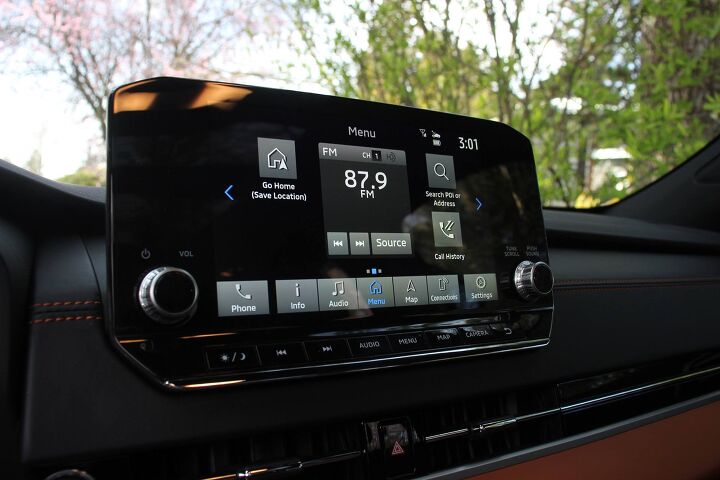 The infotainment interface itself, however, is shared with Nissan which means it's not the most adventurous-looking in the biz, with graphics that are a little low-res and blocky. It's intuitive enough, I suppose, what with "hotkeys" lined up at the bottom of the display for quick access, but I'd imagine I'd spend more time with the wireless Apple CarPlay app anyway.
While the front seat was comfortable—quite comfortable, in fact—I was astounded when I stepped in to the second row of this three-row SUV. I could barely sit up straight without bumping the "smartie" atop my baseball cap on the headliner around where the (very nice and big) moonroof is housed. I took the hat off but even then, I knew I'd emerge from each ride with by hair looking like it'd been ruffled by an overbearing uncle. At 6'3″, I'm taller than average, but I've sat in the second row of every single one of the Outlander's competitors and I don't recall being this cramped in any. It's fine for the kids, and that's probably who's going to be spending the most time back there anyway, but what if you happen to have tall teenagers? Going without the moonroof would surely help here.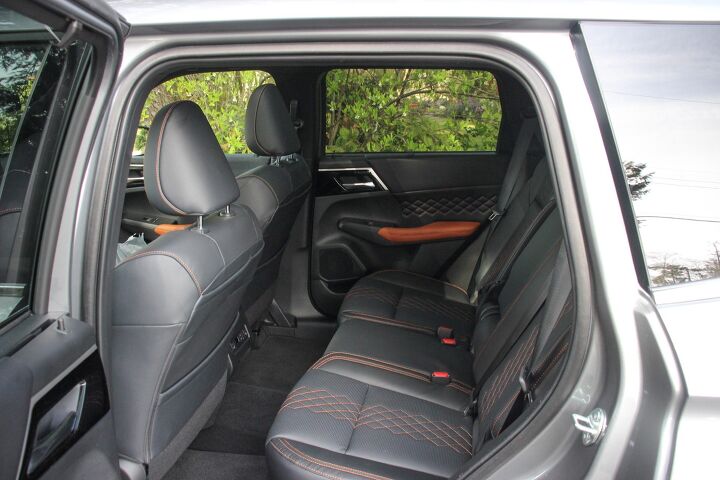 Of course, after all this you can probably guess that the third row is probably a little snug as well, and you'd be right; short of having the second-row occupants cope with zero legroom because you've moved their seat up in order to accommodate, you won't be finding a whole lot of space in the third row. This isn't really an Outlander thing; I have trouble appreciating the third row in a mid-size SUV like this in general, as it's limited to kids and typically, on kind of a drive-by-drive basis. Last year, the plug-in hybrid (PHEV) version only had two rows in order to accommodate the battery; my guess is when the PHEV version of this vehicle arrives—likely a bit over a year from now—it will be the same story and that makes more sense.
SEE ALSO:
2020 Honda CR-V Review: A Cross For The Weekend?
While both this and the Rogue were developed closely together, Mitsubishi did all of the Outlander's testing at its own facility, and in fact says that more of the development time on the platform in general was done by itself, for its car.
The powertrain is the same as the Rogue; a 2.5-liter four-cylinder good for 181 horsepower and torque, fed through Mitsubishi's excellent Super All-Wheel-Control (S-AWC) system—although every trim is also available with FWD. Power is sent through a continuously-variable automatic (CVT) transmission and while that tends to scare me away from the thought of an enthusiastic drive, this one is tuned well and given "virtual" shift points activated via paddles so you can at least feel like you're shuffling cogs 'round. It's a nice, peppy engine that delivers its power smoothly and with little fuss and a pleasingly low amount of noise.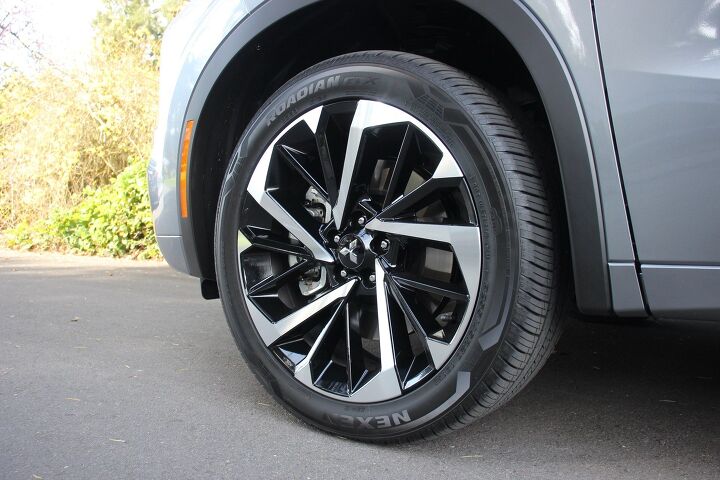 Aside from some slightly inert steering on long, flat drives, the Outlander responds rather well to steering inputs and the body is kept nicely in check as you continue to put it through its paces. It's not a performance SUV by any means, but I do have to commend Mitsu for providing a nice steering rack and wonderfully chunky steering wheel.
There are six drive modes to choose from: Eco, Normal, Gravel, Snow, Mud and Tarmac (that last one's the sportiest of the bunch) and new for '22 is how each of the various electronic driver aids—active yaw control, stability control, traction control and electronic power steering—get modified depending on which drive mode you're in, leading to better progress in general no matter the conditions. I even had the chance to try the mud and gravel modes over some light off-roading and felt the Outlander scratch and claw nicely to help keep confident progress. The suspension also did its part here, keeping the body nicely controlled through undulations. I'd love to try the Outlander in some snow to see how it does there because it truly feels like a vehicle tailor-made for road trips through adverse conditions to the ski hill and so forth.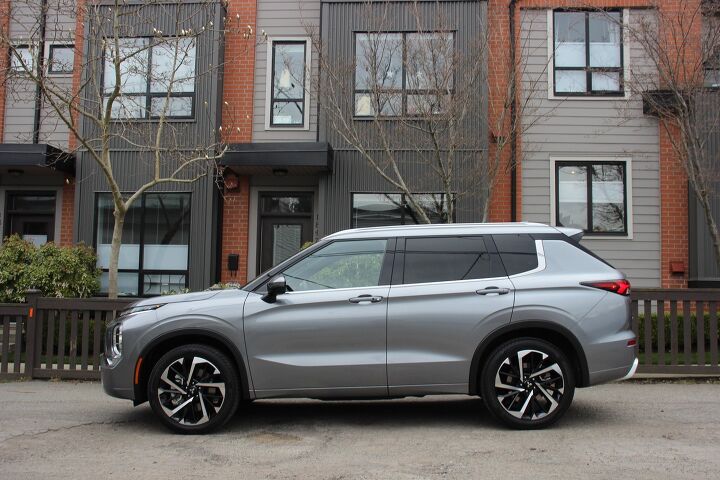 Tailor-made in the capability sense, anyway; I'm still stuck on the lack of room in the second row. Space is important in this segment—not so much the third row, as I said before—but the second row, absolutely, and there just isn't enough of it here. Not sure where Mitsu lost the plot in that area and it's too bad because the rest of the Outlander package—capabilities, pricing, features—is as good if not better than some of the competition.
Discuss this story at our Mitsubishi Outlander forum.
Become an AutoGuide insider. Get the latest from the automotive world first by subscribing to our newsletter here.
LOVE IT
Fantastic interior, large pano sunroof
Ultra-capable AWD
Styling grows on you
LEAVE IT
Cramped second row
Somewhat lame infotainment
CVT not for everyone
Published April 6th, 2021 8:01 AM
Popular Articles
Latest Comparisons
Car Buying Tools