31 Views
2010 Nissan Versa 1.6 Sedan Review
November 12th, 2014 3:49 PM
Share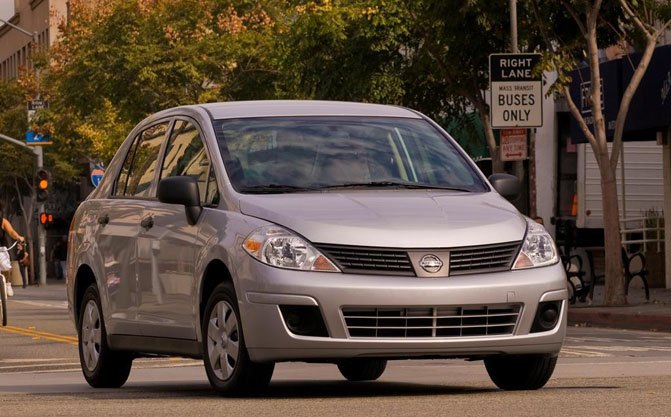 There's no shortage of choice when it comes to shopping for a new car. Hard economic times might have put a strain on your pocket book, but buying a new car doesn't have to make it worse.
FAST FACTS
1. The very basic Versa 1.6 Sedan comes with a five-speed manual and starts at $9,990.
2. The 1.6L delivers 107-hp and 111 ft-lbs of torque.
3. Fuel economy is rated at 26/33 mpg (city/hwy) with the automatic transmission.
4. A 122-hp 1.8L engine can be had in more expensive sedan models and comes as the only engine choice in the hatchback.
The 2010 Nissan Versa 1.6 is a good example of that.
Pricing for the base 1.6 sedan starts at just under $10,000 – $9,990 to be exact. For this, a 1.6-liter four-cylinder engine making 107-hp and 111 ft-lbs of torque is standard. A five-speed manual transmission is also standard, but A/C is not.
My Versa 1.6 tester came with A/C and "in-cabin microfiltration," so it's not the base model. It also has the available four-speed automatic tranny and, despite having just added two grand to the sticker price, is still pretty basic.
That's not necessarily a bad thing in the subcompact segment though.
NISSAN TAKES "BASIC" TO HEART WITH NO A/C OR RADIO
Besides having the basics covered, like doors and wheels, my test mule came with a few more "basic" options. The ABS package, for instance, adds four-wheel anti-lock brakes with EBD and brake assist.
Does it get more basic than that? Apparently, it does. Floor mats are optional. And, forget the morning traffic report or music to cruise to; the stereo is only pre-wired with four speakers. As in: head unit sold separately.
But, whereas some people will only see the hole left in the dash, I see an opportunity to install whatever aftermarket stereo I want. My tester came with a dealer-installed radio, so I didn't go without.
BASIC IS COMFORTABLE, BUT NOT VERY ADJUSTABLE
The rest of the interior is fairly dapper despite a plethora of hard plastic surfaces. It has a nice enough texture and complements the fuzzy suede-like upholstery that acts like grip tape with your clothing well.
The four-way manual adjusting front seats are fine. Unfortunately, there's no storage bin or elbow rest between them because the seat's reclining mechanisms are in the way. As it is, they're between the seats instead of on the outside.
Seat height cannot be adjusted and the steering wheel only tilts. There's ample head room for adults of average height, but those above six-foot two-inches could find themselves with a sore neck.
Sight lines are excellent, however, there's not a whole lot of interior storage space. The plasticky front doors do offer sizable pockets for personal items to slosh about in.
There is space for a hot cuppa Joe or two in front of the hard-to-miss shifter. And, there's a 12-volt DC outlet jack for powering personal electronics devices like portable nav units and cell phones.
PLENTY OF PASSENGER ROOM AND SAFETY FEATURES
Basic includes lots of great safety features like six airbags, seat belt pretensioners, front seat active head restraints, child safety door locks, crumple zones, tire pressure monitoring and an engine immobilizer.
Basic also offers 94.3 cu.-ft. of passenger volume, a decent amount of head and legroom for two average-sized adults and a trunk volume that tops out at 13.8 cu.-ft. The 60/40 rear seats fold down to allow longer cargo to pass through.
Interior volume is similar on the more functional hatchback (its cargo area goes from 17.8 to 50.4 cu.-ft. with the seats down) but, the sedan's trunk opening is quite as large.
The Versa 1.6 drives bigger than it looks. It's stable at speed and overall ride quality is comfortable and smooth. It's quite quiet actually and since there's no CVT, the engine doesn't whine like a sleepy, hungry toddler either.
Latch child seat anchors are standard if you want to bring along you own.
NO REAL REASON TO OPT FOR THE LARGER ENGINE
Step on it and the little engine that could will get you off and to the races. Of course, it's unlikely you'd get there first as it (ie. the 1.6-liter 4-cylinder), is not intended to help win any.
A bigger, more powerful 1.8-liter engine is offered on the 2010 Versa along with a six-speed manual transmission. Again, not a Grand Prix winner, but this engine comes with traction and vehicle stability controls too.
The 1.8 is standard on the five-door Versa hatchback. But, despite its 122-hp and 127 ft-lbs, the extra weight of 1.8-powered models is a detriment to its fuel economy.
In fact, the 1.6 auto gets better city/highway numbers – 26/33 mpg versus 24/32 – according to the manufacturer. Independent tests have shown negligible differences in vehicle performance too.
And, if you don't mind not having power door locks and windows with driver's one-touch auto-up/down and remote keyless entry, basic is really good.
THE VERDICT
Nissan's Versa with the 1.6 is as basic as they come. It's also one of the least expensive four-doors sedans in North America. It doesn't come with many bells or whistles – heck, you've got to pay extra for a stereo – but it still manages to offer plenty of value.
The interior and cargo areas make this car feel bigger than it is, and the ride quality is exceptional.
Something also needs to be said about a car that doesn't force you to get features and options you don't want or need. Thank you, comes to mind.
Of course, there are those who will always want more for less. But, if you are looking to get what you need at a fair price, the Versa 1.6 delivers that. Nothing more, nothing less.
If you simply must have that bigger engine though, check out the Cube instead. It's built on the same basic platform as the Versa, has more interior space, looks a lot funkier and even the base model comes with a stereo and ABS brakes as standard.
RELATED READING
LOVE IT
Quiet and efficient daily driver
Decent interior space with ample room for passengers and cargo
Starts at under 10 grand
LEAVE IT
Interior is a bit dull
Lack of ABS as standard
Underwhelming engine delivers modest but hardly exceptional fuel economy
Published December 23rd, 2009 11:43 AM
Popular Articles
Latest Comparisons
Car Buying Tools