100 Views
2022 Nissan Frontier First Drive Review: Into the Thick of It
April 26th, 2022 9:27 AM
Share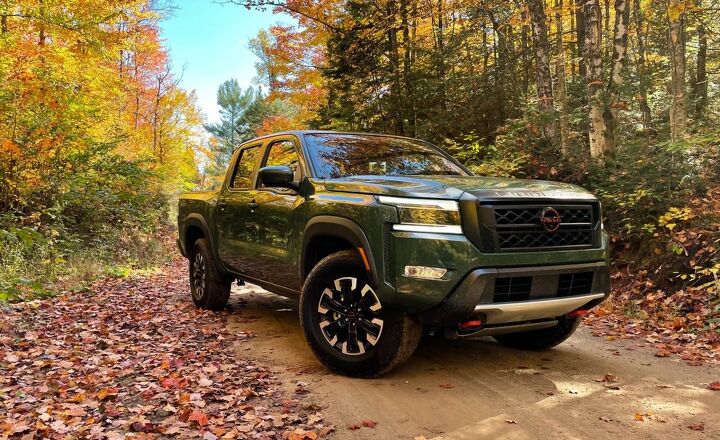 FAST FACTS
| | |
| --- | --- |
| Engine: | 3.8L V6 |
| Output: | 310 horsepower |
| Transmission: | 9-speed automatic, four-wheel drive |
| US fuel economy (MPG): | 17 city, 22 highway, 19 combined |
| CAN fuel economy (L/100KM): | 13.7 city, 10.6 highway, 12.3 combined |
| Estimated US price: | $31,040 (King Cab S 4x4) |
| Estimated CAN price: | $39,998 (King Cab S 4x4) |
I don't want to overstate it, but when the departing Frontier was new George W. Bush was just beginning his second term as president, the iPhone hadn't been announced, Twitter didn't exist, and Netflix was still sending DVDs through the mail.
Yes, the last time the Frontier was all-new was in 2005. Think about that for a second. Up until 2020, Nissan showrooms across North America stocked a model dating back three presidential administrations to the era of flip phones and standard def.
Get a Quote on a New Nissan Frontier
True, Nissan facelifted the Frontier for the 2009 model year, and made incremental changes (colors, wheels, special models, etc.) during its run, and even managed to stuff a new engine and transmission (which were carried over to the '22) into it on its way out the door, but the oldness of that truck was unmistakable. The styling, especially in the cabin, looked and felt ancient, a reality that overtakes all vehicles after 15 years.
Well, fast-forward to fall 2021, and the new all-new 2022 Nissan Frontier is here. Interestingly, for the first time since it debuted as successor to the Hardbody in 1997, the Frontier is decoupled from the global Navara sold in Europe and many markets outside of North America. The new truck is still mechanically related to the Navara, but it is now a standalone model for the North American market.
What's new?
For the third-generation Frontier, Nissan has opted to outfit the entire lineup with one powertrain: a 3.8-liter V6 that's paired with a nine-speed automatic transmission and either two or four-wheel drive for the U.S. Canadian-market models are offered with four-wheel drive only.
Under the hood, the 3.8 has been overhauled with 93 percent new or redesigned parts that help produce a class-leading 310 horsepower and 281 lb-ft of torque. In terms of towing and hauling, the Frontier carries a 1,430-pound (649 kg) maximum payload and maximum towing is rated at 6,490 pounds (2,944 kg) with standard trailer sway control.
The nine-speed automatic, which is also being used in the all-new 2022 Pathfinder SUV, has a 99 percent wider range which dramatically improves acceleration, according to Nissan.
Improved off-road capability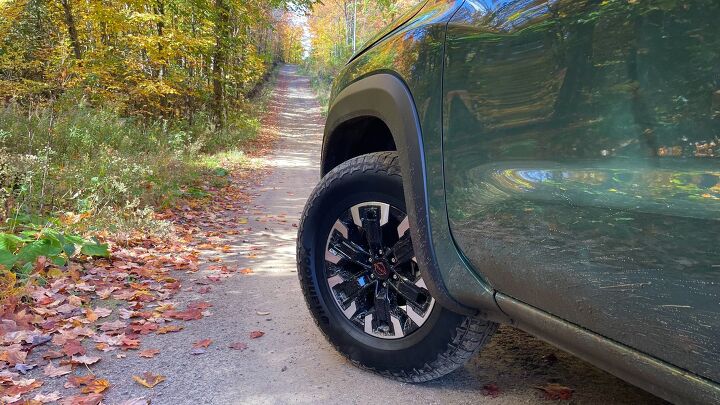 As for the off-road kit, the Frontier utilizes a shift-on-the-fly 4WD system with 2WD / 4HI / 4LO modes, that works in conjunction with an electronically controlled transfer case. In terms of braking, ABS with a 2-wheel and 4-wheel limited-slip system provides instant engagement is standard, as is hill start assist. Hill descent control also comes standard on 4WD models.
The top-level PRO-4X gets the Full Monty with items such as electronic locking rear differential, Bilstein off-road shock absorbers, two steel underbody skid plates, an aluminum front skid plate, Intelligent Around View Monitor with Off-Road mode and an off-road meter display updated in real time. PRO-X and PRO-4X models are also outfitted with 17-inch aluminum alloy wheels with red center caps, 265/70R17 all-terrain tires and two tow hooks.
SEE ALSO:
2021 Toyota Tacoma Trail Review: Simplicity Is Key
Titan-esque styling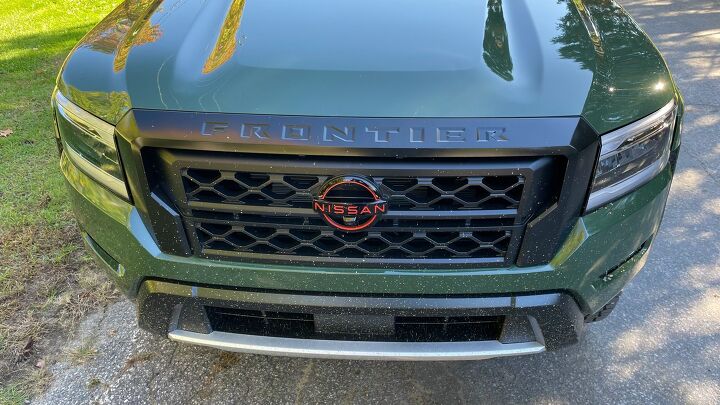 On the styling front, the Frontier departs significantly from the outgoing model and draws on, at least to these eyes, cues from the full-size Titan. The latter, which is no longer sold in Canada, received a sweeping mid-cycle refresh for the 2020 model year, and the echoes of that redesign are very much in evidence here, albeit on a smaller scale.
SEE ALSO:
2020 Nissan Titan Review: First Drive
Viewed from the front, the Frontier's large grille, rectangular LED headlights and creased hood give off strong Titan vibes, especially in PRO-4X trim, where its squarish and rugged proportions bear a strong resemblance to its larger sibling.
Nissan says the Frontier design team was inspired by the 1986 Hardbody pickup, and there are echoes of that iconic truck here, notably in its high shoulder lines and prominent fenders. The rugged and ready theme is also prominent at the rear, where a lifted stance, LED taillights and embossed FRONTIER lettering give the truck a more robust and capable feel.
Loaded with tech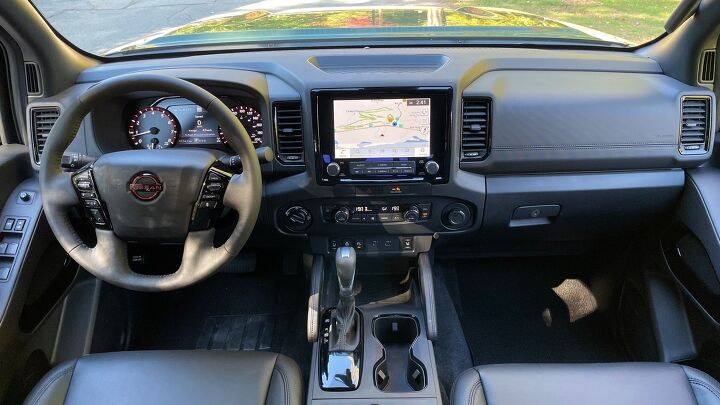 On the inside, the '22 Frontier bears no resemblance to that of its predecessor, which aged out a decade ago. Gone are acres of cheap plastic, a tiny infotainment screen and spindly shifter, and in their place is a handsome cabin with a new multifunction steering wheel, an available 9.0-inch color multimedia touchscreen (a 8.0-inch unit is standard) and a new 7.0-inch advanced driver display.
The center console has been updated with straightforward hard keys, with volume and tune knobs logically placed, and both USB-A and USB-C connectors are located below the climate controls for easy plug-in, instead of at the bottom of a console storage bin. Crew Cab models also come with two (USB-A and USB-C) located in the rear seating area. A cellphone charge pad is available as an option for PRO-X and PRO-4X grades.
On the tech front, wired Apple CarPlay and Android Auto connectivity are standard across the range, as are Bluetooth hands-free phone system, streaming audio via Bluetooth and Siri Eyes Free. Other items, such as embedded navigation and Nissan Connect Wi-Fi hotspot are standard on PRO-4X. Audiophiles can also opt for a Fender Premium Audio system with 10 speakers, which is available on all grades above the S 4×4.
SEE ALSO:
Jeep Wrangler vs Toyota 4Runner Comparison
More safety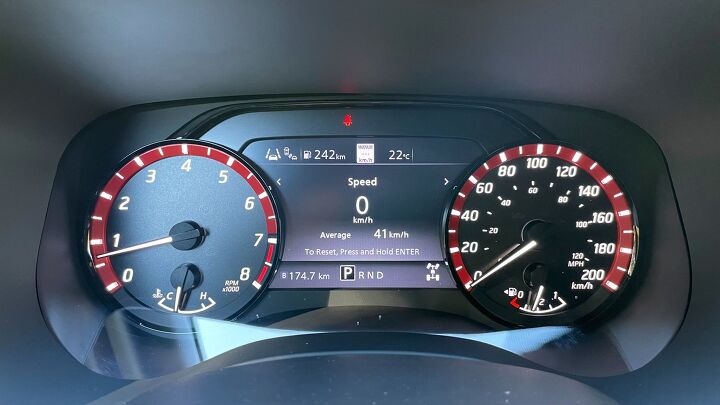 As one might imagine, the '22 Frontier comes with more safety kit than its predecessor, but a number of features remain optional for the US market. Among the standard items are eight airbags, Intelligent Forward Collision Warning and automated emergency braking (with pedestrian detection), while the optional list includes lane departure warning, blind spot warning, rear cross-traffic alert, rear automatic braking, high beam assist and more.
Expanded lineup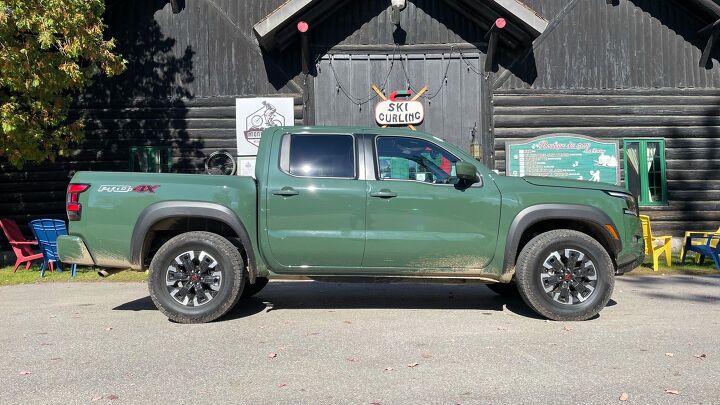 In terms of Frontier models, there are a bunch. Essentially, they're organized into two camps: King Cab and Crew Cab, which offer both 4×2 and 4×4 variants. King Cab grades are more limited, with S and SV grades in either two or four-wheel drive, while Crew Cab options those include those models, plus Long Bed SV (4×2 and 4×4), PRO-X (4×2) and PRO-4X (4×4).
In terms of differences, the King Cab has a smaller cabin, but a longer 6.0-foot bed, while the Crew Cab has a larger interior with four hinged doors, but a shorter 5.0-foot bed. The Crew Cab can be outfitted with the 6.0-foot bed, however, if one opts for the Long Bed SV grade.
SEE ALSO:
Ford Ranger vs Toyota Tacoma: Which Mid-size Pickup is Right For You?
Dimensionally, the 5.0-foot bed has a volume of 39.6 cubic feet (1,121.1 liters), while the six-footer is 49.6 (1,405.7 L). As for bed utility, the following are standard on all models: tie-down hooks (four), bed rail protectors, locking tailgate with dampened opening, closure assist and tailgate spoiler.
A spray-in bedliner is optional on all grades above S 4×4 for Crew Cab and both King Cab models, while the Utili-track system with four adjustable tie-down cleats is optional on S and SV Crew Cab, and standard on PRO-X.
An exterior cargo bed light is standard on all models, but under rail LEDs are available on all grades above S 4×4, and a 120-volt power outlet for the bed is also available as an option.
Driving impressions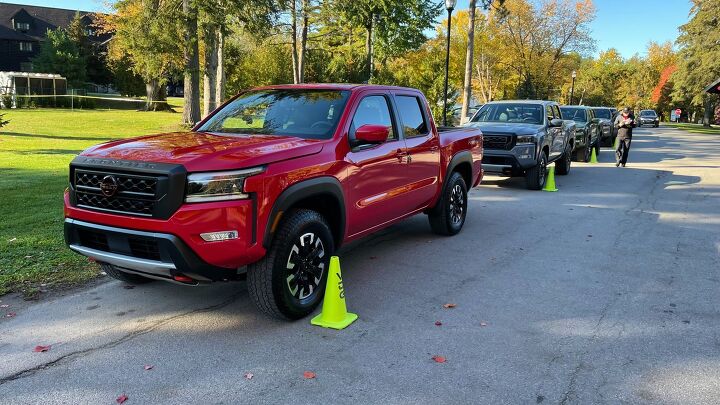 For the recent media drive I attended, Nissan brought along a fleet of top-level Crew Cab PRO-4X production models to sample, which were outfitted with just about every bell and whistle the Frontier has to offer.
Upon sliding behind the steering wheel, I was struck by how much effort Nissan has put into modernizing the Frontier's interior. In addition to the loads of available equipment listed above, the touch points (steering wheel, shifter, door panels, etc.) all look appealing and have been tastefully executed. The leather-wrapped steering wheel with lava stitching and the leather Zero Gravity seats with PRO-4X embroidery stood out for their quality feel and comfort.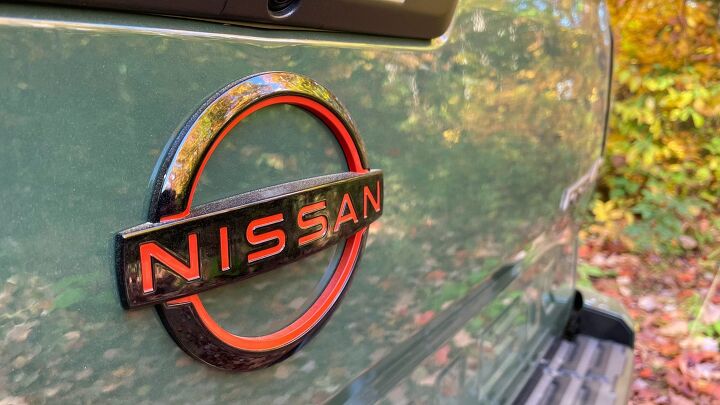 The drive route consisted of two off-road sections, along with a mix of city and highway roads sandwiched around the trails. For as much as I liked how the Frontier comported itself on pavement, with a quieter cabin, thanks to better sound insulation and laminated front and side glass, I was really impressed with the truck's off-road capability.
On the two off-road sections, which featured a mix of rocky and muddy terrain, some of which was quite bumpy, the PRO-4X clambered over all of it with ease. All-terrain tires and high ground clearance certainly help, as does hill descent control, but the ease with which the Frontier maintains continuous grip over changing surfaces with varying throttle application, in both 4LO and 4HI is impressive. Nissan says the new Frontier is more off-road capable than its predecessor, and it certainly seems to be the case.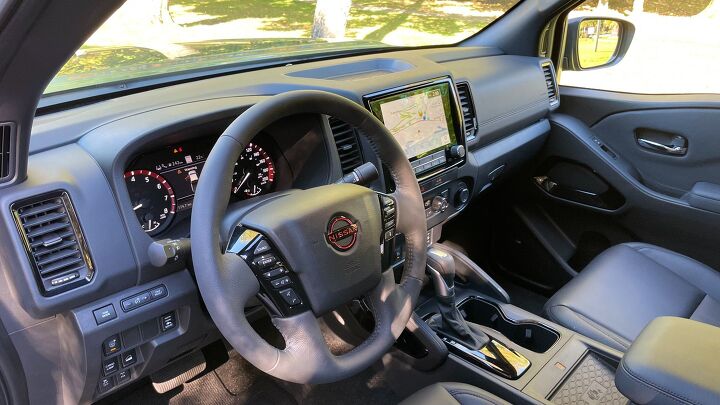 On pavement, the 3.8-liter V6 hustles the Frontier along nicely, although the meat of its output is high in the powerband. A flatter torque curve would be appreciated, but the 4,400-rpm peak output mark isn't hard to hit from rest or when merging with highway traffic. Nissan's decision to pair the V6 with a nine-speed automatic is a wise one, as it allows the driver to better match the transmission's shift pattern to one's driving style. And feeling actual upshifts and downshifts provide for a more engaging experience overall.
SEE ALSO:
2021 Ford Ranger Raptor, Sorry, Tremor Review
As for pavement handling, the Frontier, especially in PRO-4X trim, feels a little floaty and ponderous at speed, although that may be due in part to my tester being shod in all-terrain tires. It feels more responsive at lower speeds, however, and is generally acceptable for its class and intended competition.
Final thoughts: 2022 Nissan Frontier First Drive Review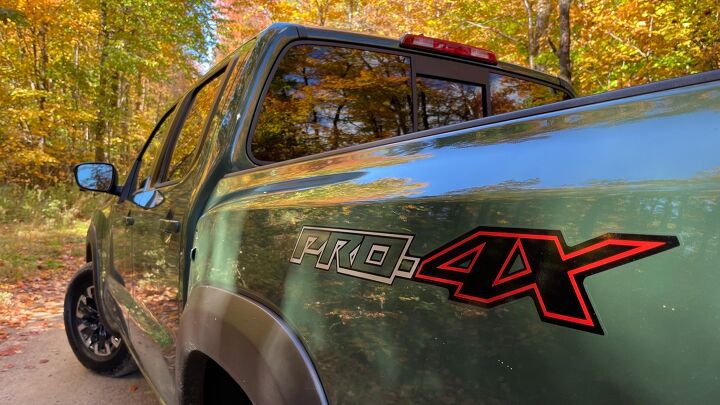 It took a long time to get here, but Nissan finally has a new Frontier, and based on my experience with it, it appears the long wait has been worth it.
Its off-road capabilities are much improved, and with a sharp redesign, more standard and available technology and safety, along with a high degree of versatility, the Frontier is much better suited to take on class leaders like the Ford Ranger and Toyota Tacoma.
Those two are more well-established in the market thanks to newer variants and stronger marketing efforts, but Nissan now has a vehicle ready to challenge with a wide array of models and a competitive pricing structure.
Street cred matters a lot to truck buyers, so while the Frontier may still face an uphill battle in that regard, it's no longer a nameplate that can be overlooked as old and out of touch, and that's a big win for Nissan.
Become an AutoGuide insider. Get the latest from the automotive world first by subscribing to our newsletter here.
LOVE IT
Ruggedly handsome, inside and out
Powerful, class-leading V6 power
Improved off-road capability
LEAVE IT
Lots of optional safety kit
Grainy, last-gen infotainment screen graphics
Somewhat floaty, ponderous pavement handling
Published November 1st, 2021 3:41 PM
Popular Articles
Latest Comparisons
Car Buying Tools