14 Views
2020 Porsche Taycan 4S First Drive Review
February 1st, 2021 8:56 PM
Share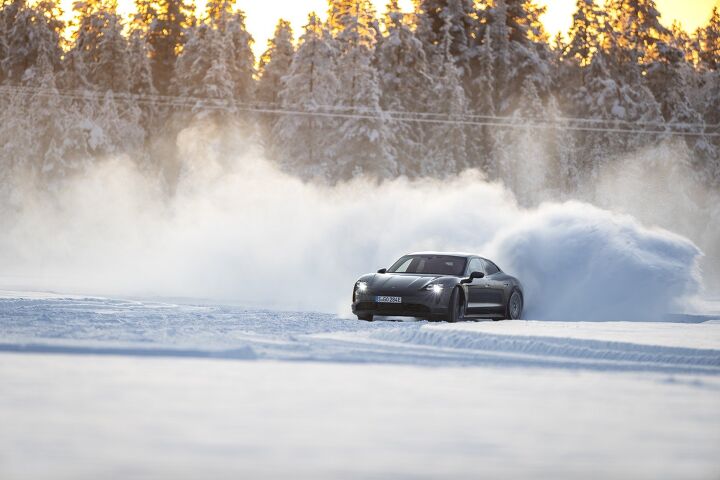 It's raining. Normally that'd only be a mild annoyance on a car launch, scuppering more complicated photo ops. But I'm in Finland. Just inside the Arctic Circle. In December.
It's the sort of situation that even the ever-ready Porsche PR team might secretly chalk up as a win. After all, we're in this normally punishing wintry clime to test the most affordable version of Stuttgart's first all-electric model, the Taycan 4S. EVs are all about being kinder to the environment, and the unseasonably mild temps are the latest reminder it needs saving. Mother Nature, it seems, is very On Brand.
But the Taycan 4S has an added challenge to face. Not only does it have to be a good EV, it has to be a good Porsche. Does it succeed? After a day of driving it I'm inclined to say—mostly—yes, on both counts.
What's under the hood?
FAST FACTS
| | |
| --- | --- |
| Engine: | twin electric drive motors |
| Output: | 563 hp, 479 lb-ft |
| Transmission: | two-speed automatic |
| Electric Driving Range: | 260 miles (est) |
| Starting Price: | From $103,800 |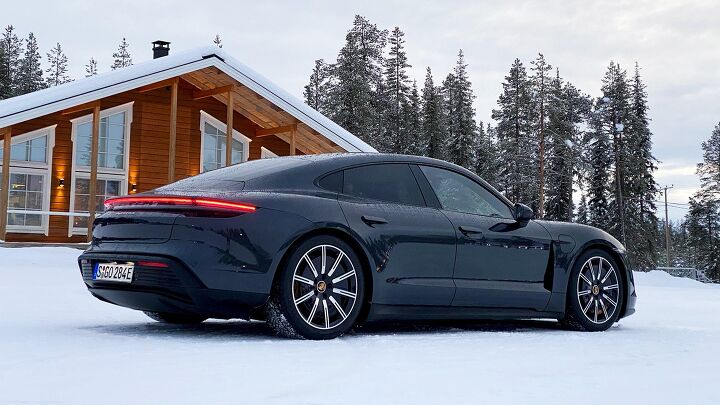 A small storage space, roughly 50 percent smaller than the latest 911's. Oh, you mean in terms of power…
The Taycan uses a battery pack sandwiched in the floor, like most dedicated EVs on the market. It comes in two flavors: a single-layer, 79.2 kWh option, or the dual-layer, 93.4 kWh Performance Battery Plus item from the Taycan Turbo and Turbo S. We're in the latter, which translates to 482 hp and 479 lb-ft of torque. Mono-layer battery figures sit at 429 hp and 472 lb-ft.
The power runs through a pair of electric motors: one in front, one out back. The rear motor hooks up to a two-speed transmission, allowing quicker off-the-line acceleration without sacrificing highway oomph. I don't get to spend much time testing that claim however, thanks to a combination of conditions and unplanned reindeer roadblocks.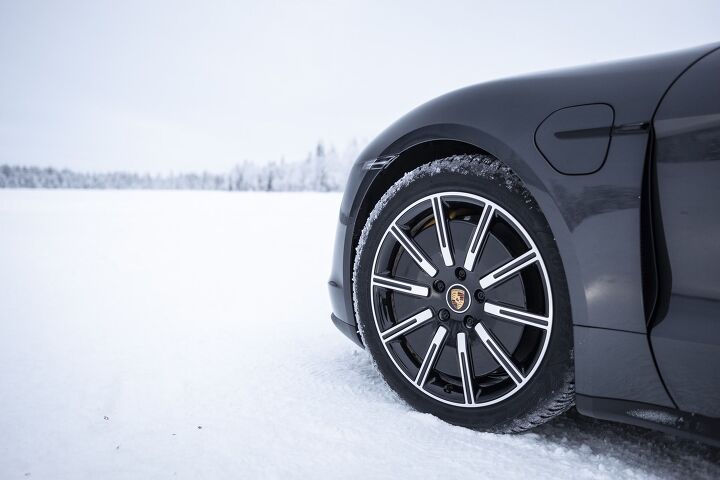 Launch control temporarily bumps the bigger battery's pony head count to 563, enabling the 4S to crack off the 60 mph benchmark in under four seconds. The Taycan easily feels good for it, though maybe not with the day's weather. Response is immediate thanks to the inherent low-down torque of a battery setup. A flex of my right toe is enough for the big four-door to find the speed limit on these deserted Finnish backroads.
Lifting off, the Taycan doesn't immediately start slowing from regenerative braking a la other EVs. Porsche tells us this is intentional: in its eyes, a sporty drive still involves at least two pedals. The left pedal itself has a long travel, with a soft initial bite but strong, consistent stopping power.
Here's a screen, there's a screen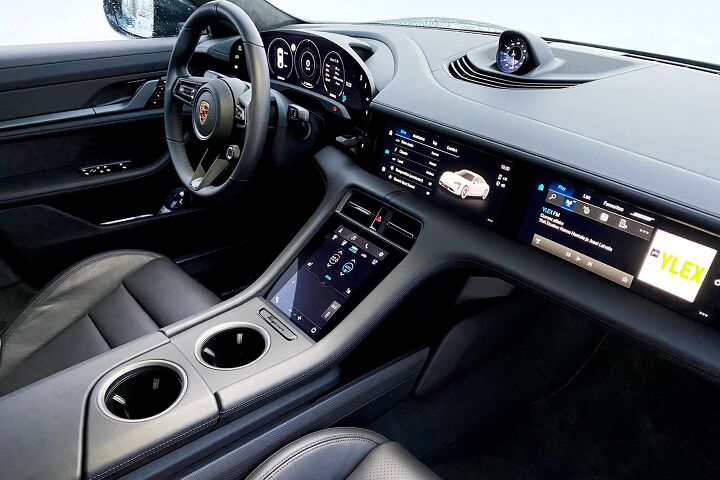 The Taycan is a Tesla fighter, and nowhere is that more obvious than the sheer acreage of touch screens inside it.
Let's start with the best bit: the dials. This fully configurable, 16.8-inch curved slab of glass mixes function and form. Flicking through the steering wheel-mounted controls cycles the information in the dials, or even changes the whole layout. One option brings a wide-screen nav map; another, a minimalist just-the-essentials screen. Tick the right option box and there's a Night View mode.
The center stack features two more touch screens. The higher of the two is pretty standard fare, whereas the lower one handles climate controls, volume, and a touchpad for the top screen. It's clear and responsive, but nothing will convince me that something as simple as vent angles needs to be handled in a touch screen sub-menu.
My tester features a fourth, slim-line screen over on the passenger side. It's handy enough if your co-driver wants to take up DJ duties or pick the next stop, but it's pricey at $1,130.
The back seat is reasonably spacious, at least for a 5'10" journo. It's not as roomy as the Panamera—which I got a two-hour refresher ride in the day before—even with the "foot garages" Porsche included in the battery design to allow it to mount the rear seats lower. The first few months of Taycan 4S production will all feature the full-glass panoramic roof, which should give it a greater sense of space. I wouldn't know: curiously my tester has a regular ol' metal roof.
Fit and finish is all top-notch, resulting in an interior that feels special. The 4S comes with a partial leather interior as standard, but there are other, more vibrant full-leather options, plus a completely cow-free choice.
Range work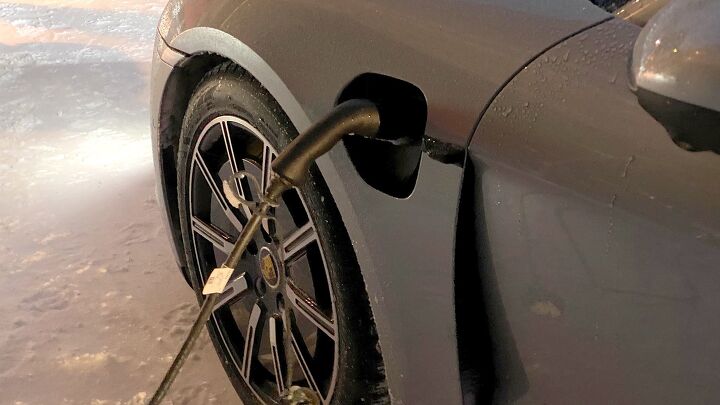 According to the European WLTP test cycle, the Taycan 4S with the Performance Battery Plus can stretch up to 463 kilometers between charges. That translates to 288 miles, but bank on the EPA number being slightly lower than that.
The Arctic Circle does seem to affect the 4S' range, but it isn't clear by how much. The remaining range figure shrinks faster than the miles gently crunch away under the 20″ wheels. In the Taycan's defence, the repeated short bursts of heavy acceleration, reindeer roadblocks, and an extended stop to try (in vain) to dig out a car in a ditch surely didn't help.
Thanks to its 800-volt architecture, the Taycan can take advantage of fast charging. Adding 62 miles of range takes as little as five minutes, and a top-up from 5 to 80 percent charge can happen in 22.5 minutes. A regular 11 kWh plug at home naturally takes longer: nine hours, to be exact.
There's another aspect of range worth touching on: the space available. We covered the frunk and its not-quite-a-carryon, 2.8 cubic foot capacity, while there's also a 12.9 cubic foot trunk out back. The rear seats fold down as well.
Drifting on Ice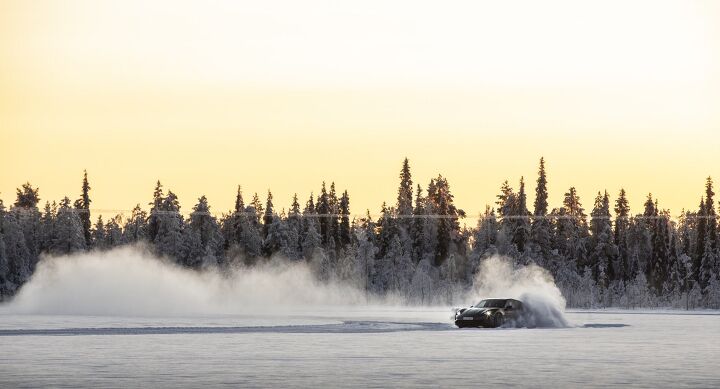 With the public road test done, it's clear this is a good EV. Now it's time for the other side, with the dedicated ice tracks of Levi Rally Center.
I drop back into the low-mounted driver's seat and head for the first test: two slaloms connected by longer, 180-degree corners. The Taycan felt planted on the road—it has the lowest center of gravity of any production Porsche—but it takes just one left-right flick of the wheel to drive that point home. It responds quickly, gamely darting between the pylons despite its substantial 4,895 lb curb weight. Ice patches push the front wide, and the brakes don't do much either in these situations.
Adding a little more throttle gets the rear tires into the action, swinging the car around in a graceful arc. It does that same thing so many of the four-door Porsches do: it shrinks around you, like someone has chopped a foot out of the wheelbase without you noticing. It takes about a lap to find the rhythm, a testament to the pitch-perfect driving position the car has. After that the Taycan and I are buddies: its steering wheel isn't the most talkative helm, but you quickly learn to trust it thanks to sharp, consistent movements. It never disobeys, and the clever Porsche Torque Vectoring (PTV) Plus allows for frankly obscene levels of angle. I'm reasonably sure I manage a reverse entry in the larger circle track later in the day, but I recognize the car is the one with the talent, not me.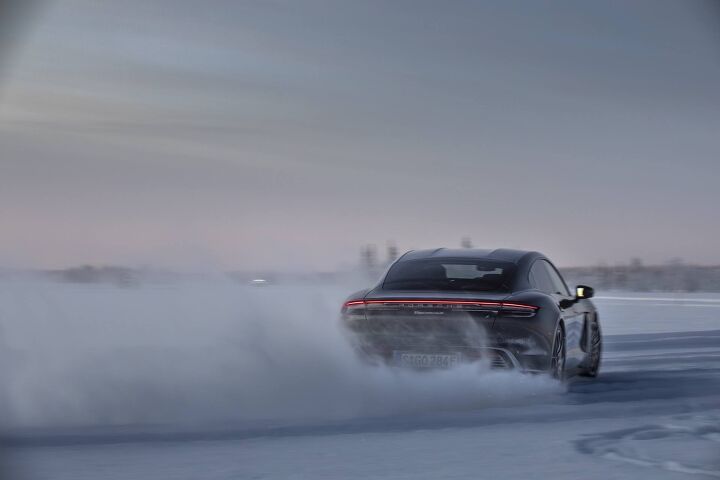 The Taycan's secret weapon is something auto journos tend to scowl at: artificial sound. No, the speakers don't pipe in flat-six noises. Honestly, it'd be more problematic if they did. Instead, an active noise system enhances that strange spaceship whir of EVs. Porsche tells us this (defeatable) setting provides drivers with additional feedback, as so many of us instinctively rely on noise in relation to throttle position. It works.
Helping the Taycan in the snow is a standard adjustable ride-height air suspension. An available smart headlight system comes in handy too, especially as the sun rose at 11 am and set less than 2.5 hours later. Each headlight uses 84 individual LEDs, which can be dimmed or turned off to avoid blinding vehicles ahead.
Verdict: 2020 Porsche Taycan 4S First Drive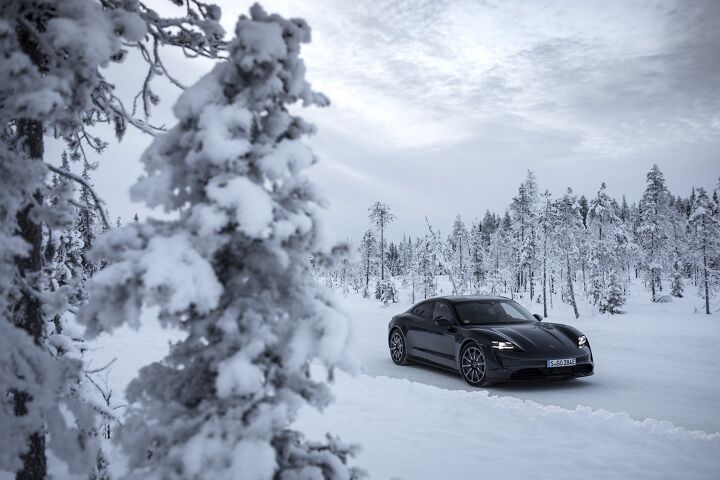 I'll admit, I was worried about driving the Taycan. Worried that it might be a little one-dimensional, that it wouldn't offer the depth of character we've come to expect from the brand. But that isn't the case. The Taycan is a Porsche for the new era: agile yet sure-footed, powerful yet playful.
You'll notice I haven't mentioned its price yet. That too is Porsche-like: the Taycan starts at $103,800 before destination, with at least $6500 needed for the larger battery. Realistically, it'll be even more, especially once buyers dive into the options list. So yes, it's more than a Tesla Model S, even if that car posts the better straight-line figures, or has a longer range. That doesn't matter: just as people have long bought the 911 for more than its stat sheet, so too will people buy the Taycan. This is proof that EVs can be plenty of fun, and that the Porsche character will remain alive and well, batteries included.
Discuss the Taycan 4S at TaycanEVForum.com.
LOVE IT
Concept car looks
Immediate power
Handles like a Porsche
LEAVE IT
Brake pedal could be firmer
Fiddly AC controls
Still pricey
Published December 10th, 2019 6:05 PM
Popular Articles
Latest Comparisons
Car Buying Tools