32 Views
2018 Subaru Crosstrek Review
January 28th, 2021 4:43 PM
Share
We're committed to finding, researching, and recommending the best products. We earn commissions from purchases you make using links in our articles. Learn more here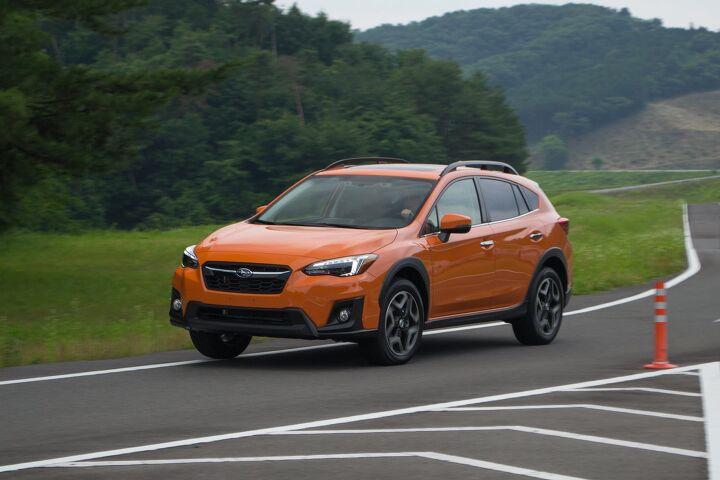 For one of the most densely populated countries on the planet, there are plenty of places in Japan that feel far less so.
One such area is a surprisingly short drive from Tokyo, where a remote hilltop nestled next to a pair of golf courses offers the privacy necessary for an automaker to conduct its testing away from the prying eyes of its competitors. And it was here that a small group of journalists was invited to sample the 2018 Subaru Crosstrek before it makes landfall in North America.
More of a playground than a proving ground, the facility offered everything from a high-speed oval to a tight and twisty asphalt course, and even a rutted gravel track with sweeping corners — all perfect for putting the Crosstrek through its paces.
Going Global
Of all the changes made to the new Crosstrek, none is more significant than the architecture it adopts. Following the Impreza on which it's based, the Crosstrek becomes the second vehicle to be built on a new global platform that Subaru plans to use for most of its future products. Aimed at improving both driving performance and overall safety, the new underpinnings are both stiffer than before while being better equipped to absorb energy in the event of a crash.
Subaru's engineers were also able to use the new architecture to add space inside the Crosstrek without increasing its overall size all that much. While the wheelbase, at 104.9 inches (2,665 millimeters), is longer than before, the Crosstrek's bumper-to-bumper length has only grown marginally to 175.8 inches (4,465 mm). It's the same story elsewhere, with the Crosstrek measuring only slightly wider than before, while its overall height remains static.
ALSO SEE: 2017 Subaru Impreza Review
Despite those small increases to the exterior measurements, space in the second row has been improved to 36.5 inches (926 mm) of legroom and 38 inches (966 mm) of headroom. Likewise, shoulder room in the front has been increased by a little more than an inch (29 mm). None of those new measures are especially noticeable compared to the last version of the Crosstrek, but they only add to what was already a fairly roomy cabin.
Behind the tailgate, the Crosstrek now boasts 20.8 cu-ft (588 liters) of cargo room with the rear seats upright and 55.3 cu-ft (1,565 liters) with them folded. Just like the Impreza on which it's based, those numbers are enough to compete with compact hatchbacks like the Honda Civic and Chevrolet Cruze, among others, while offering more space than compact crossovers like the Toyota C-HR and Chevrolet Trax. It also features a rear cargo opening that's almost perfectly square, allowing it to handle larger items with ease.
FAST FACTS
| | |
| --- | --- |
| Engine: | 2.0L 4-cylinder |
| Output: | 152 hp, 145 lb-ft |
| Transmission: | 6-speed manual; CVT auto |
| US Fuel Economy (MPG): | 27 city, 33 hwy (CVT) |
| CAN Fuel Economy (L/100 km): | 8.8 city, 7.2 hwy (CVT) |
| US Price: | Starts at $22,710 |
| CAN Price: | Starts at $25,370 (destination included in all pricing) |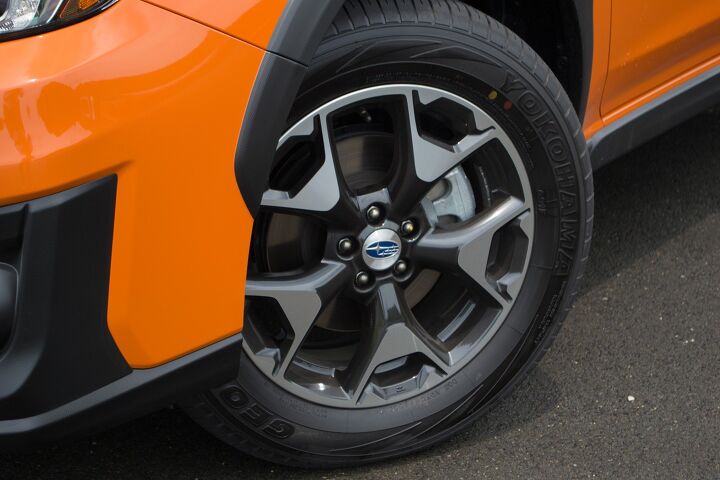 Nearly New
At least on paper, the Crosstrek's powertrain looks largely unchanged in its second generation, though it has been thoroughly reworked. The same horizontally opposed four-cylinder engine is nestled under the hood, though the 2.0-liter unit has had 80 percent of its components swapped out for improved performance. Output hovers near where it was before, with 152 horsepower and 145 lb-ft of torque on tap, though peak power comes online about 500 rpm sooner.
Sending that output to the all-wheel drive system is the choice of manual of automatic transmissions, both of which have seen their fair share of changes. The manual gains a much-needed forward gear, bringing the total to six, while the continuously variable transmission that most buyers will opt for has been overhauled for smoother operation.
ALSO SEE: 2018 Toyota C-HR Review
Torque split varies depending on transmission choice, with manual models distributing it evenly between the front and rear wheels, and automatic ones having a slight bias to the front wheels. Regardless, it's the same full-time all-wheel drive system that Subaru has become famous for, with automatic models gaining the brand's X-mode drive selector.
The X-mode system works by optimizing the engine, transmission and all-wheel-drive system to maximize traction, while also offering hill descent control capability. A brief test on a steep, grass-covered hill provided predictable results. The Crosstrek was able to make it up and down the roughly 40 percent grade with ease, quelling wheel spin quickly on the way up and offering pedal-free driving on the way down.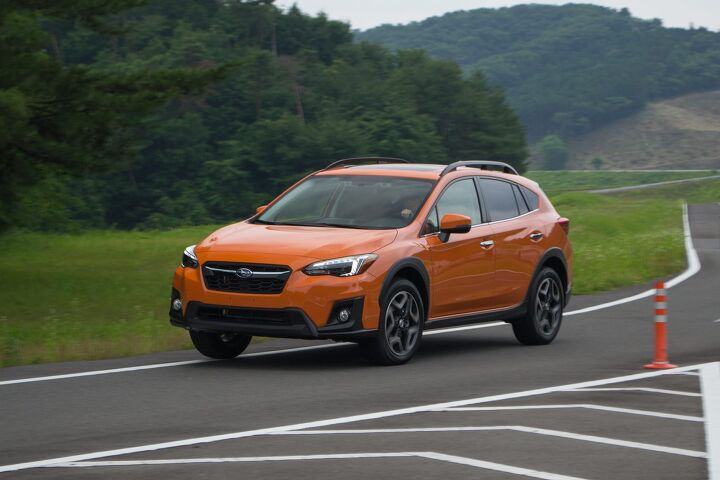 Dynamic Drive
Having spent most of the day in a manual model, the Crosstrek's performance proved itself a bit of a mixed bag. Acceleration was slightly sluggish, while the same old vague clutch and tight shifter gates made the setup a little tricky to master. Out on the oval track, where speeds reached in excess of 80 mph (130 km/h), our tester felt bogged down somewhat, and often needed to drop two gears to keep up with the rest of the CVT-equipped pack under acceleration.
Switching to an automatic model, acceleration felt far more linear if not a little peaky. Much of the rubber banding has been dialed back this time, though it's impossible to eliminate it altogether. It is, however, the better of the two transmissions, and offers far better fuel economy, too. The Crosstrek with the CVT is rated at 27 mpg (8.8 L/100 km) in the city and 33 mpg (7.2 L/100 km) on the highway compared to 23 mpg (10.5 L/100 km) in the city and 29 mpg (8.1 L/100 km) on the highway with the manual gearbox.
ALSO SEE: What is Torque Vectoring?
When it comes to performance, again, the new architecture is the big story here. While the stilted suspension means it isn't quite as engaging to drive as the Impreza, the Crosstrek feels far more composed than its predecessor. With the increased torsional rigidity and a revised suspension setup, the Crosstrek's on-road manners have definitely improved, with far less slop in the overall feel.
Slight bouts of body roll were noticeable when the Crosstrek was pushed through corners, but that's to be expected given the 8.7 inches (220 mm) of ground clearance afforded by its long-travel suspension. Turn-in response has also been improved through the use of a quicker steering ratio and the adoption of a torque-vectoring system. The system was a little clandestine through the corners on the twisting tarmac course though it was far more noticeable on the gravel, with the ability to pull itself towards the inside of the turn on even the loosest gravel surface. The electrically assisted steering setup would definitely register on the numb side, with little feedback to speak of, though it feels no different than most CUVs on the market today and even some cars. There was also a noticeable difference in response depending on the size of the wheels and tires, with lower-grade trims and their 17-inch wheels with taller tires feeling slightly sloppier than the top Touring trim and its 18-inch wheels.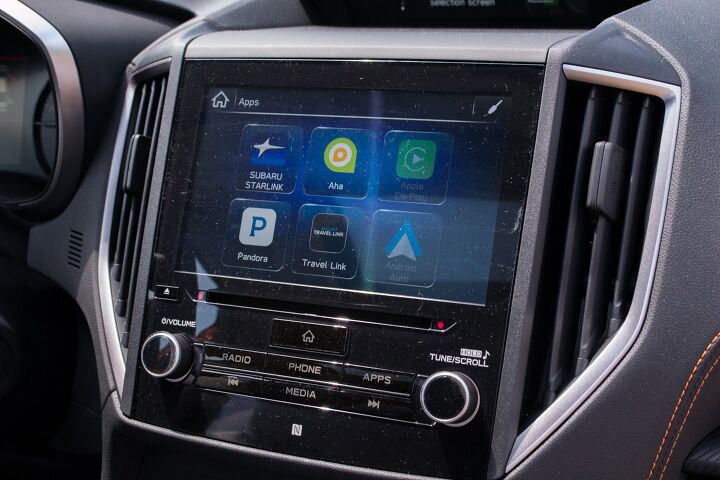 Additional Amenities
The design language both inside and out builds on the clean look introduced with the Impreza, with some additional elements playing to the Crosstrek's adventurous personality. Like before, the exterior enhancement package is made up of a bunch of body cladding that, while mainly for show, provide protection out on the trail.
Inside, the Crosstrek's layout and design are far superior to its predecessor's, with an inviting layout that features plenty of different materials and textures. There's still plenty of hard plastics to be found throughout the cabin, but the seats are comfortable, even when clad in cloth, and all controls fall readily to hand.
ALSO SEE: 2017 MINI Countryman vs Buick Encore
And just like the Impreza, the updated infotainment options are vastly improved. Either of the two touchscreens offered — a 6.5-inch unit is standard, while an eight-inch one is available — run a new version of Subaru's Starlink interface that's as fast as it is easy on the eyes, and is a massive leap forward. It also includes Apple CarPlay and Android Auto compatibility across the trim range.
The available EyeSight safety suite has also been improved on the 2018 Crosstrek, and now includes adaptive cruise control, pre-collision braking, lane-keep assist and reverse automatic braking. It was only the lane-keep assist system that we were able to test during out time with the Crosstrek in Japan, though based on how Subaru's safety suite has performed in the past there's no reason to doubt the other features will work as advertised.
The Verdict: 2018 Subaru Crosstrek Review
The 2018 Subaru Crosstrek is kind of like the automotive equivalent of a weekender bag; no, it won't work for everything, but it's versatile enough to suit most situations. That it finds itself competing with everything from compact cars to subcompact crossovers means that versatility is invaluable, with the Crosstrek capable of going up against any of its wide range of adversaries.
It's also capable of competing across segments when it comes to pricing. With a starting price of a shade less than $23,000 ($25,370 in Canada) including destination charges, it's priced more closely to a small CUV than a small car, and rightfully so. With its tall stance and standard all-wheel drive, the Crosstrek is more crossover than car while offering a car-like ride in an attractive package.
LOVE IT
New styling inside and out
Improved driving dynamics
Updated infotainment interface
LEAVE IT
Tricky six-speed manual
Sluggish acceleration

Dan Ilika
Dan is AutoGuide.com's Road Test Editor, a long-suffering Buffalo Bills fan, and a car guy since childhood. He enjoys long walks on the beach and long drives just about anywhere the road, track or trail will take him. You'll see him driving around evaluating cars and in front of a camera talking about them. Dan is a member of the World Car of the Year jury.
More by Dan Ilika
Published June 26th, 2017 12:45 PM
Popular Articles
Latest Comparisons
Car Buying Tools