214 Views
2023 VinFast VF 8 Review First Drive – A New EV Player Emerges
October 7th, 2022 10:28 AM
Share
We're committed to finding, researching, and recommending the best products. We earn commissions from purchases you make using links in our articles. Learn more here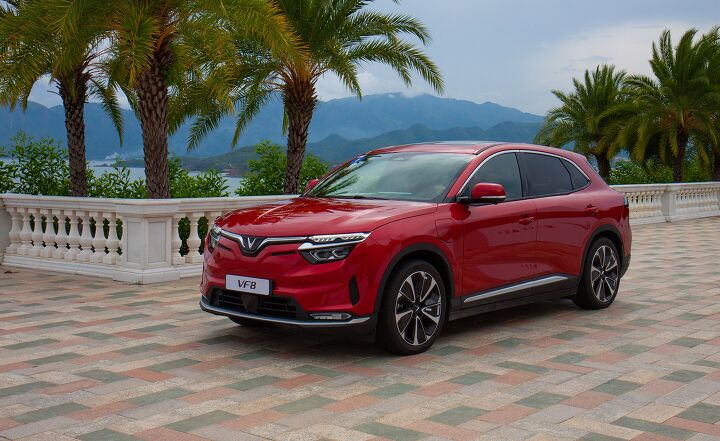 FAST FACTS
| | |
| --- | --- |
| Motor: | 260 kW electric, one at each axle |
| Output: | 349 hp/369 lb-ft; 402 hp/457 lb-ft. |
| Transmission: | eCVT, AWD |
| : | Starting Price (USD) $42,200 |
| : | As-Tested Price (USD) Not available |
| Starting Price (CAD): | $54,990 |
| : | As-Tested Price (CAD) Not available |
From one of the poorest countries in the world to a middle-class economy in a single generation, Vietnam's state of transition makes it a place of great contrast.

Only 5- 6% of its citizens own cars. The domestic auto industry is still in its infancy. Vietnam's first-ever car company, VinFast, was established only five years ago and yet here we are; getting ready to drive its first home-grown electric vehicle. One built expressly to compete against established global brands–- just hours after we'd passed a pair of water buffalo herded by a traditional cone-hat-wearing farmer.
The VinGroup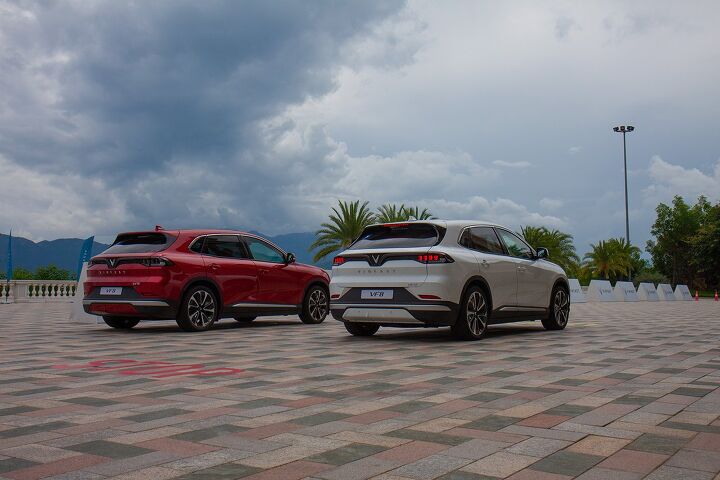 If taking on the best in the industry seems like an absurd goal for a company that until very recently no one outside of East Asia had even heard of, consider this. VinFast's parent company, VinGroup, is a $39 billion corporate juggernaut whose holdings include technology, real estate development, hospitality, retail, and healthcare. From one end of the country to the other, VinGroup's presence is pervasive. It holds flashy five-star resorts, and even entire towns built as self-supporting "eco-systems" with their own markets, hospitals, and schools. There's even Vin Uni, a university that's partnered with Cornell, and counts Ivy League-educated professors among its faculty.
With such vast resources, VinFast was able to turn an 800-acre swampland into a state-of-the art manufacturing facility. The brand produced its first three vehicles all within two years. Much of the research and development for those gas-powered vehicles was gleaned from BMW, which helped VinFast avoid the stumbling blocks encountered by most other startups. This August VinFast announced it would cease production of internal combustion vehicles by the end of 2022. Now, it will concentrate solely on EVs.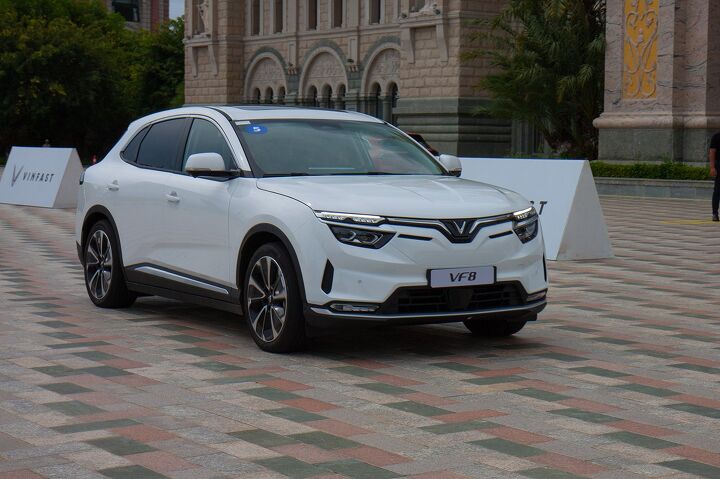 Two models are already in the pre-production stage: the five-passenger VF 8 crossover slated to arrive before the end of the year, and the larger 3-row, seven-seater VF 9 to come later. To avoid the supply issues experienced by other automakers, VinFast's own battery pack assembly department controls every step of production but for the Samsung-supplied cells. Eventually the manufacturer will make those too.
SEE ALSO:
VinFast Introduces 3 New SUVs, Sets Pricing and Renames 2 Others
Proving the company's commitment to the North American market, Vinfast has just bought 1,765 acres in North Carolina. The brand plans for a $4 billion electric vehicle assembly plant which will also produce its own batteries.
Getting to Know the 2023 Vinfast VF 8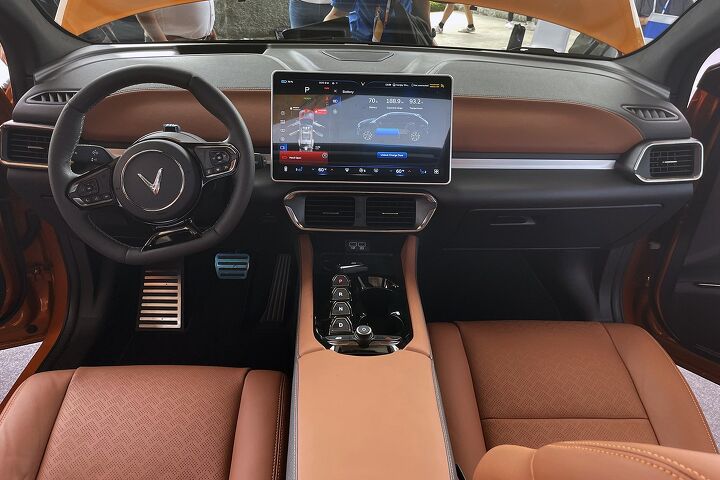 Designed by Pininfarina, the VF 8 crossover has well-balanced proportions, but isn't as flashy as its VF 9 big brother. The front end with its signature flying-V grill is distinctive, whether that's good is entirely subjective. It's best viewed from behind, where the rear wiper is tucked beneath a jutting spoiler atop a raked window. The flying-vee design is repeated in the rear brake light which spans the width of the car and visually widens its stance. At 187 inches in length, 65.4 inches tall, and 74.8 inches wide, it's roughly the size of a Toyota RAV 4, but slightly wider and six inches longer. A compact mid-size if you will.
The cabin is modern, attractive, and appears well-crafted with premium materials. I particularly like the flat-bottom wheel, which seems a portent of good things to come. Clean and uncluttered, the dash is interrupted only by the 15.6" floating horizontal touchscreen. There are no gauges, no tach, nor instrument panel whatsoever. Speed is relayed by the head-up display and info screen. Gear selection is controlled by a row of large push buttons on the centre console, and other functions such as mirror adjustment are accessed through the touchscreen.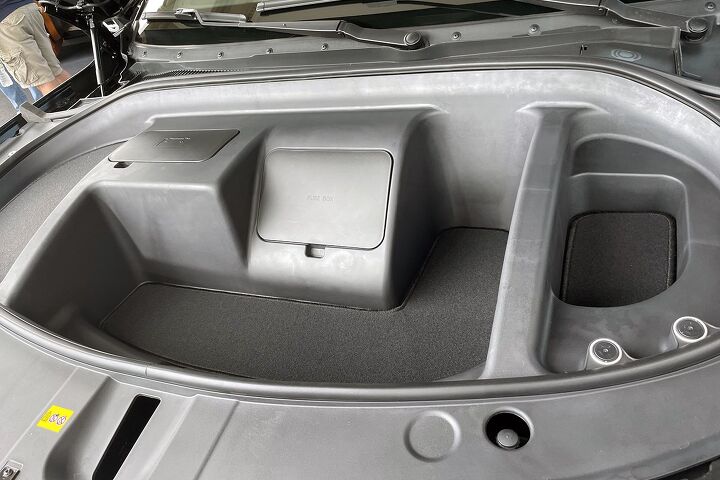 A voice command function activates by saying "Hey VinFast" that adjusts such things as climate, audio, or even the sunroof. Though earlier reports claim it was finicky, it was working well during our drive. A driver-facing camera mounted on the steering column suggests a hands-free driver's assist system will probably be on offer once the VF 8 is in production. There's plenty of room fore and aft, and a modest "frunk" under the hood.
Driving the 2023 Vinfast VF 8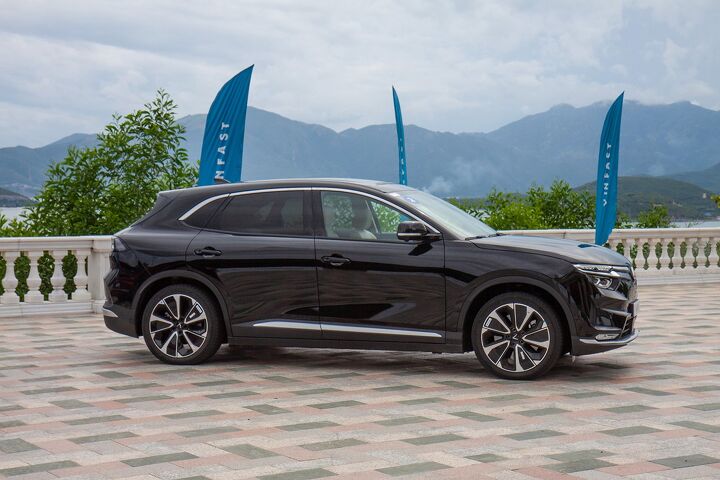 Standard are Navigation, Apple CarPlay, Android Auto, head up display, 360 Surround view system, and a power tailgate. The vehicle also includes ADAS with traffic jam assist, highway assist, adaptive cruise control, lane departure warning, rear cross traffic alert, blind spot detection.
SEE ALSO:
2023 Vinfast VF8 Hands-On Preview: 5 Reasons This New EV Should Be on Your Radar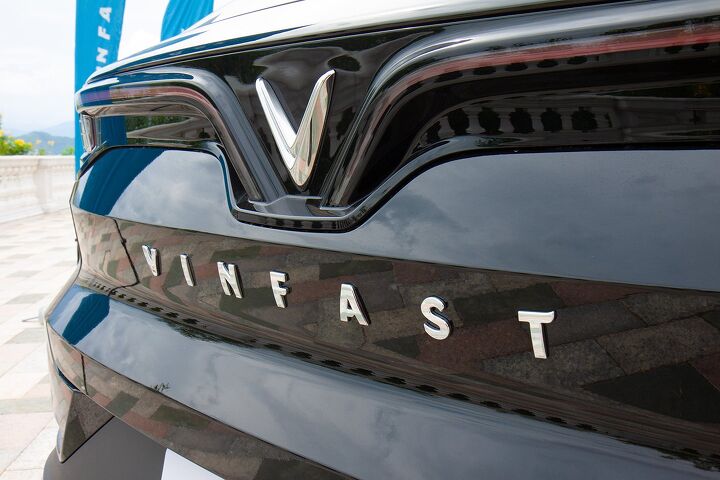 Previous reviewers were limited to short low-speed stints in the factory parking lot. We however were given a few kilometres of steep, winding road with a hairpin turn and a speed limit of 120 km/hr. The dual-motor VF 8 comes with standard all-wheel-drive, and two trim levels; Eco with 349 hp and 369 lb-ft of torque, and the Plus I'm driving with 402 hp/457 lb-ft. It moves off briskly and silently with little road or wind noise. There isn't a lot of body roll, but it feels more softly sprung than most EVs. The ride feels a bit "busy" and lacks the solid composure of the Mustang Mach E, Genesis GV60 or Volvo XC40 Recharge.
Despite the sporty wheel, steering is somewhat vague and overly-boosted with non-linear progression. It's geared more towards ease of supermarket parking lot navigation than brisk jaunts down a mountain road.
Multiple Drive Modes, No One Pedal Driving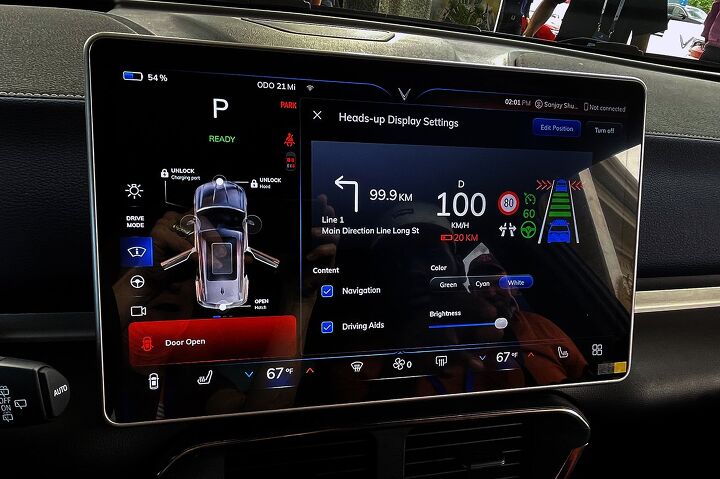 Brake regeneration isn't adjustable for one pedal drive yet. So, you don't get the intuitive modulation of the Lucid Air, or even the binary on/off character of the Nissan Leaf, and Chevrolet Bolt. It slows down when you lift but can't be dialled up enough to bring you to a stop. Hopefully it's something yet to be refined on these pre-production test cars. One-pedal driving recoups more energy thus conserving range, and delivers a sportier connection for the driver.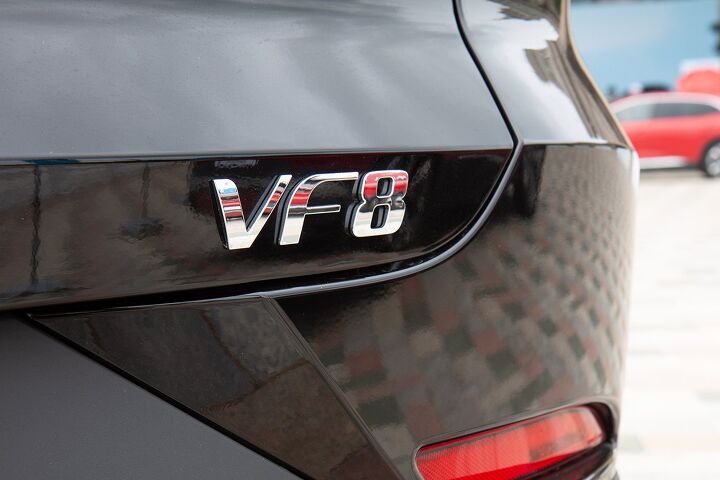 There are three drive modes: Eco, Normal, and Sport. During my first run, I alternated between Eco and Normal. Then I did another run in Sport to see if there were any discernible changes in responsiveness. Acceleration was somewhat better but not even close to the head-snapping blast of the Mach E or XC 40 Recharge and if the steering heft increased it wasn't really noticeable.
SEE ALSO:
VinFast Will Give $7,500 Discount To Pre-Order Customers Regardless Of Federal Tax Credit Status
Regardless of which model you choose, towing is a respectable 3,970 lbs. (1800 kg).
Pricing and Leasing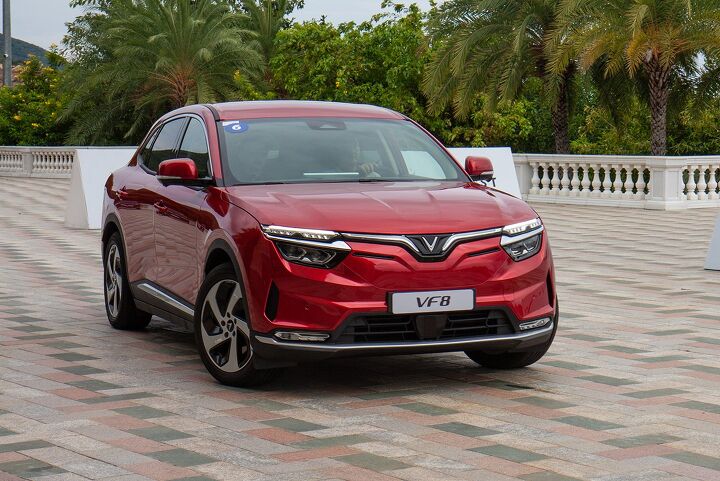 The VF 8 Eco with a range of 260 miles (420 km) starts at $42,200 ($54,990 Canadian). Plus trims (price not available) have a range of 248 miles (400 km). Both have a 10-year, 125,000 mile/200,000 km bumper-to-bumper warranty. VinFast will throw in a free home charger and installation, valued at $849 and $1,000 respectively. However, base prices don't include the battery.
Acquiring a battery means shelling out an extra $10,000. Our test cars feature the standard range 82-kwh battery. A larger extended range option will be on offer as well. But there's more… if you're one of those skeptics who's still suspicious of battery longevity, there are two battery lease programs. First, a flexible subscription that's as low as $39 month with a 500 km/mth restriction, or a $249 fixed monthly plan with unlimited mileage. A battery that fails, or falls below 70% charge capacity is replaced.
2023 Vinfast VF 8 Review: In Conclusion
There's a lot to like about the 2023 VinFast VF 8, and given the brand's determination and ability to make things happen at jaw-dropping speed, it's likely that the company will address any of the vehicle's shortcomings before it reaches production. It can take several years for even the most well-established brands to bring a new vehicle to market. For a new company to produce a solid first EV in a fraction of that time suggests they might just achieve their goal of becoming the next global EV brand.
---
FAQs
How much is a VF 8?
The 2023 VinFast VF 8 starts at a price of $42,200 plus destination and battery charges.
Will VinFast come to USA?
Yes, VinFast plans to be selling vehicles in the United States within the next year. 
What company owns VinFast?
The VinGroup is the parent company of VinFast. 
Become an AutoGuide insider. Get the latest from the automotive world first by subscribing to our newsletter here.
LOVE IT
Impressive interior
Standard Equipment
Passenger space
LEAVE IT
Not overly quick
Busy Ride
Over-boosted steering Published October 6th, 2022 2:00 PM
Popular Articles
Latest Comparisons
Car Buying Tools