36 Views
2015 Volkswagen Golf SportWagen TDI Review
July 14th, 2015 12:19 PM
Share
We're committed to finding, researching, and recommending the best products. We earn commissions from purchases you make using links in our articles. Learn more here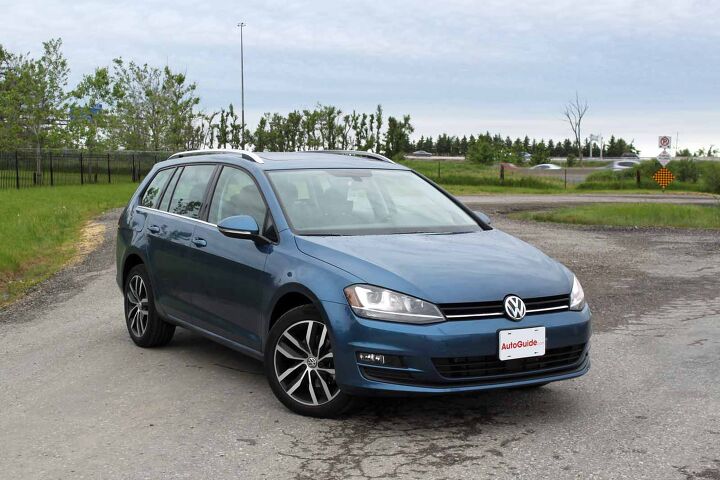 Automakers love to show off their engineering prowess. Dodge is pumping out 707-horsepower muscle cars, Ford and BMW are putting light-weight materials at the forefront of their next generation products, while Toyota and Chevrolet are electrifying everything.
Volkswagen, on the other hand, has a new source of wizardry it's trotting out, and that's the versatile MQB architecture that underpins the new Golf. It might not be as flashy as mega horsepower or a cutting-edge powertrain, but the new platform allows VW to be flexible by using one platform for many purposes. With its ability to be stretched, raised and accompany a number of different powertrains, the German automaker insists that this idea isn't just the future of the brand, but the whole automotive industry.
With the Volkswagen Golf SportWagen, it's showing off the potential of the new setup. Longer and more spacious than the usual Golf hatchback, the Golf SportWagen finds itself in a sweet spot that ends up making it more appealing than many crossovers.
Looks familiar, Looks good
A quick glance at the Golf SportWagen shows us what we already like about the Golf hatchback. It's sharp looking with attractive lines that work well in hiding the size of the vehicle. It's not overly stylish, but the automaker's traditionally conservative design is still attractive. Base models come with 16-inch wheels, while our top-of-the-line tester wears 18-inchers.
See Also: 2015 Volkswagen Golf Review
FAST FACTS
| | |
| --- | --- |
| Engine: | 2.0 L turbocharged diesel four-cylinder, 150 HP, 236 lb-ft. |
| Transmission: | six-speed manual, six-speed dual-clutch automatic |
| Fuel Economy (US): | 31 MPG city, 43 MPG highway, 37.9 MPG observed |
| Fuel Economy (CDN): | 7.7 L/100 km city, 5.4 L/100 km highway, 6.2 L/100 km observed |
| Pricing (US): | Golf Sportwagen TDI S Manual begins at $25,415 after destination charges, as tested $33,955. |
| Pricing (CDN): | Golf Sportwagon Trendline Manual begins at $30,171 after destination charges, $40,567.001 for Golf Sportwagon Highline TDI Automatic. |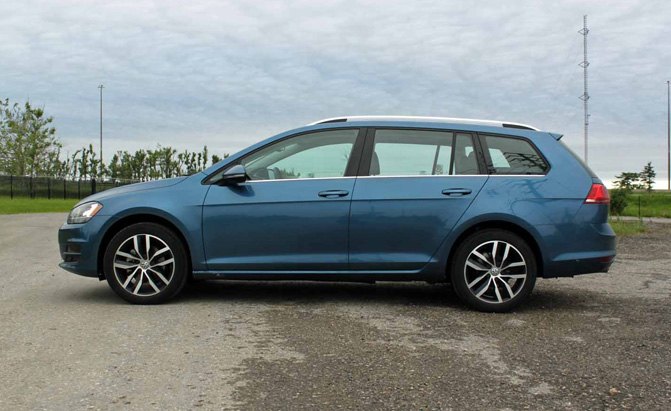 The interior of the car is more than attractive. It's downright spacious. Having to use the vehicle as a makeshift moving van, it manages to swallow far more than I had expected, especially with the rear seats down. Moving boxes, night-stands, lamps and more could be jammed into the car with little regard for Tetris-like organization. Like a member of the US Army Rangers, it didn't leave anyone or anything behind. This practicality is far beyond the usual call of duty for a compact and is surprising even by crossover standards. With 30.4 cubic feet of storage behind the rear-seats and a total of 66.5 cubic feet when those are folded down, the Golf SportWagen offers much more space than other compact crossovers including the German automaker's own Tiguan or the Mazda CX-5.
For passengers and drivers the headroom in the front and rear is more than adequate with the cabin dispelling any fears of claustrophobia thanks to the massive sunroof. Sliding it open gives the wagon a "hair in the wind" experience that you'd only conceive is possible in a convertible.
Interior Touches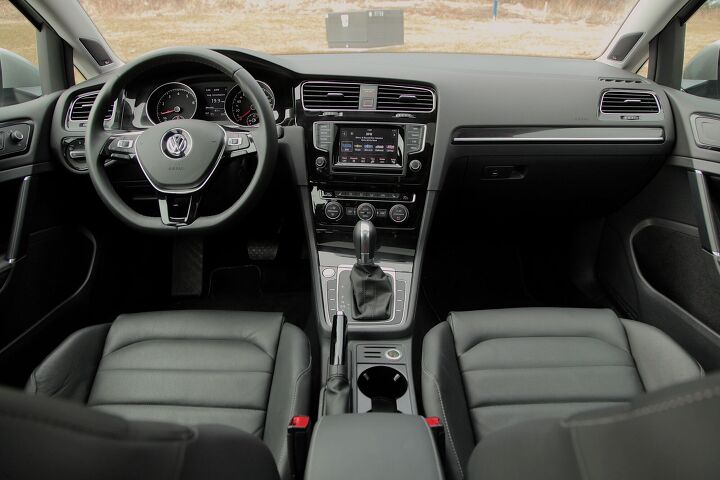 Otherwise, the cabin is suitably premium feeling with an attention to details that is rare to find in other compact cars. I quite like the tactile buttons and knobs that give off a satisfying feeling of responsiveness. One press or twist of a control and you're rewarded with a nice clickity reaction that lets you know your command was registered.
Another small detail I fell in love with is the fan speed knob's LED lights that illuminate around its circumference, giving you a great visual indication of what setting you're on. It's a small touch, but one that gives the Golf a modern design aesthetic.
Finally, the new infotainment system is quick and responsive, with clear graphics. A rarity in modern vehicles, the infotainment system is simple to use and stable. In addition to the infotainment system, the crisp display that's found between the gauge clusters is also handy. It provides a ton of information and is controllable by the buttons on the steering wheel.
Under the Hood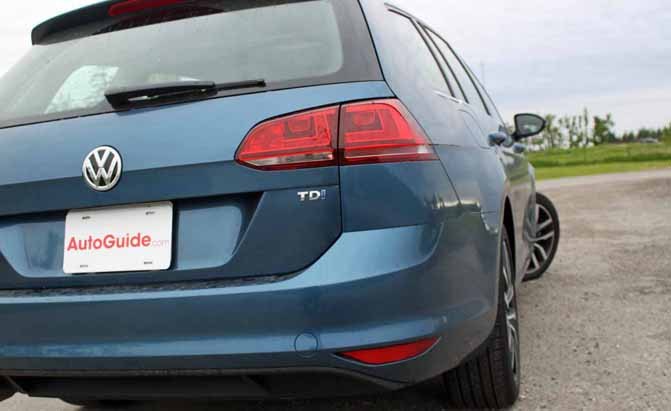 The model tested was equipped with the 2.0-liter four-cylinder turbocharged diesel that's been updated for 2015. It makes 150 hp and 236 lb-ft of torque, but the really impressive specification comes later, with the fuel economy. The diesel is an extra cost model, as base models come with a 1.8-liter turbocharged four-cylinder engine that makes 170 HP.
For a diesel, you would be hard pressed to know it by the usual tell-tale signs of vibration and noises. The cabin is very well insulated. Sure the 2.0-liter turbo diesel sports a cringe-worthy grumble, but it's only really heard when the window is lowered.
The Drive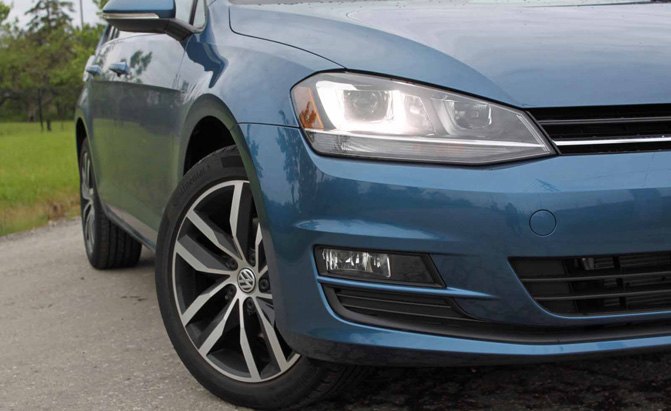 The first flat footed moment of the Golf Wagon TDI floods you with torque which helps to hide the relatively weak horsepower. And, that oomph comes with the added advantage of fantastic fuel economy. Our week with the car included short drives through the city, long drives into the countryside and just about everything in between and through it all, the trip computer wouldn't budge from 37.9 mpg.
But the diesel motor is just one part of the MQB combination that delivers such great fuel efficiency. The architecture itself is light, weighing in at 3,246 lbs, or about 300 lbs. lighter than a Tiguan, and lighter still than most mid-sized sedans.
Throw in Volkswagen's never dawdling dual-clutch transmission, and you've got a wagon that's not only frugal with fuel but fun to drive too. It's likely been stated before, but VW's DSG transmission sets the bar very high for other front-wheel drive dual-clutch units out there and I doubt anything has come close to delivering the smooth, swift shifts of this self-shifting transmission.
The rest of the car behaves appropriately like a Golf, showcasing the merits of the MQB platform. There's no jitter or shakiness that can be associated with a cheap compact car, and there's limited body roll that's expected from a higher riding crossover. The suspension, which skews a bit on the stiffer side than soft, delivers that confident, engaging driving feel that European sedans often exude.
The car-like dynamics make the wagon easy to drive in tighter quarters and a friendly companion in the city.
However, the extra caboose of the Wagon is hard to ignore. It's not unwieldy in tight spots, but some turns that could be accomplished with a U-turn in a compact, turned into a three-pointed affair in the Golf SportWagen.
On highways and open country roads, the SportWagen was smooth and comfortable. Add in the great fuel economy during those kinds of travels and this comfy compact makes itself a favorite for families.
What can't be ignored by folks considering a crossover is how the Golf SportWagen can't be had with all-wheel drive. While VW now includes an impressive electronic differential that helps to improve stability, cornering and handling performance, for many who drive through inclement weather, it would likely be better to buy a crossover with all-wheel drive. Honestly though, we're looking forward to taking another look at this wagon in the wintertime to back up those claims.
Features and Pricing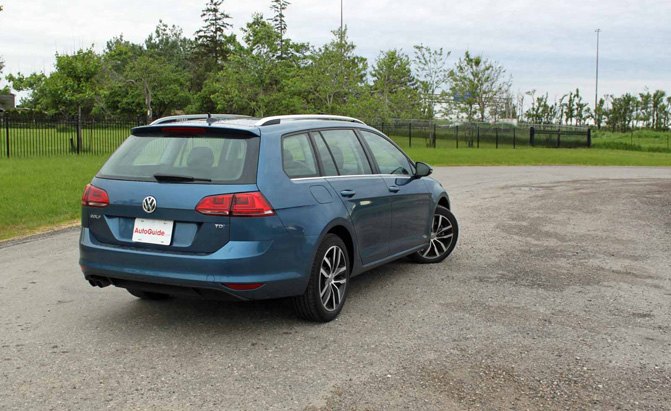 Getting into a diesel Golf SportWagen will set you back $25,415, which isn't exactly cheap when you consider a diesel Golf Hatchback costs about $2,000 less. Base Tiguans on the other hand cost about $2,000 more, helping to solidify the sweet spot in the VW lineup that the Golf SportWagen sits in. All models of the TDI equipped SportWagen come with a six-speed manual transmission, keyless entry, a push-button start, a touchscreen audio system and a rear-view camera.
The dual clutch transmission is an extra $1,100, which our fully loaded SEL model was equipped with, ringing the register at $33,955. That included the lighting package, which added Bi-Xenon headlights and cornering lamps that help illuminate where you're going in a turn. The car also included a driver assistance package that aided with parking distances and warned you when following too closely.
Other highlights that SEL models come equipped with include navigation, heated leather seats, dual-zone automatic climate control, an upgraded Fender audio system and the previously mentioned panoramic sunroof. The spiffy 18-inch wheels are also a part of this trim level.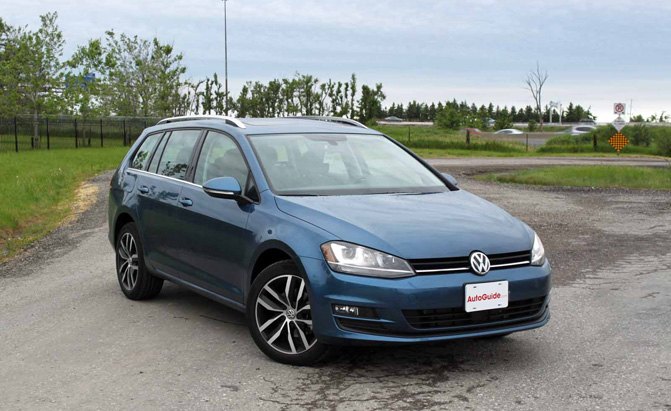 The Verdict: 2015 Volkswagen Golf SportWagen TDI Review
It's easy to like the Golf SportWagen thanks to its great driving dynamics, fuel efficiency and styling that's shared with the traditional Golf hatchback. While this car isn't going to revive the wagon market, it is a fantastic option for those coveting a crossover for their additional space and car-like driving style. If all-wheel drive isn't on your must-have list, this car will easily trump the compact crossovers available on the market.
LOVE IT
Lots of space
Easy to Drive
Fuel Economy
Quiet
LEAVE IT
Pricey
Longer than a compact
No AWD

Sami Haj-Assaad
Sami has an unquenchable thirst for car knowledge and has been at AutoGuide for the past six years. He has a degree in journalism and media studies from the University of Guelph-Humber in Toronto and has won multiple journalism awards from the Automotive Journalist Association of Canada. Sami is also on the jury for the World Car Awards.
More by Sami Haj-Assaad
Published July 14th, 2015 12:18 PM
Popular Articles
Latest Comparisons
Car Buying Tools