62 Views
August 25th, 2023 2:38 PM
Share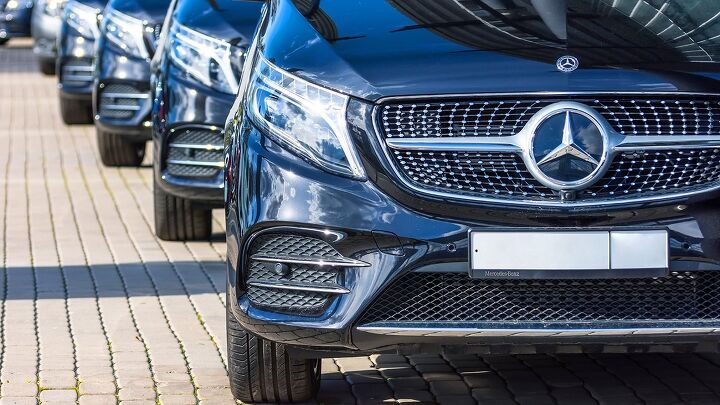 To learn more about our editorial integrity policy and how we make money through affiliate partnerships, read our full disclosure here.
---
All new and certified pre-owned Mercedes vehicles come with a Mercedes warranty, a guarantee that the manufacturer will cover certain repairs for the initial duration of your ownership.
In this article, we'll help you understand the Mercedes warranty and the certified pre-owned warranty offered by the manufacturer. We'll also recommend the best extended warranty companies so you can continue to enjoy maximum peace of mind on the road after your factory Mercedes-Benz warranty expires.
To go ahead and get free quotes for extended coverage, use the buttons above.
Table of contents
What Does the Mercedes-Benz Warranty Cover?
The Mercedes-Benz warranty covers most vehicle components for up to 4 years/50,000 miles. There are a number of additional warranties that come with new Mercedes-Benz vehicles that cover emissions components and hybrid batteries.
Here's a breakdown of the Mercedes warranty plans that come with all new vehicles:
Mercedes Warranty

Term Length

Coverage Details

Basic Warranty

4 years/50,000 miles

Covers defects in materials or

workmanship for nearly all car parts

Emissions Warranty

8 years/80,000 miles

Covers the air induction system, fuel metering system, ignition system, fuel evaporative control systems, and more in accordance with federal emissions guidelines

Plug-In Hybrid Electric High Voltage Battery Limited Warranty

10 years/150,000 miles

Covers defects in material or

workmanship in high-voltage batteries

Vehicle Service Parts and Accessories Limited Warranty

2 years/unlimited miles

Covers genuine Mercedes-Benz parts, equipment, and factory-improved accessories, including the transmission
Under Mercedes Basic Warranty coverage, tires are also covered for 12 months or 12,000 miles, whichever comes first.
The Mercedes warranty is effective in the US, Canada, and Puerto Rico. If you take your car to another country, your limited warranty will last for 2 years/unlimited miles.
Mercedes Warranty Exclusions
No factory car warranty covers every repair. Mercedes-Benz warranty exclusions are as follows:
Tire and rim damage due to road hazards
Wheel alignments or adjustments
Brake pads and discs
Wiper blades and inserts
Damage due to accidents, misuse, abuse, and neglect
Damage due to lack of maintenance, aftermarket alterations, or improper body repairs conducted outside of the Mercedes dealerships
Normal scheduled and recommended maintenance items
Environmental damage or damaged glass parts
Mercedes Warranty for Certified Pre-Owned Vehicles
If you own a certified pre-owned (CPO) Mercedes-Benz, it is covered under the remainder of the Basic Warranty, plus an additional 12 months or up to 100,000 total miles of coverage. This means that your CPO Mercedes will be covered for a maximum of 5 years/100,000 miles from the vehicle in-service date.
To see if your CPO Mercedes is still covered under its Mercedes warranty, call your local dealership and give a salesperson your vehicle identification number (VIN). The dealership will be able to tell you the status of your Mercedes-Benz warranty.
Do You Need Extended Warranty Coverage?
Because luxury vehicles are more expensive to maintain and repair, an extended Mercedes warranty could be well worth the cost to protect you from paying hefty repair bills if your car breaks down.
According to RepairPal, Mercedes vehicles have an annual average repair cost of $908, which is much higher than the industry average of $652. Additionally, RepairPal gives Mercedes-Benz a 3.0 out of 5.0 Reliability Rating, which places it 27th out of 32 car brands in terms of dependability.
Because of the automaker's high repair costs and low reliability, a Mercedes-Benz extended warranty may be a great investment. However, if you'd feel comfortable paying for unexpected repairs out of pocket as they pop up, then you likely don't need extra coverage.
If you are interested in extending your Mercedes warranty coverage, you have the option of buying an extended warranty from the manufacturer or from a reputable extended car warranty company.
Mercedes Extended Warranty Options
Before your Mercedes warranty expires, you have the option to lengthen your coverage by an extra one, two, or three years and up to 100,000 miles. Unlike some manufacturers that have a range of extended coverage, Mercedes only offers one plan: the Mercedes-Benz Extended Limited Warranty, an extension of its Basic Warranty.
You can purchase extended warranty coverage at any time before the expiration of your original Mercedes warranty.
Perks that come with Mercedes extended warranty plans include rental car reimbursement, roadside assistance, and trip interruption coverage.
Benefits of a Third-Party Extended Warranty
Third-party extended warranty coverage will be different depending on which provider you choose, but there are some general pros and cons of vehicle service contracts:
| Pros of a Third-Party Extended Mercedes Warranty | Cons of a Third-Party Extended Mercedes Warranty |
| --- | --- |
| Typically, these plans are more affordable than factory extended car warranties. | For luxury vehicles, coverage can be harder to find. |
| Covered repairs can be completed at any licensed repair facility or at a dealership. | A Mercedes warranty from a warranty company won't have been designed specifically for Mercedes vehicles. |
With any extended car warranty, there is a chance that you may never wind up needing the coverage that you pay for if your Mercedes never breaks down. However, extended warranties are a good idea for drivers looking for maximum peace of mind on the road.
Because Mercedes models are luxury vehicles, finding third-party Mercedes warranty coverage may not be as easy as it is for standard vehicles. Fortunately, a few of our top-rated providers, including Endurance, CARCHEX, and Protect My Car, do service Mercedes vehicles.
---
Published November 25th, 2022 2:52 PM
Popular Articles
Latest Comparisons
Car Buying Tools