185 Views
Montway Auto Transport Reviews
April 28th, 2023 5:36 PM
Share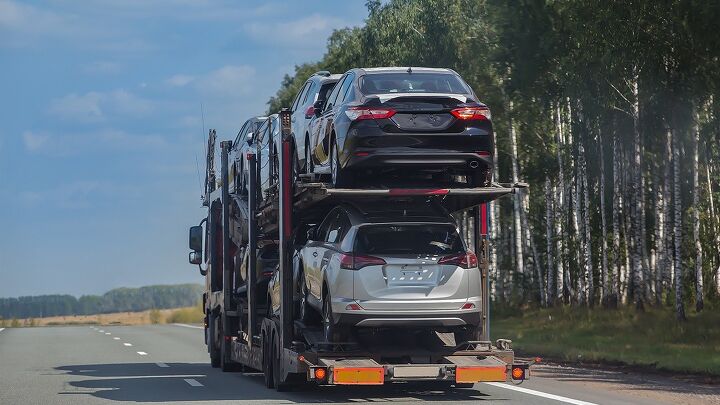 To learn more about our editorial integrity policy and how we make money through affiliate partnerships, read our full disclosure here.
With over 15,000 verified carriers in its network and more than 15 years of experience, Montway Auto Transport is one of the country's most popular car shipping companies. We decided to take a closer look at the provider by researching Montway Auto Transport reviews, standard features, average costs, and car shipping services.
Our findings show that Montway Auto Transport stands out as one of the industry's best car shippers. A registered and licensed broker, Montway Auto Transport doesn't independently ship vehicles but collaborates with top car carriers nationwide to ensure safe, timely car shipments. The auto transport company receives relatively high marks for its offerings, prices, and customer service.
| | |
| --- | --- |
| Pros | Excellent rates, strong industry experience, easy shipment tracking |
| Cons | No guaranteed pricing, only door-to-door shipping |
| Bottom Line | Montway Auto Transport gets 4.6 out of 5.0 stars because of its sterling reputation, quality shipping practices, and low rates. |
Table of contents
Montway Auto Transport Rating: 4.6 Stars
After our thorough Montway Auto Transport review, we give the company 4.6 out of 5.0 stars and name it the industry's Best Overall option. The broker consistently provides competitive rates, smooth transactions, and excellent additional features. From our research, Montway Auto Transport reviews support these conclusions.
Montway Auto Transport doesn't offer guaranteed pricing on quotes, so your final bill may be different from your original quote. Some customers have complained about the company's cancellation fee of $199, but similar fees are pretty standard across the industry. Since Montway Auto Transport reviews are mostly positive, we consider these drawbacks to be minor.
| | |
| --- | --- |
| Reputation | 4.9 |
| Price | 4.3 |
| Services | 4.8 |
| Customer Service | 4.6 |
Montway Auto Transport Overview
Founded: 2006
Headquarters: Schaumburg, Illinois
Availability: US mainland, Hawaii, Alaska, and international locations
Montway Auto Transport has been offering car shipping services for over 15 years from its headquarters just outside of Chicago. According to Montway Auto Transport reviews, the company's rates are far below average but its quality of service is among the industry's best.
The provider holds excellent customer service ratings online, with many Montway Auto Transport reviews noting the quality of its customer support. While Montway is an auto transport broker that doesn't move vehicles itself, the company's network of 15,000 vetted truckers is among the largest collections of carriers around.
How Popular Is Montway Auto Transport?
Our 2021 car shipping survey polled 1,000 customers and found that 24 percent of them used Montway Auto Transport to move their vehicles. That makes it one of the largest car shipping companies in the country. Listed below are the findings from our survey: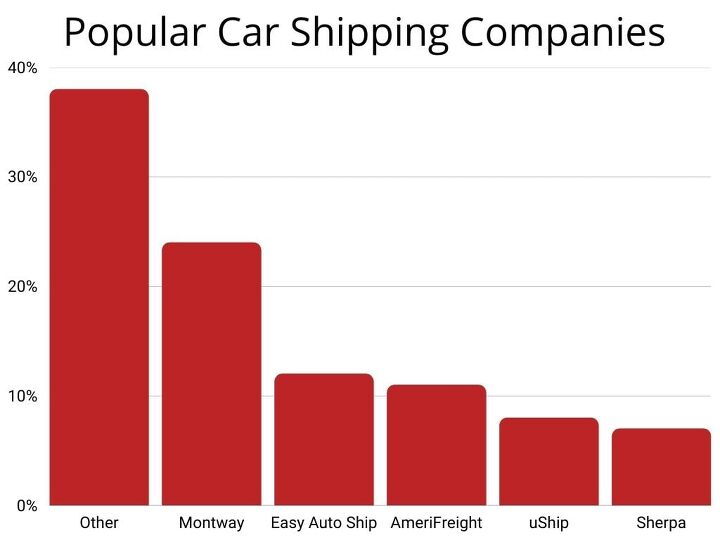 Montway Auto Transport reviews mention that it's one of the best car shipping companies on the market, and our findings reveal that it's also an extremely popular choice.
Montway Auto Transport Cost
While car shipping prices vary depending on many factors, Montway has provided a guideline for how much auto transport might cost. The rates below are just estimates, but they reveal how much you could pay:
$1.96 per mile for distances of 0 to 500 miles
93 cents per mile for distances of 500 to 1,500 miles
58 cents per mile for distances above 1,500 miles
According to Montway Auto Transport reviews, the company offers some of the industry's best prices. Regardless of whether your shipment follows the above estimates exactly, you'll probably receive an excellent offer from the car shipping provider.
Montway Auto Transport Sample Rates
We reached out to Montway Auto Transport and requested enclosed trailer and open trailer quotes for two vehicle types. We secured the quotes below for a 1,547-mile shipment from Los Angeles to Houston during January, an expensive month for car transport.
Vehicle Type

Shipping Method

Cost

Toyota RAV4

Open transport

$929

Enclosed transport

$1,339

BMW 7 Series

Open transport

$1,059

Enclosed transport

$1,279
One thing to keep in mind: Montway Auto Transport doesn't offer guaranteed pricing, so your final cost may end up being higher than your original rate.
Since many factors affect pricing, consider these rates as estimates. Your shipping cost might be different even with the same vehicle, the same transport method, and a comparable distance. The best way to get an accurate shipping estimate from Montway Auto Transport is to request a free, instant quote.
What Factors Affect Car Shipping Costs?
According to Montway Auto Transport reviews, the following factors may affect your car shipment costs:
Distance: The farther you need to ship your car, the more it will generally cost. Montway Auto Transport's price per mile goes down as your shipping distance goes up.
Pickup and drop off methods: Unlike some competitors, Montway Auto Transport doesn't offer the cheaper option of terminal-to-terminal shipping. The company does provide the more convenient but usually more expensive choice of door-to-door shipping.
Shipment type: Montway Auto Transport provides open transport and enclosed transport shipping options. Open shipping is cheaper but leaves your vehicle exposed to weather and road hazards. With enclosed shipping, your car is shipped inside a trailer with more protection at a much higher price.
Type of car: In general, larger cars are more expensive to ship. Vans, SUVs, and trucks will likely cost more than sedans and other small passenger vehicles.
Time of year: Car shipping costs fluctuate throughout the year. January and the summer season are typically the most expensive times to transport a car.
Vehicle operability: Drivable vehicles are cheaper to ship than inoperable ones.
Pickup date and delivery date: Auto transporters' availability changes depending on the date, so this can easily influence the cost of shipping your car.
Once again, the best way to determine your car shipping costs is to ask for free quotes from Montway Auto Transport. It's wise to compare rates from multiple providers, too.
Montway Auto Transport Discounts
While its website contains limited information on discounts, Montway Auto Transport reviews routinely mention multiple ways to lower your rates. A few commonly applied savings from the company include a military discount, a returning customer discount, and a multi-vehicle discount. The best way to learn about potential savings is by reaching out to a Montway Auto Transport representative.
Truckers prefer to get paid in cash, so Montway Auto Transport also offers a discounted cash price for those willing to forgo a credit card or personal check. If you'd like to take advantage of this discount, make out your payment in the form of either a money order or a cashier's check.
How Much Does It Cost to Ship a Car?
Most motorists spend between $1,000 and $2,000 when using one of the best auto transport providers. Keep in mind that exact pricing is often determined by your vehicle make and model, the distance moved, and your chosen car shipping services. Listed below are some cost details from our 2021 auto transport survey: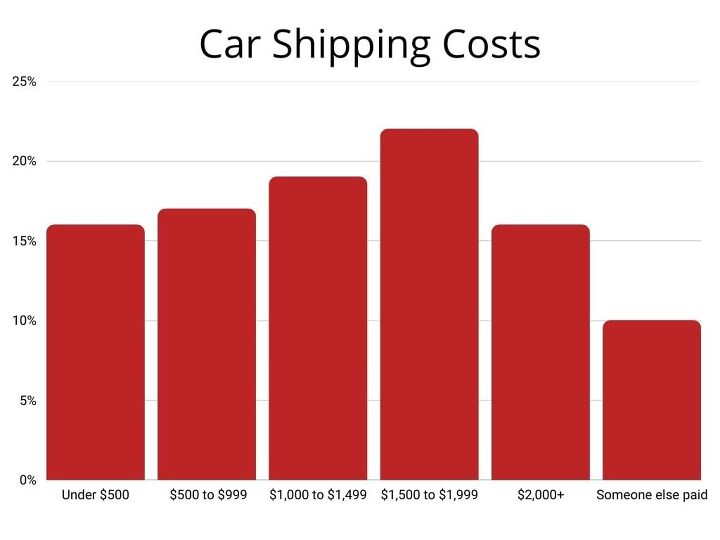 According to Montway Auto Transport reviews, most drivers find extremely competitive rates from the company. It's always smart to compare car shipping costs from multiple auto transport companies and brokers before picking Montway, though. Doing so could potentially save motorists considerable money as they move through the auto transport process.
Montway Auto Transport Shipping Services
Montway Auto Transport offers shipping to and from all 50 states, including Alaska and Hawaii, as well as to international spots. Whether you're looking for a transit across Texas or a cross-country move from Washington to Florida, or New York to California, Montway Auto Transport can cover your needs.
In addition, the company provides nearly every standard type of car shipping. If you're looking for a specific auto transport method, there's a strong likelihood Montway Auto Transport will be able to fulfill your request. Below, we've listed some services that Montway Auto Transport reviews often mention:
Open Carrier Transport
While open carrier is the cheapest method of moving a car, damage is more likely since your vehicle is exposed to the elements. Still, it's the most common method of vehicle shipping on the market today.
Enclosed Carrier Transport
This is the best method for moving expensive vehicles and classic cars, as your car will sit inside of an enclosed trailer. It's more expensive than open carrier transport, but offers valuable protection for your vehicle.
Expedited Shipping
If you need your vehicle to be moved immediately, Montway Auto Transport can expedite the shipping process. Expect to pay a premium for this shipping type, though.
Guaranteed Pickup Dates
It's possible to select a pickup date with the assurance that your vehicle will begin transport with Montway immediately. Due to the potential for on-the-road disturbances, Montway Auto Transport will not offer guaranteed delivery dates.
Door-to-Door Transport
Montway Auto Transport will pick a car up at your front door and take it straight to your specified delivery location. Many of the other best car shipping companies offer terminal-to-terminal shipping as well, which is less expensive but adds some hassle to the delivery process.
Car Shipping to Hawaii, Alaska, and Puerto Rico
If you need your car shipped long-distance to the Aloha State, the Last Frontier, or the Isle of Enchantment, Montway Auto Transport has you covered. Not all auto transport companies can take care of such long-distance deliveries, so it's a definite plus for Montway.
International Car Shipping
Montway Auto Transport can accommodate car shipments headed across the globe. Whether you're relocating to London, taking a new job in Japan, or headed south to Mexico, you'll face no challenges when you choose Montway Auto Transport.
Motorcycle and Classic Car Transport
If you're looking to move your bike or a classic vehicle, Montway can securely and efficiently transport it to your new address. Expect to use enclosed transport shipping for a delivery of this kind, since both motorcycles and classic cars should be handled with care.
Not Available: Terminal-to-Terminal Transport
The one major service not offered by Montway Auto Transport is terminal-to-terminal transport. With this shipping method, you can have vehicles dropped off at a port or terminal instead of your house. While terminal-to-terminal shipping is generally cheaper than door-to-door service, Montway Auto Transport reviews still speak of competitive rates.
Montway Auto Transport Extra Services
Here are some services commonly mentioned in Montway Auto Transport reviews that may make your auto shipping experience easier:
GPS tracking with live support: Montway Auto Transport offers GPS tracking on its shipments. At Montway.com, you can access real-time information about your shipment from the company's 24/7 online chat feature.
Free personal goods shipping: The auto transporter lets you ship an additional 100 pounds of personal items in the trunk of your vehicle at no additional charge.
Montway Auto Transport reviews speak highly of the company's GPS tracking abilities, which outshine nearly all of the competition. It's also rare to find auto transporters that are willing to ship an amount of personal goods in one's vehicle, as Montway Auto Transport allows.
Montway Auto Transport Insurance Coverage
Any time you ask for car shipping quotes online from Montway Auto Transport, you'll receive complimentary insurance coverage from the car carrier. Expect to get up to $100,000 of inland marine cargo insurance from the auto transporter that moves your vehicle.
Montway Auto Transport reviews speak well of the company's contingent cargo insurance policy, which offers protection for up to $250,000 in case your car carrier refuses to fully cover damages from a valid claim. While you'll likely not need these added protections, they're nice to have for added peace of mind.
While your vehicle is being transported by sea, the oceanic transporter is responsible for covering all damages. This should only apply for those shipping a car to Hawaii, Alaska, Puerto Rico, or international destinations.
Montway Auto Transport Reviews
Montway Auto Transport holds a 4.6-star rating out of 5.0 on Trustpilot based on over 1,000 reviews, and a 4.6-star rating on Google from more than 6,500 reviews. Montway Auto Transport reviews from customers on the Better Business Bureau (BBB) website average 4.5 out of 5.0 stars. The company has BBB accreditation and carries an A+ rating from the BBB.
Positive Montway Auto Transport Reviews
Satisfied Montway customers consistently report top-notch service and excellent communication. Seventeen percent of reviews specifically mention customer service in a positive light.
"Very professional and reliable. Driver had to wait at the dealership for at least a half hour for my vehicle. Arrived … with no damage. I was kept informed of estimated delivery times."– Dara I. via BBB
"Regular updates and all the necessary information, including direct contact info for the transport driver, were provided throughout the process. Delivery was timely, and the car was dropped off as promised, with nary an issue."
– A.M. via Trustpilot


Negative Montway Auto Transport Reviews
Naturally, not all customers report a positive experience with Montway Auto Transport. However, most frustrations stem from issues with contracted motor carriers instead of Montway.
"The only issue I had with it was that the pickup was earlier than originally scheduled, so I had to do some last-minute scrambling, and I also had to arrange for someone else to pick my car up on my behalf, as it arrived before I could arrive."– Billy L. via Google
"Montway moved my car to the correct location. The vehicle was picked up a day late, and I was not notified of the delay. The driver did show up the next day and delivered it a day early, so it all worked out. Better communication would have alleviated my concerns."
– Mark E. via BBB


Is It Worth It to Ship a Car?
Plenty of drivers wonder whether shipping a car is really the right choice for their relocation. This is especially true of first-timers and others who have no previous experience with auto transport providers.
Our 2021 auto shipping survey found that those who've used car shipping companies before are generally satisfied with their services. The large number of positive Montway Auto Transport reviews found online seem to back up our customer satisfaction data, which can be found below: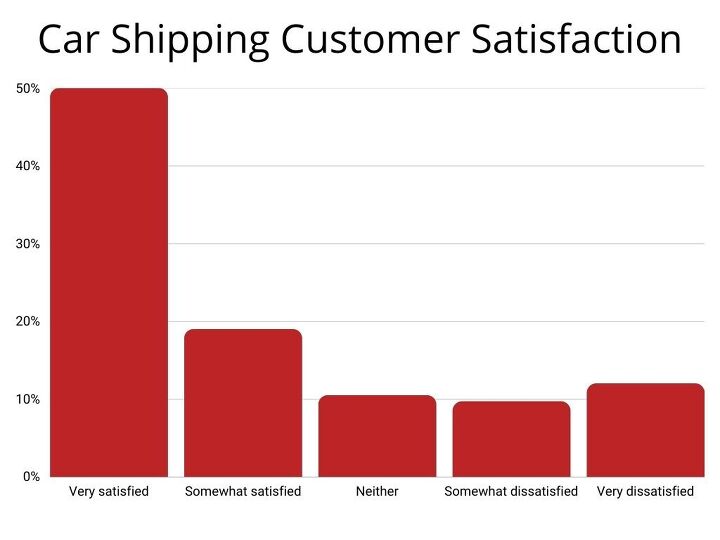 Most car shipping customers have pleasant experiences with their providers, and Montway Auto Transport reviews make clear that this is equally true of its services.
How to Contact Montway Auto Transport
According to Montway Auto Transport reviews, the company is easy to reach. The main phone number is 888-666-8929, which is where you can talk with a company representative or receive GPS tracking details. By logging onto www.montway.com, you'll also have access to a customer service bot that can answer questions, help you find what you're looking for, and put you in an online chatroom with an actual representative.
Montway Auto Transport's business hours are:
Monday through Friday, 6 a.m. to 10 p.m.
Saturdays, 8:30 a.m. to 6 p.m.
Sundays, 9 a.m. to 9 p.m.
All of these hours are Central Time. If you prefer connecting via live chat, the company keeps the service available every day from 6 a.m. to midnight.
Montway Auto Transport Refund Policies
The cancellation procedures with Montway Auto Transport are relatively simple to understand. If your vehicle has not yet been assigned a driver, your payment is fully refundable. Those who wait until an order has already been dispatched will still be able to cancel, but they'll have to pay a $199 service fee.
Our #1 Rated Provider
Montway Car Shipping: Conclusion
We believe Montway Auto Transport is a good option for pretty much anyone who needs to ship a vehicle. However, we always recommend getting online quotes from several providers before making your final decision.
Montway Auto Transport Competitors: Top Picks
Below are two other auto shipping companies to look into.
Easy Auto Ship: Best Added Benefits
Easy Auto Ship is a low-cost car shipping company with great rates and standout benefits, and Easy Auto Ship reviews are mostly positive. Additionally, the company will reimburse you for a rental car if it takes more than two weeks for your car to arrive.
Easy Auto Ship will also reimburse up to $20 for a car wash if your car arrives dirty. Unlike many competitors, the company offers guaranteed pricing and shipping for RVs and farm equipment.
Overall rating: 4.5 out of 5.0 stars
Best Added Benefits
Sherpa Auto Transport: Best for Locked-In Rates
Sherpa Auto Transport reviews reveal that the company offers competitive rates and services that can match the best auto transport providers. The guaranteed pricing found in Sherpa's Price Lock Promise makes the provider an enticing choice for shoppers who don't want surprises when signing the bill of lading.
Similar to Easy Auto Ship, Sherpa offers what it calls a Clean Car Guarantee, which is a $20 reimbursement for a car wash within seven days of your vehicle's delivery. You just have to mail your bill of lading and car wash receipt to Sherpa within 30 days of your car's arrival.
Overall rating: 4.5 out of 5.0 stars
Best for Locked-In Rates
Our Shipping Review Standards
Our review team prides itself on sharing accurate and unbiased information with consumers. We have accumulated data from dozens of car shipping companies to formulate our rankings of the industry's best providers. Auto transporters receive a score out of 5.0 overall, as well as a rating in each of the following categories:
Price: Comparing providers can be difficult due to the many factors that influence cost. To determine this score, we employ a secret shopper analysis using different vehicles, distances, and routes.
Services: A wide variety of services is essential to support the differing needs of customers. We take into account the types of services available, insurance coverage, and the ability to guarantee pickup and dropoff dates. We also consider whether a car transport company is a broker or a provider.
Customer Service: The level of customer service and care provided by a shipping company is an important consideration. Our review team sifts through customer reviews and complaints from reputable sources such as the Better Business Bureau (BBB) and Trustpilot. We also consider the responsiveness of each company's customer service team based on our secret shopper analysis.
Reputation: Good auto shipping providers consistently provide quality experiences. Our team takes into account BBB ratings and the company's history of reliable service when giving this score.
---
Q & A
Is Montway Auto Transport legitimate?
Montway Auto Transport is a legitimate car shipping company, and one of the most popular vehicle transport providers in the country. Montway completed 140,000 shipments in 2020 alone and generally has very positive customer reviews online.
How long does Montway Auto Transport take?
The time it takes to ship your car with Montway Auto Transport varies depending on your shipping needs and Montway's carrier availability. In general, Montway Auto Transport reviews say it takes one to nine business days for a car delivery.
What is the most reliable auto transport company?
We found that Montway Auto Transport, Sherpa Auto Transport, AmeriFreight, and Easy Auto Ship offer standout auto transport services at affordable rates.
Is Montway Auto Transport a broker?
Montway Auto Transport is a fully licensed broker registered with the US Department of Transportation. Montway doesn't ship your vehicle, but connects you with one of the 15,000 motor carriers in its network. Montway Auto Transport vets each carrier individually to ensure it meets Montway standards.
How much is the Montway service fee?
While there is no service fee for using Montway Auto Transport, you will typically pay a certain amount per mile. Expect to spend about $1.96 per mile for short shipments, close to 93 cents per mile for medium distances, and near 58 cents per mile for long distances.
Who owns Montway Auto Transport?
Dimitre Kirilov is the president of Montway Auto Transport, but the company was founded in 2006 by business partners Mike Mihaylov and Galya Svetlieva. The company is headquartered in the Chicago suburb of Schaumburg, Illinois.
Published November 25th, 2022 2:30 PM
Popular Articles
Latest Comparisons
Car Buying Tools