1 View
Gift Your Favorite Auto Mags This Holiday
February 13th, 2019 9:38 AM
Share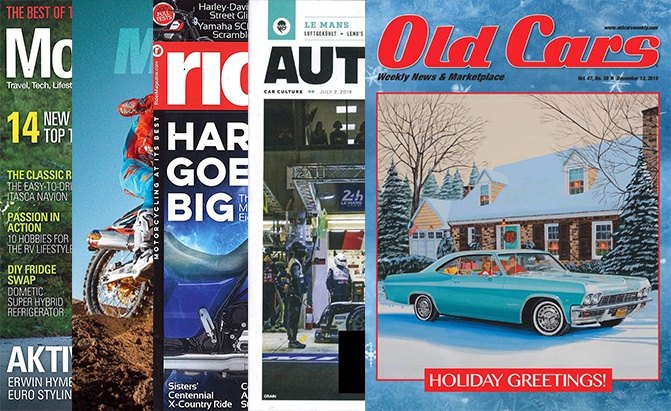 For instant news, the web is obviously where it's at, but there are many of us that are still bound to the physical connection of reading. That in mind, we went on the hunt for interesting magazine options for the automotive, motorcycle, and RV enthusiast, all of which make an interesting (and affordable) gift this holiday season. Of all places, Amazon actually offers a good number of magazine subscriptions in all categories, and skimming through the list there are a handful of interesting titles to choose from. Coming in at between 67% and over 80% off of the cover price, these are the titles that caught our eye.
RIDER (1yr/12 issues, $15) — In the print world, many view Rider as the benchmark against which motorcycle magazines are measured. In depth features and reviews grace its pages alongside road trip narratives and other goodies. $1.25 per issue? ABSOLUTELY worth it.
TRANSWORLD MOTOCROSS (1yr/12 issues, $6) — A mix of motocross racing news, new moto reviews, interviews, and photography is the name of the game with Transworld Motocross. Considering your average motocross/motorcycle mag will run you $5 or $6 on the newsstands to begin with, we can't help but wonder how Transworld Motocross is making any money here.
AUTOWEEK (1yr/24 issues, $24) — Under the peculiar banner of "America's only fortnightly enthusiast magazine, Autoweek gets into the nitty-gritty of automotive and motorsport industry happenings. At a buck an issue, you can't really go wrong.
OLD CARS (1yr/38 issues, $31.84) — Know someone who's always hunting for a bargain on a classic car, or someone who still religiously browses the for sale section of the local paper? Old Cars Weekly is a total throwback, focusing primarily on for sale/wanted ads.
MOTORHOME (1yr/12 issues, $19.97) — One of the only dedicated (if not THE only) motorhome-focused mag on the market today, these guys dig into every facet of the world of living on the road. Bus conversions, DIY repairs, destinations, and other topics are all part of the monthly fare.
Published December 14th, 2018 3:21 PM
Popular Articles
Latest Comparisons
Car Buying Tools