466 Views
Top 10 Best Porsche Gifts
May 2nd, 2023 2:26 PM
Share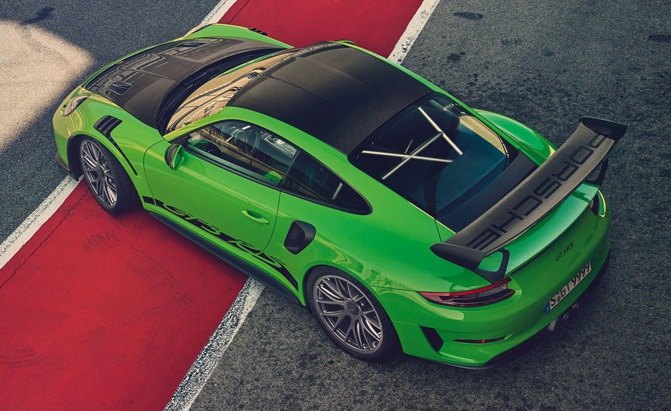 There aren't many automotive brands that people get more enthusiastic about than Porsche.
The storied German sportscar manufacturer has fans of all ages located all over the globe. It's no surprise that Porsche accessories and gifts are a common gift, then – nor that Porsche makes a ton of officially licensed accessories, toys, clothes and other branded products to capitalize on the demand. Whether the Porsche-obsessed person in your life is a proud owner of a GT3 RS or just likes to cheer on the brand at the racetrack, there's a Porsche gift out there for them somewhere.
In this post we're going to count down some of our favorite Porsche gifts on sale today. We're only going to scratch the surface as there are a lot of different Porsche gifts and accessories out there, but this list will give you a good idea of where to start shopping for Porsche gifts for that car-obsessed person in your life. We know it can be hard to buy automotive-themed gifts if you don't know much about cars (or if the person in question is a bit picky) but don't worry – with this helpful list, we got you!
1. Editor's Pick: Porsche Thermos Mug
A travel thermos mug and a car go hand-in-hand.
The travel coffee mug is almost used exclusively by drivers on their morning commutes. If you make that commute in a Porsche (or one day hope to!), then you may as well get a Porsche travel mug to take with you, right? The mug is also designed to fit the compact cup holders of Porsche cars like the Cayman, Boxster, and 911.
This travel mug from Porsche features a gold inlaid Porsche crest, double walled stainless steel walls for insulation and high gloss black exterior finish. It holds 15 oz, or 443 ml. It is a genuine and licensed Porsche accessory. As far as Porsche gifts go, this one potentially the most practical and usable.
| | |
| --- | --- |
| Pros | Sleek design, will fit in Porsche cupholders |
| Cons | Expensive |
Promoted Product: Gold Shield 5L Porsche Car Covers at CarCover.com
Porsche gifts are cool, and for those of us lucky enough to own a Porsche, seeing it sit in the driveway everyday feels like the gift that keeps on giving. If you own a Porsche, or want to treat your vehicle like it was one there is something you can do by protecting it with a Gold Shield 5L Porsche Cover from CarCover.com. These premium covers are waterproof and UV and weather resistant, and made from three layers of polypropylene, a single layer of microporous film to let moisture out and an additional layer of super soft fleece lining that goes against your car's paint job to keep it scratch free and looking great. The covers fit snuggly with a strap and buckle on each end and an elastic band for a snug fit. The covers come with a limited lifetime warranty. Whatever vehicle you own, be it a Porsche, or something a little more tame, the Gold Shield Car Cover is a great idea.
2. Porsche Parking Only Sign
These 'X Brand Parking Only' signs are a staple in car enthusiast garages and car collections.
If you own a Porsche and keep it in a garage, this sign is a cheeky way to let visitors know how enthusiastic you are for the German brand. It's inexpensive, too, which is rare for an officially licensed Porsche accessory.
This sign is made from exterior grade plastics and the manufacturer claims it will not fade or discolor over time. It is 8 inches x 12 inches in size and includes hardware caps for a cleaner look. This is a great Porsche gift for fans of all ages.
| | |
| --- | --- |
| Pros | Inexpensive, won't fade |
| Cons | Only 8x12 in size |
3. Porsche Wine Bottle Stopper
How's this for a unique Porsche gift?
We imagine the overlap between wine drinkers and Porsche drivers is fairly large, so it's no surprise that this Porsche Wine Bottle Stopper is a rather popular product.
This wine bottle stopper is designed to look like the centerlock-style wheel nut on a Porsche 911 Turbo and Turbo S. It's made of metal and features rubber edges so it seals off the wine bottle properly.
This wine stopper makes a perfect gift, stocking stuffer, or gift add-on.
| | |
| --- | --- |
| Pros | High quality, great design |
| Cons | Expensive |
4. Porsche Crest Cufflinks
Another unique Porsche gift is this set of Porsche Crest Cufflinks. They are great for any business type you know who loves the Porsche brand.
They are made of gold-plated metal with enamel laid over 925 Sterling Silver. They are a genuine Porsche accessory and also come with a cardboard display box.
Lots of Porsche fans have a hat, mug, sign, or poster, but these cufflinks are a genuinely unique gift. They are perfect as a gift for your significant other.
| | |
| --- | --- |
| Pros | Great quality, not too big, high-end look |
| Cons | Limited use/appeal |
5. Porsche Bluetooth Speaker
This Porsche Bluetooth Speaker is designed to look like a 911 GT3's rear center-mounted, twin-tip exhaust. It's a 60-watt speaker that can connect to any Bluetooth-compatible computer, phone, tablet, etc. and has a long-lasting battery that can provide 24-hours of listening time. It also makes the sound of a Porsche flat-six revving up when you turn it on – making it perfect for anyone who loves the unmistakable sound of a 911.
A more expensive version of this speaker is also available, which features a replica Porsche 911 muffler in addition to the exhaust tip-style speakers. This product is large, but would be perfect for anyone who has a garage where they work on their Porsche, or for an automotive-themed living area. A link to both of these products is included below.
| | |
| --- | --- |
| Pros | Good sound, looks great |
| Cons | Expensive |
This Porsche-branded desk clock is designed to look like the lap timer clock found in Porsche 911s equipped with the performance-enhancing Sport Chrono package.
The clock features both analog and digital timing displays, 12-hour and 24-hour display options and calendar displays. It's relatively tiny, measuring 11.5cm across diagonally.
This genuine Porsche accessory makes the perfect gift for anyone who loves the German brand and has a desk at home or at work.
| | |
| --- | --- |
| Pros | Looks like a 911 clock, great for the working Porsche fan |
| Cons | Expensive |
This tasteful, genuine Porsche mug will look great in a china cabinet or display case, but also works as a usable everyday coffee mug. It's not dishwasher safe, it should be noted.
The 250 ml mug is made in Germany and features a metallic Porsche crest on the front. With an elegant design and high-end looking gold rim, this is the kind of mug that's fit for a Porsche owner – whether they own an entry-level 944 or a 918 Spyder.
| | |
| --- | --- |
| Pros | Tasteful and elegant design, high quality |
| Cons | Not dishwasher safe |
It's basically a right of passage for every Porsche owner to have a matching Porsche keychain on attached to their keys.
Even if you don't own a Porsche, a keychain is an inexpensive way to show your support for the somewhat exclusive sportscar maker.
This leather-bound Porsche keychain features a genuine metal Porsche crest and keyring. It's of extremely high quality and is a genuine Porsche accessory, so you can buy it with confidence knowing it will be well-made – just like a 911 is!
The keychain is about two-inches wide and 2 and a half inches in height. In addition to red, it's also available in black, blue, beige, and grey.
| | |
| --- | --- |
| Pros | High quality, selection of colors, genuine leather |
| Cons | Expensive for a keychain |
A Porsche umbrella is another great accessory for any Porsche fan. Whether they are at the racetrack, golf course or just out on the town, this umbrella will allow them to shield themselves from the rain whilst remaining stylish and on-brand.
This is a large 28-inch umbrella with an aluminum shaft, fiberglass 'spokes', automatic-deploying mechanism, and an included protective cover. It weighs about five pounds and feels extremely sturdy and well-built.
| | |
| --- | --- |
| Pros | Stylish, sturdy and well-built |
| Cons | Pricy, small Porsche branding |
A genuine Porsche accessory for all ages!
This backpack is great for students, hiking or camping enthusiasts or taking a weekend trip in your Porsche.
Unlike other products on this list, we're happy to report that this genuine Porsche product is priced right. It features reflective elements and can be easily stowed away in its inverted front pocket – making it ideal for travelling. It's made of 100% polyester and is only available in a black/red color combo.
| | |
| --- | --- |
| Pros | Packs away into itself, lightweight, neat design |
| Cons | May not be large enough for some buyers |
Recent Updates:
May 2, 2023: Updated with a new promoted product recommendation.
May 12, 2021: Updated with a new promoted product recommendation.
---
We are committed to finding, researching, and recommending the best products. We earn commissions from purchases you make using the retail links in our product reviews. Learn more about how this works.
Published May 31st, 2021 4:05 PM
Popular Articles
Latest Comparisons
Car Buying Tools