107 Views
Best Subaru Forester Accessories
May 2nd, 2023 2:04 PM
Share
Improve your Subaru experience with the right accessories.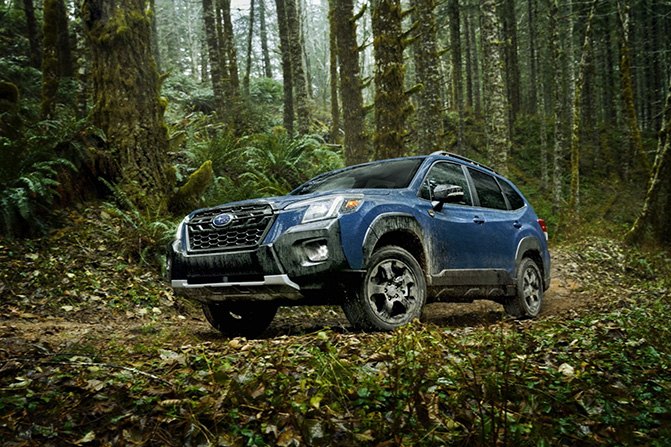 Subaru offers an amazing spread of accessories for every vehicle in their lineup, so when you are ordering a Forester, a BRZ, an Ascent or one of their other new models, there are lots of items that can be added before you take delivery. However, if you are buying a new vehicle off of the dealership lot, or if you are buying a used model, there are a great many Subaru Forester accessories which can make ownership easier and more convenient.
For example, the Subaru Forester is designed to shine bright on-road and off, making it an ideal vehicle for anyone who likes to spend time in the wilderness. If you recently bought a Forester – be it new or used – you may want to add some upgrades to make it better for a weekend fishing trip in the wilderness. There are many Subaru Forester accessories available, but we have put together a list of basic items that will help keep your vehicle looking and performing at its best for years.
The Subaru Forester is made to handle dirt roads and trails as well as any SUV, but when you get into sloppy footing, much of it will end up on the body of the vehicle. The mud is unsightly and the rocks being kicked up can cause serious damage to the paint. Fortunately, it is easy to protect your paint from items being picked up and kicked up by the tires with a set of mud flaps, also known as splash guards.
These mud flaps from Powerty are designed to provide a factory fitment on every vehicle, with the molded plastic attaching with the factory-drilled holes in the wheel wells. These flaps flow with the factory lines to create a clean look while keeping rocks and mud away from the body.
| | |
| --- | --- |
| Pros | Inexpensive, easy to install in factory-drilled holes, clean factory finish |
| Cons | Can collect snow and ice in the winter, can be broken by larger debris |
Promoted Product: Gold Shield 5L Subaru Forester SUV Covers at CarCover.com
The Subaru Forester is well known for safety and for being a sharp-looking small-sized SUV. Most Forester owners are very happy with the car and equally proud to own one. You can help protect your Forester with a Gold Shield 5L Subaru Forester Car Cover from CarCover.com. The 5L is a five-layer car cover, cut to specifically fit the shape of the Forester, with strap and buckle cinches at each end and an elastic band for a snug fit. The cover is 100% waterproof and is weather and UV-resistant. It comes with a limited lifetime warranty and is made from three layers of polypropylene, a single layer of microporous film, and an additional layer of soft fleece lining. The cover comes with a case, too, making it easily portable, so wherever life's adventures take you and your Subaru, you can protect the car at the end of the day.
2. Royago Seat Belt Strap Pads
The latest Subaru Forester has front seat belts with an adjustable shoulder mount, allowing the driver and front passenger to make small changes for a better fit. Even with that in mind, you might find that the seat belt rubs against your neck or shoulder, and that can become uncomfortable during a long drive. Luckily, that annoying friction can be eliminated with a simple seat belt strap pad that you can buy online for less than $10.
The seat belt pads from Royago wrap around the belt material, holding themselves in place with Velcro while the plush, quilted cloth keeps the woven nylon of the belt off of your skin. Since they attach with Velcro, they can easily be moved around for passengers of different heights and if you sell your Forester, you can keep them for your next ride.
| | |
| --- | --- |
| Pros | Inexpensive, makes the seat belt more comfortable for all passengers and drivers |
| Cons | Needs to be adjusted each time before driving |
3. NOCO Boost HD GB70 Jump Start Box
There are few situations in the automotive world which are more unsettling than the instant where you climb into your car on a cold, dark night, hit the key and all it does is click. No other sudden issue can ruin an evening like a dead battery, and while it is usually an easy fix, it is no fun to be stuck in a parking lot, waiting for emergency roadside assistance to come jump start your vehicle.
If you want to help protect yourself from the headache of a dead battery in your Subaru Forester, this jump start box from NOCO is a great option. It is small enough to easily tuck away in your trunk and in many SUVs, it will likely fit in the smaller cubbies in the storage area or under the load floor. Should your battery be too low to start the car, you simply hook it to the battery, turn on the device and start your car.
Best of all, the jump start box also has USB charging ports, so on long car trips, you can use the NOCO Boost HD GB70 to charge your phone or tablet. Bottom line – it is one of the most handy Subaru Forester accessories you can have.
| | |
| --- | --- |
| Pros | Strong enough to jump most vehicles, can charge personal electronic devices, compact and easy to store |
| Cons | Expensive for an item that you may not ever need to use |
4. Sylvania SilverStar Ultra Headlight Bulbs
Headlight technology has come a long way in the past few decades, leading to the headlights of the Subaru Forester being among the brightest factory headlights offered by the company, but if you want better illumination of the road ahead, aftermarket headlight bulbs are the way to go.
The folks at Sylvania have long been known for their bright white headlights, with the Silverstar line offering one of the highest levels of illumination in the industry. Not only are the Sylvania SilverStar Ultra brighter than most OEM bulbs, but the whiter light offers better visibility while driving at night.
The bulbs plug directly into the standard sockets, so to achieve brighter, clearer light, the installation process is quick and easy.
| | |
| --- | --- |
| Pros | One of the brightest bulbs legal for road use, easy installation |
| Cons | Considerably more expensive than OEM headlight bulbs, opposing drivers may not love your brighter lights |
Like all Subaru models, the Forester comes with standard all-wheel-drive to allow you to drive just about anywhere. If you enjoy hiking, camping, hunting or fishing, the all-wheel-drive Forester will get you to remote locations better than most cars on sale today. The only problem is that driving to remove locations often leads you to fairly dirty places and it is inevitable that some of that dirt will get tracked back into the interior.
To protect the carpeting of your Forester and to make clean-up a whole lot easier, these rubber floor mats from Husky are a must-have accessory for any Subaru owner who spends time deep in the wilderness. Each set is measured to fit perfectly into your vehicle, with low-rise walls that help keep mud and water from spilling over into the carpeting. The rear mat even includes a portion that goes up over the center hump in the floor, protecting every inch of carpeting where rear-riding passengers may put their muddy feet.
| | |
| --- | --- |
| Pros | Perfect fit, keeps mud and water contained, easy to remove and clean |
| Cons | On the more expensive side for floor mats, cannot be used in other models |
6. K&N Drop-In Air Filter
If you are looking to get more power and improved acceleration from your Subaru Forester without making any big changes, a K&N drop-in air filter is a great option. K&N is unquestionably the biggest name in automotive air filtration and while the company is known for their cold air intake kits, their drop-in filters are the easiest way to help your engine breathe easier.
While the key attraction to a K&N filter is improved air flow and performance, these filters are also more eco-friendly. Unlike standard cloth filters, which need to be thrown away and replaced every time they get dirty, K&N filters are made to be rinsed and reused. You just wash the filter in warm water then apply fresh filter oil, but they come oiled and ready to install, with the first expected cleaning coming around 50,000 miles.
| | |
| --- | --- |
| Pros | Improved performance, reusable, easy to install |
| Cons | More expensive than disposable cloth filters |
7. ATsafepro Tire Pressure Gauge
Modern Subaru vehicles come with a tire pressure monitoring system that alerts you when one or more of the tires gets low, but the system doesn't tell you the pressure levels. If you plan to do any off-road driving, where a sharp rock or branch may puncture a tire, it is a great idea to have a good tire pressure gauge on hand at all times. Even if you never drive on unpaved roads, there is always the possibility of a puncture and the ability to know how much air is in one of your tires could be crucial.
There are many tire pressure gauges on the market, but this tire pressure gauge from ATsafepro makes checking your air pressure a bit easier. Unlike one-piece units which have the gauge face attached to the portion that you connect to the valve stem, this tire pressure gauge has a hose that allows you to clearly see the numbers out away from the tire. This design makes it much easier to check your tire pressure when you are in deep grass, mud, water or snow. There is also a relief button, which allows you to slowly let some air out of a tire by simply pushing a button next to the gauge face.
| | |
| --- | --- |
| Pros | Easier to read, wide range of readouts for many different vehicles including large trucks, hose connection allows for more versatility |
| Cons | More expensive than a basic one-piece gauge |
How To Change Your Subaru Forester Wiper Blades
If your Subaru Forester is more than a year old and you have never changed the wiper blades, the odds are good that new wipers will make your car a whole lot more pleasurable to drive in the rain or snow. In most cases, if you go to a parts store, the employees will install new wiper blades for you, but if not, the job is very simple.
For example, on the 2013 through 2018 Forester, you pop up the small plastic tab where the wiper blade meets the metal wiper arm. Once that tab is up, the old wiper blade will pop off and the new one goes in its place. Snap that plastic tab back down and you are done. On newer models, it is even easier, with a button on the top of the wiper arm holding the blade in place. Press that button and the blade slides right off, with the new blade simply snapping into place.
What Tire Sizes Fit the Subaru Forester?
If you have owned a 20218 Subaru Forester for a few years or if you just bought one used, the odds are good that you will need to buy new tires in the coming months. If that is the case, here is a quick rundown of the factory tire sizes for the various 2018 Forester models.
All 2018 Forester models came from the factory with either 17- or 18-inch wheels. Forester in 2.5i, 2.5i Black Edition, 2.5i Limited and 2.5i Premium trim all take a 225/60R17 tire at all four corners. Forester 2.5i Touring, 2.0XT Touring and 2.0XT Premium all use 225/55R18 tires.
---
We are committed to finding, researching, and recommending the best products. We earn commissions from purchases you make using the retail links in our product reviews. Learn more about how this works.
Published September 30th, 2021 9:58 AM
Popular Articles
Latest Comparisons
Car Buying Tools