21 Views
Top 7 Best Performance Brake Rotors
March 15th, 2022 5:49 PM
Share
We go through the best aftermarket performance brake rotors at different price points, and explain how they're different from regular brakes.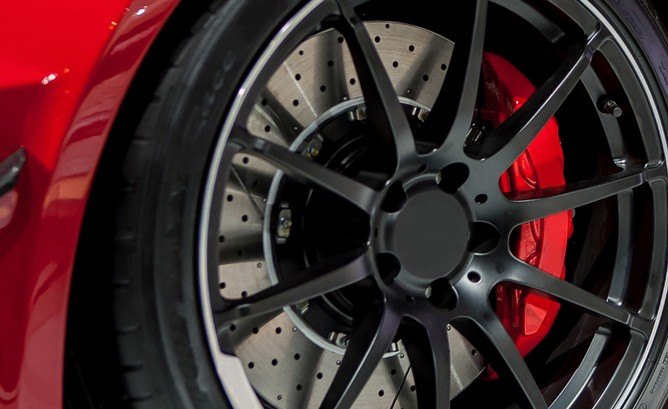 Finding the right non-OEM replacement brake rotors for your track car or performance car can be a tough task.
After all, you want to make sure you're buying a product you trust when you're going to be relying on it to safely bring your car to a stop in spirited driving scenarios or when driving on track.
We definitely recommend sticking to the OEM brake package for most modern-day performance cars, but aftermarket performance brakes can serve as a great upgrade for older vehicles, newer vehicles with non-performance oriented brakes, or as replacements for OEM performance brakes that are worn out. Going back to the OEM service bay to replace performance brakes might be expensive, and aftermarket options might be more affordable.
If you find your car' brakes a bit too weak or experience brake fade from heat on track, it may be time to invest in an upgraded aftermarket brake kit.
In this post, we'll show you some of our favorite aftermarket performance brakes on sale today. Our choices will cover a range of applications and price points, hopefully giving you a good idea of where to start your brake shopping process. Afterward, we'll answer some frequently asked questions consumers have in regards to aftermarket performance brakes.
Editor's Pick: Power Stop Evolution Brake Rotor
We like the Power Stop Evolution brake rotors as they offer a good balance between price, performance, quality and reliability.
These brake rotors won't take a huge dent out of your bank account, unlike many other comparable rotors from more well-known brands.
With drilled holes, these rotors will stay up to 180 degrees cooler than non-drilled rotors, Power Stop says. The drilled/slotted look also looks good, which is another reason why many consumers shopping for brakes opt for a more expensive, performance-oriented rotor.
With quality construction, a good price and good performance, we feel very comfortable recommending Power Stop's rotors to even the most avid of track day enthusiasts. Power Stop also makes brake pads, which can be paired with the rotors for ideal performance. As always, though, ensure you are buying the right rotor for your vehicle and ensure you properly bed in your brakes before using them on track.
| | |
| --- | --- |
| Pros | Good quality, Well priced |
| Cons | Limited available applications |
| Bottom Line | A solid, high quality performance brake rotor with an attractive price tag |
EBC is another well-known purveyor of aftermarket brake rotors and its Ultimax Slotted Rotors (USR) are a solid product that won't give you complete sticker shock.
These one-piece slotted rotors claim to have superior cooling to non-slotted rotors and can provide a boost in stopping power. Ideally, they are paired with a new EBC brake pad, which will ensure you get ideal stopping power and that the rotors and pads wear at the same rate.
These rotors come with a black coating on them that looks good, but some buyers say it can it chip slightly on along the edges of the rotor, exposing the silver underneath.
These rotors are sold in pairs as well. As always be sure you buy the right rotors for your vehicle and that you properly bed the brakes in before using them in a spirited driving scenario.
| | |
| --- | --- |
| Pros | Slotted surface keeps things cool, Look good |
| Cons | Black coating can chip |
| Bottom Line | A good, well priced rotor that is well suited to track use |
BAER's Sport Rotors are a one-piece iron rotor that are both drilled and slotted, aiding in cooling and, ideally, reducing fade when your brakes get hot.
These are a high-quality rotor are made from iron and feature a rust-inhibitive zinc plate finish. This will prevent them rusting, keeping up appearances as they sit behind your wheels.
These rotors are designed to replace OEM rotors in modern-day vehicles and are offered for a variety of makes, widely available for Ford vehicles along with Honda/Acura, Infiniti/Nissan and more.
These can be paired with other BAER brake system upgrades for even more stopping power, such BAER pads and calipers.
These rotors are also made in the USA.
Make sure these brakes fit your vehicle before purchasing and bed your brakes in before you do any performance driving.
| | |
| --- | --- |
| Pros | Drilled and slotted manufacturing looks good and improves cooling, Made in the USA, Wide variety of applications |
| Cons | Expensive |
| Bottom Line | An expensive yet high-quality set of performance brake rotors from a reputable brand |
Brembo UV Coated Brake Rotor
Brembo is one of the most well-known brake manufacturers and its UV coated rotors are a good example of why they are so popular.
With a solid OEM quality design and look, a rust-resistant UV coated finish and a drilled and pillar-vented design, these rotors will stay cool even when you're driving aggressively and won't rust or warp. Many automotive manufacturers trust Brembo to supply the brakes for their vehicles, so you can buy a Brembo product with confidence.
A downside to Brembo's UV coated rotors is that they are a bit expensive and are only sold individually. Be sure these brakes fit your vehicle before purchasing and always bed your brakes in before extreme performance driving use.
| | |
| --- | --- |
| Pros | High quality, OEM look and finish, Good cooling |
| Cons | Expensive, Limited applications |
| Bottom Line | An expensive yet high quality rotor from one of the best brands in the business |
Hawk Performance Sector 27 Rotor
The Hawk Performance Sector 27 Rotor is a more affordable performance rotor.
Many other drilled and slotted rotors can run you well over $100 for a single rotor, but Hawk Performance's Area 27 rotor comes in at about half that price. The drilled and slotted designs ensure these brakes will stay cool on the track, while the Zinc plated coating helps with durability and corrosion resistance.
Hawk Performance's Area 27 rotors are also made for a wide variety of vehicles including trucks. If you have a truck or SUV that you plan to do lots of towing with, you may want a brake upgrade. These well-priced rotors serve as a good performance brake upgrade from OEM brakes on trucks and SUVs, so they may be worth checking out if you find your vehicle's brakes get too hot when towing.
They are also suited for cars tailored performance street driving.
| | |
| --- | --- |
| Pros | Great price, Sold in pairs, Many vehicle applications, Made in the USA |
| Cons | Cooling design may be sub par to other brake manufacturers |
| Bottom Line | A well-priced performance rotor available for a wide variety of vehicles - including trucks and SUVs |
DBA's T-Slot rotors have a special 'Kangaroo Paw' cooling and venting design that is intended to provide even better brake cooling than the competition.
These specialized brake rotors aren't available for very many vehicles, but are good performance rotors with large cooling passageways that will should prevent your braking performance from fading.
These rotors are pricy and are only sold as single units, but are a great performance brake rotors that will give your car a performance-focused look.
Ensure these rotors fit your vehicle before you purchase them.
| | |
| --- | --- |
| Pros | Large venting with surface slots for extra cooling, Look great |
| Cons | Minimal applications, Expensive |
| Bottom Line | An expensive but great-looking and well performing brake rotor |
StopTech Sport Select Rotor
You know you can trust StopTech for your performance braking needs – the company is very active in the racing world and specializes in pricy and powerful big brake kits.
Its replacement performance brake rotors, such as those from its Sport Select line, can also improve your vehicle's braking performance. The SportSelect rotors are made for each specific wheel of your car and are only sold separately. Ensure you have a front left, front right, rear left and rear right rotor when buying, if that's what you need.
These rotors can be used with a variety of brake pads, so look around and see what other StopTech users recommend for pads.
The cross-drilled and slotted design of these rotors, along with the zinc plated finish, ensure they stay cool and won't corrode or ruse. They can also improve the look of your vehicle.
| | |
| --- | --- |
| Pros | Look great, Reputable brand, Improved braking performance and cooling, Good price |
| Cons | Not made in the USA, Sold individually |
| Bottom Line | A good performance brake rotor from the braking experts at StopTech |
How do Performance Brakes Improve Braking Performance?
There are a few different ways that performance brake rotors achieve better braking performance than your standard rotor.
The rotors on our list are mainly intended to be direct OEM replacement kits that require no other modifications. They mainly provide better braking performance by optimizing the design of the front-facing cooling vanes in the rotor and adding drilled holes and/or slots in the surface of the rotor for improved cooling. Improving brake cooling reduces brake fade when the brakes get hot, allowing the user to step on the brakes time after time without experiencing a dip in performance.
Some "big brake" upgrade kits, which include everything you need to completely swap out your brake system with a new one, include larger diameter rotors and more robust calipers, which can massively improve braking performance. We didn't include such kits on our list due to their high price and limited appeal. If you're not doing extreme track driving or building a high horsepower vehicle, such a brake upgrade probably isn't necessary.
Performance brake rotors are also better suited to use with high-friction performance brake pads. Performance brake pads are an upgrade that can really provide reduced stopping distances over OEM brakes, but for the best results, you'll want better rotors too.
How do I 'Bed In' my Brake Rotors?
Many folks will tell you that properly bedding in your rotors is just as important as which rotors you buy.
To bed in your brakes is a fancy way of saying to break them in. The manufacturer of your pads and/or rotors may have a suggested way of bedding the brakes. This is sometimes outlined on the box or on the manufacturer's website.
While the process can vary, you'll probably want to perform about five stops from 35 mph (56 km/h) applying braking force gradually and at medium pressure. Afterward, you'll want to do four or five harder stops from about 45 mph (72 km/h).
This will ensure you remove any surface debris from the rotors and pads and that the pads and rotors wear evenly from the get-go. If you don't do this, you may wear the pads or rotors unevenly or experience reduced braking performance.
You may want to find a parking lot or empty road to perform the bedding in process.
How do I Know if I Need Performance Brakes?
If your brakes aren't overheating or wearing fast, you probably don't need performance brakes.
Most people who upgrade their vehicle's brakes are giving it a large increase in horsepower or are planning on doing track driving or racing. If you just commute in your vehicle and have not upgraded the engine, the OEM braking kit is probably fine, just ensure you keep up on your brake maintenance. Pads aren't the only important part of maintenance – keeping your OEM rotors fresh and keeping an eye on your brake fluid helps too.
Some owners of vehicles they tow with also choose to upgrade their brakes, as the brakes on tow vehicles can become very hot. This is especially true if you are towing through very hilly areas. Even heavier trucks and SUVs can experience brake fade in downhill driving scenarios when they are not towing, so you may sometimes spot SUVs with drilled and/or slotted brake rotor upgrades.
Performance brake rotors and pads can also wear out more quickly on the road, may not perform as well when they are cold and have a noisier operation. For these reasons, you should only upgrade to a performance upgrade kit if you absolutely need it.
Our Final Verdict
Still having trouble deciding which performance brake rotors are best for you? Here are two of our top picks. Best Overall: We like the Power Stop Evolution rotors as we find they have the widest appeal. They are well suited for use on both performance car or a truck or SUV that may serve as a tow vehicle, aren't too expensive and are available for a wide variety of vehicles. Power Stop also sells full brake kits using the Evolution Rotors that may be of interest to some consumers. Best Budget Choice: the east expensive rotors on our list are the Hawk Performance Sector 27 Rotors. They may be inexpensive, but you can rely on these to stay cool whether you are performance driving or towing.
---
We are committed to finding, researching, and recommending the best products. We earn commissions from purchases you make using the retail links in our product reviews. Learn more about how this works.
Photo credit: David Shao / Shutterstock.com
Published September 27th, 2018 1:03 PM
Popular Articles
Latest Comparisons
Car Buying Tools