21 Views
The Hyundai I10 Will Be Replaced With An EV Crossover. Could It Come To The US and Canada?
August 12th, 2022 4:28 PM
Share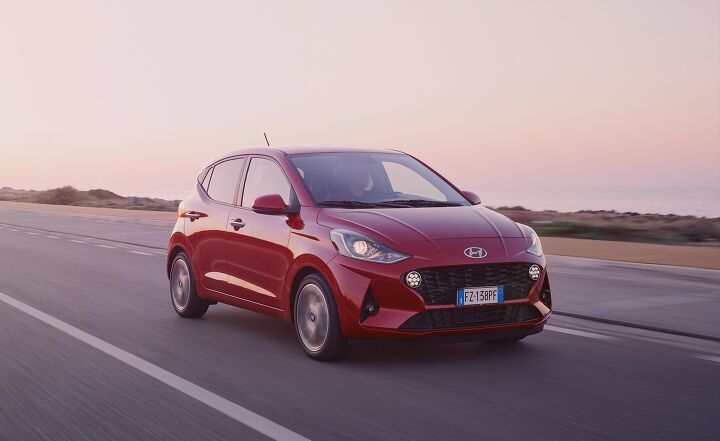 Hyundai wants to replace its smallest offering with two EVs. One a hatchback, the other a crossover.
The Hyundai i10 city car is rumored to be replaced by two different EVs in its next iteration. For those unfamiliar, the Hyundai i10 is a city car that slots under the subcompact Accent (or its European equivalent, the i20) in most markets. It's Hyundai's cheapest, smallest offering in many markets. But, the i10 is not immune to the effects of electrification.
Most manufacturers have been open about the challenges of electrifying small cars and building small cars in general. Small cars need to be cheap in order to sell, and right now, BEVs are generally far more expensive than comparable gas-powered cars. Then, smaller cars generally can't physically hold very big batteries, making the range limited. Those two problems have caused automakers to shift away from developing small EVs.

Those caveats haven't stopped Hyundai from developing a full EV replacement for the i10, though. Hyundai executives have previously admitted that the 20,000 EUR EV segment would be a hot, yet underserved market. This EV Hyundai i10 and i10 crossover would likely fall right in that price goal, and be part of Hyundai's plan to introduce 11 new EV models, just for Europe alone.
Although the current generation Hyundai i10 was deemed too small for the US and Canada, both markets are still very thirsty for cheaper EV options. There is a real possibility that Hyundai could send an EV Hyundai i10 crossover replacement to the US, provided the price is right.
Become an AutoGuide insider. Get the latest from the automotive world first by subscribing to our newsletter here.

Published August 12th, 2022 4:23 PM
Popular Articles
Latest Comparisons
Car Buying Tools