821 Views
The Best Battery Terminals Help You Make a Connection Without the Spark
April 9th, 2022 1:42 PM
Share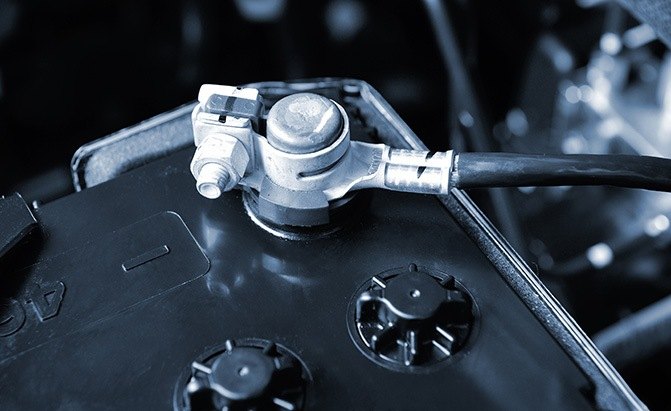 For the most part, it's simple. Your car or truck has a battery, it supplies electricity to the bits that need it, and that's all you care about. Until something goes wrong or you want to do something to your ride that the factory didn't have in mind. It might be from corrosion and time, it might be from a previous owner with more DIY ambition than knowledge, or it might be because you're adding electrical components that didn't come from the factory, but whatever the reason is, you need to replace your battery terminals.
The best battery terminals for your needs might be the same as stock, they might add a disconnect, or they might be completely different from what was there when your car was new on the showroom floor. Whatever your needs may be, this article goes over our top picks of the best battery terminals so you can get the job done and get back on the road.
For more information on the best battery terminals, refer to our table of contents.
1. Editor's Pick: Fastronix Top Post Battery Terminal and Cover Kit
You can be looking to replace your battery terminals for a number of reasons. Sometimes it's a problem with the battery itself, and sometimes it's a problem with the connection from your vehicle's existing wiring. This one is for the latter and it's designed to replace the terminals that came with your vehicle or other battery-powered items if they've corroded, been damaged, or are otherwise not delivering the connection you needs.
Using a proper terminal lug in 3/8-inch size, connect the cables to this pair of military-style battery terminals then attach the assembly to your battery. One large lug connects the wires, while the smaller one tightens it down on your battery posts. These soft lead terminals ensure long life and excellent conductivity. They also come with plastic covers to help keep moisture and debris out of the connection for safety and durability. Strong reviews vouch for the solid connection and durability of these Fastronix battery terminals.
Product Features:
Soft lead for conductivity
Comes with protective covers
3/8-inch bolt for easy wiring connections
2. LotFancy Quick Release Battery Terminals
Batteries sometimes need to be removed frequently. It could be because it's a summer car, because you're using them in a boat or other powersports equipment, or even because you're using battery-powered backups for home electronics in case of emergency and you want to be able to connect the battery to your vehicle for a recharge when the grid is out. These quick-release terminals let you do exactly that, the fast and easy way.
Designed with a simple one-wire crimp connection that grabs the wire coming from your vehicle, it can fit all 4- to 6-gauge wire and is rated at 200-amps continuous, far more than almost any vehicle alternator. The battery connection pushes down over your 19 mm positive and 17.5 mm negative battery post terminals. Then you simply press down on the cover and the connection clamps to securely fasten to your vehicle's 12V battery. For removal, just flip the plastic cover up and the connector releases, letting you remove the battery as quickly as installing it.
Product features:
Quick and easy battery removal
Color coded for proper polarity
Easy connection to clamp onto vehicle wiring
3. Schumacher BAF-TTC Coated Top Terminals
Schumacher Electric has been a top name in electronics for more than 70 years, though among gearheads the name may be best known for the championship-winning NHRA drag racers of the same family. The company offers these lead battery terminals that are coated to help maintain a solid connection by reducing corrosion and contamination.
They also come with felt battery post washers, a time-tested secret to helping ensure corrosion of the terminals not come back over time. In addition, if excess vibration, mishandling, or abuse of the battery causes microscopic cracks between the battery posts and the case of the battery itself, any battery acid that may seep through is captured by the washer. Schumacher says that these offer three times the conductivity of standard battery terminals and they're also designed to quickly and easily clamp around your battery post. You can also connect two different wires to both the positive and negative connections with these terminals.
Product features:
Comes with battery post washers
Offers two wire connections for each terminal
Coated lead for durability
4. Kicker BT4 Competition Battery Terminal
Adding extra wiring to your vehicle for aftermarket electronics like car audio systems, extra work lighting, or even a winch can be difficult thanks to factory connections designed only for exactly what came with the vehicle. This battery terminal from Kicker offers multiple wire connections with secure screw-clamped points that let you fit your factory wires as well as anything you might add in the future.
With two main connection points that can each handle wire as thick as 1/0 gauge or as thin as 8, and a third connection that can handle 4-gauge or thinner, this terminal will let you run power to that competition-grade amplifier, that big winch mounted on your bumper, or even to a complete camping kitchen. Then, it uses a hex screw along with a color-coated knob handle to connect to your 12V battery. This option comes with just a single terminal, meaning you'll need two for a complete system. Its heavy-duty and versatile connection with brass construction will help you handle your aftermarket equipment needs.
Product features:
Three wire outlet connections
Held with easy-turn screws
Brass construction
5. WindyNation Brass Battery Terminals
This set of battery terminals is designed to meet the needs of a high-corrosion environment like that found on the water. The terminals themselves are made from brass and the fasteners are from stainless steel to offer maximum protection from water and battery acid, while still delivering the electrical connection needed to run your electronics. While the marine-grade hardware attaches the terminal to the battery, an epoxy-coated and color-coded wingnut with stainless steel lock washer and a one-inch bolt make removing and refastening your wiring connections quicker and easier than a more permanent style of connector.
The 17 mm and 19 mm terminals are designed to fit standard top-post batteries, the most common type for most vehicle applications. These terminals are great not just for your boat, but any environment that sees salt and water spray, from the ocean or from the brine used on highways throughout winter in much of the country.
Product features:
Wingnut wire connection
Brass marine-grade construction
Stainless steel hardware for longer life
6. Parts PTT Multi-Battery Cable Assembly
Because your heavy truck, be it a 3500 diesel dually or something much larger, or even your high-level car audio system needs more juice than just a single battery can offer, this multi-battery harness lets you string multiple batteries together with one vehicle connection, quickly and easily. Also ideal for RVs and RV conversions, this harness lets you connect two Group 31 batteries together using just this one cable.
You won't need multiple battery connections since the connected wiring lets you share your existing connection at the end of the run of batteries. The molded harness is coated completely to keep water out of the sensitive electrical connections and comes with plastic covers to ensure that the water stays out of where the harness fastens to your battery. Available in versions to connect up to four batteries, in red for positive and black for negative battery terminal sides. This recommendation allows for single-cable electrical disconnect instead of the multi-wire connections usually found with more than one battery.
Product features:
Plastic coated for corrosion protection
Can hold up to four batteries
Color coded
7. MNJ Motor Battery Terminals with Voltmeter
Have a vehicle that sits around for long periods of time that you don't always remember to charge? This battery terminal connection has a built-in voltmeter to let you see, at a glance, the state of your battery charge. It comes complete with two pure copper fastening rings for improved conductivity as well as a total of four connections, letting you run multiple wires from zero to 8 gauge to your vehicle's electrical system, aftermarket accessories, or car audio system.
This option can also let you monitor your vehicle's battery performance when you're running accessories like a fridge or winch, so you know if your alternator is providing the right amount of charge or if your accessories are drawing more energy than you can support. This is useful for letting you make the changes you need to keep your electrical system in top health. A clear plastic cover goes over the terminal, keeping it safe from the elements while leaving the voltmeter visible.
Product features:
Voltmeter
Copper terminal rings
Four easy-fasten connections
8. NiteGuy Side Post Battery Terminal Bolts
Most of the terminals on this list have been for top-post batteries since they're the most common for aftermarket solutions, but these ones are for the still common side post battery, often seen on General Motors and other vehicles. Instead of a lead post molded into the battery, side post terminals screw into the side of the battery. This can lead to them being damaged by contact with underhood components or by not being careful when you're carrying them around.
These 1.6-inch side-post terminals screw into your stock battery and let you replace the old terminals with fresh new solid brass construction. Thanks to the 3/8-inch nut, they also let you add multiple new wires using copper ring end connections in the proper size. This terminal offers an extender nut that lets you make bulkier connections that would have trouble fitting on the original piece.
Product features:
For side-post batteries
Brass construction
Extended length
9. A ABIGAIL Battery Disconnect Switch
Here's an option to prevent battery rundown that is better suited for vehicles where you don't need to remove the battery between uses. The knob on the terminal turns (clockwise and counterclockwise) with one direction making the connection and the other direction breaking it. With the connection broken, the battery can't discharge because of electrical draws from your vehicle like the engine computer or even the radio.
Rated for a continuous 125 amps in case of high draw applications, the brass and zinc terminal delivers long life and corrosion resistance, while it keeps your battery fresh for long slumbers in storage. Just one of these is normally used, disconnecting the negative terminal from the vehicle ground and stopping the electrical flow, though it comes with green and black colors to give you an installation choice. The terminal is available in top post and side post mount types, giving you a way to disconnect all major 12V battery types.
Product features:
Quick battery isolation
Protects battery when vehicle is in storage
Brass and zinc resist corrosion
10. Performance Tool Battery Terminal Cleaning Brush
No, this isn't a battery terminal per se, but if you use one it could mean that you don't need a new terminal in the first place. Corrosion, that green fuzzy buildup on your battery terminals, is what most often leads to your battery connections failing. Thanks to extra heat and the metals themselves corroding, the connection eventually fails.
This brush is designed to clean both the positive and negative terminals of your vehicle battery, letting you remove corrosion and oxidation. The internal brushes clear your battery posts, while the brush under the handle removes the same damage from the terminal that's connected to your vehicle. A little bit of maintenance goes a long way to prolonging the life of your battery terminals as well as the rest of the charging system and even your vehicle's starter. Use this along with some baking soda and water to neutralize acid and reduce corrosion. If your car starts one minute and won't crank the next, a dirty or loose terminal is your first place to check.
Product features:
Saves your existing terminals
Cleans battery post and terminal
Can prevent premature charging system failure
What Does a Battery Terminal Do?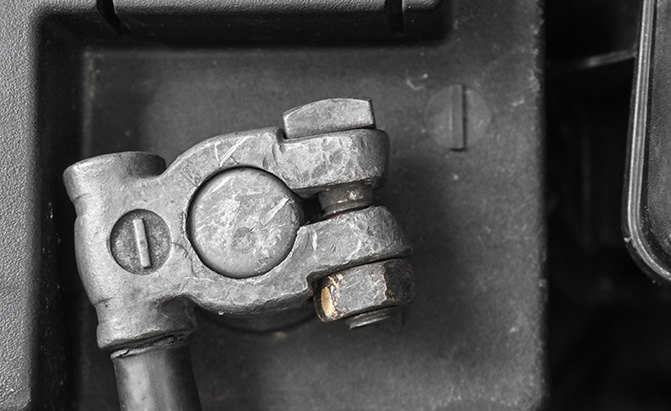 Photo credit: Thanongsak Yinnaitham / Shutterstock.com
It seems simple, but you need something that lets electrons travel from your charged battery into the electrical system of your car, and then to let them travel back through into the other side, completing the circuit. So why not just clamp the wires directly to the battery? Because while it's only 12 volts, there can be plenty of current flowing from battery to starter, from the alternator, and to the different parts of the vehicle.
A bad connection doesn't just mean your lights dim when your speakers get loud, it also means more heat. That can lead to a failure to start or even a fire. A battery terminal makes a secure connection with the wires leading to your car on one side and clamps firmly to the battery on the other. This ensures a clean connection that provides minimal resistance, allows for less heat, and requires less maintenance over time.
How to Pick the Right Battery Terminal?
Picking the right terminal starts with your battery and your needs. If your battery has screw threads in it, you need a terminal that screws in. If your battery has two large dark posts sticking out, you need a clamp-on terminal. Measure the posts to find the right size and buy accordingly.
Next up is looking at your needs. For a factory replacement, a factory-like part is just the ticket. If you want to add more connections, then a terminal that has multiple places to attach a wire is what you need. And if you have a vehicle, like a seasonal car or powersports equipment like an ATV or boat, look at terminals with easy disconnects or an on-off switch so you can save your voltage for the next season. Look for conductive metals like lead, or brass if they'll be living in a tough environment. While stainless hardware is fine, steel clamps won't conduct as well, which could give you problems.
---
We are committed to finding, researching, and recommending the best products. We earn commissions from purchases you make using the retail links in our product reviews. Learn more about how this works.
Photo credit: Nor Gal / Shutterstock.com
Published March 16th, 2021 8:01 AM
Popular Articles
Latest Comparisons
Car Buying Tools