859 Views
Top 10 Best First Aid Kits for Your Car
April 3rd, 2022 5:25 PM
Share
We're committed to finding, researching, and recommending the best products. We earn commissions from purchases you make using links in our articles. Learn more here
Health and safety aren't things you want to skimp out on, so having a well-stocked first aid kit in your car should be something you're willing to spend on.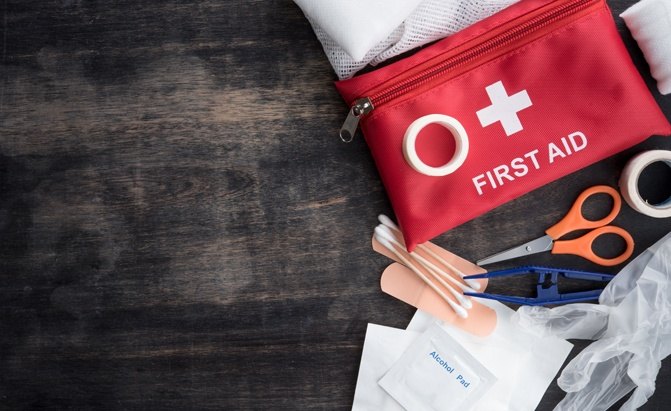 Health and safety aren't things you want to skimp out on, so having a well-stocked first aid kit in your car should be something you're willing to spend on.
Here are 10 of Amazon's top-rated and most popular first aid kits. Each one has its highlights and downsides, but it's hard to argue with any of them. Find one that fits your budget and be sure to keep something this important in your car. You'll never know when you might need a kit, but you'll be glad to have it close by.
Updated 9/16/2020 with new product recommendations and additional content for each product.
1. Editor's Pick: First Aid Only 299-Piece First Aid Kit
If you're shopping strictly for a first aid kit and don't care about roadside necessities, this is our top pick. This comprehensive 299-piece kit is filled to the brim with first aid supplies to treat minor wounds and injuries. The compact case measures 9.25 inches by 2.875 inches by 7 inches, which means it'll likely fit in your car's glove box. Inside the case are several clear plastic pockets, keeping all the items well organized and giving you easy access to find what you need in an emergency.
Along with a wide assortment of adhesive bandages of all sizes, you'll get burn cream, a cold pack, disposable thermometer, disposable gloves, aluminized rescue blanket, antibiotic ointment packets, plenty of gauze pads, sting relief wipes, and even ibuprofin, aspirin, and non-aspirin pills. From headaches to cuts and burns, this first aid kit has you completely covered.
| | |
| --- | --- |
| Pros | Comprehensive 299-piece kit, covers all your first aid needs, compact carrying case |
| Cons | Not geared towards automotive use, no roadside assistance items |
2. Lifeline AAA 121-Piece Road Trip First Aid Kit
This 121-piece kit features plenty of first aid equipment and is features familiar branding by AAA (Automobile Association of America). It's one of the most trusted names in the automotive industry, so you know you're getting a quality kit. All the items are packaged in a hard shell foam carry case, and while it might not fit in your glove box, it won't take up too much space in your trunk. Or slide it underneath your front seat for easy access.
To cover you in the case of an accident or emergency, this kit gets you an assortment of bandages, cotton tip applicators, sting relief pads, antiseptic wipes, alcohol prep pads, gauze pads, adhesive tape, scissors, tweezers, two pairs of vinyl gloves, a whistle, and even a carabiner.
| | |
| --- | --- |
| Pros | AAA branded, good amount of emergency supplies |
| Cons | Hard shell foam case is a bit large, no roadside assistance items |
3. Swiss Safe 200-Piece First Aid Kit
This 200-piece kit is compact, lightweight (16 ounces), and portable, fitting nicely into your car's glove box so it's ready to be used in emergency situations. The items in this kit include different sized bandages, antiseptic cleaning wipes, sting relief pads, alcohol prep pads, two elastic bandage rolls (one large, one small), CPR face mask, gauze pads, cotton balls, first aid tape, cotton tips, tweezers, trauma shears, and PVC gloves. It even has you covered if you're outdoors, with an emergency blanket, fishing kit, hand saw, sewing kit, mini fire starter, signaling mirror, and safety pins.
This is an ideal kit if you're planning on taking and road trip and going camping. It's not particularly designed for roadside emergencies, since it lacks jumper cables or flares, but it's a kit you'll want to keep in your car nonetheless.
| | |
| --- | --- |
| Pros | Great for camping/outdoor use, compact, 200 pieces |
| Cons | Not specifically designed for roadside use, lacks jumper cables or flares |
4. Coleman Camping All Purpose First Aid Kit
With 205 pieces packed in a semi-hard case, this recommendation is actually marketed as a first aid kit for camping. But that doesn't mean it's not a good kit to keep in your car, stocked with latex-free bandages, gauze, razor blade, antiseptic wipes, a cold pack, and more. It's mainly designed for longer trips and larger groups, and the case features an "EZ find system" that keeps the supplies organized and easily accessible.
Coleman is a well-known brand when it comes to camping and outdoor equipment, so you know these items are up to the task in the case of a car accident. Unfortunately it does lack roadside emergency tools, so you'll want to consider another option if that's what you're shopping for.
| | |
| --- | --- |
| Pros | Heavy duty case, organized, portable, good amount of first aid equipment, Coleman brand |
| Cons | No roadside assistance items, case likely won't fit in your glove box |
5. First Secure Emergency Roadside Kit
If you're looking for a quality roadside emergency kit, this recommendation comes with a 90-piece set to cover your automotive needs, as well as a 48-piece first aid kit. The roadside set includes a portable air compressor, copper-clad aluminum jumper cables, a tow rope, tire repair kit, window breaker, tire pressure gauge, reflective warning triangle, LED flashlight, electrical tape, bungee cords, cable ties, work gloves, and more. Essentially, it'll cover many of your bases if you have to pull over and tend to your car, allowing you to temporarily fix whatever is broken so you can safely get to a repair shop.
The included jumper cables measure 10 feet and feature 8-gauge wiring, while the tow cable is 11.8-feet long and is rated at 10,000 lbs. The air compressor pump offers 250 PSI, which is good enough for emergency use.
As for the first aid kit, you'll get your basic necessities to treat minor wounds and injuries: tourniquet, gauze pads, bandages, medical tape, scissors, safety pins, and cotton swabs. It may not be as comprehensive as other first aid kits on our list, but this option is more geared towards automotive use.
| | |
| --- | --- |
| Pros | Plenty of roadside assistance tools, jumper cables, air compressor, 48-piece first aid kit |
| Cons | Not a great air compressor, flimsy reflective warning triangle |
6. Protect Life 200-Piece First Aid Kit
Designed to address a wide range of injuries, this 200-piece first aid kit is bundled in a compact and durable case measuring 7.8 inches by 2.6 inches by 5.9 inches. That means you can likely fit it anywhere inside your car, without it taking up too much space but still be within reach in an emergency. Opening up the case, you'll see that it's extremely well organized with clear compartments for quick and easy access to the items. There's even plenty of space for you to store additional items, such as medication you may need.
Inside, you'll find plenty of adhesive bandages, a first aid tape roll, safety pins, a cold pack, a pair of eye pads, first aid prep pads, cotton tipped applicators, a pair of vinyl gloves, a carabiner, scissors, tweezers, and an emergency whistle.
| | |
| --- | --- |
| Pros | Compact, portable, 200-piece kit, covers your first aid needs, includes emergency whistle |
| Cons | Lacks roadside assistance items, very few compartments for items |
7. Thrive Roadside Assistance Auto Emergency Kit
Another option that includes both roadside emergency items and a first aid kit is offered by Thrive. This recommendation gives you 42 automotive emergency supplies, along with a 62-piece first aid kit that covers your basic necessities. Unlike other recommendations on our list, this product is packaged in a carrying bag constructed from sturdy nylon canvas. The rugged case measures 12 inches by 8.5 inches by 7 inches and weighs approximately 3.1 lbs, so it's not the most compact solution out there. The good news is, you can keep that stored in your trunk and the first aid kit and its items in your glove box.
For automotive emergencies, you get a reflective safety vest, a pair of worker gloves, hand-driven flash light, foldable reflective triangle, multi-function pliers, razor blade, ice scraper, bungee cords, screwdrivers with bits and sockets, electric tape, a whistle, jumper cables (8 feet, 8 gauge), zip ties, safety hammer, and a yellow rope.
The first aid kit isn't as comprehensive, with a good enough collection of bandages, cotton, alcohol pads, tweezers, scissors, safety pins, burn gel, and non-woven tape.
| | |
| --- | --- |
| Pros | Solid assortment of roadside assistance items, large carrying bag |
| Cons | First aid kit is fairly basic, no portable air compressor, large bag takes up space |
8. Lifeline AAA Excursion Road Kit
Another recommendation that is branded by AAA is this 76-piece Road Excursion Kit. Mixing both standard first aid products with auto safety essentials, this kit includes a premium air compressor so you can top off flat tires or even use it when you go camping to inflate a raft or bed. You'll also get a set of 10-feet, 8-gauge jumper cables, an emergency warning triangle, LED aluminum flashlight, screwdrivers, pliers, gloves, duct tape, bungee cord, emergency poncho, utility knife, whistle, cable ties, and a pair of shop cloths.
The included first aid kit has 45 pieces, with your standard assortment of bandages, sting relief pads, gauze pads, and towelettes. This kit is more ideal for shoppers are searching for roadside assistance items, but want the basic necessities for first aid.
| | |
| --- | --- |
| Pros | Plenty of roadside assistance items including a portable air compressor and jumper cables, decently compact carrying bag |
| Cons | Not much focus on first aid with bare essentials |
9. Lifeline AAA 66-Piece Severe Weather Road Kit
Yet another offering from AAA, this first aid kit focuses on severe weather, ideal for car owners who live in areas that experience plenty of rain and snow. The 66-piece kit features a folding shovel and an assortment of accessories to keep you warm, including tea candles, fire starter, fleece set, hand warmer packets, and an emergency blanket. You'll also get some survival accessories, like an LED aluminum flashlight, emergency whistle, and ice scraper.
The first aid kit that is included has 45 pieces and is pretty generic, with your usual collection of bandages, gauze pads, relief pads, and towelettes. This is an ideal option if you deal with inclement weather and want to be prepared.
| | |
| --- | --- |
| Pros | Great for cold weather emergencies, good assortment of warmth accessories |
| Cons | Doesn't offer roadside equipment, very basic first aid kit |
10. ESUPPORT 34 Piece First Aid Emergency Kit
If you really want just the basics, take a look at this affordable 34-piece kit. It's extremely compact so you can keep it anywhere in your car, and comes with the basic necessities you'd expect. That includes tweezers, scissors, gauze, bandages, tape, safety pins, alcohol pads, iodine pads, and a tourniquet. All of it comes in a waterproof bag with a zipper you can easily toss into your glove box.
The company does offer several other kits that have more items, if you want more than just the bare necessities. The more comprehensive 100-piece kit adds a thermometer, wound dressings, survival whistle, emergency blanket, breathing mask, cooling paste, gloves, and more.
| | |
| --- | --- |
| Pros | Variety of options, extremely affordable, covers your basic first aid needs |
| Cons | The 34-piece kit is very basic, no focus on roadside assistance items |
---
We are committed to finding, researching, and recommending the best products. We earn commissions from purchases you make using the retail links in our product reviews. Learn more about how this works.
Photo credit: showcake / Shutterstock.com

Jason Siu
Jason Siu began his career in automotive journalism in 2003 with Modified Magazine, a property previously held by VerticalScope. As the West Coast Editor, he played a pivotal role while also extending his expertise to Modified Luxury & Exotics and Modified Mustangs. Beyond his editorial work, Jason authored two notable Cartech books. His tenure at AutoGuide.com saw him immersed in the daily news cycle, yet his passion for hands-on evaluation led him to focus on testing and product reviews, offering well-rounded recommendations to AutoGuide readers. Currently, as the Content Director for VerticalScope, Jason spearheads the content strategy for an array of online publications, a role that has him at the helm of ensuring quality and consistency across the board.
More by Jason Siu
Published September 16th, 2020 8:01 AM
Popular Articles
Latest Comparisons
Car Buying Tools