72 Views
The Best Tool Kits Needed by Every At-Home Mechanic
April 15th, 2022 7:43 PM
Share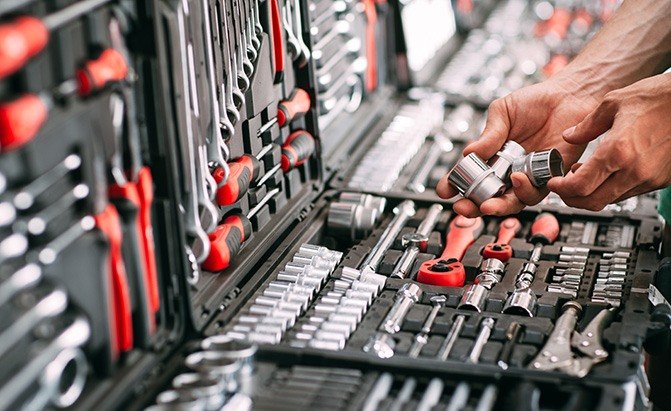 After buying a new car, truck, van, or SUV, the most expensive aspect of ownership is generally maintenance. Routine maintenance can be expensive and for those who avoid routine maintenance, the cost to fix things that break due to improper care can be mindboggling. In some cases, the parts needed to maintain or repair your vehicle can be very expensive, but often, it is the labor rate of the mechanic or shop that leads to painful repair bills.
What many drivers don't realize is that the vast majority of automotive maintenance and repair projects aren't that difficult and they require little know-how. If you drive a popular vehicle, the odds are good that there is a YouTube video showing how to change the oil or other fluids, change the brakes, perform a tune-up, and more. These videos are great for walking you through the project, but even with the best guidance in the world, you won't get very far without tools.
The lack of proper tools is a key reason why many drivers don't try to do their own maintenance and repairs. Many people believe that mechanics have professional grade tools that can be hard for the average person to just go out and buy, and in some cases, they are right. Professional mechanics have expensive, high quality tools for some jobs, but the average items, such as changing fluids or replacing the most common wear items, basic hand tools are all that you need to make use of a good instructional video.
The problem for many people is that they don't know which tools they will really need, so we have put together a list of the best items that will help make you an efficient do-it-yourself mechanic.
To learn more about the best tool kits, refer to our table of contents.
Table of contents
1. Editor's Pick: DEWALT 192-Piece Socket Set
When you get into working on your own vehicle, you will find that most components inside and out are bolted into place. With that in mind, putting together a well-equipped home garage to work on your vehicle should start with a good socket set. This socket set from DEWALT comes with a huge spread of sockets, ratchets, and extensions that will allow you to tackle even the most elaborate projects.
This DEWALT socket set starts with 17 Torx head bits, three different swivel extensions, 11 solid extensions, two comprehensive hex key sets, and three ratchets. Most importantly, this kit comes with more than a hundred sockets, covering the full spread of the most commonly-used standard and metric sizes in several different drive sizes. Until you get into a really heavy duty job like removing a chassis component or an axle nut, this DEWALT socket set will have you covered on just about any automotive DIY project. Of course, everything comes in this hard case with labeled spots for every tool, so you know which socket goes where.
This set is kind of pricy, but aside from impact sockets—which will talk about later on in this piece—you won't need to buy many more sockets for average automotive projects. Plus, this kit comes from a trusted brand and carries a limited lifetime warranty.
2. GEARWRENCH 20-Piece Wrench Set
When working on your vehicle, you will inevitably come to a nut or bolt that is located in an area where you cannot fit a socket and ratchet. That is when you need a wrench and there are endless options for cheap wrench sets. You can pick up a basic wrench set for just a few bucks, but if you want a nicer set of wrenches that will make many jobs easier, the GEARWRENCH 20-piece set is a great option.
What makes GEARWRENCH unique from a standard open end/box end wrench is that the closed end has a ratcheting insert, so you use it like a box wrench, but it functions like a socket and ratchet.
This GEARWRENCH set gets you 10 standard and 10 metric wrenches with the ratcheting box end. I have been using these for years and they are incredibly handy, but they are also very tough. I worked as a mechanic for a few years and I have spent many years working on my own vehicles, and they still work like they are new. You shouldn't hammer on them like you can with a standard box wrench, but in every other way, they are great.
Editor's tip: You don't need to keep lifting the wrench off of the nut or bolt, making it much easier to tackle tight jobs in spots where you can't get a good look at the fastener. Once you get the GEARWRENCH on the nut or bolt, you remove it like you are using a socket and ratchet.
3. Amartisan 42-Piece Screwdriver Set
While most components of your vehicle are held on with nuts and bolts, the majority of items that use other fasteners rely on screws of some sort. Screwdrivers are another tool you can get very cheap at any hardware store, but automotive screws aren't always flat head or Philips head. Lots of automotive fasters use the hex head or Torx design, which obviously requires a unique tool. This 42-piece screwdriver set from Amartisan covers the gamut, leaving little need to buy individual screwdrivers except for the more unusual fastener head types.
The Amartisan kit starts with your common items, with four lengths of traditional flat and Philips head screwdrivers along with three small flat head and two small Philips head screwdrivers. There is also a pair of small hex head screwdrivers. What makes this kit unique from the average, simple screwdriver set is the quarter-inch drive magnetic bit holder and the assortment of bits for flat, Philips and hex-style screws. There is also a flexible extension for the bit holder, so if you need your screwdriver to bend around something, this piece will be ideal.
These screwdrivers don't appear to be designed to be hammered on, but for the average interior screw fastener, this kit should help with most projects.
4. KIMO 20V 1/2-inch Impact Driver
Some of the most common do-it-yourself automotive projects require you to remove the wheels and tires from the vehicle. Your vehicle likely came with a socket and wrench of some sort to remove the lug nuts on the side of the road, but those are usually not the best quality, as they are made to be used in an emergency; not every day and not for tough projects. If you want to make your life a whole lot easier when planning to do your own automotive repairs, it is a good idea to buy an impact driver. This 20-volt, 1/2-inch impact driver from KIMO is a great option, as it comes with impact sockets and extensions.
Twenty years ago, the only impact drivers which were strong enough to remove lug nuts were air-driven, meaning that you needed an air compressor to power them. Fortunately, modern technology has brought us cordless electric impact drivers that are strong enough to loosen and tighten lug nuts. This 1/2-inch driver from KIMO uses a 20-volt lithium-ion battery package to deliver up to 250 lb-ft, which is more than enough to tighten the average lug nut to manufacturer's specifications.
Also, this cordless impact driver comes with impact sockets and extensions, which are unique from the sockets and extensions that come with the average socket-and-ratchet set. Impact sockets are stronger, since the driver applies far more torque than the average hand tools.
5. DEKOPRO 218-Piece Tool Kit
If the kits above are too expensive or simply too elaborate for your needs or skill level, there are some broad tool kits that can be useful with many of the simpler do-it-yourself vehicle repairs. We found this 218-piece kit from DEKOPRO that has all of the basic tools that you will need for the average automotive project.
This kit includes the five most commonly used sizes of open-ended box wrenches in standard and metric, more than 30 of the most common standard and metric sockets with a ratchet and several extensions, four pairs of pliers, and a hammer. There are also several large and small screwdrivers along with a screwdriver handle and an assortment of different sized bits, including Torx bits. You even get some tools that you are far less likely to use on your vehicle, including a hacksaw and a bubble level. It doesn't include an impact driver, but you get the key items from each of the tool sets mentioned above.
When you get into bigger automotive projects, you are likely to find that you need some larger, heavier duty sockets and wrenches that aren't included in this kit, but if you are new to doing your own work on your vehicles, this kit is a great start to a well-outfitted home garage.
Editor's tip: The tools included in this kit will allow you to take on some common projects, such as replacing your front brake pads. With most vehicles, the bolts that hold the caliper together must be removed to change the brake pads, and the sockets in this kit will accommodate the vast majority of cars, trucks, and SUVs. Also, just about everything inside of the vehicle is either held together by screws or smaller bolts, all of which can be removed using the basic tools in this kit.
Why Do You Need These Tools?
There are a handful of key automotive projects that you can do it home which will save you a ton of money without any need for mechanical training. In most cases, once you have performed the project once, even on other vehicles, you will have a good idea of how to perform that same service on another vehicle.
The best example of a money-saving DIY automotive project is replacing your brake pads and rotors. Depending on the vehicle, this job can cost thousands of dollars at a shop, but it is generally not a hard job to knock out in your driveway or garage. You start by using the impact driver to remove the wheels. The pads are generally held on by the top of the brake caliper, which is usually held in place by two bolts, which you can remove using the socket set. Sometimes the area around the back of the calipers is tight, at which point you want to use the wrenches. Once those bolts are out, you can use a long, flat head screwdriver to pry the calipers open a bit, allowing you to remove the pads. Next, you use the impact driver to remove the caliper bridge bolts, which allows you to remove the brake rotor. From there, you install the new parts, bolt everything back up, and you have saved yourself hundreds of dollars in labor.
Even something as simple as an oil change will require some of these tools. Most modern vehicles have a "belly pan" that covers some areas of the undercarriage and in some cases, these aerodynamic barriers are in the way of the oil filter or drain plug. Some are held in place by bolts, some are held in place by screws and some are held in place by plastic clips. The socket set and screwdrivers will remove the belly pan, then you use one of the wrenches to remove the drain plug. You should be able to remove the filter by hand.
Perhaps you are interested in performing a tune-up on an aging vehicle. This generally entails changing the spark plugs, changing the air filter and, in some cases, cleaning the throttle body along with replacing the throttle body gasket. If you have a car with a coil-on-plug ignition system, you will need a small socket to remove the coil component before removing the plug. Many air filter boxes have bolts or screws holding them shut, so the screwdrivers, socket seats, or wrenches would come into play and when you get to removing the throttle body, you will need a small socket and a ratchet to unbolt it.
As for projects inside of the vehicle, say that your child spills a chocolate milkshake on your light grey passenger's seat. You can clean it in the car, but it is much easier to clean if you remove the entire seat. This also allows it to dry more readily in the sun and almost every car seat track is held in place by either two or four bolts. If you want to remove interior panels to install new speakers, you will likely need a screwdriver. Oh, and a great many pickup trucks have taillights which are held in place with hex head screws, so to change a burned out taillight, you will need the unique screwdriver.
These are just the most common automotive do-it-yourself projects to help save money on repair or maintenance, but with the key tools listed above and a good instructional video, there aren't many projects that you can't do.
---
We are committed to finding, researching, and recommending the best products. We earn commissions from purchases you make using the retail links in our product reviews. Learn more about how this works.
Published July 27th, 2021 8:01 AM
Popular Articles
Latest Comparisons
Car Buying Tools