1 View
Mitsubishi Outlander Sport Plug-in, Mirage Sedan Coming to America
April 3rd, 2015 9:20 AM
Share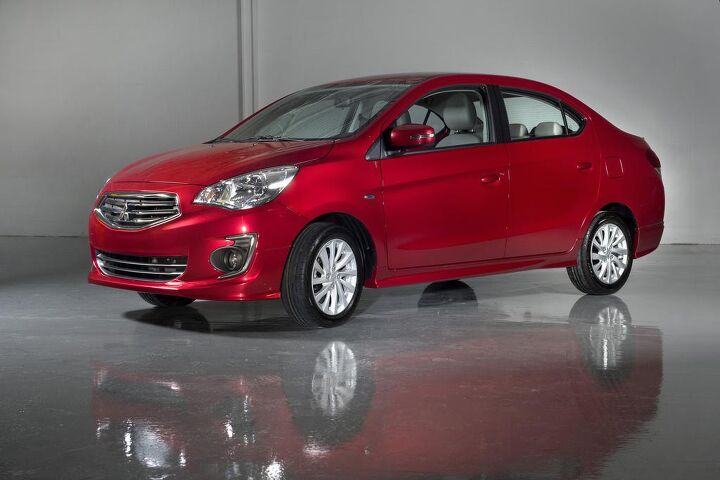 Some may have forgotten Mitsubishi even exists, but the Japanese automaker has seen double digit growth for five consecutive quarters and plans to fuel its expansion with two new models in the next 16 months.
According to Mitsubishi Motors North America executive vice president Don Swearingen first up will be sedan version of the popular Mirage followed by the Outlander Plug-in Hybrid in the first quarter of 2016.
But the product introductions won't stop after that with Swearingen revealing that Mitsubishi is also planning to bring to the US a plug-in hybrid version of its smaller Outlander Sport model – a segment of the market where no automaker currently offers any hybrid.
SEE ALSO: The New Look of the Mitsubishi Outlander
While the technology is certain to come at a premium, he doesn't believe it will be prohibitively expensive.
"Clearly Mitsubishi is a smaller company so we have to do the business case on every model and it must show a value offer for our customers, a profit for us and our dealers, and if the business model doesn't show that we're not going to bring it to the US."
"We cannot have a failure," he said. "We have to make sure we study the market, we bring out competitive price vehicles that offer a value proposition, but also in a segment that we think there's enough volume."
2015 New York Auto Show Coverage
In addition to the new product additions, more model updates are in the works, with Swearingdon confirming an Outlander Sprot refresh later this year, adapting the brand's Dynamic Shield front end that debuted on the 2016 Outlander at the New York International Auto Show this week.
Beyond that, hope for a new family sedan is not lost with Swearingdon clarifying that while a partnership deal with Renault fell apart, they're now in talks with Peugeot. And there may be even more.
Published April 2nd, 2015 10:41 PM
Popular Articles
Latest Comparisons
Car Buying Tools