474 Views
Best Honda CR-V Accessories
May 2nd, 2023 2:16 PM
Share
Get the most out of your Honda CRV with the best accessories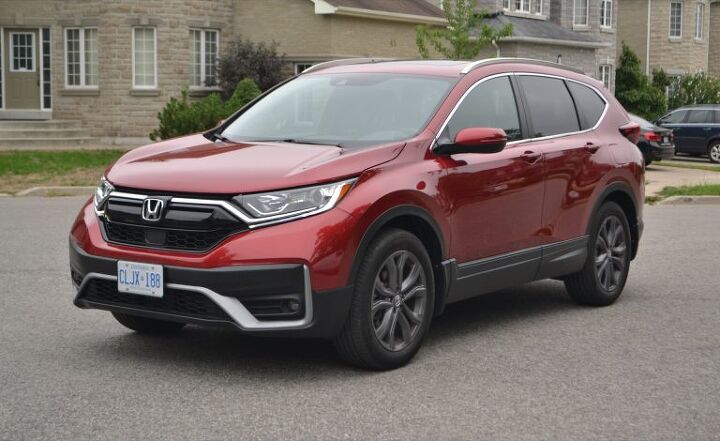 If you've been searching the web for the best Honda CR-V accessories available to take your ride to the next level in terms of functionality and comfort, you've come to the right place.
Over more than 20 years on the market, Honda's "compact recreational vehicle" has learned a trick or two when it comes to making drivers and passengers happy. Today's CR-V, first introduced for 2017, is easily the best one yet, with a roomier design, advanced available features like LED lights and an electronic parking brake, and a more widely available Honda Sensing driver assistance system suite. It's the perfect package whether you're zipping around town or packing up the family and heading out for a long weekend.
But there is no car out there that can't be made better by a few thoughtful, practical aftermarket accessories, and we've scoured the internet to bring you the very best for the Honda CR-V. Below are the ten best Honda CR-V accessories to totally transform your ride into the perfect daily driver.
1. WeatherTech Custom Fit Cargo Liner
Anyone who's ever had their cooler spigot fail and spew ice-cold water and other fluids all over the trunk knows what a nightmare it is. This custom-fit cargo liner protects your factory trunk carpeting from such a scenario. Manufactured by WeatherTech, the biggest and most trusted name in aftermarket vehicle floor liners, this cargo liner saves the day with a raised lip to catch and contain fluids like water, snow, and softdrinks so they don't have a chance to get near your carpet, with a grippy non-slip surface that clings to your cargo and helps prevent it from sliding around in the back of your CR-V. You probably already have floor liners in your CR-V's cabin, but if your cargo area is still uncovered carpeting, you don't know what you're missing. Just be careful when ordering, as these cargo liners are custom-made to fit particular CR-V models. CR-Vs from 2012 and 2013 require Part No. 40524, for example, while Part No. 40992 fits current-generation 2017-2021 CR-Vs.
Promoted Product: Gold Shield 5L Honda CRV SUV Covers at CarCover.com
Honda has sold a ton of their compact, do-it-all CR-V SUVs in the 20+ years they have been making them. These vehicles have proven to be reliable and pretty tough in that time as well. One of the things you can do to help keep your CR-V looking great is by using a Gold Shield 5L Honda CR-V Car Cover from CarCover.com. These protective covers are made from five-layers of material, with three layers of polypropylene, a single layer of microporous film, and an additional layer of soft fleece lining to help protect your CR-V's paint. The cover has strap and buckle cinches at each end and an elastic band for a snug fit around the bottom of your SUV. The Gold Shield 5L covers are 100% waterproof and are weather and UV-resistant to help keep the paint looking great, and it comes with a limited lifetime warranty The Gold Shield 5L comes with a carry case, too, so when you decide to hit the road with your CR-V for an adventure, you can take some protection along for the ride.
2. Miracase 4-in-1 Cell Phone Holder Mount
There's no two ways about it: we live in the era of the smartphone. And if you don't already have a sturdy, reliable smartphone holder in your CR-V, you're going to want to correct that straightaway. This Miracase 4-in-1 cell phone holder is one of the strongest, most flexible, adjustable phone holders you can find, at a price that's nothing short of an incredible bargain. It ships with a super-strong suction cup for attaching to your windshield or another smooth, glossy surface, as well as a vent clip for an even more secure hold, and a 3M adhesive-backed pad for sticking your phone virtually anywhere else. Most impressively, the arm is rated to withstand up to 44 pounds of downward force, and tilt, telescope, and swivel functions let you position your phone exactly where and how you need it. One of the absolute handiest Honda CR-V accessories you'll ever buy, this Miracase phone mount is the result of feedback from over 100,000 customers.
3. OxGord Windshield Snow Cover
Clearing your windshield in the winter of all the snow and ice that's built up overnight is a pain. Lucky for you, there's this: the OxGord Windshield Snow Cover. Its universal shape makes it a great fit for cars, trucks, and SUVs of every stripe, including the Honda CR-V; just lay it down over the windshield, tuck the end tabs into your front doors, and you've got instant protection from snow and ice buildup – no brushing or scraping required. Made from heavy-duty 600-denier polyester with a frost guard thermal shield, this windshield snow cover is tough as nails and built to last, and it's so affordable and so easy to use there's practically no excuse not to have one in your winter arsenal.
4. NOCO Boost Plus GB40 UltraSafe Lithium Jump Starter Box
Not to be a downer, but every battery eventually dies – even the one in your Honda CR-V – and there are few things worse than standing in a cold parking lot with a set of jumper cables just waiting for someone to be so kind as to stop. That's why a jump start box is one of the most essential, useful, day-saving Honda CR-V accessories you can get, and this NOCO Boost Plus model is a peach. With a 1000-amp rating, the NOCO Boost Plus GB40 is powerful, capable of jump-starting engines up to 6.0 liters in displacement, and its built-in lithium-ion battery pack has enough juice to last through up to 20 jump starts on a single charge. Even still, it's astonishingly light and compact, and it features a built-in 100-lumen LED flashlight so you can see what you're doing – or to give you some light in the case of a roadside emergency. Our advice: never leave home without it.
5. AUTODECO 118-Piece Car Roadside Emergency Kit
Speaking of roadside emergencies, a lot can happen out there beside the occasional flat battery. Be prepared with this premium, heavy-duty 118-piece roadside emergency kit. Few Honda CR-V accessories out there can actually save your life, but this is one of them, shipping with first-aid supplies, a tow strap, folding shovel, air compressor, gloves, reflective safety vest, jumper cables, fuses, and even a tire patch repair kit. It's the complete package, giving you safety and peace-of-mind in one, with a convenient carrying bag that keeps all the items stowed until you need them. With hundreds of happy buyers on Amazon and a whole boatload of essential road-trip equipment for not very much money, this AUTODECO 118-piece roadside emergency kit is a no-brainer.
6. OASIS AUTO Custom-Fit PU Leather Seat Covers
Hondas are renowned for their strong resale values, and you can protect yours with this high-quality custom-fit faux-leather seat cover kit from OASIS AUTO. Each one is carefully custom-formed for a particular Honda CR-V model year range, with options for 2012-2016 and 2017-2021 models alike, and several fetching colors are available, from black, to orange, to burgundy. The real reason to go with these as opposed to some of the more generic seat cover kits out there, however, is the fitment; installation is a bit more involved, but the end result is a polyurethane pleather seat cover that holds taut and looks almost as if it came installed straight from the factory. Keeping your fabric seat upholstery safe from stains, tears, fading, and other forms of damage, these seat covers are easily among the best Honda CR-V accessories.
7. CURT Class-3 Trailer Hitch Receiver
You might wonder whether there's any real point in installing a trailer hitch receiver on your Honda CR-V. Afterall, it's a crossover with Honda Civic underpinnings – hardly a towing brute. That may be so, but the CR-V is still rated to tow up to 1,500 pounds, and there's plenty you can carry with this CURT Class-3 Trailer Hitch Receiver, from small cargo trailers to bike carriers. It's a tough unit, composed of square steel tubing with a dual-layer rust-prevention treatment courtesy of a liquid Bonderite dip followed by a black powdercoat top coat, and it's rated for up to 3,500 pounds – literally more than you'll ever need. Better still, each CURT trailer hitch receiver is custom-designed for the vehicle it's intended for, ensuring a perfect fit and easy installation with minimal hassle and no interference with factory equipment. Of course, this means that you may have to spend some time searching for the right hitch receiver model for your particular CR-V, but that's a small price to pay.
8. DeWalt DXAEPI140 Power Inverter
DeWalt is a well-known and respected name in the world of powertools, but the company makes other things, too – like this power inverter, perfect for charging your laptop or powering a portable DVD player on the go. One of the most life-saving Honda CR-V accessories for campers and weekend warriors, this power inverter is rated for up to 140 Watts of 120-volt AC power, and it even supplies 3.1 amps each to two USB ports for charging up phones, tablets, and other smaller devices. With a compact design and silent, fan-free operation, you might just forget you even brought it with you, and the 1-year manufacturer warranty and legendary DeWalt build quality deliver plenty of peace-of-mind. But best of all, it's a much more affordable power inverter than you might think.
9. Leader Accessories Roof Rack Luggage Basket
Even with a spacious, practical vehicle like the Honda CR-V, sometimes, you just run out of useable room. Don't let it compromise your next family getaway, with this roof rack luggage basket from Leader Accessories. This large rooftop cargo carrier can fit all sorts of essentials, from bags to tools to water jugs, with a 150-pound load rating that should be plenty sufficient for most people's needs. The sturdy 1"-diameter steel tube frame and the mesh that sits within it are finished in a black powdercoat for great looks and exceptional scratch- and weather-resistance, and it ships with all the hardware you'll need to fasten it to your roof rack crossbars. A steel wind fairing is even included, helping to reduce the amount of wind noise from the rack by making the basket more aerodynamically sleek.
---
We are committed to finding, researching, and recommending the best products. We earn commissions from purchases you make using the retail links in our product reviews. Learn more about how this works.
Published October 22nd, 2021 3:52 PM
Popular Articles
Latest Comparisons
Car Buying Tools