801 Views
Best Toyota RAV4 Accessories Every Owner Should Have
February 3rd, 2023 10:27 AM
Share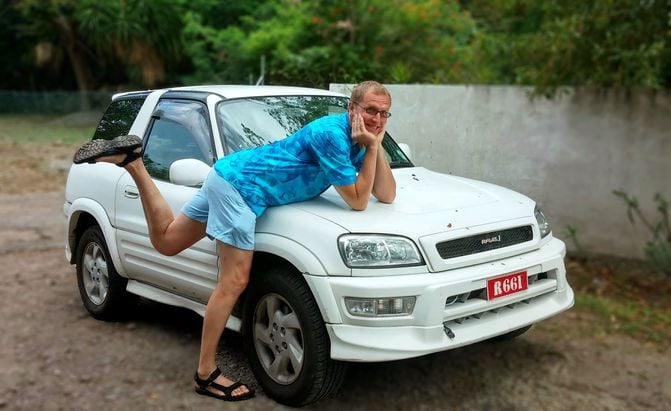 If you're a Toyota RAV4 owner, there are plenty of aftermarket Toyota RAV4 accessories you can add to really maximize the utility of your ride and transform it into exactly the sort of practical, all-purpose vehicle you've always wanted it to be.
The Toyota RAV4 is a nifty ride, which bears the distinction of being arguably the first mass-market compact crossover ever built. Yet despite its car-like unibody construction and a certain penchant for borrowing its platform from the Corolla, from the get-go, the RAV4 has always had an adventurous spirit and a utilitarian go-anywhere-and-do-anything philosophy. But even the best, most adventure-ready crossovers can stand to benefit from some functional accessories and upgrades, and there are plenty available for the RAV4.
Here, we've scoured the market for all the best available Toyota RAV4 accessories, from all-weather car covers to floor liners, from roof rack cross bars to receiver hitches, in order to bring you a list of the best RAV4 accessories on the market.
1. MaxxHaul Heavy-Duty Steel Roof Rack
While earlier generations of the Toyota RAV4 were a bit on the diminutive side, today's RAV4 is plenty capacious inside, with up to 70 cubic feet of total cargo space with the rear seats folded. Still, cross country road trips and weekend camping excursions require a lot of stuff, which is where this MaxxHaul Heavy-Duty Steel Roof Rack comes in. With a near-universal cargo basket design and heavy-duty steel construction, this roof rack allows you to carry up to 150 pounds of stuff on your RAV4's roof, freeing up space in the cabin for backseat passengers, not to mention your more weather-sensitive items. Using a clever four-section design, this roof rack can be removed and stored easily and compactly when it's not needed, and a black powdercoat finish helps protect the steel from corrosion – although MaxxHaul suggests hitting it with some truck bed liner for some extra protection. If you're the road-tripping, outdoors-loving type, this is one of the best Toyota RAV4 accessories going.
2. WeatherTech Custom Fit FloorLiner
If you want the most basic, cheap, barely-passes-muster RAV4 floor protection available, turn elsewhere; "bare minimum" isn't in WeatherTech's vocabulary. Simply put, they make perhaps the best-fitting, highest-quality floor liners out there, and their Custom Fit FloorLiner packages for the RAV4 are no different. These Toyota RAV4 accessories deliver thorough protection for your vehicle's factory carpeting against spilled beverages, rain, slush, mud, salt, sand, and just about anything else you can think of. They do this by contouring perfectly to your RAV4's floor pan with their fluid-containing deep-well design, following every curve and bend in the sheet steel to cover every square inch of susceptible carpeting in a patented high-density triple-extruded material, which packs a rigid core and a tactile, high-grip surface. When buying, just remember: each WeatherTech FloorLiner package is custom-fitted to a specific make, model, and year range, so be sure to order the correct one for your specific RAV4.
3. OASIS AUTO Custom Fit PU Leather Seat Covers
If there's one thing that Toyotas are well known for – beside the brand's well-earned reputation for reliability and top-notch engineering – it's their high resale values. Make sure you're protecting your investment the best that you can with these OASIS AUTO faux-leather seat covers. These Toyota RAV4 accessories install over your factory seat upholstery, but unlike a lot of the cheap, ubiquitous "universal" seat covers on the market, these are custom-made for specific vehicle models, ensuring that you get the tightest, most perfect fit available for a factory stock-like appearance. That does make the installation procedure a bit more complicated, but the results speak for themselves. Made from durable polyurethane with a leather-like grain texture, these seat covers are super easy to clean, and they don't require as much conditioning and care as real leather seat upholstery. But the best news of all? The price. These seat covers are remarkably affordable for the level of quality they deliver.
4. CURT Class 3 Trailer Hitch with 2-Inch Receiver
Just because your Toyota RAV4 isn't a pickup truck doesn't mean it can't pull a trailer. In fact, the latest RAV4 is rated to pull up to 3,500 pounds, depending on configuration. This CURT Class 3 Trailer Hitch Receiver can help you do it. CURT is the leading name in aftermarket towing equipment, and this hitch receiver is a perfect example of why: durable, with thick-gauge steel construction and a rust-, chip-, and UV-fighting dual-stage finish; versatile, with a standard 2" by 2" square receiver; and easy to install, with a model-specific design that ensures absolute compatibility with your ride. Along with a roof rack, this is one of the most important Toyota RAV4 accessories for owners who can't get enough of the outdoors, and with it, you can cart around everything from bike racks to cargo carriers. There are even outdoor picnic tables and grilling stations made for 2" by 2" hitch receivers. Because these hitch receivers are model-specific, take care when ordering to ensure you're getting the right one. CURT #13524 fits all 1996-2005 RAV4s, while #13406 fits all RAV4s from 2013 through 2018, and #13416 fits all from 2019 through the present.
5. Miracase 4-in-1 Cell Phone Holder
It's no great secret that these days, most people rely on their smartphones for navigation rather than their car's built-in navigation system or a standalone GPS unit. If your RAV4 has Apple CarPlay or Android Auto, you can view your favorite navigation app right on the infotainment screen, but for the rest of us, there's this: the Miracase 4-in-1 Cell Phone Holder Mount. Truly universal and truly versatile, this phone mount allows you to choose between mounting your phone on your windshield using a super strong suction cup, on any flat surface with the included 3M adhesive pad, or on a heating/cooling vent, for an even more secure grip. It's rated to hold up to 44 pounds, which is an absurd level of overkill, and the adjustable phone cradle can securely hold just about any phone model, from 4" to 7". You have plenty of options when it comes to in-car cell phone holders, but as one of the most positively reviewed phone holders on Amazon, the Miracase gets our vote as one of the absolute best Toyota RAV4 accessories.
6. WeatherTech Cargo Liner
Just picture it: you've loaded up your trunk with camping supplies, and corralled the fam into your Toyota RAV4 for a weekend of fun outdoors – only by the time you get to the campsite, you find that your cooler has decided to spew ice-cold water all over your trunk. What do you do? With a custom-fit WeatherTech cargo liner, you don't have to do much of anything. Designed to catch spills and contain them with a high-lip design until they can be cleaned, this WeatherTech cargo liner is the perfect companion to your WeatherTech all-weather floor liners, offering the same extensive level of carpet protection for your cargo area carpeting, and sparing it from wear, tear, and stains. Featuring a non-slip surface, it's even great for cargo retention, keeping all your precious items from sliding around while you drive. Built in the USA, each WeatherTech cargo liner is tailor-made for specific RAV4 models and year ranges, guaranteeing a perfect fit – provided that you do your homework and order the right one.
7. Covercraft Windshield Shade
Anyone with a black interior can tell you that when the sun has a chance to beat down on your car for a couple of hours, your interior can get hot. Keep it cool with a windshield sun shade – like this one from Covercraft. It's a bit pricey as sun shades go, but that's because it's custom-made for the Toyota RAV4, meaning you'll get an unparalleled fit and superior performance compared to those ordinary "one-size-fits-all" sun shades, which have a tendency of being too large, sagging or bending in the middle and leaving plenty of dash exposed. That custom fit also means that your interior is better protected against the sort of discoloration you can get after so many years of uneven UV ray exposure. This Covercraft sun shade is rigid, making it easier to place and remove than most, and the manufacturer offers versions for a range of different RAV4s; #UV11288SV covers 2013-2018 Toyota RAV4 models (except EV), while #UV11623SV covers the current-generation RAV4 and RAV4 Prime.
8. TAC 3" Side Step Running Boards
Running boards are more the purview of pickup trucks and large SUVs than crossover utility vehicles, but if you ask us, that's a bit of a shame; everyone can use a bit of help getting in and out of their vehicle now and again, and if you have a rooftop cargo rack, side steps make loading it up so much easier. That's why, closing out our list of the best Toyota RAV4 accessories, are these 3" round running boards from TAC. They're truly OE quality components, with smooth, CNC-bent tubing, a durable rust-fighting e-coat topped off with a chrome, gloss black, or textured black powdercoat finish, and textured flat stepping areas that help deliver all the grip you need even in rainy or snowy conditions. A five-year warranty guarantees against manufacturer defects, and at this price point, that's a remarkable thing to have. TAC offers three different versions for the RAV4, each suiting a different model year range from 2013 through the present.
9. AUTOCLOVER Smoked Window Vent (Wind Deflectors)
AUTOCLOVER's wind deflectors install with peel-and-stick adhesive strips. Photo credit: Amazon.com.
Car vent windows have gone the way of the albatross—and smoking cigarettes. But, even if you'll never flick a fully smoked Chesterfield onto the side of the road, the gentle draught provided by old-fashioned vent windows was a welcome feature on cars of the past. Today, you can achieve a similar effect with less wind noise by installing a set of aerodynamically-designed wind deflectors that allow windows to remain partially open without admitting wet weather or generating excessive wind roar.
These dark-smoked wind deflectors are low-profile, covering about 1.5 inches of the window, and after installation, they present a cohesive, of-a-piece appearance. Each section comes from the factory with a peel-and-stick strip; installation shouldn't require special tools.
These wind deflectors from AUTOCLOVER are designed to fit 2019-2022 Toyota RAV4s. Most buyers praised the easy installation, fit, and design, saying it looked "almost factory." Several buyers also mentioned that they handle machine car washes without becoming detached. However, complaints were lodged against the poor packaging, with components just being "tossed in the shipping box," or inadequate installation instructions.
| | |
| --- | --- |
| Pros | Reasonable price, easy installation, pleasing appearance |
| Cons | Inadequate instructions, some buyers complained of poor packaging |
Recent Updates
August 1, 2022: Removed: Goodyear shatterproof wind deflectors; OOS. Added AUTOCLOVER window vents.
---
We are committed to finding, researching, and recommending the best products. We earn commissions from purchases you make using the retail links in our product reviews. Learn more about how this works.
Published October 21st, 2021 3:58 PM
Popular Articles
Latest Comparisons
Car Buying Tools