7.5K Views
The Best Roof Rails and Roof Racks
July 19th, 2023 1:32 PM
Share
Roof rails and roof racks are a great way to make your vehicle more practical.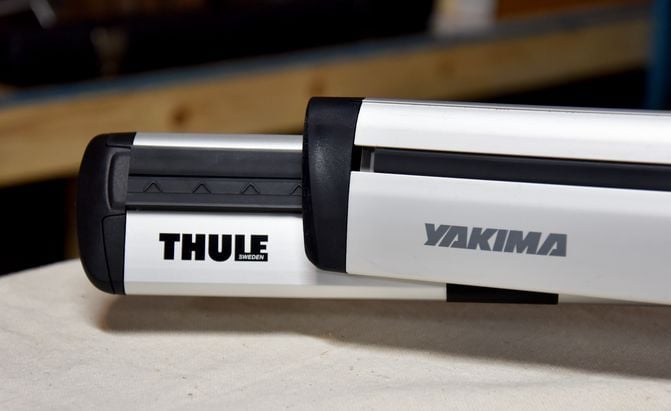 The best roof rails, cross bars, and roof racks should be high on the list for anyone looking to add storage capacity to their car, truck, or SUV. You can put any odd-shaped cargo that won't fit inside—or that's dirty and you don't want inside—up and out of the way, and still have all your interior room. You can use roof racks and rails to attach a secure, weatherproof cargo carrier; use as a rooftop attachment for kayaks, surfboards, snowboards, skis, fishing rods, bicycles, or just about anything else you can think of.
What we end up using a set of car roof bars for most is trips to the home improvement store. Even big SUVs (or most modern pickups) don't really have room for an eight-foot piece of lumber or pipe, and even if you do, you don't want to tear up your interior or have a large, heavy, unsecured object pointing at your windshield. Strap that small load of lumber right on the roof and it's safely out of the way.
The best roof rails and roof racks are easily removable, and you should take them off when you're not using them frequently because they'll cost you a few MPG in wind resistance. Modern aero bars have much less wind resistance than square or even round bars, but the best aero bars are more expensive. They also tend to have convenient quick-release towers that mount semi-permanently to attachment points built into your car's roof.
Some vehicles roll off the assembly line with roof rails, making it much easier to install a roof rack or cross bars, and you can almost always order a car with them already installed. The downside is you may have a more limited selection of aftermarket crossbars, or even be locked into the manufacturer or dealer for accessories.
Before you start shopping for roof rack cross bars, you'll need to know two things: What width you need; and your vehicle's capacity. Many modern cars have tapered roofs, and you might need different widths front and back. And while crossbars are often rated at 165 pounds, owner's manuals often give you a 100-pound maximum. Also, don't expect to be able to use your sunroof or moonroof, no matter what the description might say.
We have some tips on selecting the right set of roof rails and roof racks, and there are some important safety issues to consider, as well, so for more information on the best roof rails and roof racks, refer to our table of contents.
1. Editor's Pick: Yakima JetStream Aerodynamic Crossbars
When we were choosing a set of crossbars for our personal vehicle, we spent our own money on the Yakima JetStreams. The company's more than 40-year reputation, limited lifetime warranty, and high-quality, innovative products tipped the decision over their main competitor, Thule.
W used the JetStream roof rack on a Mazda5 for more than five years, and they still look like new. As this minivan didn't come with factory rails, we did have to buy a set of Skyline towers to fit into the bar ends, and four Landing Pads to mount permanently to the factory roof attachment points. At almost $450 (in 2016), it wasn't a cheap investment, but since then we've used them extensively and particularly appreciate how easily and securely they latch and unlatch from the roof. One person can put them on or take them off in about the time it takes to walk around the car.
Assembly was tricky and there we did have to make several adjustments to get them to fit just right, but after that, all we've ever done is double check tightness on the pads once a year. What little wind noise they make is hushed, and the penalty to gas mileage is less than 1 MPG.
There's extensive compatibility through the Yakima ecosystem, with many specialty attachments, and they come in 50-, 60- and 70-inch widths. If you're looking for roof rack crossbars that balance aerodynamics with durability, take a look at the Yakima JetStream Crossbar.
| | |
| --- | --- |
| Pros | Limited lifetime warranty, aerodynamic teardrop shape, anti-slip insert, lockable towers available, many compatible accessories |
| Cons | Assembly and installation take a while, many separate parts required, expensive |
2. Most Premium: Thule Wingbar Evo Roof Rack System
Coming in as a direct competitor to the Editor's Choice Yakima is Thule's Wingbar Evo Roof Rack, designed to produce lower noise at highway speeds, while still offering maximum capacity. Like the Yakima, you'll need to assemble the correct attachments for your particular car. But Thule also has an enormous number of accessories, from cargo basket, to fishing rod holders, all the way up to rooftop tents.
Constructed from lightweight materials, these Thule cross bars can accommodate up to 165 pounds, making it similar to the maximum carrying capacity of most roof racks in the market. That means it's also a sturdy option for heavy equipment and luggage. Thule's roof rack cross bars are also some of the more straightforward to install and include their AcuTight Tensioning Tool, so you can see whether the rack is completely secured.
Thule, a Swedish company, makes most of its products in the USA (and the rest in Europe) with renewable energy, and offers a limited lifetime warranty.
| | |
| --- | --- |
| Pros | Lifetime warranty, up to 165-pound capacity, includes tensioning tool, aero design |
| Cons | Quiet, but louder than Yakima, expensive |
3. MAXXHAUL Adjustable Bed Rack
Think of these as a roof rack for your truck bed. Because even modern pickups can't carry everything in their short boxes, a set of roof racks can really increase your truck's functionality. These racks are adjustable to fit different pickup beds with a width range of 52 to 71-inches covering most applications. They're also simple to attach and secure with no-drill mounting, making it easy to remove them when not in use. They also come with a truck-suitable weight rating of 500 lbs, so they'll hold lumber and other supplies, not just skis or a bicycle.
The MaxxHaul racks have boat-style anchors for tying down cargo as well as rectangular anchors for using straps. If you need even longer storage, you can combine these racks with any of the other roof rack sets on this list to give you storage that runs from the end of the truck bed to over the front of the windshield.
| | |
| --- | --- |
| Pros | Fits truck beds, no drill, high capacity |
| Cons | You'll need more accessories for most gear |
4. Budget Pick: Reese Explore Roof Rack Cross Bar
These #1395900 square steel bars from Reese (the same company that makes trailer hitches) are your basic, heavy-duty square steel roof rack cross bars. You get a pair of 48-inch bars for less money than one aero bar, and they come with universal heavy steel U-bolts to clamp on to existing raised factory rails.
The same clamp that holds them on also allows you to adjust the width to fit, and they're rated at 110 pounds. The 48-inch width may not be enough for larger SUVs or trucks, and you won't be taking them on and off all the time, but if you don't want to spend much and want a basic rack that will hold your stuff, Reese may be the way to go. Reese also makes a #1391400 round tube version, but we don't recommend it, as it's hard to secure the round bars in the clamps well.
| | |
| --- | --- |
| Pros | Affordable, no specialized hardware, simple installation |
| Cons | Not very wide, requires rails with a lot of clearance underneath, bolts exposed to weather |
5. Water Sports Specialist: Inno Surf, Kayak, Canoe and SUP rack
Water sport enthusiasts love this specialty roof rack from Inno, which can accommodate multiple types of gear including kayaks, canoes, windsurf boards, paddleboards, SUPs, and long and shortboards. The Inno Racks Water Sports rack is designed to be a universal fit item, so it works well with round, square, or factory roof rails. It also features a unique locking system. If you're looking for a fast and secure way to mount your water sports gear, this is it.
With the largest lever and ratcheting mechanism in its class, this roof rack not only saves time but is very practical. It also uses Inno's cam locking mechanism with keys, to ensure your gear is always locked tightly to the rack. The floating strap system to keep all your cargo nice and safe, while making it easy to unload when needed. Inno protects your gear against scuffs and scrapes with dense padding on the cross rails as well as adjustable corner pads. Not listed as a use case, we'd bet you could securely attach fishing rods, especially large diameter ones like surf rods, too.
| | |
| --- | --- |
| Pros | Keyed lever and cam locking system, floating strap for fast loading, works for multiple types of water sports gear, mounts on crossbars or on factory roof rails |
| Cons | High noise levels, minimum 24-inch rail width, not useful for other types of loads |
6: Stay There Roof Rack Crossbars
If your car has raised roof bars, meaning there's open space between them and the roof, then you can add a set of universal aluminum cross bars from Stay There. These 54" wide aero bars have a C-shaped, rubber-lined foot that clamps onto either factory or aftermarket rails. Unlike most other bargain bars (and even some premium ones), the Stay There bars include a lock and keys, too. Their description says they hold 200 pounds, but the instructions say 150, which is what most owner's manuals will say is the maximum. The feet are adjustable from 34.5 to 49.5 inches to fit a range of roofs, and the bars only weigh 8.25 pounds, which makes it easy for one person to get them on and off.
It took a lot of digging to come up with contact information for Stay Here, which included a disconnected cell phone number in Van Nuys, California. We couldn't find any information on warranties, either on the Amazon listing or the staythereshop.com site, but we did send an email to the address provided for clarification. We'll update this information if we receive a response, but you should assume the only coverage is Amazon's 30-day warranty.
| | |
| --- | --- |
| Pros | Ultra light, inexpensive for aluminum aero bars, universal fit with raised rails, 15 inches of adjustment |
| Cons | No warranty information, only email customer service, not wide enough for big SUVs, laborious to install and remove |
7. Amazon Basics Universal Cross Rail Roof Rack
If you just need roof rack cross bars to clamp onto your existing roof rails, you can't get much simpler or more basic than Amazon's in-house brand. At literally 1/10th the price of a premium Yakima or Thule cross bar, Amazon's pair is a bit of a DIY affair, requiring you to assemble just about everything, but that's part of keeping the cost down.
The 52-inch set is ultra-light aluminum, at 6.6 pounds one of the lightest available, but still rated for a standard 165-pound load. They even come with locking clamps to prevent theft, although we've seen Starbucks orders that cost more.
You'll make some comprimes in ease of assembly, installation, and removal, and there's only a one-year warranty, but if you need a set of roof rack cross bars for occasional use, it's hard to go wrong.
| | |
| --- | --- |
| Pros | Incredibly affordable, includes locks, corrosion-resistant aluminum |
| Cons | Tricky assembly and installation |
8. SportRack Complete Roof Rack System
Through the 1980s, every roof rack looked like this: Square bars clamped onto the drip rails, but square (and round) bar roof racks aren't as common today. Aero bars, like the Thule or Yakima, have better aerodynamics, which means they're not highly desired among vehicle owners who look to maximize their fuel economy. Square bars still have their advantages however, especially when it comes to carrying specialized sports gear, or with older cars that might not have a specialized (and expensive) attachment system. If you're looking for a roof rack with a flat surface, the SportRack Complete Roof Rack System is one of the better options. As a complete system, you don't need pre-installed roof rails or mounting points to mount it.
Taking advantage of the flat design of the square bar, this 130-pound capacity system is fully adaptable. It works with a variety of racks and holders, including box-style designs to specialized bike racks, ski, and snowboards racks, or even kayak racks. And although it is affordable, it comes with some modern features such as a no-tool installation process, the ability to lock it to the roof of your car, as well as compatibility with most modern cars. Since it doesn't require roof rails to install, this rack can be mounted directly on the position marks above the doors, as indicated by the automaker.
Just keep in mind since it's not a very aerodynamic design, this roof rack could be noisy, and won't work on all cars.
| | |
| --- | --- |
| Pros | Mounts on bare roof, recommended for specialized racks, tooless installation, available in different sizes, designed to be locked to the car |
| Cons | Loud, car positioning installation marks may vary, confusing instructions, won't work with some modern flush roofs |
Everything You Need to Know About Roof Rails and Roof Racks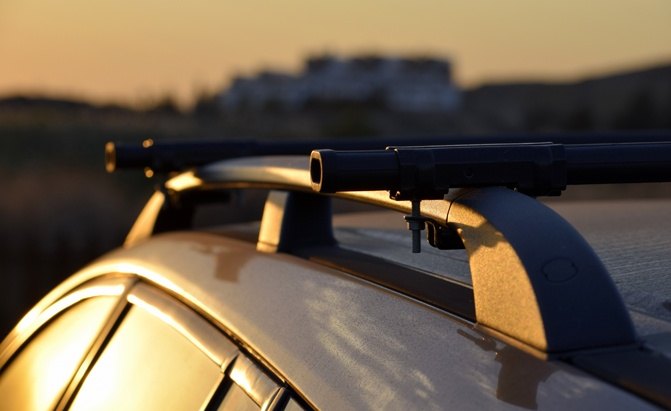 Photo credit: David Traver Adolphus / AutoGuide
If you're an outdoor enthusiast or often travel with sports gear, roof rails and roof racks are almost an essential accessory for your vehicle. You'll likely need expanded cargo capacity for all your gear, but there are a lot of things to take into consideration when shopping for roof rails and roof racks. For starters, the type of accessory you can use will be limited by your vehicle. Some cars will come straight from the factory with roof rails installed by the automaker, but some vehicles aren't compatible with roof rails at all.
A good general rule is to look at the roof of your vehicle and check to see if there are two rubber or plastic strips. If there are, that means you can likely install roof rails on your vehicle. However, if your car doesn't have those strips as standard, you'll have to shop for certain aftermarket options that can be installed onto your car's roof.
When it comes to installing the accessory, it will depend on whether you're opting for roof rails or a roof rack. For either product, the install can be done at home, but generally installing roof rails will require power tools, while most roof racks do not. If you're not familiar with using power tools, it's highly recommended to seek professional help with installing aftermarket roof rails.
Roof rails run the length of your car, not across, and are attached to your car. Everything else hooks on to these, and "cross bars" and "roof racks" are often used interchangeably, although the category of things called roof racks is broader,
To start by learning the differences between roof rails and roof racks, we'll take a look at the benefits of using roof rails. Roof rails serve as a base for your roof rack installation and can assist in carrying various cargo or sporting equipment. Here are other benefits of mounted roof rails:
Serves as a base for various roof racks or roof cargo boxes
Can be used on multiple types of vehicles including sedans, hatchbacks, SUVs, and even some vans
Can assist in carrying sporting equipment such as skis, snowboards, bikes, kayaks, and more
Sturdy since they are usually screwed to the top of the car
Difficult to steal
Can also serve as a base for aluminum or steel crossbars
As we mentioned before, some vehicles will come standard with roof rails straight from the factory. You'll often find them on utility vehicles and wagons, but some sedans will come equipped with roof rails, such as the Subaru Impreza seen above. For vehicles that don't have roof rails as standard or an option, you'll have to look at other options. If you're buying a new car, they will usually be available as an option, or if your car isn't very old, you can buy them from the dealership. We generally wouldn't choose a dealership unless we couldn't find it elsewhere, as dealers charge a lot and you can almost always find the exact same product online for much less.
What are Cross Bars and Roof Racks?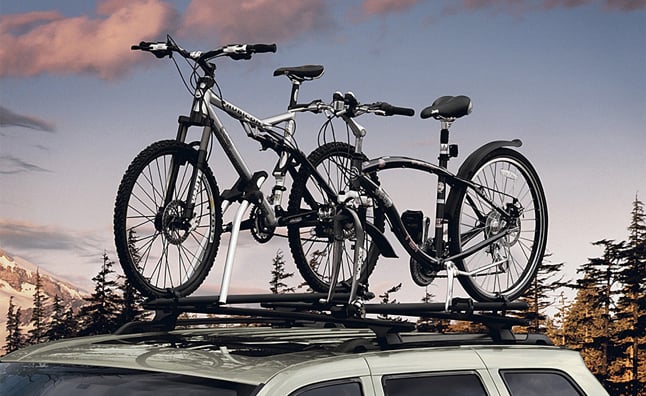 "Roof rack" and "cross bar" are often used interchangeably, but while cross bars are only what they sound like, bars that go from one side of your roof to the other, roof rack can mean many things.
We usually think of a roof rack as installed on top of roof rails or on top of crossbars, serving as a mounting point for gear such as bikes or skis. Roof racks are typically the primary option for people who lack space to carry sports equipment inside their car. Here are some other benefits of roof racks:
Great for transporting large outdoor gear such as bikes and skis
Unlike hitch-mounted racks, roof racks usually leave easy access to the trunk
Able to lock sporting equipment to the rack to prevent theft
Expanded versatility for cargo transportation with the ability to add cargo boxes
Can easily be removed and placed in storage when not being used
Offers summer and winter outdoor gear transportation
How To Choose the Best Roof Rails
If you're shopping for roof rails, you may notice there are a few different options available on the market. Unlike roof racks, roof rails are generally more restrictive, so it's important to take a look at the possibilities the roof of your car might offer:
Solid roof rails
Raised roof rails
Fixed point rails
Plain roof
Of all the options, solid roof rails are the most durable since there is no gap between the car and the rail. In theory, that means they can handle increased weight (although your car's roof might not). But as for functionality, they are not really that different from any type of rail, but they do have a sleek design which means you'll often find them on today's modern cars.
Raised roof rails have a slimmer profile and are rails that have a space between them and the car. These aren't as popular these days, but you can still find them on wagons. In terms of functionality, they work using the same principles as other roof rails.
Typically covered by plastic, rubber, or a metal strip, fixed point roof rails are often found on many cars, regardless of their size. Installing roof rails on fixed point rails tend to be the most difficult to install.
There are a few cars that have just a plain roof, which means no roof rails, no raised roof rails, and no fixed points. It's a valid question on whether you can add a roof rack to a vehicle with a plain roof, and the good news is that there is one possibility—it requires you to fix crossbar-style raised bars or racks on the door jamb.
Choosing the best roof rails will often come down to what fits. Some cars already come with roof rails as standard, while others you'll have to add your own roof rails or you may even want to replace the factory-mounted units.
How to Choose the Best Roof Rack?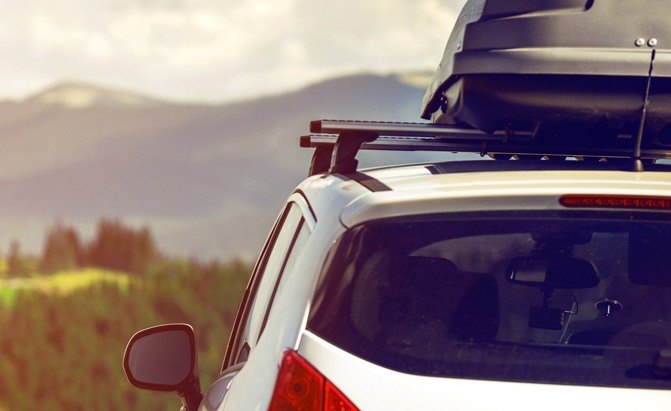 Photo Credit: In Green / Shutterstock
Unlike roof rails, choosing the roof rack isn't as straightforward. There is a large variety of options available in the market, so here are a few of the features and characteristics you should pay attention to when narrowing down your choice:
Fit
This may sound like common sense, but you'll want to start by seeing which roof racks fit your vehicle. Most manufacturers use straps or adjustable clips, which work on a variety of roof and square roof racks. There are also factory standard and aerodynamic racks you can purchase, just make sure they actually fit your vehicle.
Ease of installation
Although it's not an accessory you'll often need to uninstall, ease of installation is an important factor to consider when choosing a roof rack. Certain products will require the tightening or securing of straps for the roof rack to be properly installed onto roof rails or crossbars. But some products, like those offered by Thule or Yakima, use a universal mounting system that tightens with a turn of a knob. It's up to you to decide if convenience is worth the price difference.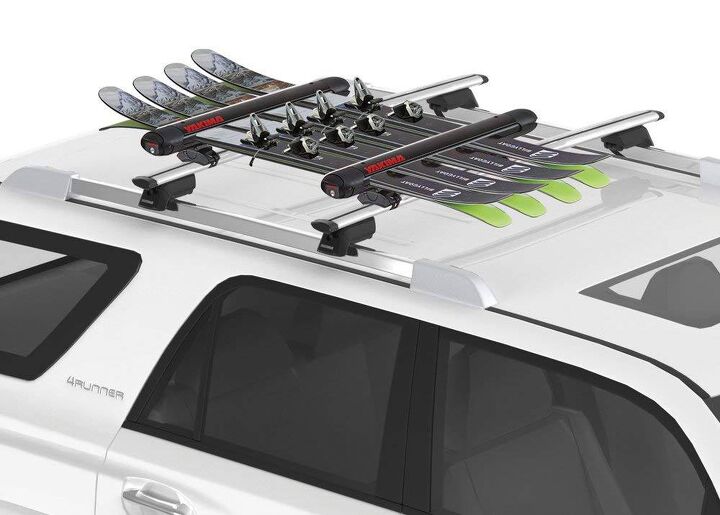 Height
Naturally adding a roof rack to your vehicle means you'll have to consider overhead clearance. Not only will the rack increase the height of your car slightly, but carrying equipment on top of it will limit the areas you can reach with your car. You'll want to make sure you're still able to fit in garages or underground spaces with the addition of a roof rack.
Weight
You'll also want to take into consideration how much weight a roof rack will add to your vehicle, in addition to how much weight it supports. Check your car's guidelines as to how much weight can be loaded onto the roof of your vehicle, and keep in mind how the weight is distribution is important as well. It's not the same for a car's roof to carry 150 pounds of evenly distributed weight compared to all the weight being concentrated on a small area.
Shape
If you've done any sort of shopping for roof racks, you may already be aware that they come in a wide assortment of shapes and styles. The bottom line is that not all roof racks are the same, and you'll want one that works as a solution for what you plan on transporting. Typically people are familiar with roof racks for sporting equipment, such as bikes, but there are also solutions designed for cargo boxes that can help maximize your vehicle's capacity. Choose the right option for what you plan on carrying with your vehicle.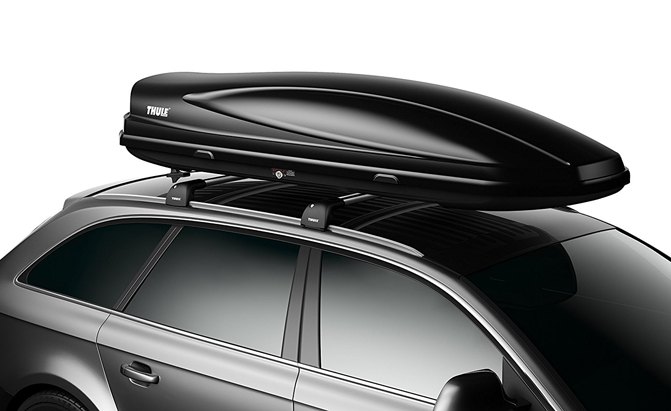 Storage
Keep in mind that not all roof racks must remain mounted on the car when they're not being used. That means you'll want to consider how easily the rack can be stored if it's not being used. The average roof rack doesn't require too much storage space, but it's something to consider.
How Do I Know What Kind of Roof Rack I Need?
Deciding what kind of roof rack you need comes down to the type of cargo or equipment you're planning to transport. If you're going skiing, look for a ski or snowboarding rack; but if you're going cycling, you'll need a bike rack. If you're looking to protect your cargo from the elements during transport, a cargo box is recommended. There are even specialized designs if you're looking for a more ideal solution for your particular situation.
Can Roof Racks Be Removed?
Regardless of the type of roof rack you purchase, it can be removed after installation. Roof rails, on the other hand, are usually permanent or at least semi-permanent. The best roof rack cross bars can be removed in seconds, and there are roof rack and accessory attachments which come off almost as fast. You should remove roof racks and cross bars from your vehicle when it's not being used regularly, and any time you go to a car wash.
Is a Roof Rack Dangerous?
When installed correctly, a roof rack is not a dangerous accessory. They can however, be dangerous if you don't take overhead clearance into consideration. In addition, driving at high speeds in windy conditions with a roof rack may make your vehicle less stable. Pay careful attention to the tips from the manufacturer of the roof rack to help reduce those risks. Conditions will vary depending on where you live, so consider your driving speed when traveling with a roof rack and cargo.
And of course, you can never be too careful securing your cargo. A good set of ratchet straps, combined with cam buckle straps, will secure almost any load.
What Tools do I Need to Install a Roof Rack or Cross Bars?
Most modern roof racks do not require any special tools to install, or if they do, will come with them, like an allen wrench. At worst, you might want a screwdriver or a pair of pliers to make adjustments that are hard to do by hand. A stepladder or at least stepstool will likely make everything a lot easier.
Typically, sports and cargo racks use a locking cam system or rubber straps for installation, although some older designs do require fitting bolts and screws.
What Tools Do I Need to Install Roof Rails?
If you're lucky, your car will have built-in attachment points, located under a rubber strip along your roof. In that case, roof rails (or towers like our Editor's Pick Yakima), will bolt directly into them, using either an allen wrench or socket, usually included as part of the kit.
If you're installing roof rails into a solid metal (naked) roof, you'll at least need a drill, drill bit, measuring tape, and marker. Some are designed so you don't need to do anything inside the car, and seal themselves against water during installation. We'd advise against a kit that required more than that, unless you're an experienced mechanic.
If you do go that route, you should plan on needing screwdrivers, needle nose pliers, Torx drivers, a file, drill, drill bits, pushpins, jigsaw, and plastic trim tools, as well as extra sealants.
Can I Fit Roof Rails On A Car Under Warranty?
Installing roof rails on factory mounting points will be unlikely to void your warranty, as you're not modifying your car any more than adding a decorative license plate bracket—you can just unbolt them and return your car to the way it was. You'd still want to check, and those you need to screw in may be a different matter.
If warranty is a concern, you will want to check with your dealer if it can install roof rails under warranty, or if you can have a professional install them while retaining your car's warranty.
Does the Shape of the Roof Rack Influence Car Performance?
Adding a roof rack and subsequent cargo to the roof of your vehicle will affect it's overall aerodynamics. This results in lowered fuel economy and more drag on your vehicle. Overall vehicle performance can also be affected due to added weight. Most importantly however, you'll want to keep in mind that traveling with a roof rack and cargo may mean driving at slower speeds to be safe. Some products claim to be more aerodynamic than others, so if fuel economy is a concern, pay close attention to a roof rack's aerodynamics.
In our experience, teardrop-shaped cross bars are much quieter than square or round tube, and that almost certainly equates to better mileage.
General Tips on Installing Roof Rails
Not all roof rails will be installed with the same process, so follow the instructions carefully. But if you're looking for an idea of how roof rails are installed in factory brackets, here is a general overview of the steps involved if your vehicle came with rubber roof strips.
1. Remove the rubber strips on the roof
This step is fairly straightforward, as removing the rubber strips on your roof shouldn't be very complicated. On most vehicles, this can be done by hand by pulling on the strips to raise them from your vehicle. Once a section of the strip has been lifted, you can remove it by pulling it towards the front of the vehicle.
2. Remove the rear hinge bracket
Some vehicles will have a rear hinge bracket, especially on larger cars. This bracket normally can be easily removed, but may require some extra force. Some cars will require you to open the trunk so the bracket can slide out unobstructed. A rubber mallet is recommended for this step, since you don't want to accidentally break the bracket.
3. Modify the hinge bracket
For some roof rails, the bracket will end back up on the roof of the car, but not before you make some modifications to it. This is where a jigsaw can come in handy so you can cut the hinge bracket down to the necessary size and shape. And this doesn't have to be a perfect job, since the bracket will be covered by the roof rails once they're installed.
4. Modify the roof rubber strips
The rubber strips you removed from the roof of your car in the start may need to be shortened. The length required is typically noted in the roof rail installation instructions. Measure the strip and mark where it needs to be cut before you do the actual cutting.
5. Install the trim piece
Start from the front of the car to reinstall the shortened trim piece back onto the roof of your car. For most vehicles, this piece is made from plastic and will clip into position.
6. Remove the remaining plastic clips from the roof
If there are any remaining plastic clips that are exposed on the roof, you'll want to remove these with a flathead screwdriver or similar tool.
7. Reattach the plastic hinge cover
You can now reinstall the plastic hinge cover to the back of the roof rail. Pay close attention as you'll have to position the cover so that it attaches to some of the plastic clips. To make it easier, you can remove the plastic clips from the roof of the car first and attach it to the plastic hinge before snapping it all back in.
8. Install the mounting bracket and roof rail cover
Depending on the roof rail, your next step will be to line up the bolts and install the mounting bracket into place. All roof rails should come with the necessary hardware for install.
General Tips on Installing a Roof Rack
Compared to installing roof rails, installing a roof rack is generally much simpler. In fact, most products won't require any special tools since modern roof racks come pre-assembled. That means you'll likely have to just mount them onto your roof rails or crossbars.
1. Place the rack on the crossbar
Most roof racks will come with securing straps or clamps already mounted to the unit. Start by placing the front piece on the crossbar, towards the front of the car, and the rear piece towards the rear of the car. Make sure they are centered with equal spacing to the edges of the crossbars.
2. Lock the rack into position
In order to secure the rack onto the crossbars, you'll need to tighten the straps that are included. Most racks come with adjustable straps that can be tightened into by position by simply turning a knob.
3. Test for sturdiness
Once your roof rack has been installed, check and make sure it's nice and secure. Since you'll likely be driving at high speeds, wind resistance could possibly move the rack, which is something you will want to avoid. Make sure everything is sturdy before adding cargo to the roof rack.
Recent Updates:
January 3, 2023: Removed promoted product recommendation.
December 28, 2022: Added product links.
November 22, 2022: Updated product descriptions and photography for Yakima and Thule crossbars. Added additional product links.
June 9, 2022: Removed Reese Explore, Sport Rack, and Apex Legends cross bars and Perrycraft roof rails due to poor reviews. Added Stay There Roof Rack Crossbars.
June 03, 2022: Removed link; vendor no longer stocked item.
---
We are committed to finding, researching, and recommending the best products. We earn commissions from purchases you make using the retail links in our product reviews. Learn more about how this works.
AutoGuide may accept review samples for testing and evaluation. Suppliers of review products do not have any input into our conclusions and are not allowed to review our content before publication.
Published July 19th, 2023 1:32 PM
Popular Articles
Latest Comparisons
Car Buying Tools