4.8K Views
Hyundai Palisade Vs Mazda CX-90 Comparison
August 25th, 2023 4:01 PM
Share
A Rematch on an Even Playing Field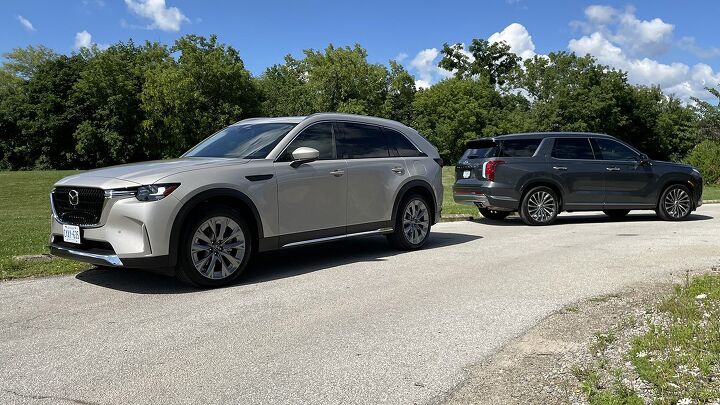 Earlier this spring, Mazda launched a new three-row SUV called the CX-90. A more premium, rear-wheel drive-bias family hauler, we eagerly tossed it into an eight-vehicle, three-row SUV mega comparison.
For that shootout, we had a fully loaded 2024 Mazda CX-90 3.3 Turbo S Premium Plus (called Signature in Canada). Although we regarded it as the best vehicle in the comparison, its price point was just too steep to topple the fantastic value that is the Hyundai Palisade. Ultimately, the CX-90 came up a bit short, finishing second.
It left us wondering if a lower trim Mazda CX-90, with the less powerful engine, lower price point, but still high feature content, would beat the Palisade head-to-head. Fast forward four months and it's time for that exact rematch.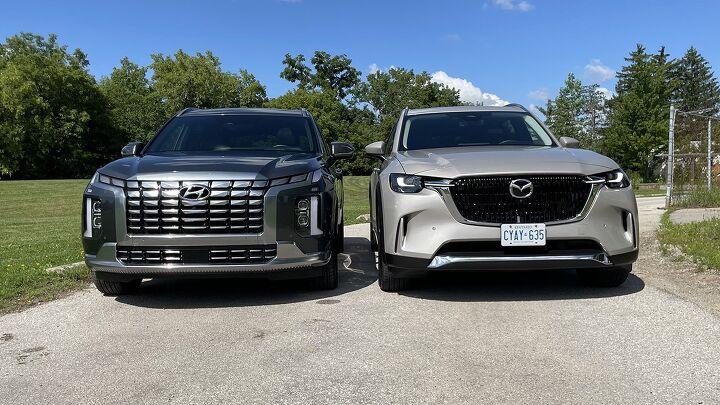 In one corner, returning as the champion, is the Hyundai Palisade Calligraphy AWD. As the top trim in the Palisade family, there isn't much this vehicle doesn't have on its extensive equipment list. Price as tested is $53,435 ($58,774 Canadian).
Taking it on is a 2024 Mazda CX-90 3.3 Turbo Premium AWD (called the GT in Canada). It slots in below the Palisade with an as tested price of $51,000 ($57,345 Canadian).
Let the games begin.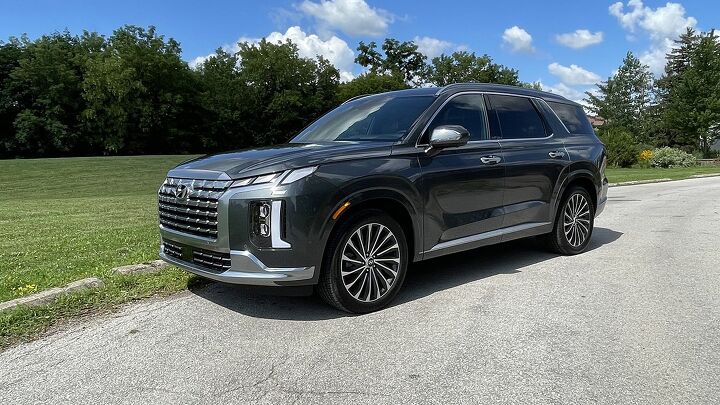 Hyundai Palisade:
Measuring in at 196.7-inches (4,995 mm) in length, the Hyundai Palisade is a sizeable vehicle, but slightly smaller than the CX-90. The Palisade has a squarer shape, with more angular details that makes it looker bigger than it is. The Hyundai is easily the more distinct and attention-grabbing design. Its overall look may not be for everyone, especially that grille, and we wonder how well the overall shape will age.
As the top trim level, the Calligraphy gets unique features like the grille, bumper, body color wheel arches, skid plates, and more. The 20-inch wheels match the vehicle's overall look and there's LED lights all around.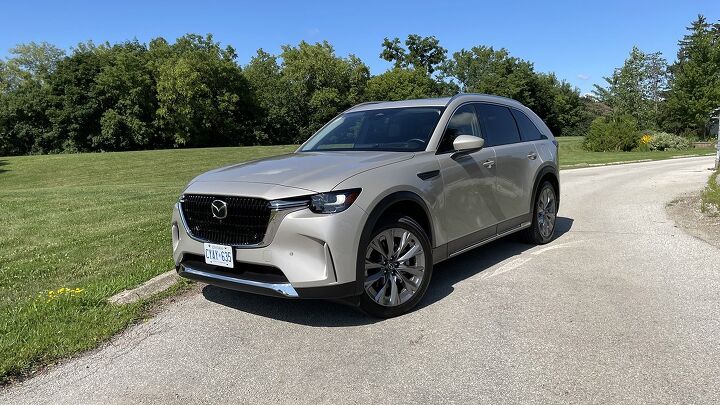 Mazda CX-90:
The Mazda CX-90 features a family familiar design. There are the usual brand styling cues, but in a fresh design. Most notable is a larger front grille and re-imagined headlights. It's an evolution of Mazda's current styling.
Being a rear-wheel drive-bias platform, there are short front overhangs that emphasize the Mazda's 201.6-inch (5,120 mm) length. Even though this is a mid-trim model, it still wears 21-inch wheels, has painted cladding around wheels, and has LED lights all around.
| Measurement | Hyundai Palisade Calligraphy | Mazda CX-90 3.3 Turbo Premium |
| --- | --- | --- |
| Length | 196.7-inches (4,995 mm) | 201.6-inch (5,120 mm) |
| Width | 77.8-inches (1,975 mm) | 77.6-inches (1,971 mm) |
| Height | 68.9-inches (17,50 mm) | 68.2-inches (1,740 mm) |
In Conclusion:
Styling is a personal preference and both vehicles have a distinct look. For our money, we prefer the classic proportions, traditional grille, and round corners of the Mazda CX-90. It takes this first category.
Interior and Cargo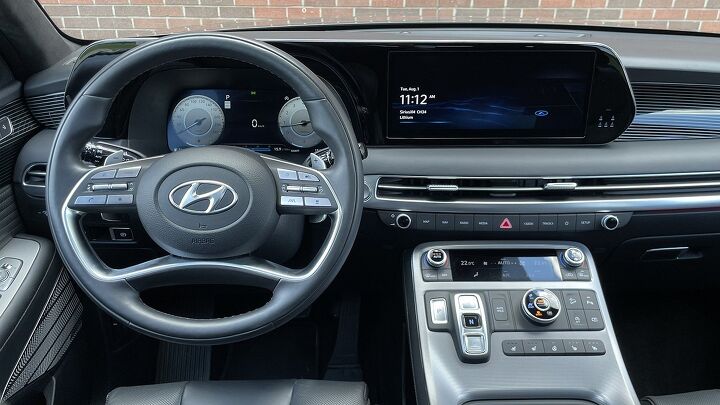 Hyundai Palisade:
The Palisade's boxier shape leads to better sightlines. There are larger windows behind the driver, including on the rear hatch. The overall design of the Hyundai's interior feels premium and is the more visually striking of the two in this comparison.
The Calligraphy includes the second-row captain's chairs which gives the vehicle a 7-passenger seating set-up. All three rows of seats are covered in Nappa leather and there is a suede microfibre roof liner. Although headroom is close between the two vehicles, the Palisade has a distinct advantage when it comes to legroom.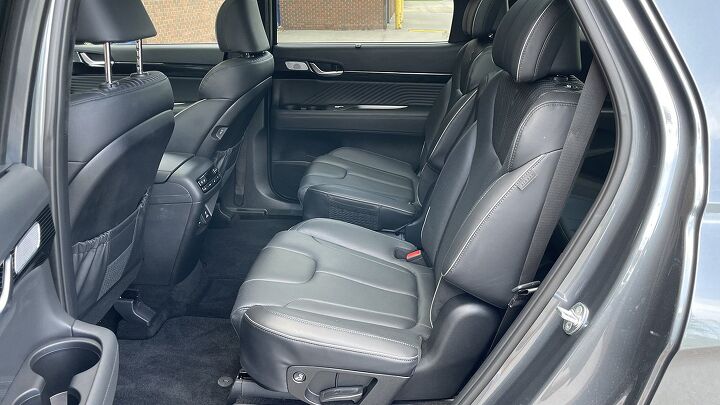 In the second-row seats, we prefer this vehicle's armrest placement, usable headroom, and seat comfort. The third row is also a more accommodating place. The seat cushion isn't too low, and a six-foot adult does have enough headroom and legroom. Although the third-row bench is a three-seater, three adults will not fit back in there in comfort. On the plus, the large third-row windows make it feel rather airy.
That third row is also power operated to fold down, making cargo loading easier. The Palisade not only has a larger cargo capacity, but the more squared off cargo area allows for taller objects to be transported.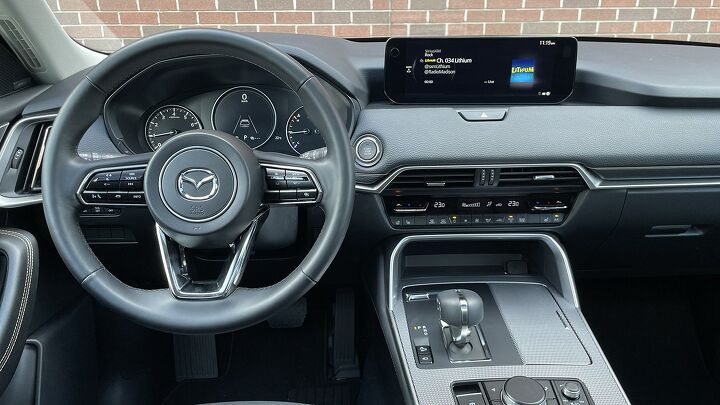 Mazda CX-90:
Even though our CX-90 is only a mid-trim model, it's still well-appointed inside. In fact, we prefer its interior design as it feels a bit more premium. That stated, it's not nearly as elegant as the Turbo S Premium Plus we drove in the spring. The Mazda also has proper panoramic sunroof unlike the Hyundai's dual sunroof. On the negative side, the front cup holders in the CX-90 are rather narrow, so larger cups or travel mugs will be relegated to the door cup holders.
Like the Palisade, our CX-90 tester arrived in a 7-passenger seating configuration. All three rows are covered in leather and the second row offers good comfort that's just a bit less accommodating than the Palisade.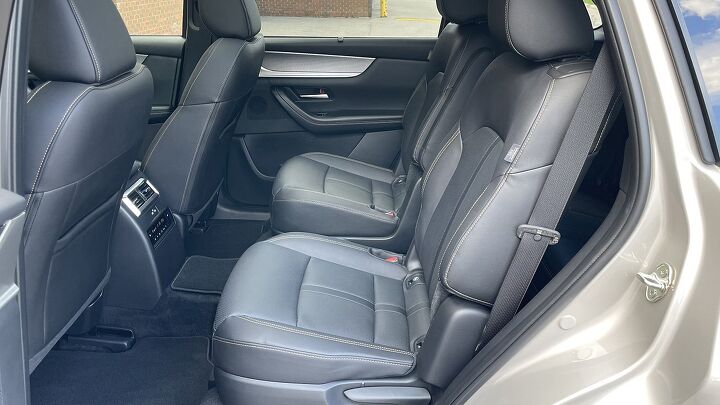 Headroom in the CX-90's third-row seating area is a bit more cramped, but a six-foot adult will fit. The seat cushion isn't too low for adults and the bench feels a bit wider. The small rear windows do make it feel a bit more claustrophobic though.
As mentioned, cargo capacity in the CX-90 is a bit less than the Palisade, but still quite good. One note for taller drivers, when opened, the rear hatch does not lift high enough for six-foot tall adults to fit under without ducking. I bashed my head off it more than once on a camping trip.
| Measurement | Hyundai Palisade Calligraphy | Mazda CX-90 3.3 Turbo Premium |
| --- | --- | --- |
| First Row Headroom | 39.3-inches (997 mm) | 39.7-inches (1,005 mm) |
| Second Row Headroom | 38.8-inches (985 mm) | 39.3-inches (975 mm) |
| Third Row Headroom | 37.2-inches (944 mm) | 36.9-inches (935 mm) |
| First Row Legroom | 44.1-inches (1.052 mm) | 41.7-inches (1,058 mm) |
| Second Row Legroom | 42.4-inches (1,077 mm) | 39.4-inches (1,000 mm) |
| Third Row Legroom | 31.4-inches (798 mm) | 30.4-inches (773 mm) |
| Cargo Behind Third Row | 18.0 cu ft (509 L) | 14.9 cu ft (423 L) |
| Cargo Behind Second Row | 45.8 cu ft (1,297 L) | 40.0 cu ft (1,133 L) |
| Cargo Behind First Row | 86.4 cu ft (2,447 L) | 74.2 cu ft (2,101 L) |
In Conclusion:
Although we prefer the look and feel of the CX-90's interior, this category goes to the Palisade. With more space and comfort for passengers in all three rows, plus a larger, more accessible cargo area, the Hyundai is the clear winner.
Technology and Features
Hyundai Palisade:
With the trop-trim Calligraphy, the Palisade comes very well equipped. On a technology front, it comes with a 12.3-inch digital instrument cluster, surround view monitor, Harman Kardon audio system, head up display, wireless charging pad, ambient lighting, proximity key, rain sensing wipers, digital rear-view mirror camera, and more.
For front seat passengers, they're swathed in comfort with heated and ventilated front seats, a heated steering wheel, power driver and front passenger seat, three-zone climate control, and the dual pane moonroof. Rear seat passengers aren't forgotten about with rear side window shades, heated and ventilated middle row seats, and third row USB ports.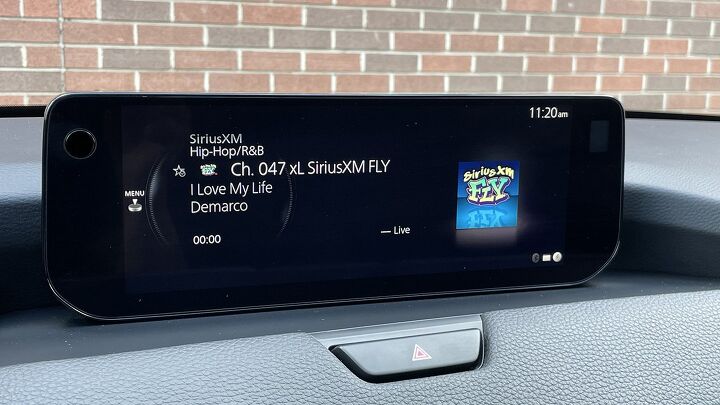 Mazda CX-90:
Technology wise, the Mazda CX-90 nearly matches the Palisade when it comes to features. Equipped in our tester are rain sensing wipers, a 7-inch LCD driver information display, a 12.3-inch infotainment system, wireless phone charging, a Bose audio system, a power telescopic steering wheel, proximity key, and more.
Unlike the Palisade, the CX-90 has a true panoramic sunroof. Also included are wiper de-icers, three-zone climate control, a heated steering wheel, rear sun shades, power front seats, as well as heated first and second row seats.
Compared to the Hyundai, there are some features missing in our CX-90 3.3 Turbo Premium AWD though. These include ventilated seats, memory seats, lane watch cameras, and power folding third row seats. However, there is one key feature found in the CX-90 missing from the Palisade - wireless Apple CarPlay and Android Auto.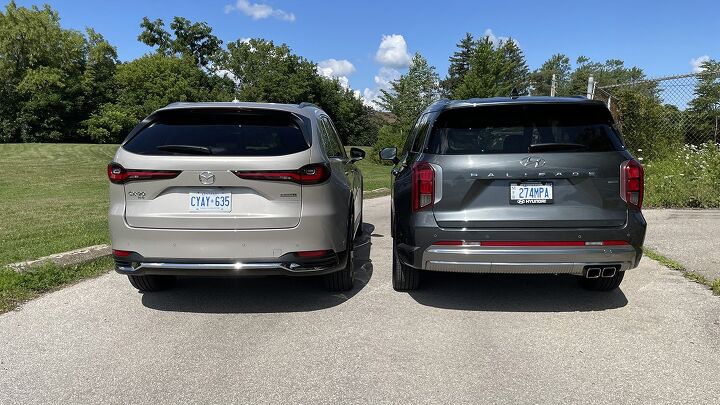 In Conclusion:
Despite having wireless smartphone integration, the Mazda CX-90 can't quite match the Palisade's level of equipped content. It's another victory for Hyundai here.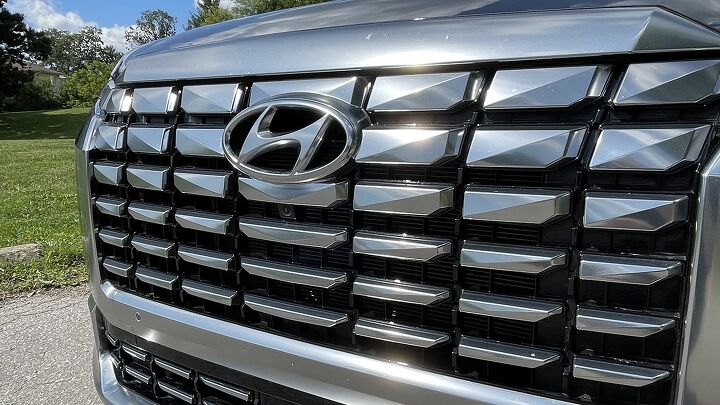 Hyundai Palisade:
Powering the Palisade is Hyundai's trusty 3.8-liter V6 that makes 291 hp and 262 lb-ft of torque. Power is sent to all four wheels through an eight-speed automatic transmission. There's good power at most engine speeds, but a lot of the real grunt is hiding in the higher rpms. The engine needs to be really wrung out to get the most out of it. Driven normally it's relaxed when it comes to acceleration.
The eight-speed automatic is quite seamless in operation, going about its job in an acceptable manner. Less acceptable is the Palisade's fuel economy. Officially, our all-wheel drive model is rated at 19 mpg (12.6 L/100 km) city and 24 mpg (9.5 L/100 km) highway.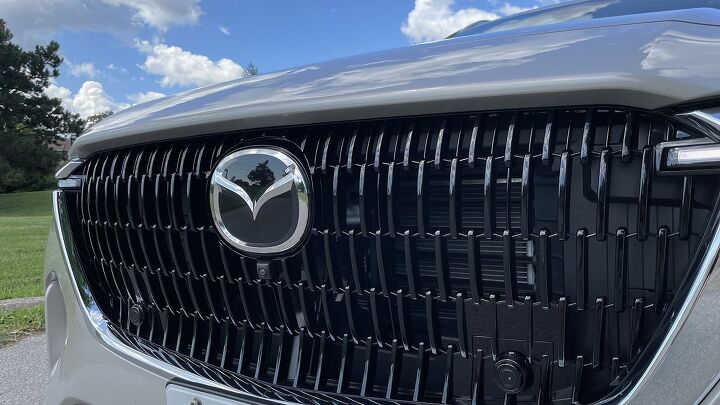 Mazda CX-90:
Our Mazda test vehicle is the Turbo, and not the Turbo S. That means it still has a 3.3-liter turbocharged Inline-6, put power output is lower. In the Turbo, figures are listed at 280 hp and 332 lb-ft of torque vs 340 hp and 369 lb-ft found in the Turbo S. It's important to note, the Turbo's figures are quoted on regular octane gas while the Turbo S figures require premium fuel.
Like the more powerful engine, the lower-output Turbo still uses a mild hybrid set-up which includes a 11 Kw motor making 16.9 hp and 113 lb-ft of torque. This isn't a regular hybrid that allows for extended all-electric driving. Instead, it helps get the SUV moving from a stop while the stop/start system is still engaging. It also allows assist the engine for brief periods on the highway.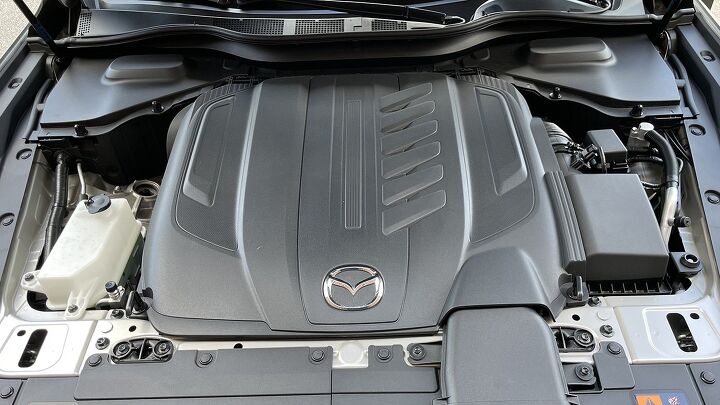 Like the Palisade, the CX-90 uses an eight-speed automatic transmission that sends power to all four wheels. Torque throughout the engine range is plentiful and this is the more flexible drivetrain. At cruising speeds though, in lower rpms, the engine exhibits a bit of roughness when slowly accelerating. It's like the transmission and engine are out of sync at times. As well, we noticed that more throttle input is needed with the CX-90 to get the engine to unleash its power. It takes greater effort and more force from one's right leg to drive. Once enough pressure is applied, the reward is great from the inline-six powerhouse.
Another big plus is the vehicle's full economy. Officially, our tester is rated 24 mpg (9.9 L/100 km) city and 28 mpg (8.4 L/100 km) highway. That's a significant advantage over the Palisade. On quick note – Mazda's shifter takes a moment to get used to. It's quite easy to leave it in reverse instead of park – a mistake we're guilty of.
| Measurement | Hyundai Palisade Calligraphy | Mazda CX-90 3.3 Turbo Premium |
| --- | --- | --- |
| Engine | 3.8-liter V6 | 3.3-liter tubo inline-6 |
| Horsepower | 291 hp | 280 hp |
| Torque | 262 lb-ft | 332 lb-ft |
| Electric Motor | N/A | 11 Kw, 16.9 hp, 113 lb-ft |
| Transmission | 8AT | 8AT |
| Drivetrain | AWD | AWD |
| Fuel Economy (MPG) | 19 mpg city, 24 mpg highway | 24 mpg city, 28 mpg highway |
| Fuel Economy (L/100 km) | 12.6 L/100 km city, 9.5 L/100 km | 9.9 L/100 km city, 8.4 L/100 km highway |
In Conclusion:
Even if the CX-90's drivetrain is a bit rough at times, the vehicle's superior fuel economy and mid-range torque give it the victory here.
Chassis and Towing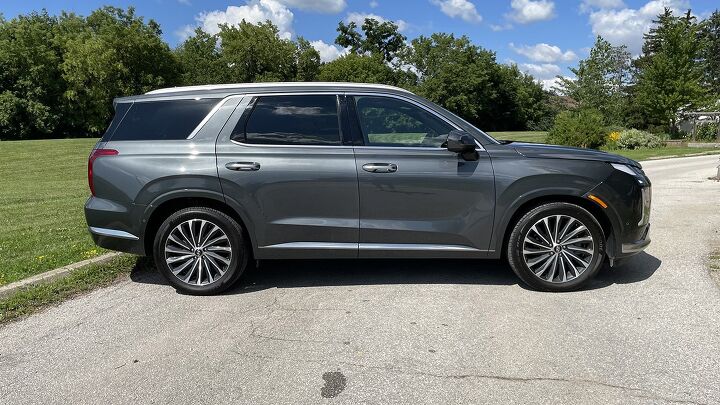 Hyundai Palisade:
The Palisade rides on 245/50R20 tires and includes the optional auto levelling rear suspension. The ride quality is quite pleasant as the Hyundai does a good job absorbing bumps. Although road imperfections can be audibly heard inside the vehicle, they are not felt.
Overall, the Palisade is predictable to drive. Steering, braking, and acceleration are light, easy to use. We did notice it has spongier brakes and more wind and road noise are present inside.
Although neither of these vehicles will do any real off-roading, both have eight inches ground clearance which would allow them to traverse over rutted country roads. Weighing 4,506 lbs. (2,044 kg), the Hyundai is the lighter of the two vehicles, yet can still tow the same 5,000 pounds as the Mazda when properly equipped.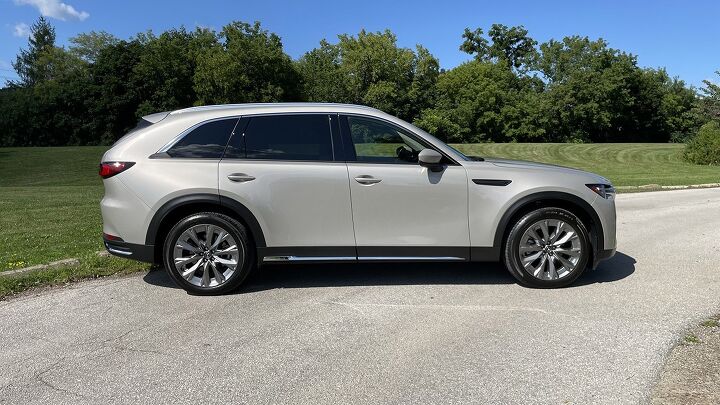 Mazda CX-90:
While the Palisade is about ease of use and passenger comfort, the CX-90 focuses a bit more on driver engagement. Being a rear-wheel biased chassis, the CX-90 is closer related in layout to the BMW X5 and Mercedes-Benz GLS than the Honda Pilot and Toyota Highlander.
The Mazda features heavier, stiffer steering that requires more effort to drive, but gives more feedback. With large 275/45R21 tires, grip is very impressive for a mainstream three-row SUV. The wide rubber holds on far longer than any family-orientated vehicle in this class should, but not quite to the levels of the Germans mentioned above.
Ride quality in the Mazda is a bit stiffer, allowing more bumps to be felt. But the way the bumps are absorbed by the chassis is far more refined and controlled compared to the Palisade. It's a definite premium feel that sets the CX-90 apart from much of the similarly priced competition.
| Measurement | Hyundai Palisade Calligraphy | Mazda CX-90 3.3 Turbo Premium |
| --- | --- | --- |
| Weight | 4,506 lbs. (2,044 kg) | 4,709 lbs (2,168 kg) |
| Ground Clearance | 8.0-inches | 8.0-inches |
| Tires | 245/50R20 | 275/45R21 |
| Towing Capacity | 5,000 lbs. | 5,000 lbs. |
In Conclusion:
In this category, it's a tie as it's all a matter of personal preference. What's your pick? The cushier, easy to drive Palisade, or the more engaging, refined CX-90?
Safety and Price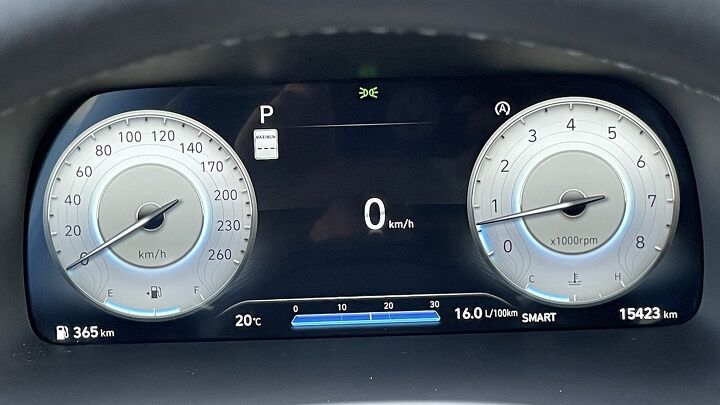 Hyundai Palisade:
The Hyundai Palisade starts at a price of price $37,735 (all prices include destination charge) in America. Our fully loaded Calligraphy tester stickers in at $53,435. In Canada, lower trim models of the Palisade come better equipped, and feature standard all-wheel drive. This puts the entry-level price at $49,974 CAD, a big jump compared to base American models. The Calligraphy closes the gap to American pricing though, listed at $58,774 CAD.
Finally, the safety equipment list on the Palisade is robust and includes the following features. Highway driving assist II, front/rear parking sensors, full forward collision avoidance warning and assists, blind-spot monitoring, automatic high beams, adaptive cruise control, remote parking assist, reverse parking collision avoidance, lane departure warning and assist, lane watch cameras, around view monitor, and more.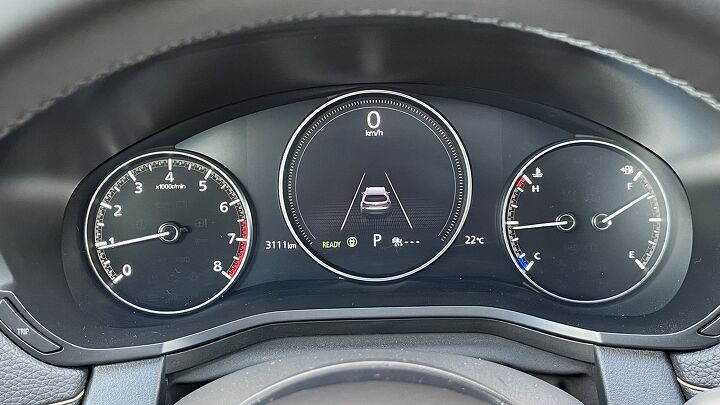 Mazda CX-90:
The Mazda CX-90 has a higher starting price in America, listed at $40,970. As tested though, our 3.3 Turbo Premium AWD undercuts the Palisade with a price of $51,000. In Canada it's a similar story where the CX-90 starts at price of $47,355 CAD, with our tester comes in at just $57,345 CAD.
On the safety front, the CX-90 we have for this test includes a ton of equipment including high beam assist, adaptive cruise control, blind-spot monitoring, rear cross traffic alert, front cross traffic alert, autonomous emergency braking, lane departure warning, lane-keep assist, around view monitor, front and rear parking sensors, and more.
| Measurement | Hyundai Palisade Calligraphy | Mazda CX-90 3.3 Turbo Premium |
| --- | --- | --- |
| Starting Price (USA) | $37,735 | $40,970 |
| As Tested Price (USA) | $53,435 | $51,000 |
| Starting Price (Canada) | $49,974 | $47,355 |
| As Tested Price (Canada) | $58,774 | $57,345 |
In Conclusion:
Pricing is close, with the CX-90 slightly undercutting the Palisade as tested. The Palisade counters by offering a bit more safety technology. This category is too close to call.
Hyundai Palisade vs Mazda CX-90: The Verdict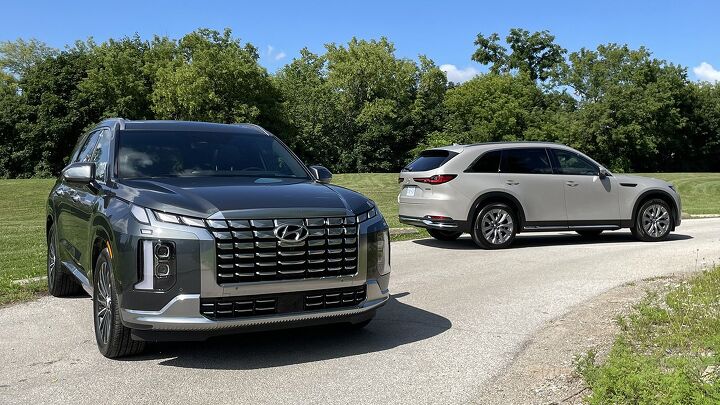 Last spring, we were certain in our assessment that an equally priced Mazda CX-90 would be the better choice over a Hyundai Palisade. After driving them back-to-back, we're not so sure anymore. The Palisade is feature packed and offers more passenger space, better ride comfort, and its own unique style in an easy to operate package.
The Mazda CX-90 is the more premium feeling vehicle, with better fuel economy, a more robust powertrain, and includes a bit of of driver engagement. But as it stands, the top trim models are pricey in America and there's still a few bugs to work out.
For now, the Palisade remains our overall best-buy choice in this segment, but Mazda is closing in.
Become an AutoGuide insider. Get the latest from the automotive world first by subscribing to our newsletter here.
Published August 25th, 2023 3:59 PM
Popular Articles
Latest Comparisons
Car Buying Tools