6.4K Views
Toyota Camry LE Vs SE: Which Trim is Right for You?
May 29th, 2023 4:20 PM
Share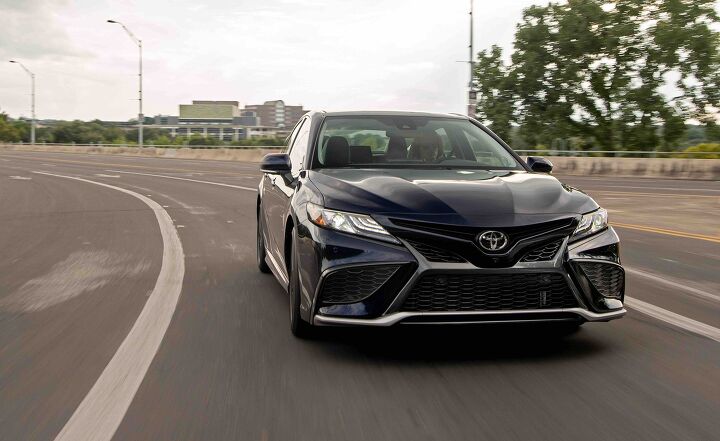 It remains one of the best-selling cars on the market. But which trim is right for your needs: the Toyota Camry LE or SE?
The Toyota Camry is a juggernaut of the mid-sized sedan segment. In 2022 it nearly doubled the sales figures of its next-closest competitor, the Honda Accord. It's easy to see why: Toyota's stalwart offers buyers agreeable driving dynamics, a range of drivetrain options, and an affordable price tag.
Get a Quote on a New 2023 Toyota Camry
For this latest AutoGuide trim-versus-trim comparison, we're zeroing in on the value end of the lineup. Both the Camry LE and Camry SE anchor the trim walk, coming in well under the average new-car purchase price. For simplicity, we'll be focusing on the gas-only versions, though both do come in an available hybrid format. Read on to find out which is the better buy in our Toyota Camry LE versus SE comparison.
Style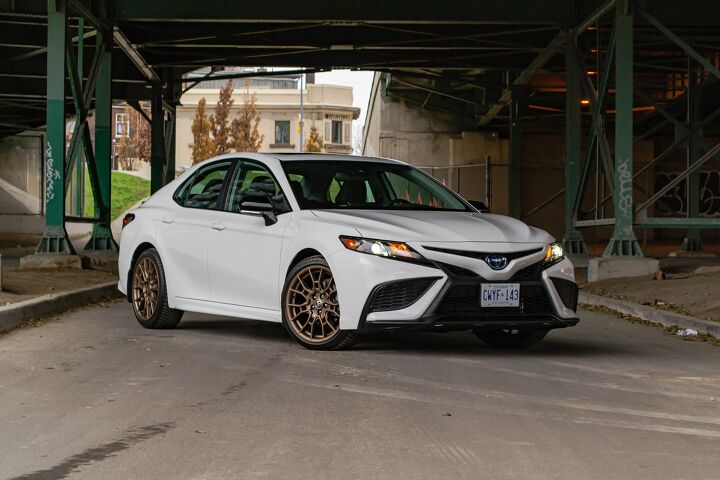 This current generation of Camry has been with us since 2017. A slight nip and tuck a few years back didn't alter the fundamentals. What was at launch a dramatic redesign has softened over years of exposure: there are millions out there, after all. Nonetheless, as Camrys go, this XV70-generation model is stylish, with a low, wide stance and a graceful window line.
SEE ALSO:
2023 Toyota Camry Hybrid SE Nightshade Review
The LE and SE go in two different stylistic directions. Opt for the "base" LE and you'll get a big Gillette Mach 5-inspired bumper design, along with standard 10-spoke, 17-inch alloy wheels. The SE is more dramatic, with a deep air dam extending down from the headlights, and two (blocked off) intakes at the front corners. It's a similar story out back: the LE has a clean bumper design and a discreet lower section. A busier style greets SE buyers, with a discreet lip spoiler, faux vertical vents in the bumper, and a diffuser-style lower section. You'll also find a dual-tip exhaust on the SE.
Toyota Camry LE vs SE: Cabin Space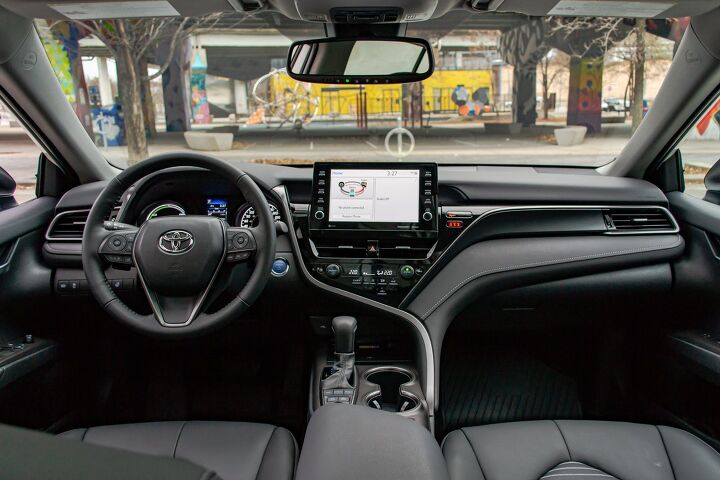 The Camry interior remains a comfortable, spacious place to spend the miles. A squiggle of metallic trim visually separates the cabin, giving drivers a cockpit-like feel, and cordoning off most of the primary controls in one easy-to-access spot. Toyota keeps the shifter close, and the cupholders in-line beside it: this is the correct way, as far as we're concerned. The seats are on the squishy side, built more for distance than corner carving; also the right choice.
Space is generous in both the Camry LE and SE. Headroom is 38.3 inches (973 millimeters) up front, and 38.0 inches (965 mm) in the back. In fact, legroom is "square" back there, measuring the same as headroom; front-row folks get 42.1 inches (1,069 mm) of the stuff.
The main differences between these two models lie in the seating surfaces and the steering wheel. LE buyers get cloth seating, while SE swaps in Toyota's SofTex faux-leather. It also gains a leather-wrapped steering wheel. Both models come in black or gray color schemes, while the LE offers Macadamia (read: beige).
Powertrain and Fuel Economy
Toyota's workhorse 2.5-liter inline-four cylinder sits under the Camry's low hood. What it lacks in refinement, it makes up for in reliable power: the Camry produces 203 horsepower and 184 pound-feet of torque, numbers practically shared with the V6 model of a few generations ago. Progress!
While competitors like the Honda Accord, Nissan Altima, and Subaru Legacy have moved to drone-prone CVTs, the gas-only Camry continues to employ an eight-speed automatic transmission.
Despite the differences in the wheel/tire combo, both of these models score the same official fuel economy figures. The EPA rates the Camry LE and SE at 28 mpg city and 39 mpg highway, for a combined 32 mpg rating.
Buyers have the choice of adding AWD to the 2.5-liter model, which naturally adds bad-weather grip, but eats into fuel economy. Toyota will also sell you a Camry LE or SE in hybrid format, but we've skipped over that particular flavor here.
Cargo and Towing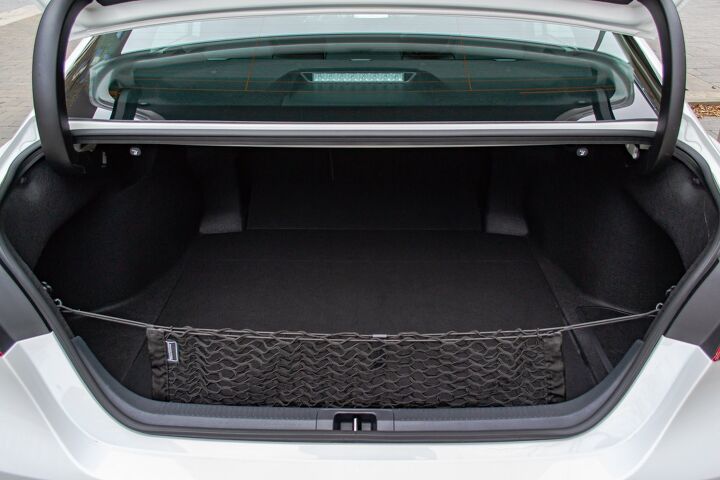 Both of these Camry models feature the same 15.1 cubic feet (428 liters) of cargo space, which is amongst the least capacious in this dwindling segment. It's worth noting that even the best of the bunch—the Honda Accord—only has 10-percent more space, however.
No matter which trim you pick, you'll find a 60/40-folding rear seat with integrated armrest and cupholders.
Toyota Camry LE vs SE: Safety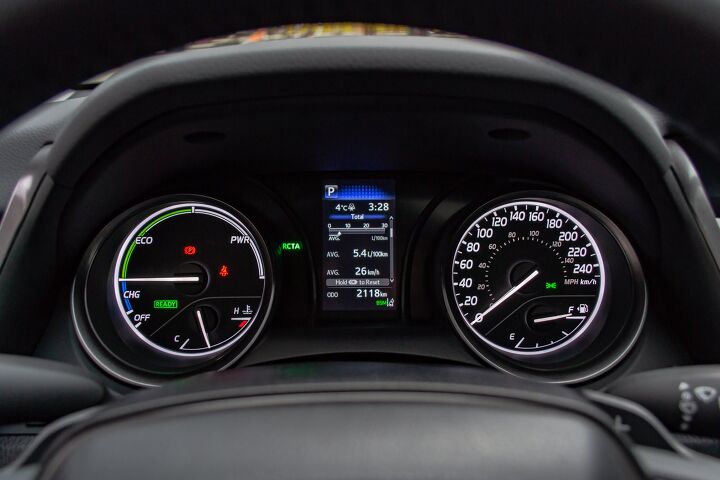 Toyota doesn't skimp on safety, and the Camry is just one example of that. Both of these models come standard with Toyota Safety Sense 2.5+, which bundles together assists like automated emergency braking, road sign assist, lane tracing, auto high beams, and adaptive cruise control. However, the adaptive cruise control in both models is not a full speed range setup; only higher trims gain access to that. Both blind spot monitoring and rear cross-traffic alerts are available as a package, on both LE and SE.
Tech and Features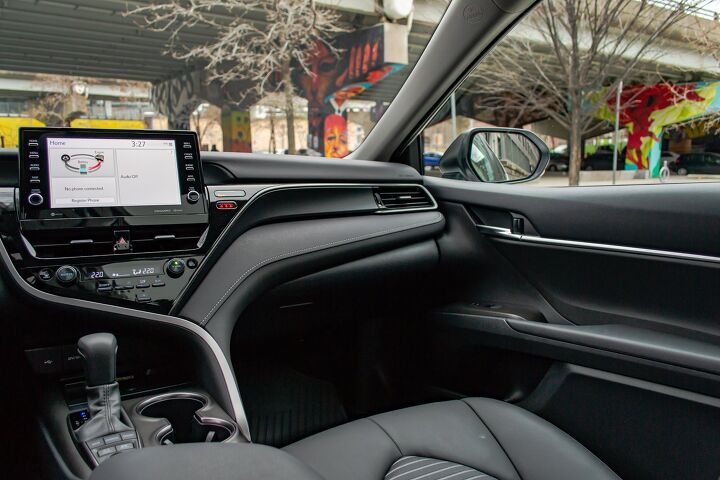 Tech is where the Camry most obviously shows its age. Both models feature a standard 7.0-inch touchscreen, and it runs the ancient Entune infotainment system. Entune is one of the slowest (and ugliest) user interfaces out there, though to its credit, it's also super simple to use. An available 9.0-inch screen is available. Wired Apple CarPlay and Android Auto are both standard, on both screen sizes.
The standard sound system uses six speakers; the upmarket JBL system isn't available on the LE or SE. The confusingly-named Audio Upgrade Package adds the afore-mentioned larger screen, a Qi wireless charging pad, and rear-seat climate vents.
American buyers in colder climates may want to check out the available Cold Weather Package, with a heated steering wheel, front seats, and side mirrors.
Pricing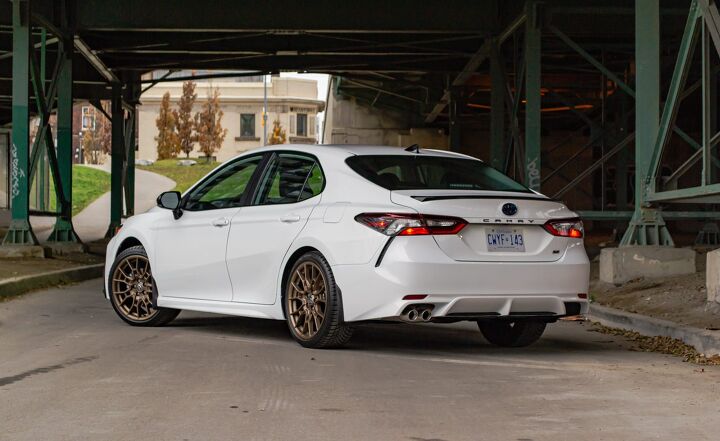 In America, the Camry LE will set buyers back just $27,415, including destination. There are a handful of options, ranging from the $680 blind spot monitoring to the whole kit and kaboodle for $3,750.
Opting for the sportier-looking SE bumps the sticker to $28,955, a difference of $1,540. Its options and packages list looks very similar to that of the LE, but with slightly altered pricing, ranging from $600 to $3,560.
Splurge on AWD for either of these models and you're looking at an additional $1,400 on the bottom line.
Toyota Camry LE vs SE: Verdict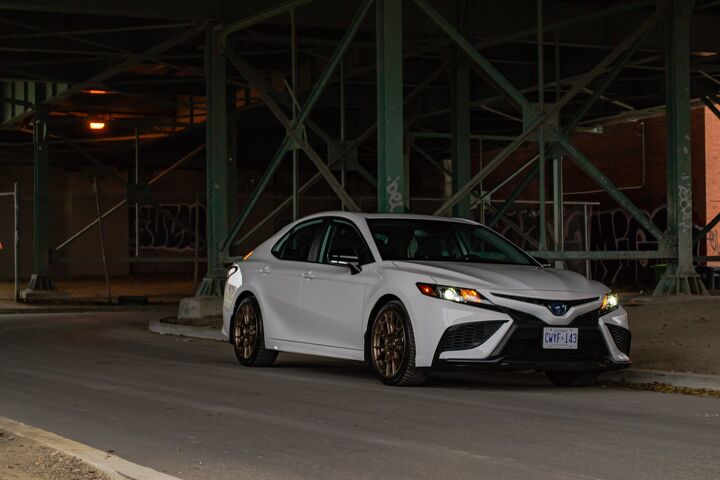 Even as it enters its twilight years, there's a certain functional, dependable appeal to the Toyota Camry, especially in the more affordable trims. It doesn't do anything fancy, and it doesn't need to: what it excels at is fuss-free transport.
By that logic, in our Toyota Camry LE vs SE comparison, we must lean towards the LE, right? Now that Toyota offers it with nearly all the same options and package choices as the SE, it's easy to tailor the LE to your specific needs. For around 30 grand, that's a whole lot of reliable car for the money.
But we also understand tossing an extra grand at the more assertive looks of the SE. We also prefer the SE's interior mix of SofTex and leather-wrapped steering wheel. It's an affordable upgrade, so that would be our pick in this trim face-off.
Become an AutoGuide insider. Get the latest from the automotive world first by subscribing to our newsletter here.
Published May 29th, 2023 4:20 PM
Popular Articles
Latest Comparisons
Car Buying Tools