4 Views
The Best Safety Cones for Work and Play
June 29th, 2022 4:42 PM
Share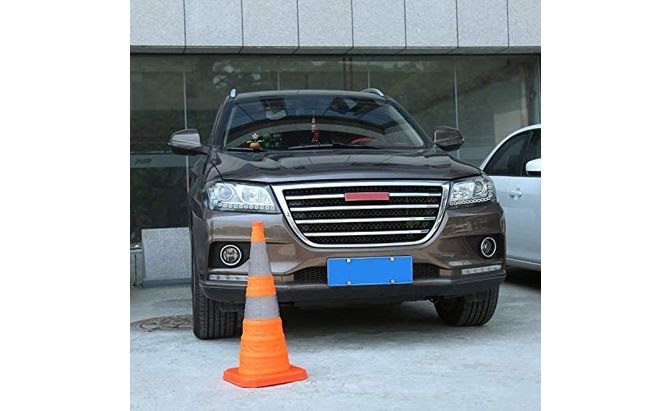 Any number of people might require safety cones for work, play, or ensuring the public's safety. Whether you're marking off a gymkhana course, directing traffic, or need to indicate where the delivery van bearing the Royal Warrant is to park, there's a safety cone perfect for the job.
The best safety cones offer visibility, versatility, and durability. They should be resilient enough to bounce back from impacts—including being crushed by a truck.
There are safety cones for cordoning off space, light-up cones for nighttime visibility, and even collapsible cones that store neatly in a minimum of space. Be prepared for emergencies or impromptu games of park soccer by keeping a set of safety cones in your car, truck, or SUV.
1. Editor's Pick: Sunnyglade Four Pack 15.5-inch Collapsible Traffic Cones
[caption id="attachment_947346" align="aligncenter" width="671"] These collapsible cones are great if you're short on storage space. Photo credit: Amazon.com.
Sunnyglade's 15.5-inch collapsible safety cones are a natural editor's pick, thanks to their versatility, durable design, and low cost. Each cone drops to just 1.38 inches when collapsed, and the four-pack stacks in a cube 9.8 inches wide by 9.8 inches deep with a height of just 5.5 inches. They take up very little space in your trunk and are ready to spring into action in an emergency.
This cone is waterproof Oxford cloth, and the base is heavy polypropylene. Seven stiffening collars make it rigid; most others have only three or four collars. However, there were a few complaints that the reflective markings were too dark—a minor quibble.
There are four 15.5-inch cones in each pack. These safety cones conform to Manual on Uniform Traffic Control Devices for Streets and Highways (MUCTD) standards set out by the Federal Highway Administration.
Key Features
Material: Polypropylene base, Oxford fabric cone
Height: 15.5 inches
Base: 9.8 by 9.8 inches
Other features: Collapsible
| | |
| --- | --- |
| Pros | Compact, great price, meets MUCDT standards |
| Cons | Subpar reflective strips, less visible than other styles |
2. Best for Sports: Dazzling Toys Traffic Cones
Keep a set of these affordable 7-inch cones in your trunk for emergencies or a quick game of soccer in the park. Photo credit: Amazon.com.
Dazzling Toys isn't a brand name that screams "automotive safety" but the company's 7.0-inch cones are cheap, compact, and convenient. Available in moderately priced 6, 12, or 24 packs, these cones take up very little space and are perfect for those quick picnic games of soccer.
You can use these to build yourself a workout track in the park, set up a course for your kids to run through, or as a handy emergency marker set. They have a 5.0-inch square base so they stay put when you lay them out. If you want to put a flag or a pole on the top you'll need to expand the pinhole with a drill or cutting tool though.
These are made from a robust plastic that offers durability and sturdiness at the cost of flexibility, but that makes them a long-lasting plastic safety cone for a variety of uses.
Key Features
Material: ABS Plastic
Height: 7.0 inches
Base: 5.0 by 5.0 inches
Other features: None
| | |
| --- | --- |
| Pros | Sturdy, affordable |
| Cons | Small, other models are more resistant to impacts |
3. Best Value: Alytree Traffic Cones
You won't find many large cones cheaper than this sturdy-five pack of simple orange cones from Alytree. Photo credit: Amazon.com
With five 18.0-inch safety cones in each pack at less than any other option on our list, it's impossible to look past Alytree for pure value. These sturdy polyethylene cones are available in traditional orange colors, as well as green, red, blue, or yellow options. They're flexible and robust cones that will bounce back from a lot of abuse making them great for sports, parties, or roadside use.
The 8.5-by-8.5-inch base is thin, but it does have holes in each corner you can drive a tent peg or stake through to keep them securely in place. You'll want to secure them somehow too, as these cones are very light and vulnerable to the wind.
If all you need is a simple, highly-visible cone that doesn't cost an arm and a leg Alytree has you covered with this set.
Key Features
Material: Polyethylene
Height: 18.0 inches
Base: 8.5 by 8.5 inches
Other features: None
| | |
| --- | --- |
| Pros | Affordable, durable |
| Cons | Lightweight, non-reflective |
4. Best Light-Up Cones: GoSports LED Light Up Sports Cones
Let these light-up safety cones from GoSports illuminate your field, your walking path, or even your car during a roadside emergency. Photo credit: Amazon.com

GoSports LED light-up cones might have been designed for night-time sports but they are a versatile safety cone for a range of uses. With a push-button switch, you can toggle the LEDs inside to shine solidly or blink, and the lights are powered by a CR 2032 3V battery that is easily replaceable. There are six of the 9.0-inch cones and 12 replacement batteries in each set, which is surprising given the price of these units.
The base is 5.8 inches square and is very thin and light, so the cones may move around a lot in windy conditions. There are stake holes in each corner of the base, but not enough overlap to put a weight on them on harder surfaces.
These are highly visible despite their small size, with LED light cast solidly over more than 100 yards. The compact size, night-time visibility, and blinking feature make these a good safety choice as well, as you can store them easily in your trunk. The GoSports LED light-up cones would also make a good boundary marker for your garden paths in your backyard or at the cottage.
Key Features
Material: ABS plastic
Height: 9.0 inches
Base: 5.8 by 5.8 inches
Other features: Solid or blinking light
| | |
| --- | --- |
| Pros | Lights up, compact |
| Cons | Lightweight, thin, could be bigger |
5. Least Expensive Safety Cone: Super Z Outlet Bright Neon Colored Cones
Photo credit: Amazon.com. SuperZ outlet's 24-pack of colorful safety cones are a cheap, lightweight, and fun option for sporting fields, parties, light-duty vehicles, or foot traffic control.

The base is 5 inches in diameter and features stake holes to hold them down, but that's not something most people will use. These are ultra-light cones and the plastic is more brittle than others on our list. There's also no hole in the top for flags.
We like this set purely for the fun colors and unbelievably low price.
Key Features
Material: Plastic
Height: 7.5 inches
Base: 5.0 by 5.0 inches
Other features: None
| | |
| --- | --- |
| Pros | Delightful colors, great price |
| Cons | Lower quality, no hole in the top |
Fun Safety Cone Facts
Fact 1: Witches' hats
Would a traffic cone by any other name be as safe? In Australia and the UK, among other places, safety cones are commonly known as Witches' Hats. Why? Because they're shaped like a witches' hat.
Fact 2: Traffic Cone Bounty
Well, kind of. In the UK so many safety cones were stolen from road construction sites that some councils had to offer an amnesty, allowing traffic cone thieves to turn in their loot without fear of prosecution. In the USA more than a million traffic cones are stolen each year, costing cities and businesses more than $25 million.
Fact 3: Safety Cones Were Invented in the USA
Charles Scanlon was a painter in the LA streets department who was tired of people driving over wet paint. He patented the rubber traffic cone in 1943.
Fact 4: Holey Cone
Safety cones have always had a hole in the top. No, it wasn't so you could blow in one end like a vuvuzela, instead, it was for construction and road crews to install flags on the top. This made them more visible, and also allowed the cone to send a signal.
Published March 26th, 2022 5:58 PM
Popular Articles
Latest Comparisons
Car Buying Tools