217 Views
2017 Mercedes-Benz SL550 Review
February 6th, 2021 2:49 PM
Share
We're committed to finding, researching, and recommending the best products. We earn commissions from purchases you make using links in our articles. Learn more here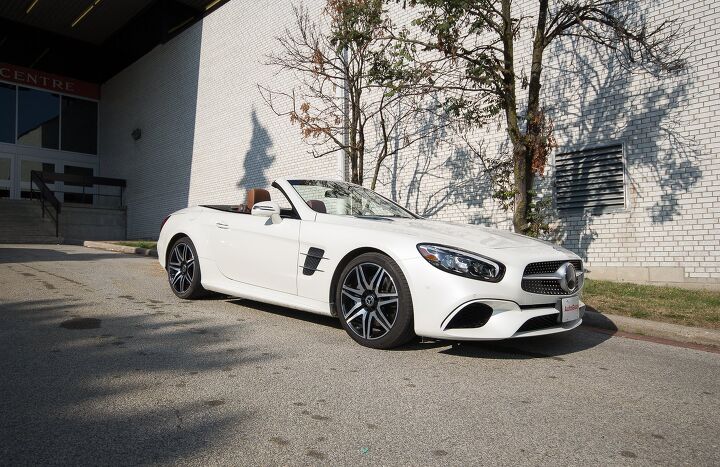 When the Mercedes-Benz SL550 showed up in 2011 as an all-new car, Angry Birds was on your iPod touch, Occupy Wall Street was a pressing political issue, and planking was still a thing.

Indeed, quite a lot has happened in the past six years, especially in the automotive industry. Back then, autonomous cars were only in the early draft stage, and the world's governments hadn't yet expressed a desire to ban the internal combustion engine and have any fossil fuel sympathizers maimed.
The Mercedes-Benz SL550 is very much a product of the mildly simpler world in which it was conceived. The engine is large, displacing 4.7-liters between its eight-cylinders, and the display screen is small. It's not based on a trendy modular architecture that is also shared with a sedan and a hydrogen people mover marketed at Millennial urbanites, and it's not bogged down by an out-of-place all-wheel-drive system. This car is designed to be a classic grand tourer. A comfortable, stylish German muscle coupe for the set that grew up idolizing big, powerful two-doors with a commanding road presence. And if we must say, it's damn good at its job.
Disrupting the EV Industry
The star of the show with the SL550 is the 449-hp 4.7-liter twin-turbocharged V8 engine. It might not be one of those fancy hand-built units from AMG, though it's doing a rather convincing impression. There's a bit of turbo lag when you get on the throttle, but the downtime is filled by the sound of the turbochargers gorging on the outside air. This composition is then harmonized by the guttural roar of the engine and the bass-filled undertone of the exhaust. It's quite the pleasant experience – and we haven't even gotten to the speed yet.
FAST FACTS
| | |
| --- | --- |
| Engine: | 4.7L twin-turbo V8 |
| Output: | 450 hp, 516 lb-ft |
| Transmission: | 9-speed 9Gtronic |
| US Fuel Economy (MPG): | 17 city, 25 hwy, 20 combined |
| US Price: | Starts at $111,795 |
| CAN Price: | Starts at $126,775/$140,190 as tested |
| : | (All pricing includes destination) |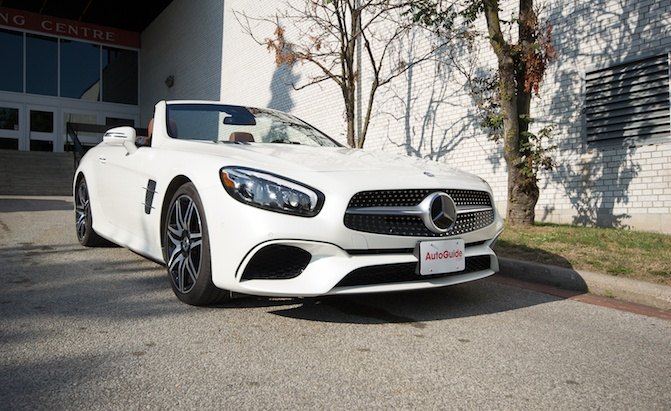 The 4.7-liter biturbo engine makes 449 horsepower, which is a pretty stout figure, but even more impressive is the 516 pound-feet of torque on offer. It's also made way down in the rev range from 1,800 to 3,500 rpm, giving it acceleration that was at one time reserved for supercars and unnecessarily quick passing power on the highway. The nine-speed 9G Tronic transmission, new for the 2017 model year, is also a good companion for this boosted engine. It's smart and smooth around town and refined and responsive when using the shift paddles. You might think the SL550 is a bit of country club cruiser for the kind of person who still uses a Blackberry "for business reasons," but its powertrain would impress even the snobbiest of car enthusiasts. This engine-transmission combo is enough reason in itself to appreciate this big coupe, even if, like me, you're not big on the styling.
Doing Double Duty
The SL550's powertrain is fit for a true, dedicated performance car, and its chassis is almost there as well. The aluminum-intensive structure is much lighter than the platform that underpinned its predecessor, and the result is a roadster that hustles surprisingly well for a 4,000-lb car.
This athleticism doesn't come at the cost of comfort – a good thing since this is a grand tourer above all else. I live right downtown and find myself stuck in traffic often, but I didn't really care in the SL. The standard Harmon Kardon audio system is exquisite, and if you're a bit bored in gridlock, you can always drop the top and enjoy the weather. And while not therapeutic or healing by any means, the back massagers serve as a nice distraction whilst your butt's plopped in the comfy yet well-bolstered seats.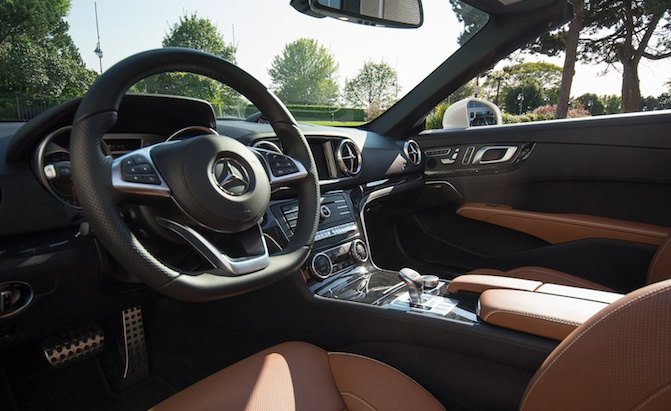 Equipped with the Premium Package and the Exclusive Package, my tester was pretty much the best-equipped SL-Class you can get without an AMG badge. The $7k Premium Package adds heated and cooled front seats, the neck-heating and cooling Airscarf (nice for those chilly days when you want to go top-down), keyless go and a sport braking system, among other niceties. The Exclusive Package is $2,300 and is a little more frivolous in nature, adding Napa leather, soft-close doors, and illuminated door sills. I'd say don't bother with it, but at $140k, what difference does $2,300 make anyway?
Middle Child Syndrome
Mercedes has made some very welcome additions to its two-door lineup since this SL-Class was first shown. The S-Class coupe blends style, speed, and luxury almost perfectly, while the AMG GT is a worthy rival to every enthusiast's darling – the Porsche 911. The SL finds itself somewhere in the middle of these two, offering up a good deal of luxury and respectable performance in a kind-of-sporty and kind-of-grown-up looking package. It feels decidedly less modern than either the S-Class or the AMG GT, though.
SEE ALSO: 2018 Mercedes-AMG GT Review: We Drive the Whole Family and Might Be In Love

This downfall is sort of its strength. The SL might not be a showcase of the latest cutting-edge tech, but that leaves it feeling like a focused product. It's just a fast grand tourer with a convertible hardtop roof. There's really no other car like it on sale right now, and I suspect it's a type of car that might not be around too much longer. Especially in this road devouring, non-hybrid V8 format.
The Verdict: 2017 Mercedes-Benz SL550 Review
The SL550 is a comfortable, fast grand tourer with a well-sorted powertrain and an old-school ethos. It's on the pricey side, but anyone eyeing down one of these knows they can't really get a similar car from any other automaker. If a comfortable, usable, fast German coupe with a V8 soundtrack and folding hardtop roof is what you've always wanted, you may want to act fast. We're told the next-gen SL will be a 2+2 with a soft-top roof – this is truly the last of a quickly dying breed.
Discuss this article on our Mercedes Forum
LOVE IT
Muscly, old school character
Meaty torque on offer from an unforgettable V8
Roomy and comfortable cabin
LEAVE IT
Fussy styling
Pricy options list
Somewhat dated cabin

Sam McEachern
Sam McEachern holds a diploma in journalism from St. Clair College in Windsor, Ontario, and has been covering the automotive industry for over 5 years. He conducts reviews and writes AutoGuide's news content. He's a die-hard motorsports fan with a passion for performance cars of all sorts.
More by Sam McEachern
Published November 2nd, 2017 3:01 PM
Popular Articles
Latest Comparisons
Car Buying Tools