894 Views
The Best Seat Back Organizers To Declutter Your Car
January 23rd, 2023 11:56 AM
Share
Clutter in your car is more than an annoyance, it can be a safety concern.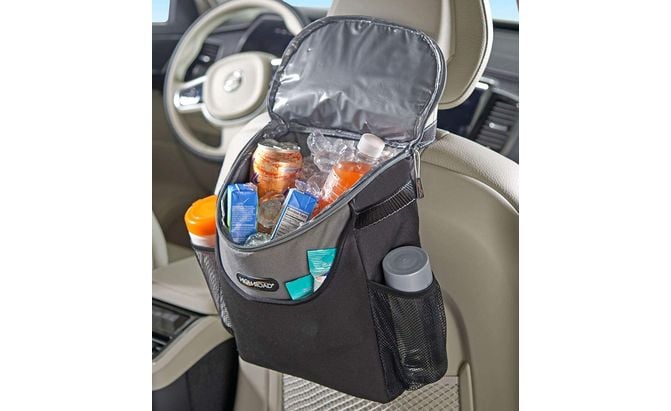 The personal effects that travel in our cars with us can collect into distracting, unsightly mountains of clutter; it makes sense, then, to try to organize them. But there's another side to controlling the mess—safety.
Automakers expend piles of money and flex their engineering might equipping cars with seatbelts, airbags, and other passive safety devices to protect occupants in the event of a collision. Yet, besides glove compartments and center consoles, most vehicles offer little secure, in-cabin storage even though the Society of Automotive Engineers says that unsecured items are major contributors to total harm in traffic accidents.
Despite the potential risk, at least one study indicates that most people pay only slight attention to the dangers of poorly stowed cargo. Drivers interviewed prioritized being able to exit their car quickly on arrival; they tended to place gear and cargo where it was easiest to grab without consideration for safety. The potential for problems created by loose cargo is magnified in SUVs and Crossovers ( the dominant body styles on the road) because their cargo area is open to the passenger compartment (the same goes for station wagons or vans). So attempting to confine the clutter to the rear of the vehicle may not keep it from caroming around the cabin in a severe accident.
There's more than one style of cargo organizer, but for many drivers, seat-back mounted designs are a good solution to control in-car clutter. Consider upgrading your car's cargo storage with one of the best car seat organizers listed here.
How We Selected the Best Seat Back Organizers
When seeking out the best seat back organizers for this review, we looked at popular models with favorable customer ratings—80% positive at a minimum. We also considered how people might use these items daily, the ease of installation, and the material they're constructed from. As a secondary consideration, we looked at style and aesthetics. Our Editor's Pick was based on the best compromise between price and utility.
For more information on the best seat back organizers, refer to our table of contents.
1. Editor's Pick: Helteko Backseat Car Organizer
This two-pack of versatile seatback organizers earned the top spot in this list because they have a full complement of features at a very accessible price. They also clocked up close to 90% positive reviews, impressive for any product, but especially for an affordable one.
They're constructed from sturdy 600 denier nylon material and offer nine storage pockets, most of which are mesh, two bottle holder pockets, and a 10.5-inch tablet pocket with a transparent plastic cover. Holes are provided to route charging cables as well. On top of storage, they provide kick mats to protect seatbacks. We like that the Helteko duo attaches both to the headrest and bottom portion of the seat for a more secure fit.
The Helteko cargo organizers are utilitarian looking and only available in black or grey. The manufacturer touts them as waterproof, but we think this is because spilled liquids won't damage the nylon material, not any watertight characteristic of the storage pockets.
| | |
| --- | --- |
| Pros | Affordable, constructed of durable nylon |
| Cons | Utilitarian appearance, only available in black or grey |
2. Carhartt Nylon Duck Cargo Organizer
Carhartt's seatback organizer looks like their workwear, right down to the rivets and snaps. Made of water-resistant Carhartt Brown (black is also available) Cordura fabric, this seatback organizer might be likened to cargo pants for your car. It's fitted with eight pockets of different sizes, one of which has a snap closure. There's also a MOLLE (Modular Lightweight Load-carrying Equipment) system, a handy place to shove a ballpoint pen or tire pressure gauge.
The Carhartt organizer measures 15 x 24 inches; it's smaller than others. Whether this is good or bad depends on how much junk is rattling around in your car's cabin. It attaches with a strap that encircles the headrest post and elasticated connectors with hooks to grab onto the seat frame. It won't attach to non-adjustable headrests, and some users complained that the elastic connectors broke easily.
The Carharrt seatback organizer doesn't have the greatest capacity, nor is it the cheapest option. But its rugged appearance and compact size earned it a spot on our list.
| | |
| --- | --- |
| Pros | Rugged appearance, water-resistant, not bulky |
| Cons | Other options offer more storage capacity, not the cheapest either |
3. Lusso Gear Car Organizer
Lusso Gear's car organizer differs from the run-of-the-mill by being made of heavy Oxford cloth; it eschews mesh pockets too. It can be had in black, black with red stitching, brown, grey, or tan. And, unlike some bulky models we've covered, like the preceding military-style Tidify, the Lusso Gear is a trim size; it measures 13.5 x 13 x 13.5 inches. That's still plenty big enough for files, smaller laptop computers, iPads, etcetera.
The storage compartments are graduated by size, with the smallest to the front, including water bottle and pen holders. Most of the storage areas of the Lusso are not able to be closed individually; instead, one large flap covers the entire cargo carrier. This makes for easy access, but we think it might increase the likelihood of the contents getting spilled. One small pocket in the front does have its own velcro-sealed cover. There's a shoulder strap included so the entire carrier can be removed from the car to double as a briefcase; it attaches with a belt around the headrest.
We like the slimline styling of the Lusso Gear and the option of several colors. This cargo carrier is aimed predominantly at the businessperson and should serve them well–it garnered an even 90% positive rating.
| | |
| --- | --- |
| Pros | Attractive styling, trim size, several color ooptions |
| Cons | Storage pockets lack individual closures |
4. High Road StashAway Leakproof Seatback Trash Station
In addition to holding your beverage bottles, High Road's seatback organizer provides a place to dispose of them with a built-in, waterproof, 2.5-gallon garbage can. This is especially handy in places like Washington State, which require drivers to keep trash receptacles in their vehicles. Besides the trash can, the High Road cargo organizer includes a tissue dispenser and mesh pockets for storage.
It's made from 500 denier nylon fabric that should provide years of service, and the trash can's lid is fitted with a rubber top that makes it easy to dispose of your trash while keeping it in place. This seatback cargo organizer is headrest-mounted and includes side braces to keep the entire unit from shifting. The side-stowage pockets can hold drink bottles but are large enough for containers of interior cleaning wipes or other cylindrical objects.
This cargo carrier is deeper than others; it might intrude on rearseat legroom in smaller vehicles. High Road is based in Portland, Maine, and has been designing specialty vehicle cargo storage solutions since 1990.
| | |
| --- | --- |
| Pros | Built-in trash bag, StuffTop lid keeps the trash odor away, very sturdy and durable, stable even on bumpy roads, stretchable side mesh pockets |
| Cons | The trash bag takes almost all of the capacity of the organizer, no transparent pocket for tablets |
5. Mom's Besty Car Back Seat Organizer
The brand name "Mom's Besty" would imply that only moms need to keep toys, games and other kids' accouterments organized. But the Mom's Besty organizer clocks in with many handy features—parental typecasting notwithstanding. It has a 10.1-inch clear plastic-covered tablet pocket with openings to access charging ports or buttons. There are also four mesh pockets and a large central pouch with a velcro strap closure.
The Mom's Besty measures 20.8 x 16.9 inches and attaches to seatbacks with adjustable, clip-buckled straps. It's made from reasonably substantial 600 denier polyester. The manufacturer notes that this cargo organizer has a waterproof backing to protect car interiors from spills.
Some buyers found the snap buckles to be poor quality or found their devices didn't fit in the tablet pocket; the fit was either impossibly snug or too loose. The manufacturer says the pocket is 10.1 inches in width, but we suspect manufacturing tolerances aren't overly precise; there is probably some variation from one unit to the next. Other cargo carriers offer more pockets than the Mom's Besty as well.
| | |
| --- | --- |
| Pros | Low price, sturdy and durable, four stretchy mesh pockets |
| Cons | Transparent pocket is a tight fit for some tablets, a small overall number of pockets, bottom straps visible on the front seats |
6. High Road SnackStash Insulated Seat Back Organizer
High Road offers one of the few insulated coolers that doesn't take up seat or trunk space, and that's why we've added another of their products to this review. The SnackStash can accommodate plenty of snacks or up to eight 16-oz bottles or 15 12-oz cans and keep cool for up to 36 hours. High Road mentioned that chill packs should be used and that hot weather will reduce the length of time the pack will remain cool. Besides the insulated compartment, there are side and front pockets to hold additional items.
The insulated compartment features a leakproof (according to the manufacturer) PEVA lining, and the outer shell is constructed from 500 denier polyester material. The cooler is 9.5 inches wide, 12.5 inches high, and 4 inches deep. A strap hangs around the vehicle's headrest to secure the cooler, but that's the only attachment point.
At 4 inches deep, this cooler might intrude on knee or legroom in some vehicles. Complaints centered on leaks, and a few people mentioned that they felt the zippers could be of higher quality. The High Road SnackStash still exceeded our criteria by earning 86% positive reviews.
| | |
| --- | --- |
| Pros | Insulated, contents remain cool up to 36 hours |
| Cons | Can intrude on legroom, warmer weather can effect performance |
What Are Seat Back Organizers?
Aftermarket manufacturers offer an array of accessories for your car's interior that augment factory-provided storage spaces. As its name implies, a seatback organizer mounts to the backs of a vehicle's front seats and provides storage for various items. Generally speaking, they consist of a series of pockets in different sizes sewn to a flexible, padded backing attached to the back of the front seats. Typical attachment methods are adjustable straps that encircle the headrest, usually augmented by a secondary strap that goes around the bottom of the seat to provide stability.
Choosing the Right Car Seat Organizer
The best cargo organizer style for you will depend entirely on your needs: do you have children to keep entertained on long road trips? Do you need extra cup holders in your vehicle? Maybe you're a single professional and want a high-style organizer to keep your Audi's cockpit looking sharp. Consider jotting down a brief checklist of the items you regularly travel with, then compare that with the features offered by a particular cargo organizer.
There are other designs to consider if you don't like cargo organizers that mount to the back of your vehicle's front seats.
Installing a Cargo Organizer
Cargo carriers are, generally speaking, very easy to install. Most have an adjustable strap that secures around a vehicle's headrest. Others mount to seatbelts or have anchor straps that connect to tie-down loops in the rear compartment. Installation shouldn't take more than a few minutes and won't require special tools.
Cleaning Cargo Organizers
Most cargo organizers are constructed of synthetic materials which are easy to clean with a mild soap and water solution or upholstery cleaner. If your car is in a high stain risk environment, as when the kids get overly enthusiastic with the juice, you should probably opt for a darker-colored cargo carrier. If you doubt how to clean your cargo carrier, refer to the manufacturer's recommendations.
Recent Updates:
August 15, 2022: Added Helteko, Carhartt, Lusso Gear, and High Road StashAway and SnackStash. Removed KMMOTORS, Hiberno, Lusso Gear, and My Specialty organizers.
June 8, 2022: Removed unavailable Hiberno and Pushingbest brands. Added a promoted product recommendation.
December 17, 2021: Removed promoted product recommendation.
August 23, 2021: Updated with a new promoted product recommendation.
June 7, 2021: Updated with a promoted product recommendation.
January 4, 2021: Updated with a new #1 product.
---
We are committed to finding, researching, and recommending the best products. We earn commissions from purchases you make using the retail links in our product reviews. Learn more about how this works.
Photo credit: Pixel-Shot / Shutterstock.com
Published June 8th, 2022 3:11 PM
Popular Articles
Latest Comparisons
Car Buying Tools