5 Views
Honda's Marysville, Ohio Plant Builds 10 Millionth Car
July 22nd, 2010 2:39 PM
Share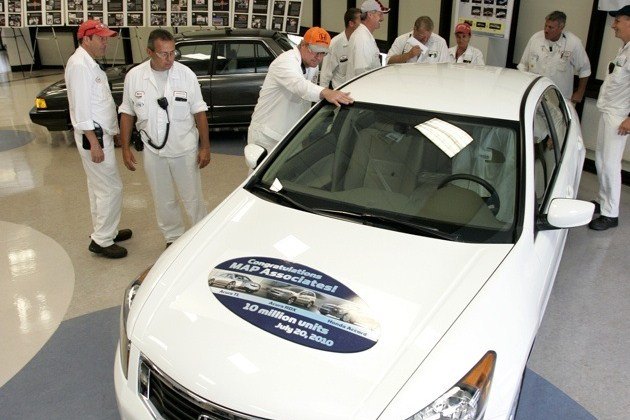 Honda's Marysville, Ohio manufacturing plant started in a revolution in 1982 when it became the first Japanese auto plant on American soil. The Honda Accords that rolled off the line started an automotive revolution, and the company hasn't looked back since.
After nearly three decades, Marysville has reached a major milestone after building car # 10,000,000. While the Acura RDX and TL are also built at Marysville, Accords have accounted for 85% of the production over the years. Here's to another 1o million!
Hit the jump to see the official press release
[Source: Honda]
Honda's Marysville Plant Produces 10-Millionth Vehicle
07/20/2010 – MARYSVILLE, Ohio –
The Marysville Auto Plant has become the first Honda plant outside Japan to manufacture* 10 million vehicles with the production this morning of a Honda Accord Sedan. Honda began local auto production in November 1982 at the Marysville plant with an Accord Sedan, and has continued producing that model along with various others.
Identified with a magnetic sign on its hood, associates followed progress of the vehicle in production until it came off the assembly line as a completed product. The milestone Accord was immediately moved into the plant's West Cafeteria for display alongside the first generation of the Accord produced at the plant.
"Production of this 10 millionth automobile is the result of the shared commitment to our customers, demonstrated over the past 28 years by all of the associates who have worked at the Marysville Auto Plant through the years," said Hidenobu Iwata, president and CEO of Honda of America Mfg., and leader of Honda's production operations in North America. "With the support of many other Honda business units, domestic suppliers and our other business partners, Honda associates have demonstrated many times their ability to overcome great challenges and to improve Honda's competitive characteristics."
In its 28th year of production, the Marysville plant has undergone continuous innovation, making it one of the most flexible and efficient plants in North America, while achieving top quality performance. The plant ranked fourth in North America in the 2010 Initial Quality Survey conducted by J.D. Power and Associates. In addition to the Accord Sedan and Coupe, the plant currently produces the Acura TL and Acura RDX models.
"I am very proud of the MAP team, and I know firsthand that each associate cares deeply about the product that goes out the door," said Plant Manager Sam Harpest. "This is a direct reflection of the dedication shared by all Honda associates who have supported production at this plant."
Nearly all Accords sold in North America are manufactured at the Marysville plant, with more than 8.5 million units produced at the plant on a cumulative basis. The TL, RDX and Accord Coupe are exclusively produced at the Marysville plant, and some V-6 Accord Sedans are manufactured at Honda's auto plant in Alabama. Consistent with Honda's commitment to manufacture products close to the customer, more than 84 percent of all Honda and Acura vehicles sold in the U.S. in 2009 were produced in North America.
Honda partners with nearly 600 North American suppliers, including 530 in the U.S. and 160 in Ohio, in the production of passenger cars and light trucks. Those purchases totaled $13.3 billion in North America last year, with $5.5 billion in parts coming from Ohio suppliers.
In Ohio, Honda operates another auto plant in East Liberty, a major transmission plant in Russells Point and the Anna Engine Plant in Anna, Ohio. Honda's largest auto engine plant in the world, the Anna plant will celebrate its 25th anniversary of engine production on Thursday.
In addition to manufacturing, Honda has established substantial R&D and engineering operations in Ohio, along with a regional parts distribution center and other operations that support Honda manufacturing and sales in North America. Among all its operations, the company directly employs 13,500 Ohioans and tens of thousands more through its suppliers and other business partners.
Honda began business in America in 1959 and today employs more than 26,000 associates. The company operates 14 manufacturing facilities in North America, producing a wide range of Honda and Acura automobiles, engines and automatic transmissions, all-terrain vehicles, and power equipment such as lawn mowers and mini-tillers.
*using domestic and globally sourced parts
Published July 22nd, 2010 2:39 PM
Popular Articles
Latest Comparisons
Car Buying Tools