1 View
Volvo Introduces Start/Stop Technology for Automatic Transmissions
August 23rd, 2011 2:15 PM
Share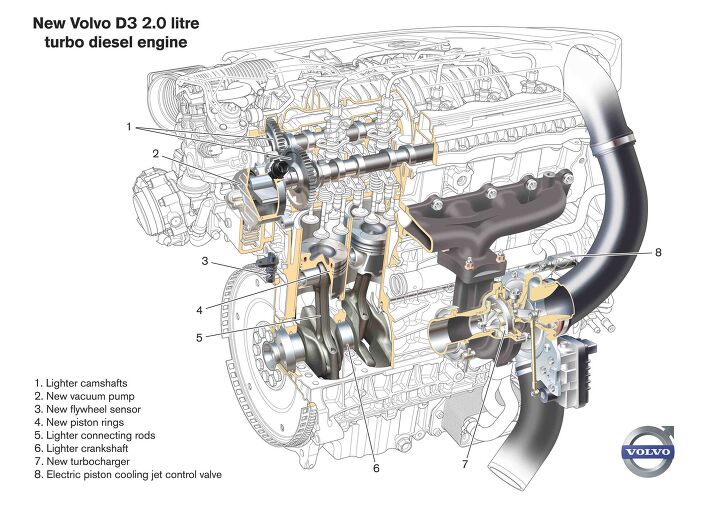 As automakers look at ways to improve vehicle fuel economy across the board, Volvo is taking steps by introducing stop/start technology on cars equipped with automatic transmissions, following on from its introduction in those equipped with manual gearboxes.
The technology will be incorporated on Volvo's Euro market D3 2.0-liter turbo-diesel five-cylinder engine (shown above), and teamed with the company's six-speed automatic. The result is expected to reduce fuel consumption by around 0.4 liters per 100 km, meaning that overall gas mileage will be around 5.6 l/100 km (42 miles per gallon) on most Volvos equipped with this powertrain.
Using stop/start in conjunction with an automatic is a tougher technology challenge, compared with manual gearboxes as the engine must shut off when the car comes to a halt and then immediately restart as soon as the driver hits the gas pedal (An electric pump is designed to keep fluid circulating inside the transmission while the engine is stopped).
"Continuously reducing CO2 emissions from conventional powertrains is an important part of our drive towards Zero emissions. It is the most effective way to cut CO2 throughout our model range in the short term," declared Peter Mertens Volvo's senior vice president of Research and Development. "This work is running parallel with our innovative focus on electrification technologies."
Volvo will offer the D3 stop/start feature on the Euro market S60, V60, V70 and S80 flagship. No word on if, or when the technology will reach our shores.
Published August 23rd, 2011 2:15 PM
Popular Articles
Latest Comparisons
Car Buying Tools