1 View
Five-Point Inspection: 2013 Rolls-Royce Ghost Extended Wheelbase
May 28th, 2013 12:02 PM
Share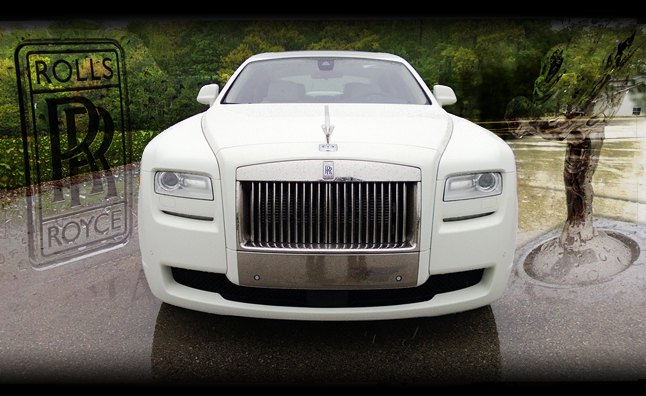 In ancient times fat was considered a sign of wealth, a symbol of prosperity, just like golden jewelry or owning slaves. Someone who had a little extra bulk was likely far better off than the starving peasants down the street. Today it's just the opposite; fat is out. High-ticket items have become the modern way flaunting one's success. Private jets, tea bags made from the Dead Sea Scrolls and of course high-end cars are all conspicuously consumed by well-off individuals.
One of the most prestigious autos on the market today is built like a Stradivarius, features a flying lady on its massive hood and is named after an allegedly non-existent phenomenon. The 2013 Rolls-Royce Ghost Extended Wheelbase is all that and much, much more.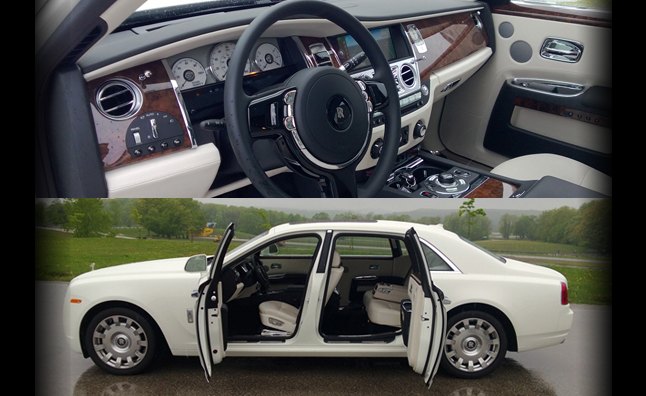 As one would expect in an ultra-luxury car the Ghost is fitted with an interior that is nothing short of astounding. The design, construction and materials exude class the way the atmosphere exudes water during monsoon season. Every surface and every detail are premium, classy and fine tuned like a maestro's orchestra.
Rear-hinged suicide – sorry – "coach" doors are a distinctive touch found on few other vehicles, they also power close with the push of a button. Why should rear-seat passengers be treated like ditch diggers with the burden of shutting their own access hatches? Additionally, passengers sit slightly higher in the Ghost than most cars. Parking your carcass is more or less a slide-across affair opposed to dropping down. This slightly elevated seating position also affords better outward visibility.
Since it rains a lot in Old Blighty where the car hails from, umbrellas are integrated right into the Ghost's doors. They pop out with the push of a button, ready to deflect wayward precipitation that has the nerve to fall towards a Rolls-Royce owner.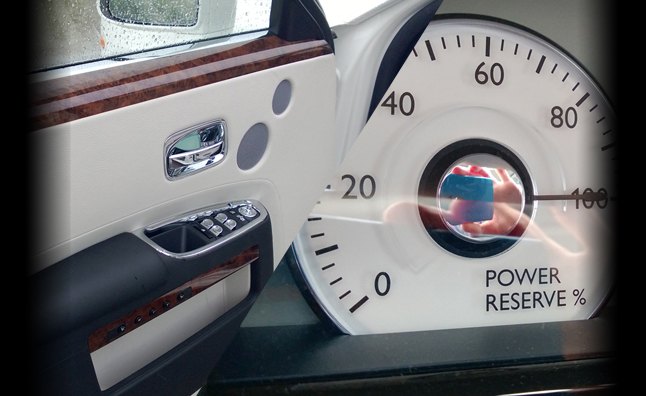 Reinforcing the Ghost's super-premium image everything is real, every surface is genuine. There's no imitation this or simulated that. If it looks like wood, it's wood. If it feels like metal, it's metal. From this standpoint Rolls-Royce builds the most honest cars in the world. The folks at Buick could learn a thing or two about being truthful.
SEE ALSO: 2013 Buick Enclave Review
This Roller's glove box is flocked with leopard furs; the leather covering everything in the cabin that isn't trimmed in ancient kauri wood imported from New Zealand is harvested from unborn rhinos. Various inlays and other trimmings are fashioned of narwhal tusk, while the floor mats are panda pelts. All cushions are stuffed with parrot feathers.
Actually, disregard that last paragraph because none of it is true, but exaggeration does give you an idea of just how opulent the Ghost's cabin is. The burled wood trim is positively radiant; the floor mats are fashioned from plush wool that's so soft it could have been made into underpants; instead it gets ingloriously trod on by everyone that ever climbs aboard.
As for the leather, which blankets seemingly every square inch of the interior, it's buttery soft and even smells like a stack of $100 bills. It's harvested from bulls that are born and raised in the Bavarian Alps. Rolls-Royce does this because farmers do not use barbed wire, which can cause unwanted blemished in the animals' skin. Also, just like humans, female cattle can apparently be afflicted by stretch marks when they're pregnant. This is another potential imperfection.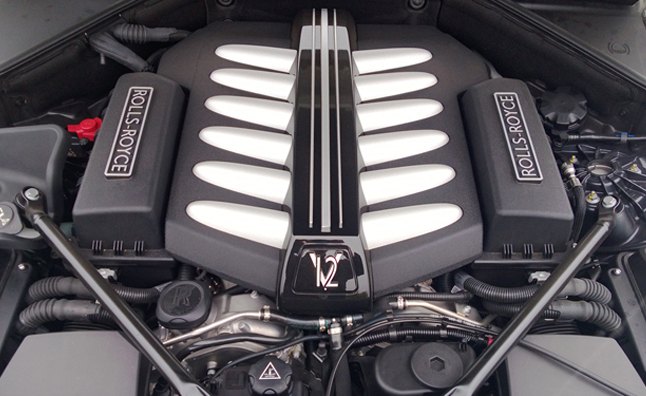 Just because the Rolls-Royce Ghost is a big car – and it is positively HUGE – you might think it can't hustle, and you'd be wrong.
Under its runway-long hood rests a marvel of automotive engineering, an all aluminum aluminium 6.6-liter V12 engine. Just in case that's not enough displacement it's augmented by a pair of "iron lungs," twin turbochargers. There's also direct fuel injection and variable valve lift for good measure. Output totals 563 horsepower with 575 lb-ft of torque. A ZF eight-speed automatic is the only transmission offered and for good reason; it's absolutely flawless.
That big V12 accelerates the Ghost like a cannonball, blasting it down the road seemingly in violation of physics. The gearbox is so seamless you never even know it's working. And the car handles, too. It's no Porsche 911 but the ride is surprisingly firm for a Roller.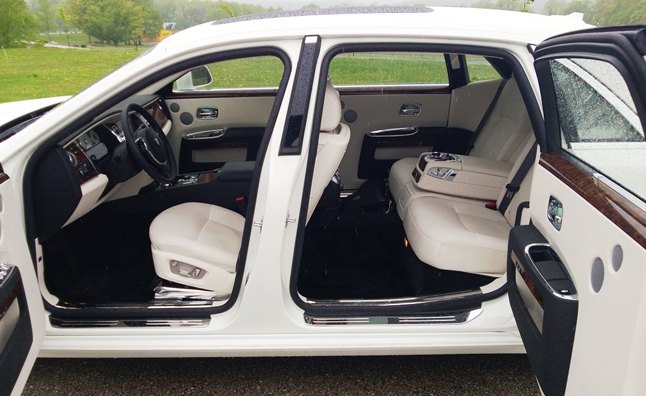 Of course Rolls-Royce motor cars are not necessarily meant to please the driver; they're built more for passenger relaxation than anything else. This is another area where the Ghost shines. The car's back seat has more legroom than your living room. Shaquille O'Neal could ride back there in complete comfort and he's 87 feet tall.
Aft-most passengers are treated to fully adjustable thrones, two separate display screens, discrete climate controls and more. Neatly folding tray tables are integrated into the front seat-backs. About the only thing it doesn't come with is Grey Poupon.
This Ghost is no poltergeist; its cabin is freakishly silent. The apparition just floats along without a sound.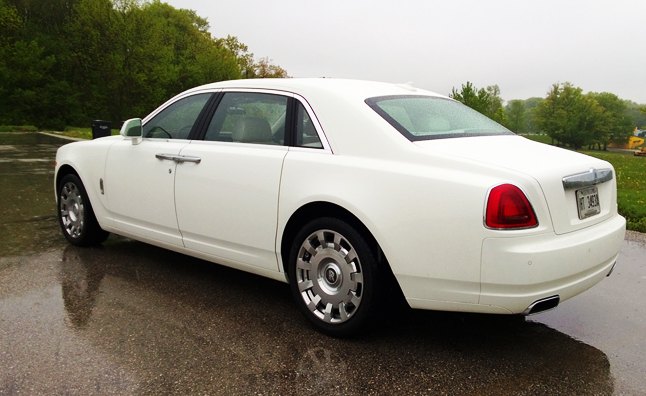 So far the AutoGuide choir has been singing the Ghost's praises. We're smitten with its unnaturally aspirated V12 engine, over-the-top luxury amenities and lounge-worthy back seat. Now it's time for the bad news.
This Rolls-Royce's base price is a hard pill to swallow; in fact it's like trying to choke down a Christmas tree. It's roughly equivalent to the cost of a developing nation's space program. The entry-level version stickers for a shade less than $300,000, but the model tested had more than 60 grand in options piled on top. It's like poutine loaded with extra gravy and cheese, except these add-ons won't stain your clothes or lead to cardiac distress. The 2013 Rolls-Royce Ghost actually lowers blood pressure by relaxing and rejuvenating, especially the extended wheelbase version. Think of it as an Asian massage parlor on wheels with not just a happy ending, but a joyous beginning and middle as well.
Of course with a price tag of at least 300 large the Rolls-Royce Ghost is appropriately named because just like a foggy apparition you're probably never going to see one in your garage.
GALLERY: 2013 Rolls-Royce Ghost Extended Wheelbase
Published May 28th, 2013 12:02 PM
Popular Articles
Latest Comparisons
Car Buying Tools