1 View
A True McLaren P1 Long Tail Will Debut Soon
July 4th, 2018 11:59 AM
Share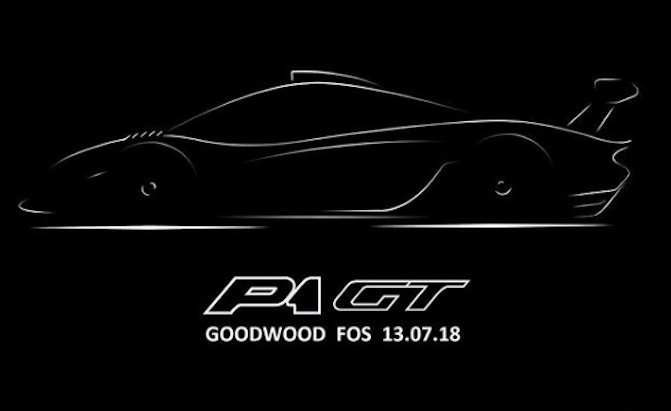 One of the more famous cars to ever leave McLaren's Woking factory in the UK was the F1 GTR Long Tail.
The F1 GTR Long Tail was introduced in 1997 when the FIA GT Championship's GT1 class rules changed to allow purpose-built, homologation race cars to compete. Looking to make the road car-based McLaren F1 more competitive against the likes of the Mercedes CLK GTR and Porsche 911 GT1, the British outfit adjusted the aerodynamics and lengthened the bodywork in the rear, giving the BMW V12-powered car much more downforce. It wasn't enough to win Le Mans that year, but the radical look of the F1 GTR Long Tails garnered them a cult following that still exists today.
SEE ALSO: McLaren P1 LM Delivers on Promise of Street-Legal P1 GTR

Now British restorations company Lanzante is looking to continue the F1 GTR's legacy with the McLaren P1 GT. Commissioned by a wealthy McLaren fan who wanted a modern-day take on the original Long Tail, the P1 GT will be a lengthened version of the P1 GTR directly inspired by the original F1 GTR Long Tail. Lanzante posted a teaser drawing of the car to its Instagram page recently, giving us a preview of the vehicle's revised bodywork ahead of its debut at the Goodwood Festival of Speed later this month.

In June, the company posted a photo to its Instagram showing the vehicle's front end, revealing a unique green exterior color. Additionally, a videographer for the company recently posted a video to his Instagram page showing the P1 GT being built at Lanzante's HQ in Hampshire. That video shows off a very large roof scoop, along with a small portion of the P1 GT's lengthened chassis/bodywork.

While this won't be an official McLaren product, Lanzante is no random tuning company. It raced a McLaren F1 GTR in the 1996 British GT Championship and has a long history of building competitive customer race cars. The company is also responsible for converting the track-only McLaren P1 GTR into the road legal Mclaren P1 LM. The prototype P1 LM set a Nurburgring lap record of 6:43.22 on road-legal Pirelli P Zero Trofeo R tires, and also broke the Goodwood Hillclimb record for road legal vehicles in 2016 with a pass of 47.07 seconds.
We get the feeling the P1 GT will beat the P1 LM's time by a considerable margin when it appears at Goodwood in a couple of weeks.
Discuss this story on our McLaren Forum.
Published July 3rd, 2018 10:01 AM
Popular Articles
Latest Comparisons
Car Buying Tools